Ubud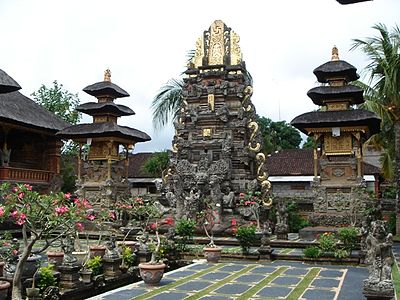 Ubud
, a town in central
Bali
of around 30,000 people, is far removed from the nightlife bikini scene in
Kuta
, and is regarded as the cultural centre of Bali. It is famous as an arts and crafts hub, and much of the town and nearby villages seems to consist of artists' workshops and galleries. There are some remarkable architectural and other sights to be found, and a general feeling of well being to be enjoyed, all thanks to the spirit, surroundings, and climate of the place.
Understand
While Ubud seems to outsiders like one small town, it is in fact fourteen villages, each run by its own
banjar
(village committee). Ubud has grown rapidly, and some central parts are creaking under the strain of coping with the number of visitors. That said, most development is sympathetic to the zeitgeist, if not designed specifically in the local style. Growth continues apace, but there are still terraced rice fields along the rivers, and away from the town centre, regular, quiet village life carries on relatively undisturbed.
History
In many ways, the history of the Ubud
area
(not so much the modern day town) is the very history of Bali itself.
Ubud has a known history back to the eighth century, when the Javanese Buddhist priest Rsi Marhandya came to Bali from Java, and meditated at the confluence of the two Wos rivers at Campuan, just west of the modern day town centre. A shrine was established and later expanded by Nirartha, the Javanese priest who is regarded as the founder of Bali's religious practices and rituals as we know them today. At this time the area was a centre of natural medicine and healing, and that is how the name Ubud originated:
Ubad
is ancient Balinese for medicine.
Further temples and monasteries were established over the next 400 years or so. The temple complex at Gunung Kawi, and the cave temples at Goa Gajah (just east and northeast of Ubud), are architectural remains from this period. Many of the dances, drama and rituals still practised in Ubud today, originated at this time. King Airlangga ruled all of Java and Bali in this era, and his seat of government was located in what is now the village of Batuan, just southeast of Ubud.
The Javanese Majapahit kingdom conquered Bali in 1343, and the key final victory was against the Pejeng Dynasty centred at Bedulu, just to the east of Ubud. A great flowering of Balinese culture followed, and the ancestry of Ubud's current day aristocratic families can be traced back to this period. In the sixteenth Century, there was a total transplantation of the Majapahit Kingdom to Bali as the Islamisation of Java forced them eastwards. Power flip-flopped between various dynasties and feudal lords, but the Ubud area remained a very important cog in the various regencies which ruled the island.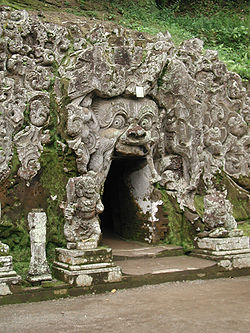 In 1900, Ubud became a Dutch protectorate at its own request, and the colonialists interfered little, allowing the traditional arts and culture of the area to remain relatively unchanged. The modern era of Ubud perhaps began in the 1930s, when foreign artists were encouraged by the royal family to take up presence in the town. From their Ubud base, the likes of Walter Spies and Rudolph Bonnet were instrumental in promoting an understanding of Balinese art and culture worldwide. From the 1960s onwards, travellers started to arrive in earnest, mostly intrepid types as the infrastructure was still very limited indeed. Since then, Ubud has developed rapidly into a high-profile, top-class international destination, whilst still maintaining its integrity as the centre of Balinese art and culture.
Orientation
Orienting yourself in Ubud is fairly straightforward. The town sprawls for several kilometres in all directions, with all of the small villages within a five km radius of the central market being loosely referred to as "Ubud". If you choose a reasonably central place to stay, it is easy enough to get around on foot.
Central Ubud has three main streets: Jl Raya Ubud, Jl Monkey Forest and Jl Hanoman. At the intersection of Jl Raya and Jl Monkey Forest are Ubud Market, Ubud Palace, and the main
bemo
stop — unsurprisingly, there's also a near-permanent traffic jam here.
Jl Monkey Forest, which runs south through town to the Monkey Forest, is a built-up area, and home to a wide array of accommodation, art galleries, and cafes, as well a number of local services such as schools, a sports field, pharmacies, and travel agents. Jl Hanoman, which runs parallel to Jl Monkey Forest just to the east, is a bit quieter and makes for more pleasant walking.
To the immediate west and northwest are the villages of
Campuan
(
Tjampuhan
,
Campuhan
) and
Kedewatan
, home to some of the most upmarket hotels in the whole of Asia, with views over valleys sculpted by the Ayung and Wos rivers.
Directly to the south, past the Monkey Forest and still within a twenty minute walk of the central market, is
Padang Tegal
which then runs into the southern villages of
Nyuh Kuning
and
Pengosekan
, about three km from central Ubud. Directly to the east is the village of
Peliatan
, and then
Teges
and
Bedulu
, home of the ninth century
Goa Gajah
(Elephant Cave).
Climate
Due to its elevation at about 200 m above sea level, Ubud enjoys cooler temperatures than the coast, and it is sometimes necessary to bring a pullover for the evening. The midday sun can still be scorching though and the humidity often relentless; a murderous combination for an outing of 'temple tramping' which, in hilly Ubud, usually requires climbing up and down staircases. (Head out early to beat the heat and the crowds.) If there is a time to avoid, it would be the depths of the wet season in January and February — when it rains in Ubud, it
really
rains.
Tourism information office
Bina Wisata

phone: +62 361 973285

address: Jl Raya Ubud

Not especially helpful, but they always have a few leaflets, and local businesses advertise current events there.
Get in
By bemo
There are regular public bemos from
Denpasar's
Batubulan terminal to Ubud which cost 50,000IDR and take about an hour. Most bemos run in the early morning, and in the later of the day it is getting difficult to find a bemo leaving and drivers try to pursue tourist to hire entire vehicle for 200-300,000IDR, and you will not find any after 4PM. In the opposite direction, bemos depart every morning from the central market (northern entrance) in Ubud.
By taxi or car
If you want to take a taxi to Ubud from
South Bali
, it is best to charter the vehicle for a return trip, otherwise, you'll be hit with a 30% fee for going out-of-town. Metered fares, one-way and
not
including surcharge, are around Rp 150,000 from
Denpasar
and Rp 200,000 from
Kuta
. You can also rent a car in Kuta for a day in some local rental company around 15-25$, will be also useful to explore the extended vicinity.
By bus
Perama
offers daily direct transfers to Ubud from
Sanur
,
Lovina
,
Kuta
,
Bedugul
,
Candidasa
, and
Padang Bai
. When coming from
Ngurah Rai International Airport
you need to take a taxi to Perama's Kuta branch first, when going
to
the airport direct transfers exist. These are convenient and inexpensive; e.g. four times per day to the airport for Rp 50,000. Rather less conveniently, the Perama terminal is not located in the centre of Ubud, but about two km south in Padang Tegal, on Jl Hanoman just south of the intersection with Jl Monkey Forest. From Kuta to Ubud cost 60,000rps.
You can go to the "official Tourist Information" (just in the middle of town, on the big crossroad, opposite the market at Monkey Forest Road/Jalan Raya Road) and buy your ticket there (official outlet, same price) and Perama will pick you up there, to transfer to the Perama Bus Hub out of Town.
Get around
Central Ubud can be covered on foot, but you will need some form of transport to explore the extended vicinity.
Central Ubud is overrun with tourists and touts, and traffic is terrible—cars are frequently stuck in traffic, pedestrians have to dodge motorcycles, and everyone has to deal with the noise and smell from so many vehicles in a small area. The nearby villages are much quieter. The sidewalks are often blocked by motorbikes, or a collapsed section necessitates a step off the sidewalk potentially placing you in the path of traffic. That traffic could be a tricycle or a truck, so keep your wits about you.
The EPL Phenomenon
Blame Elizabeth Gilbert. Those of you who managed to make it through the turgid best-selling novel
Eat, Pray, Love,
might have an inkling of what is coming up. Ubud features quite heavily in our heroine's search for fulfilment, and the knock-on effect in the town has been huge. Acolytes have swarmed to Ubud looking for (and sometimes finding) places and people referenced in the book. The actual characters mentioned are surely sick and tired of rather desperate looking thirty-something single women turning up on their doorsteps. The economic benefits of the novel to the area ratcheted up a whole other notch in mid-2009, when the eponymously named movie was shot in and around Ubud, Julia Roberts and all. Just be aware though that Ubud cannot
necessarily
guarantee a remedy for
every
mid-life crisis.
By bemo
Bemos ply the main routes in and around Ubud, and the main stop and gathering point is Ubud market at the junction of Jl Monkey Forest and Jl Raya Ubud. Most bemos stop running in the late afternoon, and are always more frequent in the morning.
By taxi
No metered taxis operate in Ubud, and any you see will be dropping off passengers from further afield.
You may however encounter many locals offering a taxi, who sometimes are very persistent. These are not actual taxis, but "local cars" (see below).
If you do not need a taxi, it's best to avoid eye contact with those offering a ride, as they may follow you with offers of tours of the area, etc. If you are continually being harassed, a polite "no thank you" (or "tidak terima kasih", the Indonesian equivalent) may work.
By local car
Most local transport comes in the form of SUVs or minivans that can be hired with a driver for specific trips. Look for the circular yellow "E" logo on the windshield certifying them as Ubud Transport Association members. You can (and should)
haggle
a bit over the price, and pay less than for the equivalent journey in a metered taxi. A short trip should be less than Rp 20,000, and drivers will be glad to wait for you for a return fare.
Also, there are guys on motorbikes who will also offer bike rides (
ojek
) and are about half the price of those in a car.
By hotel car
Many hotels are located out of town, and are happy to offer regular, complimentary drop-off and pick-up services to central Ubud. Expect to pay higher than taxi prices if you are intending to go further afield.
By motorbike
As elsewhere in Bali, motorbike rental is widely available, and you will not be short of options. Expect to pay between Rp 40,000 and 80,000 per day for a late model motorbike in good condition. Look for rental agencies on all the main streets, or ask your hotel to organise for you. Navigation can be confusing, as signage is limited and all the roads look pretty much the same at first, but take it easy and stop to ask for directions if (when) you get lost.
By bicycle
You can rent bicycles for about Rp 20,000-30,000 per day. There is a large selection available at the corner of the football field on Jl Monkey Forest. Beware though: Ubud is very hilly, so cycling can be hard, sweaty work. Traffic on the main roads is heavy and drivers rarely pay heed to cyclists.
By ride hailing app
There are lots of signs in Ubud saying taxi apps (like Grab, Blue Bird, and Gojek) are prohibited. You may or may not have success calling one anyway if you try.
See
Ubud is so crammed with attractions it can almost seem like a visual assault at times. Try to make sure you allocate at least a week for your visit here, and take your time to explore properly. Visitors who jump up to Ubud for just two or three days of their Bali holiday, stand little chance of understanding much of what is going on around them.
The key historical sites are located out of town, some as far as 20 km away, and you might find it worthwhile joining a tour to visit these. If you do visit attractions such as Goa Gajah, Gunung Kawi, Pura Kehen and Tirta Empul under your own steam, try to find a knowledgeable guide when you get there. Whilst you will certainly appreciate the beauty of these places, their cultural and spiritual significance may be lost without a guide.
Temples and historical sites
Goa Gajah

address: Jalan Goa Gajah

The centerpiece here is a cave dating back to the ninth century, the entrance to which is an ornately carved demon's mouth. Inside are some fragmentary lingam and yoni statues, as well as a statue of Ganesha. Large, carved guards stand around pools near the entrance, and a little path leads to a waterfall, rice fields, and some Buddhist stupa fragments. Some parts of the Goa Gajah complex were not excavated until the 1950s. Nominated as a UNESCO World Heritage Site.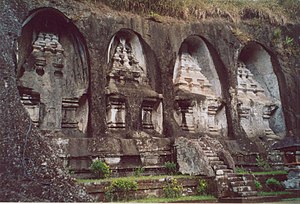 Gunung Kawi

address: Tampaksiring

Dating from the eleventh century, this is presumed to be the burial complex of King Anak Wungsu and his many wives. Reached by climbing down 371 steps, the location at the bottom of a steep valley lined with paddy fields, is quite stunning. The smaller complex on the south side of the river is presumed to have been built for the King's wives, while the larger complex is thought to have been the residence of the King himself, and perhaps his concubines. The structures are carved into the sides of a steep river valley, and the river crossed by twisting trees and vines. You must take off your shoes before entering into the central pura complex. About 1 km downstream there are further tomb cloisters. On the way back up, take a break at Cafe Kawi which has cold drinks for Rp 10,000 and up. If you haggle for a taxi from Ubud, it should cost no more than Rp 150,000 to get there and back, with the driver waiting for you while you make the visit. Sarong is included in the entry and free, so you can ignore the ladies in the parking lot trying to sell you one

Pura Kehen

address: Jl Sriwijaya, Bangli

One of the most attractive temples in the whole of Bali, and as it is slightly off the beaten path, one which receives relatively few visitors. The temple was founded in 1206, and has an especially impressive 11-tiered meru in the inner courtyard. When you visit here take a little extra time to look around Bangli. It is a quiet and attractive market town.

Puri Saren AgungThis was the palace of the kings of Ubud until the 1940s, and some royal descendants live there to this day. Parts of the complex are off limits to the public, but entry to the rest is free, and this is Ubud's best setting for dance performances (see Do).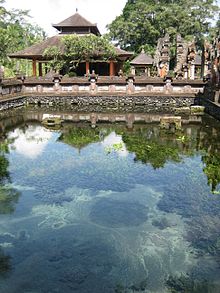 Tirta Empul

address: Tampaksiring

One of the holiest temples in Bali built around hot springs that still bubble in the central courtyard. The Balinese come here to bathe and purify themselves physically and spiritually, and during Galungan, the sacred barong masks are bathed here. The complex dates to 960, but the present buildings are largely modern reconstructions.

Yeh Pulu

address: Banjar Batulumbang, Bedulu nr Gianyar

This complex of rock carvings is close to Goa Gajah but far less well known. The carvings date from the fourteenth or fifteenth century, and are set in a very attractive rice field. You can reach Yeh Pulu on foot through the rice fields from Goa Gajah, but you will definitely need a guide for the 45 minute walk as there is no path to speak of. In addition to the carvings, there is a holy well here, and the attendant priest will be happy to bless you with the well water. Temple dress code applies. This is a much underrated and under-visited site, and is highly recommended.

Chapel of Mother Goddess, Rajarajeshwari Tripurasundari

phone: +62 818 701658

address: Jl. Sri Wedari Km 3

A modern chapel dedicated to the feminine aspect of the divine, such as Kuan Shih Yin, Mary Magdalene, Mother Mary, Lakshmi, Durga, Kali, Saraswati, Gayatri and others.
Museums and galleries
Landscape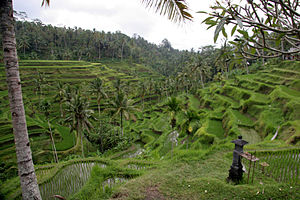 The area around Ubud is characterised by gently rolling
rice paddies
, and these create an impression of greenness which can be quite startlingly beautiful. This is especially true to the south and southeast of the town. Any visitor approaching from the south will appreciate this and it is worth a stop just to absorb the gentle beauty of it all.
Far more off the beaten path is to explore the rice fields immediately north of town. A good route is to take Jl Raya eastwards from the town centre and turn north up the small road immediately adjacent to the BCA Bank building. Proceed up this road through the village of Kutuh and just keep going, turning where you feel like it. This is a very gentle, rural area with some lovely landscape. A great way to explore is by bicycle as there are no steep hills to negotiate here.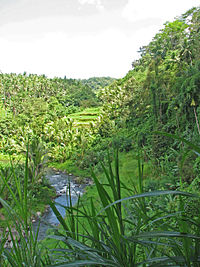 On the opposite side of town in the
Campuhaun
,
Sanggingan
, and
Kedewatan
areas, the landscape changes dramatically as great gorges have been carved out of the limestone land base by the Ayung and Wos rivers. It's no surprise that so many five star hotels have made their home in these lush, dramatic valleys. Opportunities for viewing these gorges are many. You can just find your own way and explore by motorbike (it is very hard work by bicycle as the hills are steep). Head west out of town over the Campuhan Bridge and just start exploring. The main road here is Jl Raya Sanggingan, and if you continue heading away from town you will reach the junction with Jl Raya Kedewatan. From that point you can turn in either direction and just keep exploring. Alternatively, you can stop into a hotel or restaurant, have a drink or lunch, and gaze out in very civilised surroundings. If your pockets are deep, the restaurant at the Four Seasons in Sayan probably has the best views of all of the Ayung Gorge. A more budget conscious option is the lovely Indus restaurant in Sanginngan, with tables facing out to the Wos River.
TegallalangNortheast of Ubud, the land starts to become more undulating, and this is a good place to view Bali's classic rice terraces. This village is somewhat a tourist trap, but it is worth braving the hordes of trinket peddlers to view the stunning terraces. From the town center, take Jl Raya as far east as you can go, and then turn north and continue about nine km until you reach Tegallalang. Look for the picture postcard rice terraces on you right-hand side. For those moving on north to the Kintamani area, this is on route and makes for an easy stop.
Others
phone: +62 361 299352

address: Jl Serma Cok Ngurah Gambir, Singapadu

A splendid 2-hectare aviary park with more than 250 species of birds in well thought out, attractive enclosures. The park has an enlightened, modern attitude to exhibiting animals, and this is obvious from the very open, walk-in aviaries, and the number of free range birds throughout the park. Also has a notably good cafe. One of Bali's best formal attractions.

Botanic Garden

address: Kutuh Kaja

The recently opened Botanic Garden is a wonderful way to spend a few hours walking around and exploring the valley that it fills. It is best to go in the morning and avoid the afternoon heat.

phone: +62 361 971304

address: Jl Monkey Forest

A sacred forest full of monkeys, which are not at all afraid of people and will happily come quite close to you and maybe even climb on your shoulders or head if you're not careful! They love to look in backpacks for things to steal and often take people's sunglasses or wallets. Don't bring any food or you will risk bites and a need for rabies injections. If you are bitten, visit the first aid clinic near the entrance at the bottom of Jalan Monkey Forest. Stroll through to find Pura Dalem Agung Padangtegal, a temple of the dead. A visit to the very informative website beforehand is highly recommended.

The White Herons of Petulu

address: Petulu

Every evening between 15,000 and 20,000 cattle egrets, known colloquially as white herons and in Balinese, kokokan, roost in the village of Petulu just ten minutes north of Ubud. It is quite a spectacle as these large, elegant white and rusty orange birds arrive in countless groups and tussle for the prime roosting spots. Each morning at dawn they leave en-masse to find feeding spots around the island. Some also breed in the area and nests can be seen in the roadside trees. The cattle egrets are joined by smaller numbers of little egrets and Javan pond herons.
According to local legend, the egrets first appeared here in such large numbers after one of the worst massacres of suspected communists during the troubles of 1965. This led local villagers to believe that these birds are the souls of the slaughtered, and ceremonies to that effect are still held today.
The village of Petulu is reached by heading east from Ubud town centre on Jl Raya Ubud until you meet the obvious junction with Jl Raya Andong. Turn left, and go up the hill for about 2 km until you see the sign posted left turning on Jalan Kintamani to Petulu village. Go into the village and you will see signs and warungs set up in the best places to view the spectacle. Get there by 5:30PM.
Do
As a centre of the arts, Ubud has dance and shadow puppet performances every night. There are also plenty of spas for resynchronising your chakras, and all manner of spiritual classes and treatments, some distinctly less genuine than others.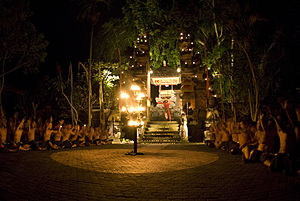 Art courses
Bali Center for Artistic Creativity (BCAC)

phone: +62 361 970034

address: Jl Raya Petulu

Art studio nestled in beautiful grounds and galleries offering art classes from beginners to teachers, and internationally accredited courses run by Bruce Sherratt.
Cooking classes
Cultural performances
Barong Dance

address: Batubulan

A Barong dance performance takes place here every day at 9:30AM, lasting about an hour. It is very much a performance for tourists, and the story is of the never ending battle between good and evil. There is actually not much dancing and a lot of talking in this performance. While buying a ticket, you will get a description of the forthcoming performance.

Pura Dalem

address: Jl Raya Ubud

One of the best kecak performances in Ubud, every Friday and Monday evening. Staged in beautiful surroundings outside under the banyan trees, and followed by a fire dance. Excellent ambiance and the fire dance at the end is impressive. A leaflet in several languages is at disposal to understand the illustrated Ramayana story. However, parts of the performance can get repetitive.

Puri Saren & Puri Saraswati

address: Jl Raya Ubud

Smack dab in the centre of town, dance performances are staged here almost nightly.
Spas
Bali Healing

phone: +62 361 7911104

address: Jl Hanoman 43, Padang Tegal

Even for the experienced massage consumer, this six bed massage centre is an experience. A 1 hs massage is about Rp 80,000. Magic warm stone massage for Rp 120,000. Several other deep tissue and reflexology treatments are available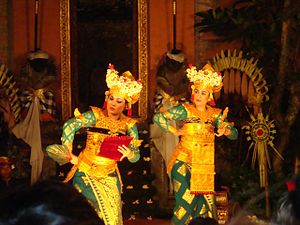 phone: +62 82247606797

address: Jalan Raya Ubud No. 5

Friendly and attentive service in a comfortable setting, with interiors featuring soft cream colours and tasteful ornaments. The therapists deliver top-notch therapeutic massages. You can enjoy cups of comforting rosella or ginger tea at the cosy seating area after treatment.

phone: +62 361 8631816

address: Jl Jembawan 13

Small full-service day spa, owned and run by a young couple named Ngurah and Asti. Simple, secluded, clean and nicely decorated. Very professional staff.

SenS Spa

phone: +62 361 849 3328

address: 1 Jalan Sukma, junction of Jalan Raya Ubud and Jalan Sukma

SenS Spa, inside the SenS Hotel & Spa, features 1 couples treatment suite, 2 single suites and 3 foot reflexology stations.

phone: +62 361 974 672

address: Jl Raya Andong 14, Peliatan

Prices start at Rp 110,000. The grounds are lovely and there is a pool and jacuzzi. This spa is a non-profit organisation which uses its income for charity programs. They offer pick up from your hotel.

phone: +62 361 974393

address: Jl Kajeng 35

Emphasis on Balinese-style healing therapy. Offers alternative health care, a day spa, beauty salon, health massage, vegetarian restaurant and yoga.

phone: +62 361 970975

address: Jl Monkey Forest

Private individual or coupled rooms that open onto a rice terrace. 4 hour package called the Verona Spa Experience has a massage, body scrub, flower bath, facial, manicure, pedicure, and hair creme bath (not to be missed if you like having your head massaged).

phone: +62 361 970923

address: Jalan Raya, Ubud

Excellent spa with professional and well qualified therapists. which attracts rave reviews. Full spa menu and spa packages menu. They are also able to give massage training lessons. www.murnis.com.

phone: +62 361 972834

address: Jl Jatayu

Facial treatments and massage in a relaxing, modern environment. Customer may select the oils and herbs for any treatment.
Canyoning activities
phone: +62 85 333 88 55 98

address: Jl Raya Mas - Ubud

Canyoning is an ultimate outdoor adventure and sport using a variety of techniques that may include walking, abseiling, jumping, sliding down natural slopes and swimming in white water for aquatic canyons. And of course discover beautiful and hidden places at the heart of Balinese nature.
Whitewater rafting and other outdoor activities
There is good rafting available on the Ayung River at Sayan, just west of Ubud. Almost as good as the rafting itself is the wonderful experience of being right down inside the Ayung gorge. This is the domain of high-end resorts like the Four Seasons and Amandari, and it is a very scenic area indeed. The rapids are Class II and Class III, and best during the rainy season as the river can run a bit dry from June to September. There are two well established operators, both with offices on the main road in Sayan, close to Amandari, however other operators have sprung up recently as well.
White Water Rafting become the most popular attraction.
phone: +6281 558 418 737

address: Jl Raya Ir. Soekarno

Free hotel transfer, 2.5 hours rafting experience. Guide, all boats in good condition, waterproof bag, helmets, lunch and insurance also included. They also do volcano climbs, countryside cycle tour, etc.
Cycle tours are an increasingly widespread and popular option.
Yoga and meditation
Buy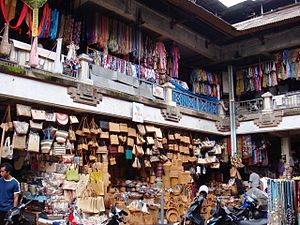 Ubud has a vast assortment of art and jewelry shops. Head for the boutique type stores on Jl Monkey Forest and Jl Raya Ubud for higher quality goods (with appropriately higher prices), or down to the market for bulk-produced cheapies.
Ubud MarketThis is a double storey warren of stalls bursting at the seams with wood carvings, batik shirts, sarongs, and all manner of other souvenirs aimed specifically at tourists. The merchants here haggle with tourists for a living, and think nothing of asking for ten times the going price, so try to establish a baseline before you go in to buy. Most of the merchants downstairs will lose interest if you try to get a reasonable price. It is better to try the shops upstairs where you will find the same products often for sale at lower prices. You will still need to use your best bargaining skills of course. Try to avoid the period from 11AM-2PM when tour buses from further afield tend to arrive en-masse. :If hiring a car for a day, it might be worth it to make a stop in Tegallalang, where they are geared more towards wholesale buyers. The Sukawati Market is crowded and sells trinkets in bulk as well, but quality is dubious.
Craft villages between Ubud and Sanur
The 25 km road to Ubud from
Sanur
in the south passes through a series of small towns and villages which specialize in the production of particular arts and crafts. The towns are
Batubulan/Singakerta
for stone carvings,
Celuk
for silver jewellery,
Batuan
for paintings, and
Mas
for wood carvings. The whole area is sometimes referred to as the "craft villages" of Bali, although it is all a bit more built-up and congested than one might infer from the term "village."
This is the best area to see and buy a wide variety of Balinese craftwork in a short period of time. There are many large showrooms where arts and crafts in the Balinese style are offered for sale. Nearly all organised day-tours of central Bali stop at one or more of these showrooms (and the tour operators usually have a financial tie-up with the places where they stop, collecting a commission on purchases.) Be careful, many of these shops specialise in pricing based on huge commissions to the drivers and tour busses.
Other shops & markets
address: Jl Raya

Second hand bookstore. Also has great range of new books about Bali and Indonesia. Been around since 1986 and now has a second branch in Seminyak.

Pondok Pecak Library

phone: +62 361 976194

address: Jl Monkey Forest

This privately run community library often has decent fiction and other books for sale. By buying here you are supporting their mission to make free books available to Balinese schoolkids. When you visit, check to see if they have any cultural performances coming up. Also has a small cafe serving home-made snacks.

Sukawati Art Market

address: Sukawati

This huge market is like a one-stop centre for all the craft villages between Sanur and Ubud. Many souvenir shop owners from around Bali wholesale purchase their items here, and prices are considerably lower than in the tourist centers like Kuta, Sanur, and Ubud town centre. For a taste of everyday, go to the food and produce market opposite the art market.

phone: +62 361 972187

address: Jl Kajeng 24

A fair trade store that stocks commercially made, traditional hand-woven textiles from Bali and all points east in Indonesia. Or better yet, go to the shops that are actually from the villages and outer islands like Timor and Flores, and specialize in traditional weavings.
Eat
Ubud is renowned in Bali for its wide range of restaurants, and is probably second only to
Seminyak
in terms of the quality of the offerings. Travelers on a budget will not be short of options, as there are many simple warungs serving up the standard Indonesian staples.
Budget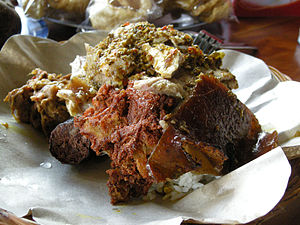 address: Jl Penestanan Kelod

Healthy and delicious Balinese cuisine with plenty of choices on the menu. If you have any special requests, Ibu Made will be happy to cater for you.

Dewa Warung

address: Jl Goutama

Dewa's is one of the better cheap places to eat in town. Serves all the usual Balinese and Indonesian dishes. Most mains Rp 24,000 - 36,000.

Ibu Oka Warung Babi Guling

address: Jl Suweta

A Bali culinary experience. The babi guling (spit-roasted pig) here is world-famous, and this humble eating place is virtually a place of pilgrimage. The roast pork is served with rice and spiced veggies, order the special (Rp 55,000) to get a bit of everything — including offal and blood sausage. There are normal tables and chairs but you can also sit on the floor at low tables inside the bale (pavilion).
Oka

phone: +62 361 976345

address: branch in Mas

Unlike the original, where comfort and appearance are not strong points, this outlet is a two-storey restaurant which is spotless, airy and comfortable.
phone: +62 361 978520

address: Jl. Raya Pengosekan

Provides fresh made to order pizzas, pasta and other Italian style meals. Italian gelato and a full deli are also available. Eat-in, take-out or delivery. Organic market held every Saturday morning. Games and TV are provided to entertain children. Free wifi.
Sawah Indah Warung Ikan Bakar

phone: +62 361 785 8080

address: Jl. Raya Goa Gajah

Lunch or dinner with a rice field view. Fish pond. Relaxing and good for a family or group.
Sari Bamboo

address: Penestanan

A tourist class warung, with food freshly cooked to order, set amid tropical gardens on the main road to Penestanan village. Mainly Indonesian food flavoured to suit the taste of western visitors. The warung and bungalows are easily distinguishable by the display of modern art works by the resident artist. No hard sell though, just good food in beautiful surroundings at good prices. Serves breakfast, lunch and dinner.
Warung Aja

phone: +62 361 973398

address: Jl Monkey Forest

Cosy and friendly, Warung Aja is run by a couple from Java and is a good place to sample Indonesian food from Java, such as nasi rawon, nasi kuning, and pecel. There are also the usual Balinese food items on the menu like sate lilit.
Warung Igelanca

phone: +62 815 8943251

address: Jl Raya Ubud

Cheap and cheerful Indonesian favorites like nasi campur, fried rice and noodles, plus (this being Ubud) a range of herbal drinks, such as Ginger Jive.
Dapur Bunda

address: Jalan Sriwedari

Indonesian and western "buffet" style eaterie with the style and quality of a mid-range restaurant. Offers tapas-sized portions from Rp 4,000 to Rp 14,000 on saffron, brown or plain rice.
Warung biah biah

phone: +62 361 978249

address: Jl. Goutama No.13

Mainly rice and noodle-based dishes.
Mid-range
Warung Lada

address: Jl Hanoman

Choose from the various Indonesian side dishes (nasi campur-style) that are displayed behind the counter. You can pick as many dishes as you like as you pay for each serving. A full plate is around Rp 30,000 including a fresh fruit juice. Be on time for lunch because it is usually packed.

phone: +62 361 971981

address: Jl Penestanan Klod

A 100% raw vegan organic cafe & juice bar, organic health food store, and holistic clinic. Yummy breakfast bar with fruits, nuts, seeds, and raw vegan organic nutmilks and yoghurts from 07-11AM, delicious salad bar with amazing superfoods and toppings from 11AM-9PM. Alchemy´s has an Instagram account at @alchemybali.

phone: +62 361 977528

address: Jl Dewi Sita

Long established Ubud institution. Excellent Balinese and other Indonesian food as well as western options, in a well designed space. Also serves top quality coffee, and has a dessert menu which includes an especially notable version of Balinese black rice pudding (bubur injin). Indoor and outdoor seating.

phone: +62 361 971949

address: Jl Raya Sanggingan

Comfortable Balinese modern design for breakfast, lunch and dining at Ubud area, free wifi. Specialty in noodles and Asian food, you may taste the various food menu offered, such as Bakmie Special, Bakmie Hot Plate, Bebek (Duck), and Ayam (Chicken) Cha Siew in affordable price.

phone: +62 361 8894437

address: 8 Jalan Hanoman

An organic cafe with a variety of vegetarian, vegan, and raw food-friendly selections. Free Wi-Fi. Try free samples from their bakery at the front of the restaurant!

phone: +62 361 972706

This Belgian-owned eatery serves Indonesian dishes as well as a vast array of international classics. Famous for their grilled tenderloin steaks. Extensive winelist, cocktails, Belgian beers and homemade desserts. Free wifi from 11AM-6PM. To make sure you get a table for dinner, call ahead.

phone: +62 361 973282

address: Jl Raya Ubud

Large, long-established restaurant serving western and local dishes, and plenty that fall somewhere in between.

phone: +62 361 981492

address: 8 Jl Monkey Forest

While China Moon is not packed during lunch and dinner time, it does have some of the better Chinese cuisine available in Ubud. The owner of the restaurant comes from Taiwan and is really passionate about cooking and helping customers. Unsurprisingly, Taiwanese food is the big thing here, so you might want to try the mushroom pork soup or any other stews and soups Taiwanese cuisine has to offer. Food from other regions of China is also served, as well as typical Balinese dishes (or a fusion of both). De Ubud Villas & Spa is from the same owner at the backside.

Havana

address: Jl Dewi Sita

Very tasty Cuban food. Excellent paella and chorizo meatballs. There is also a good Latino band which plays there most evenings accompanied by local salsa dancers. Overall good fun.

phone: +62 361 975233

address: Jl Raya Campuan-Ubud

Excellent western and Balinese food in a stunning, gorge setting. Elegant lounge bar. Historic, being the 1st real restaurant in Ubud founded by Murni herself in 1974. Also a shop with interesting collectibles and the odd real antique.

Naughty Nuri's Warung and Grill

phone: +62 361 977547

address: Jl Raya Sangiggan

Crowded roadside watering hole. Microbrews, great martinis and slabs of BBQ ribs. This is very much a standard stop for Korean or Japanese tour buses. Once a week they do amazing grilled tuna. Careful that the waitresses do not stick other peoples drinks on your bill. A few times a year they have parties where drinks are US$10 for as much beer as you can handle, for example during USA elections and the Superbowl.

phone: +62 361 977169

address: Jl Raya Ubud 35

A long-standing institution that serves up a good selection of Balinese, Indonesian, and western dishes, but deservedly popular is their version of a tapas selection, consisting of bite-sized portions of local flavors. 12 pieces of tapas served with rice costs Rp 90,000 and feeds two. Also serves a wide range of cocktails and spirits.

phone: +62 361 2123818

address: Jl Raya Pengosekan

Open kitchen, simple and fresh tacos (soft and crispy), nachos, 8-layer burrito, fajitas, cheesy enchiladas, quesadillas and taco salad bowl. Fresh blended tropical fruit juices or lassies, milkshakes, freshly prepared lemonade, pure juices, mineral water, hot drink, margarita, mojito, sangria and soft drinks.

Tutmak

phone: +62 361 975754

address: Jl Dewi Sita

A favorite with the expat crowd, Tutmak offers an international menu, but is especially famous for its superb coffee made from local arabica fresh roasted daily by the owners.

phone: +62 361 4792 766

address: Jalan Monkey Forest

Provides an Asian (Balinese, Indonesian, Thai) and Western cuisine, and various of beverages; cocktail, mocktail, coffee or tea. Free wifi
Splurge
Many of the five star hotels in and around Ubud have top class restaurants, with the Four Seasons Resort and Maya Ubud being of special note.
phone: +62 361 975489

address: Jl Hanoman, Padang Tegal

An interesting restaurant with paddy field views and nice gardens. Famous for their crispy fried duck and some European-based menu items. They have a good selection of cakes as well. Free wifi in the area closest to the street.

phone: +62 361 972111

address: Jl Lanyahan, Br Nagi

A fine dining restaurant with French inspired menus mixed with Asian influences. Good views and hushed atmosphere. Has a large wine list.

phone: +62 361 975768

address: Jl Raya Sanggingan

The brainchild of chef Chris Salans, this is one of the leading restaurants in the whole of Bali, and one which will please even the most jaded of foodies. Multi-award winning, including the coveted Les Grandes Tables du Monde award (the only restaurant in Bali ever to achieve that). Western prices, but worth it as a special treat. Try the degustation menu.
Drink
Ubud is emphatically
not
party town: there are a few places for a quiet drink, but the strictly enforced local regulation that all live performances and loud music must end by 10:30PM puts a bit of a clamp on the local nightlife. More often than not, visitors have a quiet drink with their evening meal, and call it a night.
phone: +62 361 975959

address: Jl Raya Ubud 35

Don't be fooled by the name, this is a stylish watering hole with a large bar downstairs, complete with sofas and cow-leather bar stools, and a rather less busy restaurant upstairs. Drinks are expensive but generously sized.

The Melting Pot Game Room and Pub

phone: +62 815 7689113

address: Jl. Pengosekan

Pool hall and games room with full bar. Every nation is represented with a flag and customers are encouraged to sign their country's flag. Food, music, table tennis, darts, foosball, video games, pool tables and general atmosphere make it a place where locals, expats and tourists often congregate. 8 Ball tournament every Tuesday night and 10 ball tournament on Fridays are open to all.

Rendezvousdoux

phone: +62 361 7470163

address: Jl Raya Ubud 14

On Thursday evenings there is often a jam session with local expat musos trying their hand at various forms of ethnic music. Otherwise it is a generally quiet cafe.
Sleep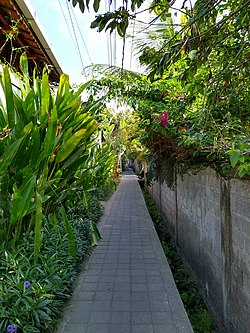 Ubud has a vast selection of lodging for all budgets. Many visitors prefer to avoid the noisy, congested, and crowded town centre and instead stay out in nearby rural areas, ideally with views of the famous rice terraces, but this can make it a little difficult to get around. As in most of Bali, in all but the grandest of hotels, check-in and check-out times are a bit of a moveable feast. It is safe to assume about 2PM and 11AM.
Budget
Ubud has many homestays which are the cheapest form of lodging, a good way to meet the locals, and the natural replacement for hostels on the backpacker circuit. If you want to stay in town, the area around Jl Monkey Forest is generally the most expensive little more expensive (from Rp 80,000-100,000 per night). If you want cheaper prices try the areas around Jl Hanoman, north of Jl Raya Ubud and further out in Peliatan. In the low season especially, bargains can be had by those willing to bargain. Jn Kajeng, close to the centre, is a peaceful, mostly pedestrianised street with many small budget to mid-range homestays - those on the west side have views at the rear towards the river, waterfall or nearby rice fields.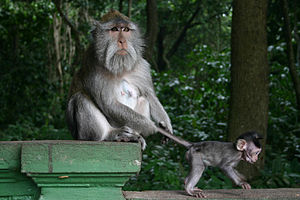 Mid-range
Splurge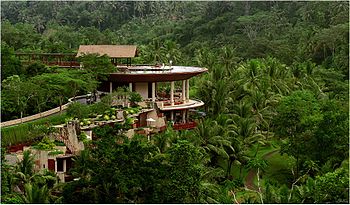 Resorts
Several of the leading luxury resorts anywhere in Asia are located in Ubud. Expect superb standards, with prices to match.
Private Villas
The following are private, individual villas which only take a single group of customers at a time.
Stay safe
Ubud is a safe town to visit and few problems will ever be encountered.
police station

phone: +62 361 975316

address: Jl Raya Andong
Be wary around the
monkeys
that occupy the Monkey Forest. They are experts at stealing possessions like glasses, earrings, cameras and even handbags, and have been known to attack people carrying food. Rabies is also a concern in Bali, and the likelihood is that these monkeys could carry the disease. No matter how cute they look, feeding them is just asking for trouble.
Stay healthy
Dengue
fever outbreaks are not uncommon, so be diligent with mosquito repellant.
Ubud does not have a fully fledged hospital and the nearest is about 20 km to the south in
Denpasar
. There are a number of reasonable clinics, though, which are used to treating typical traveller ailments.
phone: +62 361 978078, +62 361 7468151

address: Jl Raya Pengosekan

Four doctors and four nurses as well as two drivers and two ambulances (plus administrative staff). Very highly regarded by visitors and locals alike. Open 24/7; emergency and first responder services available as well as the ability to arrange for evacuation, if necessary. Normal services include checkups, medications, vaccination, lab & radiology services, referral to specialists and hospital admissions in Indonesia and overseas. Able to provide visits to caller's home or hotel.

phone: +62 361 974911

address: Jl Raya Campuan 36

Four resident GPs and blood test station to cover basic infections, tests and stiches. Strong focus on international guest, GPs speak English with varying degree. Blood test lab is open from 8AM-3PM (standard blood test takes 4-5 hrs), very basic dentist services. 24/7 GP onsite and basic emergency service. Pharmacy is connected to the clinic.
Connect
Internet
Most dedicated internet cafes provide computers with fairly low speed access at a low price, Rp 6,000 per hour being the current standard. There is only one truly high speed location, Highway on Ubud Main Road, but be prepared to pay a lot more than in other places.
In cafes and restaurants free wifi for customers is increasingly widespread. If you have your own laptop and don't need high speeds that's probably the best way to go, but beware of the hours internet is available can be fewer than the hours a restaurant is open. KAFE for example has excellent and uncommonly fast internet in a great environment but internet is only available from opening until noon and from 3-6PM.
Highway

phone: +62 361 972107

address: Jl Raya Ubud

phone: +62 361978073

address: Monkey Forest Road 88x

Coworking space.
Post
There is a refreshingly old-fashioned main post office at the Jl Raya Ubud end of Jl Jembawan. If you are staying in Ubud for any length of time, you can use this as a poste-restante office. Make sure you have your passport with you when you want to collect any mail or parcels.
Kantor Pos

address: Jl Jembawan
Telephone
The area code for Ubud is 0361. +62 361 XXXXXX for international callers.
All of the major Indonesian mobile telephone networks have full coverage of the Ubud area. If you need to make an international landline call, there are many public phone shops (
wartels
) in the town. As with the rest of Bali, the few public telephones that exist are extremely unlikely to be in working order.
Go next
Ubud is well located for moving on to other areas of Bali.