Ulaanbaatar
Ulaanbaatar
(Улаанбаатар)
— also
Ulan Bator
,
UB
, or in the local language,
Khot
("the city") — is the capital and the largest city in
Mongolia
. Ulaanbaatar is disproportionately larger than all other cities in the country: with a population of 1.34 million as of January 2016, approximately 44% of the country lives here. It is located just east of the center of the country in the forest-steppe region close to the birthplace of Genghis Khan. Ulaanbaatar is a city where authentic Mongol culture thrives in an urban setting, which has made it a destination in its own right.
After stagnating in the 1990s, the economic situation in Ulaanbaatar has improved — nowadays the city center is clean and developed, with modern skyscrapers, hotels, and malls showcasing local and international brands. The city is known for its impressive museums, old monasteries, high quality restaurants, cinemas, theatres, and proximity to scenic natural spots. In 2016, after extensive preparations, the city hosted the 11th Asia-Europe Meeting.
Understand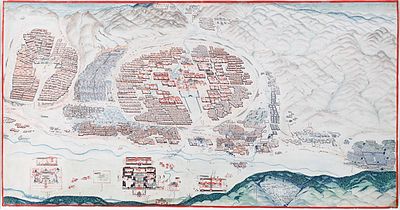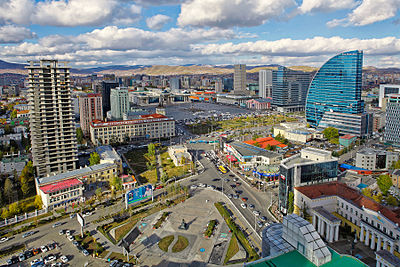 Ulaanbaatar is a city of many different and distinct layers. Long gone are the days when this city was just a typical, drab Soviet-bloc town in the middle of nowhere.
The first layer, the natural setting, is what may be called pre-1778 Ulaanbaatar. Ulaanbaatar lies in the
Altan Tevshiin Kundii
(Valley of the Golden Cradle), a scenic spot was chosen by the lamas and nobles in 1778 as the permanent site of the city. Here the rivers Selbe and Tuul meet at the foot of the imposing Bogd Uul Mountain. Located in the forested and watered zone of northern Mongolia, it resides near the 2,000-year-old royal tombs of the Xiongnu, the 8th-century Turkic inscription of General Tonyukuk, and the birthplace of Genghis Khan. From the 20,000-year-old Paleolithic settlement on the Zaisan monument to the 12th-century palace of the Nestorian Christian monarch Toghrul, there is a lot to learn and discover about this deep first layer of Ulaanbaatar.
The second layer is the
Urga
of 1639-1778, the unique mobile monastery that survives today as cultural forms (Genghisid memory, Mongolian temple architecture, wooden fenced
ger
districts, Mongolian script, and Buddhism, traditional clothing, festivals, wrestling, music), and as physical artifacts kept in museums (Zanabazar masterpieces). The third layer is the Urga of 1778-1924 which can be found in surviving buildings such as the Gandan monastery.
The fourth layer is the socialist period of 1924-1990 which saw the destruction of temples, the confiscation of private property, and Stalinist purges, but also the emergence of Mongolia as a modern, independent nation with Ulaanbaatar as its main showcase. The fifth layer, corresponding to the decade of the 1990s, was a stagnant period marked by poverty and bread lines which left a poor impression on the few visitors who passed through the city after its opening from communism.
The sixth layer is the Ulaanbaatar of 2000 to the present: modern and cosmopolitan. Despite this new layer, the city is ringed by less developed
ger
districts that cause air pollution in winter that lasts through March.
Orientation
Peace Avenue (
Enkh Taivny Örgön Chölöö
) is the main street, stretching from east to west through the center with shopping and restaurants all along it. This street dates back to old Urga when it was called the
Chölöö
(Broad Avenue). The Chinese financed its paving in the 1950s. The street passes by the southern edge of the central square,
Chinggis Square
(formerly known as
Sükhbaatar Square
), which has roots in the central square of old Urga. The tourist information office is located in the south flank of the town hall in the western corner of Chinggis Square.
The city center is defined by the
Ikh Toiruu
(Great Ring Road) which has its origin in the prayer route of pilgrims circling the central temple-palace complex of Urga. Peace Avenue crosses the middle of the ring road horizontally while the southern part of the ring road is the Narni Zam road ("Road of the Sun" built with Japanese support). South of the Narni Zam road is the affluent southern part of Ulaanbaatar with luxury apartments lining the Tuul River.
Ger districts line the northern part of the city center and stretch 7 km north to the
Dambadarjaalin Monastery
built in 1765. North of Dambadarjaalin Monastery starts the
Zuslan
or summer vacation area, where charming summer houses stretching 14 km to Khandgait.
Almost every family in Ulaanbaatar has a
zuslan
building where they spend the summer among the forests and natural scenery of the Selbe river valley. Some herding families graze their horses and cows freely in this area. The scenery gets more dramatic going east towards the Terelj area with big rock formations and wildflower valleys. Tours go past Terelj to the 1740
Gunjiin Sum Princess Temple
and the
Khagiin Khar
lake.
The southern edge of Ulaanbaatar is marked by its boundary with the town of Zuunmod on the south side of the Bogd Uul mountain. The 1778 shrine of
Tsetsee Gun
on the peak and the 1747 ruins of the
Manjusri Monastery
are located on top of the mountain. South of the mountain starts an endless sea of grassland steppe gradually merging into the
Gobi
Desert 300 km south of UB. Day trips to the east include the
Tsonjin Boldog Genghis Khan Statue
. Day trips to the west include the
Khustain Nuruu National Park
,
Aglag Meditation Center
and
Ögii Lake
.
History
At the time when Ulaanbaatar was founded as Urga in 1639 by Genghisid nobles, Mongolia was actually a serious contender for power in East Asia. The last Great Khan, Ligdan, had died in 1634, and Manchus were rising in the east — but the independent Mongols had been revitalized by a Buddhist renaissance in the 1570s, and raids under Altan Khan were carried out as far afield as
Beijing
. A firmer union of the Western Oirats and Eastern Genghisids would have sufficed to fend off the Manchus. The 1640 Mongol-Oirad Code of Law united the East and West, but this union failed to last long. What did survive from this period was the union of the Eastern Mongols cemented in 1639 with the founding of Urga. The Mongol nobles installed one of their own, Zanabazar, the son of Tüsheet Khan Gombodorj (1594-1655) and a direct descendant of Genghis Khan, as the supreme lama of the Mongols. His residence, called
Örgöö
or Urga, meaning "palace-yurt", was some 250 km west of the current site of the city, near the ancient Mongol capital of
Karakorum
. In 1651, the first Jebtsundamba Khutughtu, Zanabazar, returned from studies in
Tibet
and established seven monastic departments in Urga. The mobile monastery gradually became a mobile city, moving every few years as needed. Urga was moved 25 times between its founding in 1639 and settling in its current location in 1778, by which time it had several thousand tents and temples and was served by trade routes from
China
and
Russia
. It was also estimated to have about 10,000 monks. The Gandan Monastery was established in 1809 and became the center of learning for all of Mongolia, and one of the most important monasteries in Tibetan Buddhism.
The city continued to grow through the 19th century as a provincial capital of the Qing Empire and a center of religion and trade. Russian influence in Mongolia became significant in the late 18th Century, and a two-storey Russian consulate was opened in 1865 as an upgrade from the 18th-century wooden quarters of the Russian representative. Mongolia was, in practice, a buffer between Russia and China, with plenty of local autonomy through the Bogd Jebtsundamba and Mongolian nobles.
In 1911, the 8th Bogd Khan declared independence from China, leading to a long unstable period in the city's history including an occupation by a Chinese warlord in 1919. However, the Chinese were kicked out by the
White Russian
Roman von Ungern-Sternberg, aka the "Mad Baron", in 1921. This forced the Soviet Union to intervene and set up a puppet state in what was then known as Outer Mongolia. The country was nominally independent but essentially a satellite state of the USSR. In 1924, the city's name changed from Urga to Ulaanbaatar ("Red Hero"). Many of the monasteries and temples were destroyed in the religious purges of the 1930s.
Following the end of the Second World War, the old
ger
districts were largely cleared out for Soviet-style city apartments, offices, and factories. The
Trans-Mongolian Railway
was completed in 1956, connecting Ulaanbaatar to Beijing and
Moscow
. Gandan Monastery was reopened during a visit by US Vice President Henry Wallace in 1944, when he asked to see a monastery.
Since the democratic revolution in 1990, the population of the city more than doubled to over a million, with thousands moving in from the countryside. The commercial and residential real estate sectors have boomed since 2000, though large factories have closed and much of the city still lives in
ger
districts.
Climate
Although summer temperatures are around 20°C, the city shivers in sub-zero temperatures for five months of the year. January and February are the coldest months, with temperatures hovering between -15°C to -30°C at night. As a result of these prolonged periods of intense cold, the city has an average annual temperature of -1.3°C, giving it the dubious distinction of being the world's coldest capital. The cold is dry, however, and there is not much wind chill due to temperature inversion. Heat island effect also means the city center is warmer than the outskirts. Summer can be very hot at times, so one should avoid heat stress and use sunscreen when necessary.
If you have breathing problems, be aware that Ulaanbaatar has high levels of air pollution during the winter. However, away from the city, the countryside air is gorgeous. In winter, air pollution starts at 19:00, when
ger
district residents start burning coal for heat, and lasts till about 10:00 the next morning. It is severe in northern parts of the city close to the
ger
districts, but gets sparse going south from Chinggis Square and is almost absent near Zaisan, at the southern edge of the city where there are no
ger
districts. The air pollution lifts in early March and the city remains pollution free (excluding car exhaust) until November.
Get in
By plane
Chinggis Khaan International AirportThe majority of visitors arrive in Mongolia through this airport. The airport was reconstructed in 1990, and the immigration, customs formalities and luggage delivery are relatively efficient. The airport does have a high number of cancelled or delayed flights because of difficulty landing when wind is blowing from the south, which luckily is not very often.
Getting to the airport
can take as long as an hour during morning or evening traffic. Local buses #7 goes to the airport, while number 9 runs along the road at the front - just walk directly ahead out of the terminal straight up to the road and the bus stop into town is obvious. Taxis to and from the airport should cost 15,000–20,000₮, though you should agree to the price before getting in lest you get overcharged. The drive can take anywhere from 30 minutes to an hour.
A new Japanese-built airport, now known just as "New Ulaanbaatar International Airport" has been constructed about 50 km south of the city. Construction was reportedly finished in 2017, but it will open to traffic only in August 2019, thereby replacing the current airport.
By train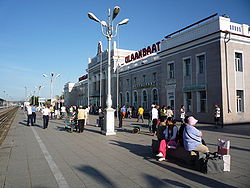 Direct (if long) journeys are possible from destinations between Moscow and Beijing on the Trans-Mongolian line of the
Trans-Siberian Railway
. Ulaanbaatar-bound trains leave Beijing once a week, on Wednesday, and seats can only be reserved at the International Hotel in Beijing, a ten minute walk north of the main rail station. The journey takes about 30 hours. Packing a face mask might be a good idea as sandstorms in the Gobi desert may cause difficulty in breathing. Shorter-haul trains also run to the Chinese border towns of
Erlian
and
Jining
3-4 times a week. Ulaanbaatar's is located on Narni Zam road, about 3 km west of the city centre. The cheapest option is the daily 18:05 departure to Zamyn Uud on the Mongolian side of the Chinese border. You can buy a connecting bus ticket from Zamyn Uud to Erlian on the Chinese side for 10000₮ in the railway office in Ulaanbaatar.
In Moscow, trains to Ulaanbaatar depart Tuesdays, Wednesdays and Thursdays (the latter two are express runs), for a journey that lasts 100 hours or a little over 4 days. There's also a daily train to/from
Irkutsk
, which can also be reached from
Vladivostok
at the eastern end of the Trans-Siberian.
By car
What few paved roads exist in Mongolia generally go to and from Ulaanbaatar. Thus, getting to UB from elsewhere in Mongolia on a
paved
road is very easy, because all you have to do is just follow the pavement. However, if you're driving one of the dirt tracks that characterize the majority of the country's road network, it pays to have a map.
Coming from the
north
, the paved road starts at the Russian border at
Sühbaatar
. Coming from the
south
, the paved road starts at the Chinese border at
Zamyn-Üüd
, passing through the vast Gobi Desert along the way. Coming from the
northeast
, the paved road starts at
Bulgan
. Finally, from the
west
, the road starts in either
Bayanhongor
in the southwest or
Tsetserleg
further north.
By bus
Once in the country, it should not be difficult to find a bus going to UB, at least from larger towns. However, bus stops are difficult to locate, with buses usually just stopping in populated areas. Furthermore, Mongolian buses are notorious for being late — in some cases by a day or more. Buses from Russia, the west, north and south usually go to Dragon Center, while those from China and the east go to Bayanzurkh bus station, just east of the Officer Monument at the east end of Peace Avenue.
Botanical GardensThe gardens have been completely destroyed, but the location is well known to the locals. Serves inter-city buses to Eastern Mongolia.
From Russia, there are also UB-bound buses from
Ulan Ude
, leaving at 07:30 from the
old bus station
(Старый Автовокзал)
via the Altanbulag border crossing. The trip usually takes about 12 hours, including customs processing — much faster than the train — and tickets cost one-way. There are also night buses that leave on Fridays and Sundays at 19:00. Buses arrive and depart from the Dragon Bus station. Any travel agency should be able to book tickets or you can buy them at either bus station.
Get around
Street names are rarely known by Mongolians, and they usually only appear on maps and official addresses. Official addresses list the district, microdistrict (usually a large block bounded by major streets), and the building number. However, since blocks can have dozens of buildings, with more continuously being squeezed in between existing ones, addresses are not very helpful for navigation. Instead, it's best to have directions for major landmarks using lots of descriptions (i.e. "turn right at the first traffic signal west of the State Department Store"). Some major streets to know are
Peace Avenue
, UB's main road which runs west-to-east in front of Chinggis Square;
Chinggis Boulevard
, running north-to-south on east side of the square, then veering west toward the airport in front of Bogd Khan Winter Palace; and
Seoul Street
, which runs west from Chinggis Boulevard just south of Chinggis Square.
By taxi
Taxis are cheap: the going rate is around 1000₮ per kilometer, but if you're a foreigner, they'll overcharge you and there's really no way to get around it completely. (In extreme circumstances, opportunistic younger drivers have been known to try to hold passengers or their luggage at ransom until they pay extraordinary amounts of money!) A good tip is to carry a small written note with an amount in
tögrög
(500₮, 1000₮, 1500₮, etc.) and show them exactly what you are willing to pay before you get on.
A ride from the airport to the city center should cost you no more than 20,000₮, but most drivers will try to charge you at least 30,000₮. You may get a better and more reliable deal by seeking out older drivers in their own cars, rather than the official yellow cabs. UB also now has a fleet of new white cabs with large LCD-screen fare meters on the dash. Always negotiate the fare in advance, don't be fooled by tricks like "I meant 3000₮ for each of you", and avoid random cars that offer taxi service.
Help Taxi

phone: +976 99652371

Fluent English-speaking dispatch, all drivers have at least limited proficiency in English. Main taxi service for all the embassies.

iTaxi

phone: +976 77171717

English-speaking dispatch, metered taxi rides, texts you when the taxi arrives to pick you up.
By bus
Buses in UB come in several different varieties. At the top of the scale, regularly-scheduled municipal buses operate on a widespread network that extends right to the outskirts of town, for a flat rate of 500₮. As well, there's an almost equally extensive network of
microbuses
charging from 300-500₮, which you can find by looking for a person hanging out the window at each stop and shouting the name of the destination in rapid-fire Mongolian. Finally, there's also a cheaper (300₮) but slower and less extensive network of electric trolleybuses. To use the municipal and trolleybuses you need a U card, which can be purchased at many kiosks and shops for 3000₮. You load credit and touch it to the reader when getting on the bus. If you touch it on the reader when getting off you can get a second ride for free if you board within 30 minutes.
As in any city, be wary of pickpockets on the buses, especially when the buses are crowded.
By foot
Within the quite compact city center, walking is a viable option. Ulaanbaatar stretches from east to west along just one main drag (the aforementioned Peace Avenue), making navigation a cinch. However, once you leave central UB and get into the
ger
districts, it's a different story entirely: a good city map, which you can get at the airport or the
Mongolian Government Map Shop
, is a must if you plan to go off the beaten path. You'll find the map shop directly on the Ikh Toiruu ring road: head west three blocks from the State Department Store, then turn right (north) at the first traffic light and proceed for about half a block. The Map Shop is behind the blue and yellow
Elba Appliance
store.
See
Most tourist sites have a separate camera/video fee (typically 5000-10,000₮) in addition to the entrance fee.
Monasteries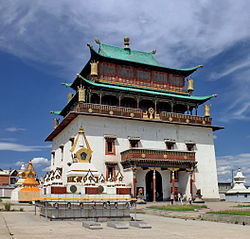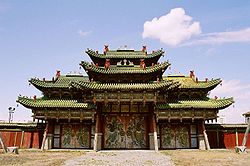 phone: +976 11 32478

These five temples and five arched gates are a unique showcase of religious art and the history of Buddhism in Mongolia, a gem of 20th-century Mongolian cultural heritage, and a fine example of Buddhist architecture. Choijin Lama Monastery was active until 1938, was inscribed in 1941 on the list of historical and cultural monuments, and became a museum the year after. In the main temple you'll find the sculpture of the Choijin Lama and the embalmed mummy of his teacher, as well as the great coral mask of Begtse, created under the direction of protectors using over 6,000 pieces of coral. Elsewhere in the complex, Yadam Temple and Amgalan Temple contain rare artifacts made by the famous Mongolian artist and sculptor, Zanabazar.

Gandantegchinlen MonasteryThe main monastery in the city has services around 10:00 every morning. It is one of the few monasteries in the country that was spared during the Communist purges of the 1930s.
Museums
Bogd Khan Winter Palace MuseumBuilt between 1893 and 1903 by Mongolian masters, this palace was dedicated to the VIII Bogd Gegeen, head of Tibetan Buddhism and Khan of Mongolia from 1911 until 1924 (the last three years of which were as a constitutional monarch). Upon his death, the palace became the first national historical museum of Mongolia. The museum contains twelve collections showcasing valuable objects and works of art from the 17th to early 20th centuries (notable among which are gilded bronze sculptures by the first Bogd Javzundamba Zanabazar and his school, 19th- and 20th-century thangka paintings, a Jugder painting of Ulaanbaatar in 1912, and works by modern Mongolian painter B. Sharav), as well as personal possessions of the Khan and his wife, Queen Dondogdulam.

Central Museum of Mongolian DinosaursThe complete fossil of the Tarbosaurus bataar — a close cousin of the larger T. Rex that serves as the centerpiece of this museum's impressive collection — was stolen from Mongolia by American archaeologist Eric Prokopi and auctioned in New York for $1 million. The ensuing news coverage set off an international criminal case that resulted in Prokopi's arrest and the return of dozens of dinosaur fossils to Mongolia by the U.S. government, which make up the bulk of this museum's collection. Located in the former Lenin Museum on Freedom Square, the Central Museum of Mongolian Dinosaurs contains a couple dozen other complete dinosaur fossils besides the Tarbosaurus, all of which were found in the Gobi Desert.

International Intellectual Museum

phone: +976 11 461470

This museum not only displays but also manufactures and exports a wide variety of traditional Mongolian puzzle toys, logic games, handcrafted products, and souvenirs, and has launched over 80 international exhibitions and fairs in 50 countries.

Museum of Victims of Political PersecutionThe museum is dedicated to the memory of the roughly 30,000 people that died during the religious purges ordered by the communist leader Choibalsan in the 1930s. There are plenty of sombre exhibits concerning these deaths as well as the destruction of monasteries and religion. Very little is in English, so the museum's contents may be hard to follow.

National Museum of MongoliaThis is the main museum in the capital and should be a first stop on any visit to the city, as it holds the most important artifacts of Mongolia's rich history dating back several thousand years. These include ethnographic displays of different Mongolian tribes, petroglyphs and cave drawings, Turkic monuments, weapons, armor, and various displays from throughout the different eras of Mongolian history: the Hun and Mongol Empires, Chinese rule, the Communist era, and the democratic revolution of 1990. There are displays of self-portraits and personal possessions of Genghis Khan and other great khans of the Mongol Empire. Most displays are in English and Mongolian.
Art museums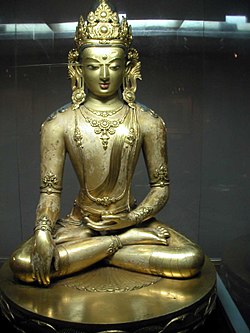 Mongolia National Modern Art Gallery

phone: +976 11 327177

A surprisingly good modern art museum that displays the vibrancy of the local art scene. There are temporary exhibits throughout the year as well as a permanent collection.

phone: +976 11 326060

The collection includes items from the Stone Age through to the 20th century. Particularly interesting is the collection of Buddhist art from the 17th century and later.
Monuments and memorials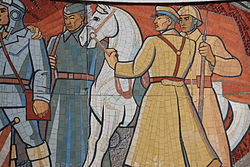 Chinggis SquareThe big open space in the center of the city with an equestrian statue of Damdin Sükhbaatar, warrior-hero of the 1921 People's Revolution, as well as a seated statue of Genghis Khan that sits at the door of the Government House. Inside the Government House is a small museum with artifacts from the Mongol Empire and a reproduction of Genghis Khan's White Peace Banners of State (the Soviets had the originals destroyed in the 1930s).

Zaisan MemorialA huge Communist-era monument located on a hill near the city depicting the Russian and Mongolian heroes who fought together during the First and Second World Wars. Nowadays it is a popular viewpoint where you can see over the whole city. There's also a huge Buddhist statue at the bottom.
Despite news about the removal of Lenin's statue, Ulaanbaatar still boasts a wealth of other interesting statues and public art beyond what's mentioned above. Prominently, former Communist leaders Choibalsan and Tsedenbal are memorialized north of the Government House, as is Sanjaasürengiin Zorig, leader of the 1990 democratic revolution, at a location southwest of Chinggis Square. There are also many lesser-known statues scattered through the city: there's a bust of Stalin inside a beer garden south of Chinggis Square, some old Soviet murals on the side of apartment buildings north of the Bogd Khan Winter Palace, and you'll even see The Beatles and the villain from the movie
Predator
holding court in front of the State Department Store and in front of a small office building 100 m northeast of there, respectively.
Do
Outdoors
Bogd Uul, the mountain ridge south of town, is a great place for a hike. To get there, take the #7, #33 or #43 bus from in front of the Bayangol Hotel to the south end of the line. From there, the road continues south about 100 m, whereupon you'll come to a checkpoint where you'll be charged a fee of US$3. Proceed, bear left when the road forks, and you'll soon find yourself in a ger camp with a small stream flowing north. This is where the hiking path itself begins, on the left (east) side of the stream. At the top of the ridge, veer west and proceed through the woods for an easy amble of about two or three hours (you'll come to a high point about 500 m past the turn). At the end of that stretch, you have the option of either branching off to the west or else continuing straight and slightly east to Bogd Uul Mountain (this path is marked with orange paint marks on the trees). That part of the trip is quite long — about 10 km one-way — and more challenging, with varying elevations.

phone: +976 11 320345

A winter sports resort offering downhill skiing, snowboarding, lifts, equipment rental, ski and snowboard school, and an onsite restaurant. There's a free bus from the Drama Center (next to the Grand Khan Irish Pub) with departures between 08:00 and 19:30 (frequent service on weekends, more sporadic midweek; check schedule to verify bus times).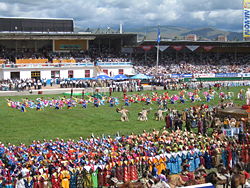 Festivals
NaadamThe largest and most famous festival in Mongolia, Naadam is held yearly from July 11-13 and consists of competitions in the three traditional Mongolian sports of wrestling, horse racing and archery. The , besides being the main venue for the festival, also serves as the country's main football and baseball stadium as well as a venue for occasional concerts and cultural events.
Theatre and performance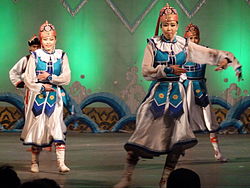 National Academic Drama TheaterMostly presents Mongolian plays in drama, musicals, or children performances. Tickets are sold at the "KACC" office in front.

State Circus of MongoliaHome to the world famous Mongolian contortionists, where most of the world's professional contortionists get their start. The circus also features animals, jugglers, and other entertainment.

State Opera and Ballet Theater

address: Chinggis Square

While visiting Chinggis Square, it may be worthwhile to check out the board in front of this theatre to see if there is an upcoming performance. Most performances are at 17:00 Saturday and Sunday. Local performances may not be great, but are very cheap. Ballet troupes and opera companies from Russia also occasionally visit.

phone: +976 11 322238

A traditional dance ensemble founded in 1989 that performs dances, music and religious ceremonies for audiences of mostly foreign tourists. Performances last about an hour and are far from the usual tourist schlock: these very skilled artists take their work seriously and have been on tour in the U.S., UK and other countries.
Miscellaneous
Get an inexpensive massage at one of the many massage spas located on Peace Avenue.

National Amusement ParkOpen since 1969, the park today features a steel roller coaster, a Ferris wheel, a castle surround by an artificial lake, and bowling.
Learn

The (ACMS) provides in-depth insight into Mongolian culture for those looking to get to know it through a more academic approach. The center has a study room and library of Mongolian-related material, with Internet access. You'll find it on the campus of the Mongolian National University, on the third floor of Building #5.
As well, there are several Mongolian language schools throughout the city.
On Facebook look for various learning clubs or English learning local clubs which they offer various local meetups and you may attend some of them to learn local culture or to participate with various interesting local activities.

Buy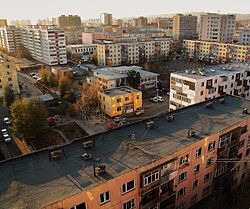 It's essential for visitors to Ulaanbaatar to carry cash, as only a few of the more expensive shops in town accept foreign credit cards.
Thankfully, it's relatively easy to find an ATM with a Visa logo to withdraw cash. All ATMs should accept foreign credit and debit cards to withdraw
tögrög
(the local currency) as long as you have informed your bank ahead of time as to your Mongolian travel plans; most will charge you a foreign currency conversion fee of about 3%. Besides Visa, other card types are also accepted, but not as widely: for example, the machines in the Central Post Office and along the main street will not accept foreign MasterCards, although they bear the logo. The only ATM that accepts Cirrus cards is the one at the airport.
UB also has many banks and exchange offices where
tögrög
can be obtained. Golomt and TDB are the most reliable banks for currency exchange, the former of which can give up to US$500 per day cash advance on MasterCard and Visa and also accepts American Express. Exchange offices can mainly be found along Peace Avenue in the city center, including one on the ground floor of the
State Department Store
. However, you'll find better rates at the one on the second floor of the
Flower Center
, on Peace Avenue one block west of the Post Office. Lastly, major hotels like the
Ulaanbaatar Hotel
will exchange money 24/7 at the reception, which may be your only option if you arrive very late in the day.
See
Mongolia#Money
for exchange rates for the
tögrög
.
Major shopping centers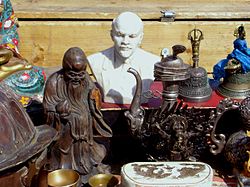 Souvenir shops
Ulaanbaatar has a host of souvenir shops aimed at both Western and East Asian tourists, mostly along Peace Avenue west of Chinggis Square. Traditional clothes, boots and hats, cashmere garments, jewelry, leather wall hangings, miniature
gers
, bow and arrow sets, and paintings are among the typical inventory. While the quality of the goods varies, prices are usually high.
Books
Miscellaneous
Eat
Nobody travels to Mongolia for the food, but Ulaanbaatar has a good range of options serving Mongolian, other Asian (particularly Korean and Chinese, though like their North American counterparts, flavors tend to be tailored to the local palate), and Western cuisine — and at decent prices. For instance, you can get perfectly good pizza for 5000₮, and even a night out at a fancy French cafe shouldn't pass 30,000₮. Consider splurging on a couple good meals here, especially if you're headed out for a long trek into the country where things like fresh vegetables are often hard to come by and prohibitively expensive. Best of all, UB's rapidly growing wealth has meant a steady procession of ever newer, ever higher-quality restaurants, as well as the appearance on the scene of international chains like
KFC
,
Round Table Pizza
, and
Cinnabon
.
Avoid Korean and Chinese restaurants, because these types of restaurants prepare their foods out of very low and bad quality raw food materials. Instead going to other local restaurants and local canteens called Tsainii gazar (Цайны газар) are a safer choice.
Budget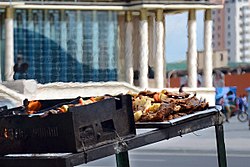 Throughout Ulaanbaatar are many small canteens
(Гуанз)
and coffeeshops
(Цайны Газар)
. Try one of these for cheap Mongolian food.
Buuz
usually costs 400-600₮. As well, most universities (particularly the
Mongolian National University
and the
Mongolian University of Science and Technology
) have good cheap cafeterias with meals running from 1800₮ to about 2500₮.
Coca-Cola and KababThe specialty of the house is a meat sandwich on pita bread, grilled Turkish style on a vertical rotisserie with tomato, lettuce, and some sauce.

Joe's Corner BurgersBurgers and hot dogs, with fries on the side: probably the best value in UB for this kind of all-American fare.

phone: +976 11 9907-7885

Very good quality vegan food. Attached to a Buddhist meditation center, therefore short opening hours (closes around 9pm).
If you're looking to self-cater, they also sell a modest selection of groceries including vegan sausages.

Papa Cafe

phone: +976 11 461687

Burgers, chicken burgers, espresso and baked goods. On Saturday they open at 09:00 and serve a breakfast special of one large waffle with fresh fruit, ice cream, bacon, Mongolian blueberry jam, and syrup, plus coffee and other drinks.
Mid-range
Budweiser Pub & Restaurant

phone: +976 8900 3025

Fish and chips, steak, English breakfast.

Chinggis ClubThe Chinggis Brewery s in-house restaurant, serving German cuisine and (of course) their own locally-brewed light and dark beers on tap.

Hishig Mongol 2

phone: +976 7018 0585

If you want to experience real authentic Mongolian cuisine, this is the place. Serves roasted sheep head, roasted ribs, buuz, and dried meat soup. No foreign-language menu or staff, though.

phone: +976 11 33 0338

Good selection of American-style coffeeshop fare, including some vegetarian options. Free WiFi.

phone: +976 11 31 7098

Good pizza and sandwiches, good coffee. Free WiFi.

Venus Cafe

phone: +976 1327496

Malaysian specialties including masala, roti, and spicy curries.

Modern NomadsExcellent variety and quality for both locals and tourists. Good, clean toilets are an added bonus.

Bosco verde. Vegan restaurant just behind the circus.
Splurge
It's hard to spend outrageous sums of money eating out in Ulaanbaatar: the most expensive meals in the city will be around 60,000₮ a person. That is, unless you're drinking: whiskey or any other non-vodka liquors can be a bit pricey.
Caucasia: Just behind the circus. Serving Armenian and Georgian cuisine. Excellent quality.
Chojin: In front of the Chojin Lama Museum on the ground floor of an office building. Serves a small but excellent selection of mediterranian dishes. Very popular business dinner location for the locals. reservation recommended.
Hana Japanese Restaurant. On Chinggis Avenue next to the National Library, in the first floor of an office building. Impossible to spot from the outside, just go in and ask at the reception. You get advised to follow a fire security stairways up. Despite the non-glamorous arrival, the Hana is a high-end Japanese restaurant. Elegant atmosphere. Excellent Japanese dishes including udon soups, sushi and barbecue. Meals up to 30.000 T. Including starters and drinks, be prepared to spend 50.000-60.000 T.

bd's Mongolian BBQThe type of food Westerners call "Mongolian barbecue" — stir-fried meat and vegetables cooked on a huge iron griddle — has very little to do with the actual cuisine of Mongolia. This is the place for tourists disappointed by that discovery: bd's is a U.S.-based chain specializing in this type of cuisine whose Ulaanbaatar location, opened in 2005, was the first international restaurant chain to enter the Mongolian market. Plenty of different meats are available for grilling, but this place is suitable for vegetarians too (tofu and soy protein are offered as ersatz "meats"). Check your bill before you pay because guests are charged for all-you-can-eat unless specified otherwise.

California RestaurantExtensive menu of both foreign and Mongolian specialties. Beautifully decorated, high-quality food including vegetarian specialties (good tofu!) It's a bit small, but in the summer there is additional outside seating. Reservations are advised.

Hazara North Indian Restaurant

phone: +976 99195007, +976 11 480214

Serving spicy North Indian, Kashmiri, and Afghani food since 1997. Food is all halal, with vegan options available. Well-decorated restaurant and costumed waitresses can make you think you are in Delhi instead of Mongolia.

Los Bandidos

phone: +976 1131 4167

Mexican-Indian fusion: don't knock it until you taste the spicy chicken masala or crispy taquitos. The prices are higher now than they used to be, but the atmosphere has improved along with it.

phone: +976 99270957

Mongolia's first halal-certified restaurant, serves some of the best Indian food in the city. There is another location on the Outer Ring Road in the Impex building.

Turning Point Cafe

phone: +976 7011 9940

Jazz-themed restaurant and bar featuring modern decor, international cuisine, and a wide range of beer, wine and cocktails. Regular live entertainment.
Grocery stores
Good Price SupermarketCatering to expats and well-heeled locals, Good Price is Mongolia's most reliable source of luxuries such as peanut butter, breakfast cereals, canned beans, and cheese. But don't be fooled by the place's astoundingly inaccurate name: these luxuries come at a much higher cost than any other supermarket in the country.

Mercury Food MarketThis small market in the city center is one of the best places to get imported fruits, vegetables, and packaged goods.

eMartThe eMart store at the Chingis khaan hotel is a subsidiary of the South Korean grocery chain that sells medium to good quality of groceries that especially good vegetables and fruits can be bought from there. The second branch is at the Urgoo cinema in Bayangol district and the 3d branch is located at Zaisan. The 2nd floor is consumer goods and 1st floor is grocery.

eMart 2nd branchThe eMart store is a subsidiary of the South Korean grocery chain that sells medium to good quality of groceries that especially good vegetables and fruits can be bought from there. The second branch is at the Urgoo cinema in Bayangol district and the 3d branch is located at Zaisan. The 2nd floor is consumer goods and 1st floor is grocery.

State department storeThe state department store is main store of Nomin food chain stores that located near downtown. It has most of basic good grocery at their first floor. At their top 5th floor there are good book shop and big souvenir shops located. In the medium floors clothing, electronics, house accessories departments located. Food items can be returned within 24 hours and other non food items can be returned within few weeks or months depending on goods department types, must present the receipt.
Drink
Nightlife in Ulaanbaatar is surprisingly wild, especially on Wednesday, Saturday, and (above all) Friday nights, when finding a seat is near impossible. If you like raving the night away to trance, techno, electronica, and house music, this is the scene for you. Beer in clubs costs about 3500₮, while other drinks such as vodka are sold by quantity: for example a 100g vodka costs about 4500₮. According to state law, all clubs and pubs (bars) must stop serving alcohol after midnight and close at 03:00, but some clubs stay open (and continue serving!) until 04:00. On the other hand, the prohibition against serving alcohol on the 1st of each month
is
universally adhered to, even if it falls on a weekend.
Especially after dark, and especially on the aforementioned three busiest days of the week, it's best to go out clubbing in groups rather than alone: not only will you be less likely to run afoul of shady characters, but authorities take a hard line against public intoxication, and the Mongolian drunk tank is
not
a pleasant place to be. As well, the clubs in the 3rd district and the Sansar microdistrict are best avoided. Be sure to apologize if you hit someone or step on their feet accidentally, because this is a rather considerable breach of local etiquette.
Ambrosia RestaurantA nice little restaurant that turns into a club at night, with good drink specials. Popular with foreigners.

Ikh MongolPatrons of this brewpub can choose between the main dining area, the fancy VIP upstairs, or secluded tables in the back. Most weekends have concerts from Mongolian bands. In addition to the house brews served on tap, you can also get some of the more popular Mongolian brands.

MassOne of the aforementioned clubs that likes to stay open illicitly past 03:00. Caters to a younger clientele.

MetropolisPlan to pay 5000-10,000₮ cover to get in to this most popular nightclub with young affluent Mongolians.

StringsA somewhat notorious club frequented by foreigners as well as Asian businessmen.
If clubbing isn't your thing, UB also has its share of more sedate pubs to choose from.
phone: +976 11 32 0022

Enjoy a pastis and have a nice dinner at the only French restaurant in Ulaanbaatar.

BrauhausGoes for a German brewhouse look (hence the name) and succeeds. This bar is big but usually not noisy. It serves X Beer, a quite tasty local brew.

Dublin Irish PubCloser to an actual Irish bar than most.

Grand Khaan Irish PubA comfortable sports bar and grill with English-speaking staff.
Sleep
During the annual
Naadam festival
in July, it's almost impossible to get any kind of accommodation in UB without prior reservations.
Budget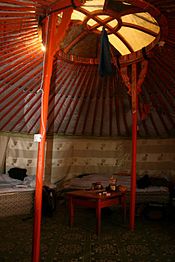 Nowadays, budget accommodation in Ulaanbaatar tends to give the best deals for a traveller. Usually a bed in a clean dormitory costs US$5-10 and a double room should be under US$30 a night.
Beyond what's listed below, another option for budget travellers who want a taste of authentic Mongolian culture yet are in a hurry or don't want to do longer trekking trips is a
ger
homestay with a herder family living in the countryside outside UB. Usually it is possible to participate in their daily life,
e.g.
milking cows or chopping wood. Horseback riding might be offered as well. There are a few travel agencies that are able to establish contact with families, including
Stone Horse Mongolia
and
Ger to Ger
.
Mid-range
Ulaanbaatar has plenty of options for budget travellers and big spenders, but not so much for those in the middle.
Splurge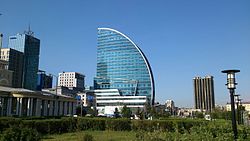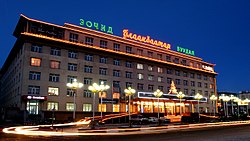 Connect

Located on Peace Avenue at the southwest corner of Chinggis Square, Ulaanbaatar's not only sells stamps but also a wide variety of reasonably priced postcards (though they may take up to two months to reach their destination!) Also check out their large collections of decorative stamps.
Mobile phone operators around town offer prepaid GSM SIM cards, handset rentals (Mobicom), and extensive roaming options. As well, prepaid cards such as BodiCom are another convenient and relatively inexpensive way to make an international call.
You'll find many Internet cafes scattered around the city; the going rate is about 400-800₮ per hour. Also, many restaurants and coffeehouses offer free WiFi.

Stay safe
Crime

While crime rates in Ulaanbaatar are said to be among the highest of any Asian city, this generally applies less to the city center than the underdeveloped ger districts on the outskirts of town: poorly lit shantytowns crisscrossed by maze-like dirt alleys and row upon row of fences; not the kind of place most tourists would be interested in to begin with. Nonetheless, it might be a good idea to avoid going out at night alone (though it's usually perfectly fine to do so in groups). This goes double for relatively deserted areas away from major routes, and for rowdy nightlife districts. Although most large buildings have security guards, they're only there to keep drunks and homeless people out, so don't expect much help from them if a crime is committed against you.
While muggings, assaults, and taxi scams all occasionally occur, the main crime for foreigners to be concerned about is pickpocketing. This is especially a problem at the Naran Tuul market, at the bus stops close to the State Department Store, and on crowded buses in general. If you've been attacked or pickpocketed, take time to make a deposition at the district police station, and let your country's embassy know.
Though unmarked taxis are common and generally nothing to fear, it's probably a good idea to get a local to serve as an interpreter and explain the fare system, and to keep an eye on where the taxi is taking you. Sometimes unmarked taxi drivers will try to take people, especially drunk tourists, down a dark alley and demand their cell phone or cash.

Hotel scams

There's a common scam in Ulaanbaatar where a fraudster poses as the representative of a hotel, even going so far as to set up listings on usually trustworthy websites like booking.com. They'll give you the address of a random apartment block that may or may not have a front desk, despite what the website pictures depicted, and your "room" will in reality be the apartment of some hapless local. They'll generally refuse to return your deposit, and get very aggressive if you threaten to alert the apartment complex management or the police. If you end up booking a place and the owner has misrepresented themselves, just walk away before the situation gets worse — and don't forget to report the listing as fraudulent!

Road and traffic hazards

Walking on the streets at any time is a hazardous affair, as there are open manholes, reckless drivers, and (from October to March) ice on the roads to contend with. The automobile culture in UB is too new for safe driving systems and habits to have taken root among the public: if you're crossing the street, even at a designated crosswalk and even if in theory you have the right of way, don't expect anyone (even buses and police) to stop or even slow down for you. You will get honked and shouted at, however.

Child beggars

This is a common and persistent sight on the streets of UB that may tug at the heartstrings of well-off Western tourists, but the reality is a bit more complicated than it may look at first blush. Any money you give will often go straight into the pockets of their teenage "pimps", so your donation may not be helping the kids as much as you think. It also pays to be on your guard when they operate in groups, as this is often a setup for a pickpocketing operation.

Cope
Newspapers
The weekly
UB Post
is the principal English-language source for cultural, economic, and political goings-on in Mongolia.
Embassies
Canada

phone: +976 11 332500

address: Central Tower, 6th Floor

phone: +976 11 323940, +976 11 320955, +976 11 311903

address: Zaluuchuudyn Urgun Chuluu 5

Cuba

phone: +976 11 323778

address: United Nations Street 18, Sükhbaatar district

phone: +976 11321886, +976 99111880 (emergencies), +976 9909 8708 (emergencies)

phone: +976 11 324519

address: Peace Avenue 12, Sükhbaatar district

Germany

phone: +976 11 329522

address: United Nations Street 18, Baga Toiruu 2, Sükhbaatar district

India

phone: +976 11 329522

address: Zaluuchuud Avenue 10, Sükhbaatar District

Japan

phone: +976 11 320777, +976 11 313332

address: Olympic Street 8, Sükhbaatar District

Kazakhstan

phone: +976 11 345408

address: 11th khoroo, Zaisan Street 78, Khan-Uul District

Kuwait

phone: +976 7744444

address: Bella Vista Town, Zaisan Bella, 11th khoroo, Khan-Uul District

Laos

phone: +976 11 326440

address: 11th khoroo, Ikh Toiruu Road 59, Sükhbaatar District

North Korea

phone: +976 11 310432

address: Diplomatic Complex 95, Sükhbaatar District

Russia

phone: +976 11 326440, +976 11 322834

address: 11th Khoroo, Ikh Toiruu Road 59, Sükhbaatar District

phone: +976 11 70071030, +976 11 70071020

address: Olympic Street 10, Sükhbaatar District

Turkey

phone: +976 11 311200

address: Peace Avenue 5, Chingeltei District

phone: +976 11 458133

address: Peace Avenue 30, Bayanzurkh District

phone: +976 7007-6001

Vietnam

address: Peace Avenue 47, Bayanzurkh District
Go next
Except for those just passing through on the
Trans-Mongolian Railroad
, most people come to Mongolia to witness the beauty of the endless steppes and deserts of Central Asia, populated by the nomadic descendants of Genghis Khan. Ulaanbaatar is an excellent homebase for an exploration of Mongolia with its many museums, monasteries, and cultural experiences, but don't confine yourself to UB alone: you can't really get to know this place without going to the countryside for at least a few days.