Ulaangom
Ulaangom
is the capital of
Uvs province
. It is near Uvs Lake, a large saltwater lake with the largest surface area in Mongolia.
Understand
The city is located near the shores of Uvs Lake (Uvs Nuur), and has a population of around 27,000. It has an extreme and harsh climate, with temperatures often dropping as low as -45°C in the winter while rising to as high as +40°C during the summer. It is considered to be the coldest province in the country. While the city does not boast an abundance of tourist attractions, it serves as a good base to explore the north-west corner of Mongolia.
History
Uvs is home to the last two leaders of the Mongolian People's Republic, Yumjaagiin Tsedenbal (1952–1984) and Jambyn Batmönkh (1984–1990). There is a large statue and a whole wing of the local museum dedicated to Tsedenbal. While the area is peaceful today, Uvs resembled the 'Wild West' during the 1990s when cattle raiding between Uvs and the neighboring
Tuvan Republic
in Russia made the region particularly dangerous. Things finally returned to normal after one of the few border fences on the Russian-Mongolian border was completed in the early 2000s, separating Uvs Aimag and the Tuvan Republic.
Get in
There are medium-sized buses leaving from the Dragon Center in
Ulaanbaatar
several times a week. The cost of a one-way ticket is 69,000 MNT. Tickets can be bought at the bus station and customers will need to show their passport in order to reserve a seat. The trip duration is approximately 24-28 hours depending on road and weather conditions. When arriving in Ulaangom, the bus will drop passengers off at the Ulaangom bus station, a ten minute walk from Tsedenbal Square.
It is also possible to take a shared jeep or van to and from
Hovd
that leaves most days. This trip takes about ten hours with a stop for dinner at a small Mongolian cafe.
By plane
Ulaangom AirportThere are flights to Ulaanbaatar and Ölgii, though the Ölgii flight is only one way to Ulaangom.

phone: +976 11 330373 (Ulaanbaatar), +976 8808 0043 (Ulaangom)

It is generally cheaper, but uses older planes. Charges foreigners double the local rate. Flights are Tues, Thurs, and Sat.
Hunnu Air, +976-7000-1111 (Ulaanbaatar), +976-7045-5252, +976+9800-0653, +976-9800-0654 (Ulaangom).
See
The Uvs Aimag Museum, +976-7045-5899. M-F 09:00 - 18:00. The museum features exhibits on the ethnic groups of Uvs, local wildlife, archaeological finds, and paintings from local artists. In addition, the museum features a wing dedicated to former Mongolian People's Republic leader, Yumjaagiin Tsedenbal, who was born in Uvs. This wing houses original photographs, possessions, and information on Yu. Tsedenbal and his family.
Dechinravjaalin Khiid Monastery - founded in 1757, this monastery once boasted 2,000 monks. However, after being destroyed in 1937, the monastery never recovered, and it remains a shadow of its former glory.
Natural Scenery
Red Mountain (Ulaan Uul) - Approximately five minutes from the city center by car or approximately 25 minutes by foot, Red Mountain is one of Ulaangom's landmarks. The mountain is visible from almost everywhere in the city. A concrete staircase is available, leading to a small pavilion with a sitting area next to an Ovoo shrine where one can have a view of the entire city of Ulaangom, Uvs Lake, and the Kharkhiraa mountain range. Hiking to the top of Red Mountain is also possible with an almost hidden stone path traveling up the mountain. From the peak of Red Mountain, one can even see other nearby soums in the distance, such as Tarialan soum.
Uvs Lake (Uvs Nuur) - Approximately 15-20 minutes away from the city center by car, Uvs Lake is the largest lake in Mongolia, often described as a gigantic inland sea in the middle of the desert. The majority of the lake is located in Mongolia with a small portion in the north located in Tuva, Russia. Uvs Lake is a highly saline lake and thus cannot support aquatic life. The Uvs Nuur Basin is inscribed on the UNESCO World Heritage List.
Do
Entertainment
Theater and Performing Arts
The local theater, Oirat Theater, occasionally hosts events such as music concerts from local and national artists, as well as local plays. In addition, events are also occasionally held at the Wrestling Palace (Bökhiin Örgöö). Scheduled events are usually announced one to two weeks in advance.

Sports
The Wrestling Palace is the site of many of Ulaangom's sporting events, hosting basketball, Mongolian wrestling, indoor-football, volleyball, and martial tournaments. Many of these tournaments involve other western aimags' teams. The Wrestling Palace is located approximately ten minutes from Tsedenbal Square by foot and can be seen from the Ulaangom bus station. Ulaangom's Naadam Festival takes place on July 9-10 at the Ulaangom Naadam Stadium. The stadium is located approximately six minutes from Tsedenbal Square by car or 25 minutes on foot.

Drink
Altan Pub
Jets Club
Ikh Nayad Club
Sleep
Budget
Mid-range
Uvs Nuur Tsogtsolbor Hotel

phone: +976 1452 24614

The best hotel in town.
Go next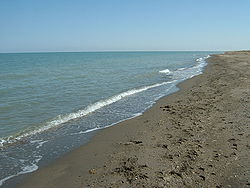 Uureg Nuur - Mongolia's largest lake.
The twin peaks of Kharkhiraa Uul (4037m) and Tiirgen Uul (3965m).
Uvs Nuur - a gigantic inland sea in the middle of the desert. It is five times saltier than the sea, so cannot support aquatic life. The Uvs Nuur basin is inscribed on the UNESCO World Heritage List.
Khyargas Nuur Natural Park
Achit Nuur - the largest freshwater lake in Uvs
Large coach busses for Ulaanbaatar and cities along the route depart from the old airport at the south side of the city. Tickets should be purchased in advance as busses do sell out. They can also be purchased online (with payment through certain Mongolian banks) from the dragon center ticket website at http://eticket.transdep.mn . As of May 2018, busses were departing at 11am and 3pm daily; the trip to Tsetserleg (Erdenetbugan) in Arkhangai Aimag takes about 18 hours, with another ~10 hours needed to get to UB.