Umm Salal Mohammed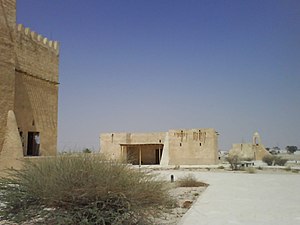 Umm Salal Muhammad
is a town in
Qatar
in the Umm Salal municipality, about 15 km north of
Doha
. An easy and pleasant morning or afternoon trip out of Doha, it is a short drive from the northern outskirts of Doha on the North Road to Al-Ruweis.
Get in
The
Route 102
bus (
timetable
) towards
Al Thakhira
passes through the town, leaving
Al Ghanim Bus Station
in Doha. The bus has a frequency of about half an hour and will reach the town in 50 minutes. There are different timetables for Saturday-Thursday and Fridays. Buses can be affected by service changes and disruptions, so it is recommended you call Mowasalat to confirm first on +974 4458 8888.
To get to Umm Salal Mohammed by car, take the Doha Expressway, named the D-Ring Road in the city, towards the north for about 15 minutes until a sign will indicate the turn off to Umm Salal Mohammed. Once you reach the town, take a right at the main intersection to reach the fort, which you are likely to have already spotted by this time. The tower is west of the fort and you should be able to see it by climbing to the top of the mosque or either of the two towers within the fort. The distance from central Doha is about 20 km, equating to 25 minutes on the road.
See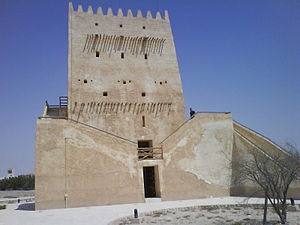 Barzan TowersA pair of watchtowers built in the late 19th century. They were completely rebuilt in 2003, complete with air conditioners, and are no longer truly 'authentic', but it is worthwhile to climb the towers which offer good views of the surrounding village. Photographing the towers can be good in either the early morning or late afternoon, though if you want to take a picture of the front of the mosque, which faces east, it is better to go in the morning.

Umm Salal FortressThis tower was built as a residence for Sheikh Jasim Bin Mohammed al Thani in the late 19th century. The building is still inhabited and is not open to the public, but can be viewed from the outside.

Prehistoric grave mounds

address: Umm Salal Ali

These burial mounds on the northern edge of the village are believed to date back to the Dilmun culture of 3000 BCE.

Al Wsel Archeological Site

address: off of the Al Khor Coastal Rd

This site was inhabited from the 7th to the 1st centuries BCE, and the remains of numerous dwellings, towers, and graves, can be found scattered across the area. The most interesting structures are circular arrangements of stone slabs on the ground, which are believed to mark grave sites.
Sleep

There is no accommodation available in Umm Salal Mohammed, so it is best to visit as a side trip from Doha.

Stay healthy
HMC operates an emergency department at its local clinic.
phone: +974 4478 9889

address: Al Khuzama St