Umm al Quwain
Umm Al Quwain
(أمّ القيوين) is an emirate between
Ajman
and
Ra's al Khaymah
on the west coast of the
United Arab Emirates
.
Understand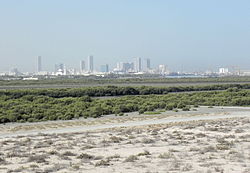 Umm Al Quwain, one of the 7 members of the United Arab Emirates, covers an area of 800 square kilometres and stretches from the beautiful, lush green coastal mangroves lining the shores of the Persian Gulf, inland across the rolling sand dunes to the fertile oasis surrounding Falaj Al Moalla.
The inland oasis and hinterland town of Falaj Al Moalla lies some 50km from Umm Al Quwain city.
From November to March temperatures are idyllic and average 26 o C in daytime and 15 o C at night (79 o F to 59 o F). Temperatures can rise over 40 o C (104 o F) in the peak of the summer and the humidity levels are high. Rainfall is minimal and averages 42 millimetres a year. The coastline experiences cooling sea breezes during the day.
The name Umm Al Quwain is derived from Umm Al Quwatain, which means "Mother of two powers", a reference to the powerful seafaring tradition of this emirate. The modern history of Umm Al Quwain dates back 200 years when the Al Ali tribe moved their capital from Al Sinniyah Island to its present location in the mid 18th century, when the water supply dried up.
Get in
Get around
There are no buses in Umm al Quwain. People generally take taxis, which are plentiful. A taxi around the central section of UAQ costs 2 to 3 AED and from the comercial sector (say near Lulu) to the main roundabout costs 5+ AED

See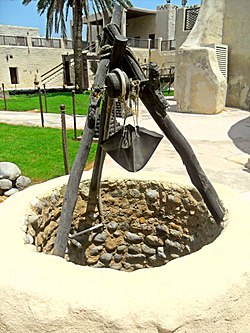 phone: +971 6 7681888

Ras Al Khaimah Highway; is the world's largest aquapark.
The traditional activities of fishing, falconry, camel racing and dhow building are still evident in Umm Al Quwain emirate. The Shahin (or peregrine) falcon can be spotted here along with the famous light skinned hunting hawk, the AI-Hur.
The dhow building yard where skilled craftsmen continue to assemble these traditional boats is still very much in existence. In the old town, around the fort, the once charming old coral stone houses still display features of the original architecture and intricate sculptured plaster work.

The AquariumIs on the headland beside the new port. Part of the Marine Research Centre and open to visitors by prior arrangement, it features the large variety of fish and sea life found in the region including rays, snakes and corals. Barracuda Beach Resort can arrange group visits.

Happyland is a kids' heaven with attractive video-games, jumping castles and a lot more a kid wants
Islands of Umm Al Quwain lie to the east of the mainland peninsula on a unique stretch of coastline consisting of sandy islands surrounded by dense mangrove forests, separated by a series of creeks. The largest of the seven islands is Al Sinniyah, followed by Jazirat Al Ghallah and Al Keabe, all of which are visible from the old town. Tucked in between these and the coastal plains are the smaller islands of Al Sow, Al Qaram, Al Humaidi, Al Chewria and Al Harmala. The Madaar creek running between the islands provides a navigable waterway for fisherman even at low tide when the average depth is less than a few feet. Barracuda Beach Resort can arrange group visits to these islands.
Camel racing - going inland, the road to the Camel race track at Al Labsa affords an exceptionally pretty drive. This lovely race track is set in the lee of large dunes to the left of the road leading to Falaj Al Moalla. During the winter months, the camels race early in the morning on Thursdays and Fridays and spectators are welcome. Camel caravans are a familiar site crossing the desert from one race track to another. The dunes in this area, interspersed with wooded dales, provide a challenging terrain for off road desert drivers or as they are commonly called "dune bashers". They also offer some of the most picturesque desert camping spots in the emirates promising an unforgettable night under the Arabian stars. Group camping trips can be arranged.

Umm Al Quwain MuseumA renovation of the fort of Umm Al Quwain which once guarded the entrance to the old town, overseeing the sea on one side and the creek on the other. The museum houses artifacts found at important nearby sites including Al Dour and provides a fascinating insight to bygone times. Restoration work is scheduled to recreate the aged wall that once surrounded the original settlement

Al-Durwas a coastal city from 200 BC to the third century AD. The site, along and to the right of the Sharjah/Ras-al-Khaimah highway, has been excavated and many interesting artifacts put on display at the UAQ museum.

Palma BowlingMore than bowling as there is pool & snooker, video games, shisha bar, a beachside restaurant, et al. Egyptian decor with pyramids and mummies. Easily reached by taxi.
Do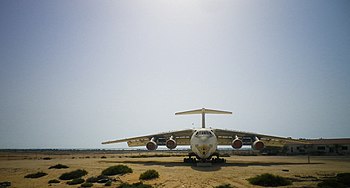 Umm al Quwain's Corniche - a good place for anyone who enjoys the sounds of waves and peace. Smoking "shisha" could be the best moment at UAQ's Corniche at night for those who love shisha in peace, especially on chilly winter nights.
Sailing in the calm waters of the lagoon provide some of the best and most interesting sailing in the Northern Emirates.
Conditions are ideal for water-skiing, wind surfing, kayaking and jet-skiing. Sailing and canoeing through the clear, quiet waters to the deserted islands and exploring the mangrove swamps inhabited by a variety of seabirds, fish and insects offers a unique adventure for any visitor. Pink flamingos, jumping fish, turtles, numerous crabs and rays can all be seen in their natural environment.
Umm Al Quwain Marine Club and Riding Centre is not far from the fish souq, situated on a large stretch of shaded beach overlooking the lagoon. The riding club, established in 1979, at one time had more than 40 horses and a team of qualified riding instructors.
The Umm Al Quwain Aeroclub, not far from Dreamland, is the first UAE aviation club and was set up under the patronage of Sheikh Mohammed Bin Rashid Al Mualla. Easily recognised by the vintage Antonow-2 Bi-Plane and the enormous Iljuschin-76 Cargoplane on display, the Airport has 6 spacious hangers, a 1.800m Runway, with N-VFR lighting, a spacious coffee shop etc. etc.. The club is known for its skydiving and parachute championships and has hosted various championships. Provides the opportunity for flying, hot air ballooning, skydiving (single & tandem), parachuting and paramotoring in the UAE. Training and lessons are given throughout the year and friendly advice is offered from experienced GCAA certified instructors and pilots. The aircraft available include microlights, gliders, Cessnas and a plane for aerobatics. Good place to fly, and learn to fly, away from the main UAE. airports and over some of the Arabian Gulf's deserted beaches and enchanting lagoons. Flying enthusiasts meet here on Thursdays and Fridays and anyone is welcome to drop in.
Umm Al Quwain Motor Racing Club is situated on the city side of Dreamland and offers participants the opportunity to experience the speed, thrill and exhilaration of off road dune buggy racing and motor hiking in three purpose built arenas.

Falaj Al Mualla Garden ParkFew Meters away from UAQ bridge in Emirates Road or Outer Bypass Road. Family orientated with swimming pool. Open to all residents with a minimal fee of Dhs. 2 per person. Times: Sun. - Wed. 08:00 -23:00 for women and children. Thurs. - Sat. 10:00 - 00:00 for families. Alos has childrens' playground, BBQ areas, bike rental. Quad bike ride for Dhs. 50 per 1 hour.
Birdwatching
Avid birdwatchers can enjoy the wonderful wildlife at
Khor al Beidah
and other popular sights lie to the south and east of the town.
Al Sinniyah Island
is also visible from the corniche. The shallow tidal lagoons and mudflats create the perfect feeding, nesting and resting habitat for several species of heron and plover, Greater Flamingo, gulls and terns.
Between November and March, hundreds of
Great Cormorants
are regularly spotted flying just a few feet above the sea, as they move from one sand bar to another. Coastal flats and dune tracks around the lagoon to the south east of the promontory provide excellent mountain hiking terrain, varied enough to suit any age and ability.
Al Sinniyah, the largest of the islands, is a marine sanctuary covering 90 square kilometres. This was once the original settlement site but now shelters huge colonies of cormorants, other seabirds, gazelle and al qaram trees, and dugong (sea cows) and turtles can be seen in the shallow waters surrounding the island.
Buy
Lulu Hypermarket for clothes, groceries, perfumes and electronics.
Salma Market for cheap clothes.
Al manamah Hypermarket for clothes, groceries, perfumes and electronics.
Eat
Al-Ramlah Cafetaria is a place in Al-Salamah where you can eat/drink a lot of great food.
KFC is there on King Shaah Faisal street. Also offers home delivery.
Arabian Chicken Hut in Salma.

Wadi Al Neel Seafood RestaurantTraditional Arabic seafood restaurant. Don't expect 5 star service or venue, but serves great food and a must visit in UAQ. Well known among the locals.

Cardoba restaurant and cafetaria, old town.
Wadi Al Neel Seafood Restaurant (Wadi Al Neel), Traditional Arabic seafood restaurant. Don't expect 5 star service or venue, but serves great food and a must visit in UAQ .
Sadaf Cafteria, Well praised by the locals even from Dubai for the samoosas and sandwiches.

Al Foren Al Sakhen Pastries & Pies

phone: +971 6-7666763

Opposite to KFC on King Faisal Road. Authentic Arabic Cuisine with excellent pastries, Turkish shawarama and pizza. Home delivery and party catering available.
Pizza Hut, Hardees and McDonalds are also there on King Shaah Faisal street.
There is a London Dairy Ice cream outlet near UAQ Roundabout which provides fresh ice cream with great toppings.
Baskin Robbins, Al Manamah hypermarket.
Drink
Most of the hotels have a bar and/or nightclub; some have more than one.
Barracuda serves and sells duty free alcoholic drinks
Fresh Naryal Pani (Coconut Water) is available at Al Thalla Bar near UAQ Roundabout
Juices and cock/mocktails are served at all the cafetarias
Sleep
Umm Al Quwain Beach Hotel , +971 6 7666647. On the beach. Has a bar, restaurant and swimming pool.

Barracuda Beach Resort

phone: +971 6 7681555

Sharjah – RAK highway. Sits on the edge of the lagoon that separates Umm Al Quwain. Has a beach (not a natural one), swimming pool and BBQ grills. Duty-Free liquor store.
Flamingo Beach Resort is a great place for beach vacationers. It has all kinds of water sports including snorkeling, diving, fishing, crab hunting and glass bottom boat rides.
Pearl Hotel , +971 6 7666678. Has a restaurant, nightclub-bar and a swimming pool.

Palma Beach Hotel

phone: +971 6 7667090

Next to the UAQ Marine Club and Riding Centre.
Barracuda Beach Resort has a liquor retail outlet and a "hole in the wall" where booze can be brought rather cheap (at duty free prices), ID is usually not needed.
Royal Residence Resort Villas

phone: +971 6-766-46-00

address: P.O. Box 3144

Two Hotel locations: Near Ittihad R/A Main Road and First Signal Left turn upon entering UAQ. Swimming pool, room service, restaurants and activities assistance. Can rental car with driver.
Stay safe
As law is strict in the entire UAE, don't do anything which could harm anyone or is offensive. Never drive without a driving license. And never over-speed your vehicle as the roads are being controlled by radars.
As Umm Al Quwain is a Muslim city, don't eat/drink in public in the holy month of Ramadan.
Also, appropriate clothing must be worn at all times as anywhere else in the UAE if you don't want to attract unwanted attention.

Go next
Falaj Al Moalla, (50 km) inland oasis and hinterland town.
Dubai, (38 km)