Union City (New Jersey)
Union City
is a city in
Hudson County
,
New Jersey
.
Union City is a small city, roughly 1.283 square miles. It is bordered by
Weehawken
to the east,
Jersey City
to the south, North Bergen to the west and north, and
West New York
to the north.
Understand
Because Bergenline Avenue is the main commercial thoroughfare for North Hudson County, driving up or down it can take quite a bit of time, and parking can be difficult. Most areas to park near Bergenline and other commercial avenues are metered, and the rest require city permits to park for more than 4 hours.

Talk
Since most residents in Union City are Latinos, the predominant language spoken is
Spanish
, though most Spanish speakers also speak English.
Additionally, there is a Hasidic enclave in uptown Union City where Yiddish is spoken.
Get in
Bus
From Manhattan, you can catch NJTransit buses from the Port Authority Bus Terminal on 42nd Street. NJTransit 123 and 125 leave regularly.
===Light rail stations===
If you are coming in from
Manhattan
, or have parked elsewhere in Hudson County, a light rail service running from North Bergen to Bayonne can be used to get into Union City.
Terminating in Hoboken via the PATH from Manhattan allows for quick access to Union City, at the Bergenline Avenue station.
Get around
Minibuses
Minibuses, locally known as jitneys, are private buses that take private routes throughout Union City. The jitneys can be tricky to catch since there is generally no signage regarding their stops. A good online resource is
the unofficial Jitney Buses of New Jersey page
.
Walking
One of the best ways to absorb the unique culture of Union City is to simply walk around.
Bergenline Avenue is a bustling main thoroughfare, where restaurants and stores run continuously for dozens of blocks. Many of the shops and restaurants are independently owned. Because Bergenline is a one-way southbound street, it is very congested to drive through during most hours of the day. Starting on the north end of
Washington Park
, the first several blocks are mostly residential. After walking from the park a few blocks, businesses begin to emerge. Buildings on Bergenline span three centuries; many still standing from the 19th Century.
The entire northern section of Bergenline, from 32nd to 47th Street, is particularly interesting to walk, as many buildings from the 19th century and early 20th century are still standing; as a result, this district is listed on the New Jersey Historic Preservation.
See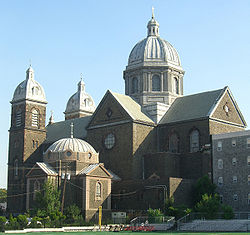 phone: +1 201 271-2279

address: 420 15th St

Museum that has art exhibits, historic artifacts, and a concert hall
Do
Parks
Washington ParkAt the southern border of Union City, shared with Jersey City. It features a dog park with scenic views of Hoboken and the New York City skyline, a water park, picnic tables and grills. During the summer there is a festival with carnival rides, live music, and movie nights.
address: Palisade Ave between 24 and 25th St
In central Union City. It features a playground for children and cozy seating areas.
Arts
Park Performing Arts Center

address: 560 32nd Street

During the holiday season, home of the longest running Passion Play in the US. Originally known as Park Theater in the late 20th century.
Parades
Cuban Day Parade of New Jersey
- on Bergenline Avenue during the summer, thousands of people.
Dominican-American Parade
- on Bergenline Avenue.
Historical markers
Placed on street-corners, walls, and on sidewalks throughout Union City, there are numerous historical markers; most offering a brief history. There markers are used to show the location of recognized or notable persons and establishments. Some of the historical markers are used for buildings which still stand, such as the
Blue Chapel
; others are located where establishments used to stand. Many are to recognize people who have grew up or lived in Union City and have achieved fame. There are many to visit, and with good planning and a fast-pace, you can see them all in one day.
Near the corner of 45th and Park Avenue. - Famous 19th century brewery.
Bergenline and 15th street. - Childhood home of Erick Morillo, DJ and music producer, most known for the song "I Like to Move It."
Summit Avenue and 27th Street. - Joe Jeanette, considered one of the best boxers of the 20th century.
Peter George Urban, 10th degree karate grandmaster.
Bergenline and 31st Street. - Pietro di Donato, writer of Christ in Concrete.
1215 Palisade Avenue. - William Tylee Ranney, painter.
Eat
Union City boasts a variety of Spanish cuisine, both low-priced and high-priced.
Pollos a La Brasa
address: 4215 Bergenline Ave
A lot of food for a great price.
El Artesano Restaurant
address: 4101 Bergenline Avenue
Cuban food.
Juana & Gloria
address: 1801 Bergenline Avenue
Moderately priced.
Americana Grill & Cafe
address: 600 Summit Ave
Late night diner that delivers.
Go next