United States National Parks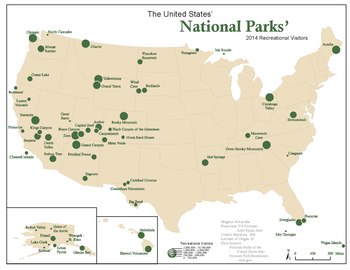 There are 61
National Parks
throughout the
United States
. The national parks are considered the gems of the larger
United States National Park System
, which also includes national monuments, memorials, and historic sites. U.S. national parks include some of the most spectacular natural scenery in the country, and they're often good places to go
hiking in the United States
.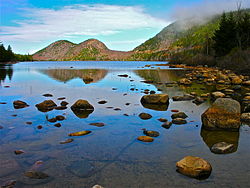 — Preserves a set of coastal islands with granite peaks, scenic shorelines, woodlands, and lakes.
(in two states, North Carolina and Tennessee) — A stretch of foggy Appalachian Mountains with a diverse population of wildlife and plant life.
— Situated in an urban area around a set of natural hot springs and historic bathhouses.
— The world's longest known cave system, with spectacular underground sights and wildlife.
— Preserves a section of old-growth floodplain forest. Is a UNESCO biosphere reserve and provides ample opportunities for birdwatchers, hikers, and other outdoorspeople.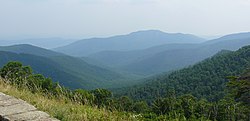 — Contains the Blue Ridge Mountains, with its scenic forests and the cataracts of the Shenandoah River.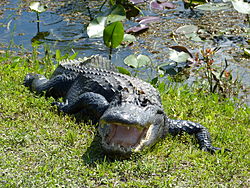 — Preserves the Biscayne Bay, with its abundance of marine wildlife.
— A set of islands at the end of the Florida Keys, home to Fort Jefferson, a Civil War-era fort that is the largest masonry structure in the Western Hemisphere.
— A vast wilderness of wetlands that are home to a diverse population of migratory birds, alligators, crocodiles, and manatees.
- Contains vast sand dunes and beaches, plants and animals, all within an accessible distance of Chicago.
— Preserves a scenic wilderness on the largest island in Lake Superior.
— Protects scenic lakes, islands, and tall bluffs that were once populated by French fur traders.
, St. Louis — On the banks of the Mississippi River in Downtown St. Louis, this park commemorates the Louisiana Purchase and the westward expansion of America. The centerpiece of the park is the massive Gateway Arch, the world's tallest arch and an icon of St. Louis.
— Waterfalls, hills, and woods along the Cuyahoga River, as well as a section of the historic Ohio and Erie Canal.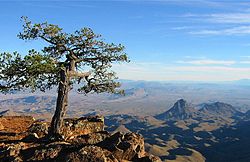 — A bend in the Rio Grande along the U.S./Mexican border with spectacular desert scenery.
— A range of scenic desert mountains that make up the highest peaks in Texas.
— An area of Dakota badlands home to historic sites affiliated with Theodore Roosevelt and wildlife such as bison, bighorn sheep, and wild horses.
— Preserves an area of badlands and grass prairies, with rock formations famed for their rich fossil beds.
— The world's densest cave system, noted for its distinct calcite formations.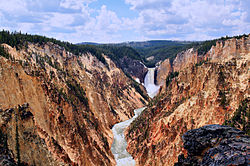 (Idaho, Montana, Wyoming) — The world's oldest National Park, famous for its geothermal features such as hot springs, boiling mud, and dramatic geysers, including the famed Old Faithful. Also in Yellowstone is the yellow-cliffed Grand Canyon of the Yellowstone and its spectacular waterfall, mountain scenery, and some of the best wildlife viewing in the country, with bison, elk, gray wolf, and grizzly bears making their home here.
— An extremely deep and narrow canyon popular with river rafters and rock climbers.
— Preserves the tallest sand dunes in North America, situated at the foot of a tall mountain range.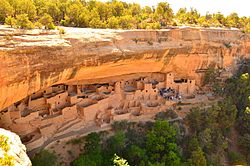 — Preserves a set of spectacular cliff dwellings that were home to the Ancestral Puebloan people, including the famed Cliff Palace.
— A scenic section of the Rocky Mountains home to picturesque lakes, alpine forests, and wildlife such as mule deer, black bears, and bighorn sheep.
— Numerous lakes and glaciers against a backdrop of spectacular Rocky Mountain peaks.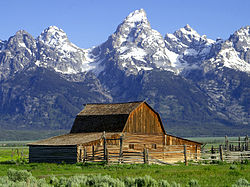 — Contains the iconic Teton Range, with its spectacular mountain peaks that rise dramatically from the valley floor.
— The most famous canyon in the world, a vast wonderland of colorful cliffs and mesas carved by the mighty Colorado River. The canyon is thousands of feet deep and can be viewed from both the northern and southern sides; however, the side of the canyon that is visited the most is the southern side.
— Famed for its collection of petrified logs, situated in a red rock desert with numerous dinosaur fossils and Native American sites.
— Protects a mountainous stretch of the Sonoran Desert famed for its abundance of tall saguaro cacti.
— Mountainous and desert landscapes home to bristlecone pines, this park is the home of the 13,000-foot Wheeler Peak and Lehman Caves. It's one of the quieter National Parks, being many miles from any towns or cities.
— Spectacular subterranean caverns with numerous stunning features and a large bat population.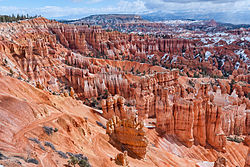 — Contains hundreds of sandstone arches, including the famous Delicate Arch, an icon of Utah. Like the nearby Canyonlands, it's one of the more popular National Parks, despite being a long way from major cities.
— A geological amphitheater with hundreds of tall red rock hoodoos that make up a spectacular landscape in the midst of a pine forest.
— A maze of dramatic red rock canyons and mesas carved by the Colorado and Green Rivers. It is the meeting point of these two rivers, and therefore some excellent views of the canyons are possible.
— A wonderland of red rock features including monoliths, arches, gorges, and sandstone domes.
— Contains the spectacular Zion Canyon, with its sheer sandstone cliffs and dramatic rock towers, as well as beautiful red rock desert country.
— A set of islands off the southern Californian coast with a diverse population of wildlife.
— The lowest and hottest point in the country, Death Valley is a desolate landscape of sand dunes, canyons, and badlands straddling the California/Nevada border. Badwater Basin is the location of salt flats that are nearly below sea level; in the northern part of the valley is Scotty's Castle.
— A desert landscape noted for its stands of distinctive tall yuccas, known as Joshua trees.
— A set of active volcanoes including Lassen Peak, one of the largest domed volcanoes in the world. Lassen is part of the Cascades Range, a region of the United States with many large, well-known volcanoes including Mount Rainier, Mount Saint Helens, and Mount Shasta.
— Protects a set of jagged volcanic peaks and talus caves.
— Protects the famed coastal redwoods, the tallest trees on Earth.
with Giant Sequoia National Monument (USFS) — Sequoia is famed for its forest of sequoias, including General Sherman, the world's largest tree. Adjacent Kings Canyon National Park protects a spectacular granite canyon and another sequoia grove.
— One of the earliest national parks, famed for its towering granite cliffs, spectacular waterfalls, and rich old-growth forests. The park is centered around the dramatic Yosemite Valley, the setting for North America's tallest waterfall and the famous Half Dome and El Capitan peaks.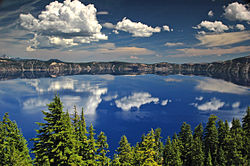 — Crater Lake, a lake famed for its clarity, is the deepest lake in the United States. It's in a spectacular volcanic caldera.
— A volcanic peak and the most prominent peak in the Cascades, as well as glaciers and alpine forests.
— Spectacular mountains and valleys carved by glaciers.
— Preserves a section of the Olympic peninsula, with temperate rainforests, alpine slopes, and the scenic Mount Olympus.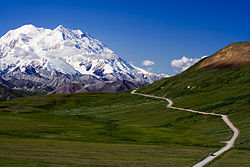 — Protects the area surrounding North America's tallest mountain.
— The northernmost of the National Parks, protecting an expanse of mountainous wilderness in the Arctic Circle.
— A coastal inlet with numerous glaciers, fjords, spectacular mountains, as well as large populations of wildlife like grizzly bears, mountain goats, killer whales, and seals.
— Famed for its bear population, which congregates to catch spawning salmon.
— Protects the Harding Icefield, with its many glaciers and fjords.
— Known for the largest sand dunes in the Arctic and huge caribou migrations.
— Active volcanoes, salmon-bearing rivers, glaciers, and waterfalls surrounding picturesque Lake Clark.
— Some of the continent's tallest mountains, numerous glaciers, and a icefield are among the attractions in this vast park.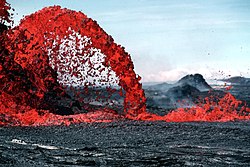 — Preserves an extinct volcano and the surrounding landscape.
— Contains Kīlauea and Mauna Loa, two of the world's most active volcanoes. Tropical forests, barren lava beds, unique volcanic features, and active lava flows are all visible here.
— Covers land on three Samoan islands and protects coral reefs, rainforests, white sand beaches, and an abundance of sealife.
with Virgin Islands Coral Reef National Monument — Pristine beaches, coral reefs, and forests, along with historical sites such as the ruins of sugar plantations.