Upland
Upland
is a city in
San Bernardino County
on the edge of the
Inland Empire
in
Southern California
. Formally incorporated in 1906, Upland has a long, rich history in agriculture and included a segment of
Route 66
. Upland and the region used to be home to thousands of acres of citrus groves; today, however, the city is home to many quiet residential neighborhoods and is a gateway to recreational opportunities in the San Gabriel Mountains.
Get in
There are numerous ways to enter Upland, be it by air, rail, car, bus, or bike.
By plane
Upland lies just northwest of
LA/Ontario International Airport (ONT

)
, in
Ontario
and accessible via the San Bernardino (I-10) Freeway.
The city is also home to
Cable Airport
, privately-owned, said to be the largest of its kind in the world.
By train
Amtrak
, the national rail service, serves Ontario just to the south of the city.
Metrolink
, a commuter rail service serving the greater
Los Angeles
area, has a stop in downtown Upland at 1st Avenue and 'A' Street, just off Euclid Avenue. The stop is on the San Bernardino line, one of the busiest, that connects Union Station in downtown Los Angeles to
San Bernardino
(limited weekend service available).
By car
Interstate 10 and State Route 210 both cross Upland in an east-west direction, providing links to Los Angeles and San Bernardino. Foothill Boulevard (State Route 66) also crosses through the center of the city. Euclid Avenue (State Route 83) is the main north-south route through the city and heads south to Chino and the Chino Valley (State Route 71) Freeway or north towards the community of Mount Baldy. Note that there is no direct interchange between Euclid Avenue and the Foothill (210) Freeway.
By bus
Omnitrans
is the Inland Valley's main bus line and serves Upland with several routes, primarily bus routes 66 and 83. Bus route 66 links up with the Montclair Transit Center, which hosts Metrolink and many buses from central Los Angeles and will one day include a stop on the Metro Gold Line light rail extension.
By bike
Upland lies along the path of the former Pacific Electric Railway, now used as a freshly-paved pedestrian and bike path connecting nearby Montclair to
Rancho Cucamonga
.
Get around

Upland is a fairly small city and the main sights are accessible by foot if arriving into town without a car at the Metrolink station. However, note that Upland's location at the base of the San Gabriel Mountains creates a general north-south slope that makes walking north a bit more difficult on hotter days.

By car

Upland is a very automobile-friendly city, with wide streets and plentiful parking. Consider leaving your car in downtown Upland (be aware of time limits) and exploring the area on foot. If heading north to Mount Baldy, be aware of road conditions in advance as winter snows may require chains.

By bus

The city is served by Omitrans, a bus system that serves the Inland Valley region. Routes 63, 66, 67, 68, and 83 all traverse the city and stop at many major sights.

By bike

Many of Upland streets and wide boulevards, including Euclid Avenue and Foothill Boulevard, have bike lanes. The Pacific Electric Bike Trail is another great way to get around on a separate right-of-way. Upland has several bike repair facilities, many of which are in or around downtown.

By foot

A great way to see Upland is by foot. Leave your car in downtown and stroll about the historic core of the city. Or, consider walking on the median dirt path on Euclid Avenue from Foothill Boulevard north towards the mountains.

See
Because of the city's relatively old age when compared with neighboring towns, Upland is home to a wealth of historic homes and landmarks.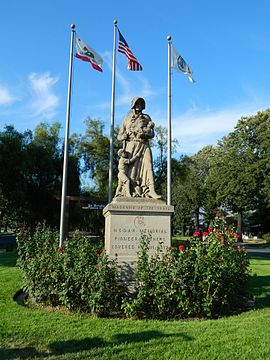 Madonna of the Trail Statue

address: Intersection of Euclid Ave & Foothill Blvd

One of many Madonna of the Trail statues that commemorate American pioneer women, the one in Upland is located at the busy intersection of historic route 66 and Euclid Avenue. The monument was dedicated in 1929 and contains inscriptions that honors Jedediah Smith's 1826 crossing of the area in search of a westward-flowing river.

Euclid AvenueThe main north-south artery in the area was originally laid out by the Chaffey Brothers in the mid 1800s. Today, it is a wide, tree-lined boulevard that links Chino with San Antonio Heights. Originally, a trolley car ran in the median and connected residents in San Antonio Heights with jobs in Ontario. Today, the median is home to a dirt path from Foothill Boulevard north to San Antonio Heights, and park space in downtown Ontario.

Historic HomesBoth Upland and the nearby unincorporated San Antonio Heights to the north are home to a wealth of historic properties that sprang up in the late 19th and early 20th centuries. Many are open for tours; consult the local chamber of commerce for more information.
Do
Cucamonga Creek TrailLeave your car at the cul-de-sac at the east end of 24th street in northern Upland and stroll along Cucamonga Wash along the trail. Benches, provided by the San Antonio Heights Association, line the trail. In wet years, Cucamonga Creek flows out of Cucamonga Canyon to the dam at the south end of Cucamonga Wash.

Cruise on Route 66Historic Route 66, today's Foothill Boulevard, passed through Upland en route to San Bernardino or Santa Monica. Today, the stretch contains an interesting mix of old and new and is seeing a revival with new businesses and street improvements.

Shop in Downtown UplandDowntown Upland is the historic core of the city, just off Euclid Avenue on 2nd Avenue. Today, the area is seeing a revival as more specialty shops are locating to the area. Downtown is also home to an evening market on Thursday nights during the summer, and the annual Lemon Festival in April.

Euclid Avenue StrollConsider spending a morning walking up and down the median of Euclid Avenue north of Foothill Boulevard, gazing at the unique homes and enjoying the shade of trees and company of other hikers heading up towards San Antonio Heights.
Buy

Although Upland is primarily a residential community, many neat stores can be found along Foothill Boulevard or in downtown. For those who prefer larger-scale shopping centers, the Colonies Crossroads at Campus Ave and the Foothill (210) Fwy offers many big-box stores. Nearby, Montclair hosts the Montclair Plaza (Nordstrom's, Macy's, Sears), Ontario hosts Ontario Mills (one of the largest outlet malls in the state), and Rancho Cucamonga hosts Victoria Gardens, an upscale outdoor mall with a classic "Main Street" theme.

Eat
Given Upland's relatively quiet character as a residential city, it is unusual that it hosts a multitude of restaurants that cover many ethnic cuisines. The list below is just a sample of what one can find in the city.
Mi Ranchito

phone: +1 909 949-1633

address: 152 W Foothill Blvd

Mi Ranchito serves close-to authentic Mexican food at good prices. This spot is a favorite among locals.

Giuseppe's Pizza

phone: +1 909 946-5979

address: 2433 N Euclid Ave #C

Giuseppe's serves Persian and Italian cuisine along with some Mediterranean foods. Quaint little restaurant in historic San Antonio Heights.

Upland Kabob

phone: +1 909 985-5454

address: 733 N Mountain Ave

Upland Kabob serves Persian kabobs at inexpensive prices.

Thai Family

phone: +1 909 920-3640

address: 130 S Mountain Ave #P

Thai Family serves good Thai cuisine with friendly staff and inexpensive prices.

Kuma Sushi

phone: +1 909 579-0866

address: 1905 N Campus Ave

Kuma is a newer Japanese restaurant that serves great sushi. A perfect stopping place if traveling along the 210 Fwy.

Kishi Japanese Restaurant

phone: +1 909 981-1770

address: 320 W Foothill Blvd

Kishi serves good food and sushi and gets crowded on Friday and Saturday nights. The owners are friendly and the food is fresh.

Legend's Burgers

phone: +1 909 949-6363

address: 1645 N Mountain Ave

Legend's is a classic diner-style fast food restaurant with multiple locations in the Foothill Communities. The original location is here. Large combo platters and classic American foods make this place popular among locals.

Jim's Burgers

phone: +1 909 931-4824

address: 969 W Foothill Blvd

Jim's has been serving great burgers and sandwiches for years. A faithful clientel has kept the restaurant in business in the face of a boom in fast-food in the area.

Upland German Delicatessen

phone: +1 909 985-6266

address: 983 W Foothill Blvd

Great German food and pastries are to be found at this small establishment. Friendly staff and an extensive menu make this place a must for any Upland visitor.

phone: +1 909 946-6448

address: 1013 W Foothill Blvd

New York Pizza Company offers authentic New York style pizzas, pizza by the slice, pastas, salads, monster subs, handcrafted burgers, and irresistible desserts. Sit-Down, Take-Out, Express Delivery, and Catering!
Drink
Bulldog Pub

phone: +1 909 946-6614

address: 1667 N Mountain Ave #117

The Bulldog Pub is an English-themed pub located in a shopping center in northern Upland. Nice place to hang out after work or on the weekend.

phone: +1 909 946-0800

address: 336 W Foothill Blvd

A local favorite for homestyle Italian food. Stop by for a quick and tasty $5.50 large pepperoni or cheese pizza. Large menu of Italian dishes, subs, salad, wings, and appetizers. Take-out, delivery, and catering.
Sleep
Go next
Upland is a great gateway to recreational opportunities in the San Gabriel Mountains. Check out the
Angeles National Forest
or the Cucamonga Wilderness by taking Euclid or Mountain avenues north towards Mount Baldy.
Next door, the cities of
Rancho Cucamonga
,
Claremont
, and
Ontario
host numerous sights. Rancho Cucamonga hosts the upscale Victoria Gardens shopping center, Claremont contains the prestigious Claremont Colleges, and Ontario's downtown, airport, and Graber Olive House make it worth visiting. Upland is also 30 minutes from
Pasadena
and
San Bernardino
, and within an hour's drive of
Los Angeles
and the
Palm Springs
area.