Upolu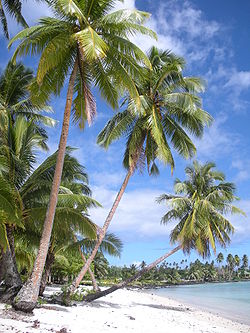 Upolu
is the most important of
Samoa
's islands. The Region of Upolu also includes all other islands of the country apart from the so-called "big" island of
Savaii
. Upolu was formed by a massive volcano, but there have been no recent eruptions. The island is 75 km long and contains Samoa's capital, Apia, which is in the middle of the north coast and Faleolo International Airport, which is towards the western end of the island. The island is fringed by reefs and has some beautiful beaches. Inland is hilly, with tropical vegetation and numerous waterfalls.
Upolu was affected by a major tsunami on 29 September 2009. Twenty villages in its eastern, southeastern and southern sides were destroyed or badly damaged. Deaths exceeded 100 and more than 3000 people were made homeless. Considerable tourism infrastructure was affected but several facilities have been rebuilt. In addition to its impact on land, the tsunami also had considerable impact on the area's coral.
Cities

– the capital of Upolu, situated on the north coast. This is a rapidly modernising city, backed up with considerable history. The population is close to 40,000.

Other destinations

There are many attractive villages throughout the island and on Manono island. Upolu also has some interesting natural reserves, lovely waterfalls, good diving and snorkelling and fantastic beaches. There is more information in the "See" section below.

Understand
Be respectful whilst traveling around the villages and the quiet outskirts of Upolu. Samoa is a very traditional society and it is important to respect Fa'a Samoa, the "Samoan Way". See
Samoa
.
Talk
The
Samoan
language is the official language, but many Samoans speak English fluently.
Get in
Most visitors arrive by plane at Faleolo International Airport, which has flights from various countries. The other options are Fagalii Airport, with flights from
American Samoa
, and boat service from
Tokelau
and American Samoa. For more information, see
Samoa
.
Get around
Buses
Old traditional buses are a must do. They are quite cheap, but can be uncomfortable. Buses leave from two locations in Apia: behind the flea market on the waterfront and next to the produce market "Marketi Fou". Ask the drivers for information on which buses to catch to your planned destination.
Car rental
You can hire cars from Apia, sometimes for less than WS$50 a day. Rental companies include:
Alby Rentals

phone: +685 21271

Apia Rentals

phone: +685 24244

Blue Pacific Car Hire

phone: +685 22668

phone: +685 20561

phone: +685 29230

phone: +685 22045
Fill the tank in Apia as opportunities for refills are limited elsewhere.
See
Lake Lanoto'o National ParkContains a rare and important swamp forest ecosystem. The lake is full of goldfish, which have thrived since being introduced by expatriate residents.

Lalomanu (Aliepata) in the east has beautiful beaches and sights of small idyllic islands. Nearby is a beautiful waterfall named Tiave'a.

O Le Pupu-Pui National Park.It has Samoa's highest mountain, Mt. Fito at 1100 m, at Togitogiga Falls. Some good hiking trails.

Papapapai-Tai FallsA 100-m drop makes these spectacular falls.

Papase'ea Sliding Rocks6 km southwest of Apia, these water falls are a major attraction. A soft vegetation under the water makes it possible to easily slide down the falls into the pool below. Better in the rainy season. Fun for all ages.

Manono IslandManono Island is a low-lying island that has no cars or roads. There is a footpath that follows the coast. Dogs and horses are banned for environmental reasons. Things to see include a prehistoric Mound temple. This is one of the most traditional parts of Samoa and a very pleasant place to visit. Beach fales are available.

Namua Island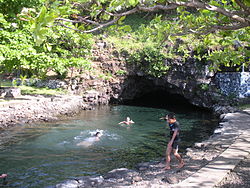 Piula Cave PoolAttractive spring-fed freshwater pool by the sea for swimming and exploring of the caves.

Return to Paradise BeachA beautiful beach, but particularly interesting for fans of old films who remember the 1953 film starring Gary Cooper and written by James Mitchener, which was filmed here.

VailimaHome and grave of Robert Louis Stevenson. See Apia for more info.
Do
Surfing. There is good surfing in many locations but it is only for the experienced as the reef can be dangerous. Several resorts specialise in surfing, including Sa'Moana Resort, who operate two ocean going fibreglass boats with experienced guides and skippers, safety and back to base radio equipment. Check the web before committing to a surf tour operator as one or two do not have good reputations.
Fishing. There is an abundance of fish in Samoa's waters. Charter companies mainly operate out of Apia's harbour, and one operating from Sinalei Resort on the South Coast.
Golf. Two courses are close to Apia: the Royal Samoan Country Club, for a long time Samoa's only golf course, and a more recent development, the Faleata Country Club, which is close to the sports complex constructed for the South Pacific Games. On the south coast the Sinalei Reef Resort has a nine-hole pitch and putt course.
Diving. There are some 900 fish species and 200 types of coral in Samoa's waters. The only confirmed dive company on Upolu at the beginning of 2015 was:
phone: +685 45662

Organizes diving trips and is a qualified PADI instructor.
Beaches. Upolu has lengthy stretches of beautiful beaches. All beaches are Customary Land (owned by a village) and you may be asked to pay a small fee for their use. It would not be appreciated if you tried to argue.
Eat
Most restaurants are in
Apia
or at the hotels around the island.
The usual kinds of European, Asian and fast foods are available, but be sure to try the "
umu
", which is made in a traditional pit-oven, using red hot lava stones heated by charcoal. Whole pigs, fruits, chickens, fish, etc., are placed among the rocks for many hours, and covered with banana leaves. The food has an absolutely delicious smoked flavour, and meats are as tender and juicy as possible. Traditional food can be purchased from Apia. If you must, you can also visit the only fast food outlet in Samoa, McDonald's, which is on Centre Road, Apia.
Drink
Vailima is the local beer. Bottled water is recommended.
See
Samoa
for more information.
Sleep
In addition to hotels in
Apia
there are some good resorts, guest houses and fales on other parts of the main island and outer islands. Some hotels damaged by the tsunami are still recovering and are not listed here.
Budget
Mid-range
Splurge
Stay safe

Do not walk alone at night, and stay with people you know and trust. Free roaming dogs can be a safety problem in the capital Apia. The Government of Samoa (GoS) passed the Canine Control Act in 2013 as a first step toward addressing dog management. Most dogs ignore you and don't see you as a threat if you ignore them.

Go next
No visit to Samoa is complete without a visit to
Savaii
. This is the larger but less developed of the two main islands.