Upper Bavaria
Upper Bavaria
(
Oberbayern
) is the Bavarian heartland. It's a place of deep forests, beautiful meadows, winding roads and jagged peaks. Upper Bavariais full of festivities. Every few weeks there is another annual fest or event in some town or city. The best time to visit would be August and September when the weather is most predictable and the beer gardens are in full swing. The folks in this region have a good balance of hard work, socializing, playing and just relaxing. But don't expect to notice this all in a quick visit, you need to stay for a while to really understand.
Cities
(München) — the capital of Bavaria, known for the annual Oktoberfest
— large city with gothic and baroque architecture styles
Towns
- small skiing resort and spa
— a small spa town in the Bavarian alps near Salzburg
— A picturesque and historic town in the Bavarian alps near Salzburg, ski and summer resort
— site of the first Nazi concentration camp in Germany and a nice old town worth seeing
- famous for its Weissbier brewery and Europe's largest spa & sauna area
- an old bishop's town; Munich International Airport is located here
— see the highest mountain in Germany (Zugspitze) at this ski resort south of Munich; it has also hosted the Olympic games
- large village north east of Munich.
- town on the Staffelsee
— famous for painted houses, wood-carved sculptures and the decennial passion play
— a small city in the southeast of Upper Bavaria near the Alps
— wealthiest town in Germany, located on a beautiful lake
- known mostly for the resident chemical company it has a lovely old town and a rather large castle complex
Other destinations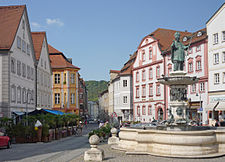 — small village that is mostly known for the Andechs Abbey, a monastery that is famous for its beer.
— ski resort and spa near Murnau.
- the German part of the magnificent and rough mountain range
— a baroque small town along the Altmühl River
- small village on the picturesque Kochelsee, popular summer and winter destination.
— a town of approximately 20,000 inhabitants
— famous for its nicely painted houses and violin shops
— gateway to the Chiemsee
— a village on the Romantic Road
— an upmarket mountain lake resort in the Bavarian Alps
- Another mountain lake resort in the Bavarian Alps
Understand
Upper Bavaria (
Oberbayern
in German ) is the southernmost district in
Bavaria
and includes the state capital of
Munich
. With 4.3 million residents, this is also the largest district in Bavaria. The largest cities are
Munich
(1.3 million residents),
Ingolstadt
(123,000 residents) and
Rosenheim
(61,000 residents).
It covers an areas of around 17,000 km², with the mountain ranges of Kalkalpen, Ammergebirge, Wetterstein, Karwendel and the Chiemgauer Alps along the southern border. To the north the district reaches the Danube river. 4.5% of Upper Bavaria is designated as protected, with 131 natural protection areas. The highest point is the summit of Germany's highest mountain, the Zugsptize (2,962 metres).
Talk
People from this region of Germany often speak a dialect known as 'Bavarian' or 'Boarisch'. Even if you have a good understanding of standard German, the pronunciation may be very difficult to understand. The exception is Upper Bavaria's capital city
Munich
, where many people come from other areas in Germany and the world, and standard German is widely spoken.
'Boarisch' has similarities to the Austrian dialect of German.
How the Bavarian dialect differs
*English:
Hello, I'm Peter and I come from Munich.
Standard German: Hallo, ich heiße Peter und ich komme aus München.
Bavarian: Griaß God, i bin da Bäda und kimm vo Minga.
Get in
By air
The international
Munich Airport
is based in this region, although you can consider
Salzburg
, which is just over the Austrian border, as an alternative.
Get around

The major towns are connected with the excellent German rail network. A public bus network is available throughout the region, although visiting remote areas will be difficult. To visit the mountains and lakes a car would be ideal.
Cycling is a popular activity, and a good way to see the quiet side of life along minor roads in the region.

See
Do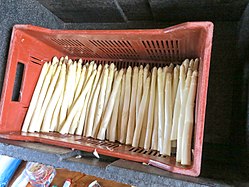 The largest Bavarian asparagus (
Spargel
in German) growing area is around
Schrobenhausen
. In springtime you can buy white asparagus directly from the farmers, and local restaurants offer special asparagus dishes.
During the winter, go skiing in
Garmisch-Partenkirchen
.
In Marienplatz in downtown
Munich
, see the Christmas decorations and do some shopping in the
Kristkindelmarkt
, which runs from the end of November through Christmas Eve.
Climate

The region occasionally experiences a phenomenon called the Föhn (pronounced fern), which has no direct English translation and means a downward sloping warm wind. (This is sometimes known as Chinook wind in North America.) It occurs as a consequence of bad weather in Italy, when damp warm air from the south gets pushed over the alps and comes down suddenly onto the region. It occurs mostly during Spring and Autumn and results in thunder and lightning. Many people blame feeling sleepy and experiencing headaches on this weather.

Go next