Upper Franconia
Upper Franconia
(
Oberfranken
) is a region in the state of
Bavaria
in
Germany
.
Cities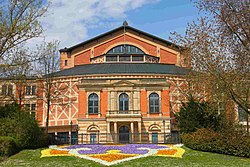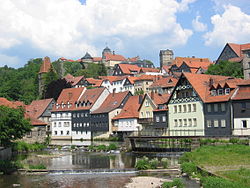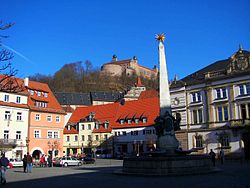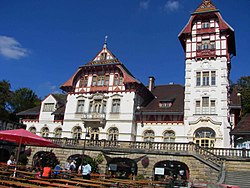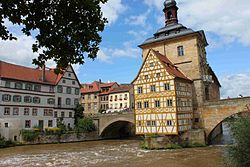 - is famous as the host of the Richard Wagner Festival, furthermore the Markgräfliches Opernhaus is listed on the UNESCO World Heritage List
— tiny town which the Guinness Book of World Records recognizes as the town with the most breweries per capita! There's even a beer trail that you can hike with stops at all the local biergartens
- the whole old town of Bamberg is listed on the UNESCO World Heritage List
- known for the Kulmbach Beer Festival
- it has been the household name for some royal dynasties in Europe
is a tiny border hamlet divided between Bavaria and Thuringia, placing it directly on Cold War Europe's East German border. A wall divided the village in two; the site is now an open-air museum.
Other destinations
— is arranged like a horseshoe around an inner hill-landscape; the highest mountain is the "Schneeberg (Snow Mountain)" with 1053 m above sealevel
(Fränkische Schweiz) — breweries, castle ruins, hiking, canoeing
Understand
There are three holy hills that are important for Upper Franconia. Those were already populated in prehistoric times. The Walberla near Kirchehrenbach, the Staffelberg near Bad Staffelstein and the Kreuzberg near Hallerndorf with a pilgrimage church built in 1463 and beer cellars of three breweries.
Tradition An old tradition in Upper Franconia is the Stärk' antrinken (drink force) on the evening before 6th January or on 6th January itself. The force in this context stands for health and strength for the new year to be aware of upcoming contrarieties.

Talk
You can find a great variety of franconian dialects. There are differences in every village. The "breite Brett" (broad board) is named e.g. in the Bayreuth area as "braades Breed" and in the Coburg area as "breedes Braad".
Half a liter beer is commonly known as "Seidla".

See
Deutsch-Deutsches Museum (Mödlareuth)
Festung Rosenberg (Kronach)
Dom (Bamberg)
Wagner Museum (Bayreuth)
Wagner Festival Theater (Bayreuth)
Internationale Hofer Filmtage (Hof)
Do
Botanical Garden (Hof)
Flossfahrt (Kronach)
Eat
Drink
Stay safe
In regular statistics of the police Upper Franconia is named the area in Bavaria with the least felonies per habitant. Bavaria is one of the most secure areas in Germany.