Upper Galilee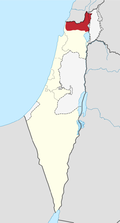 The
Upper Galilee
(
Hebrew
: הגליל העליון
HaGalil HaElyon
,
Arabic
: الجليل
al-Jalīl
) is a northern region of
Israel
.
Cities and villages
– this fascinating city is filled with artists and mystics. Since the 16th century it has been a main center of Kabbalah study.
– a small quiet city known primarily for the successful merger between Jewish and Arab communities
– a stylish tourist town with multiple restaurants and a 19th Century reconstruction site
Understand
The Galilee, apart from the
Western Galilee
, the
Galilee Panhandle
and the
Sea of Galilee region
, can be separated into the
Upper Galilee
and the
Lower Galilee
. It is generally a forested highland area with relatively sparse population. Its landscape and historical associations make it a great draw for the traveller.
The Upper Galilee consists of rugged forested hills, of which the highest of Mount Meron, with an elevation of 1208 m. From Mount Meron, the landscape gradually slopes down on the east and west towards the Mediterranean Sea and Sea of Galilee. To the north, the Upper Galilee continues (geographically speaking) into Lebanon. To the south, there is a sudden descent to the Lower Galilee, where the highest peaks are around 500 m. Route 85, the east-west road running at the foot of this descent, is generally considered the practical boundary between Upper and Lower Galilee.
Get in
The closest train stations are in and .
Get around
By bus
There is frequent bus service between each of the 10 or so significant cities in the Galilee. However, if you want to go to a village,
kibbutz
, or out-of-the-way natural or historic site, bus service can be quite sparse and inconvenient.
By car
The Galilee has a good road system. But expect traffic even in rural areas, particularly on weekends and holidays when many people from central Israel drive here for a quick vacation.
By thumb
Hitch-hiking is definitely an option and easy along the non-highway roads, also where buses are sparse. Due to high concentration of Arab and Druze villages, it is also more likely to get picked up. Jewish Israelis are more wary nowadays, which in other parts of the country can be an issue when hitch-hiking.
See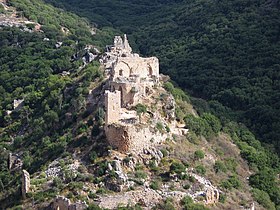 A number of Druze villages have an interesting culture.

Baram synagogueRemains of a large synagogue from about the 3rd century. The two-story monumental carved facade is well preserved. Located 20 km (driving distance) northwest of Safed.

Buqe'aAn old mixed village with Druze, Christian and Jewish sites.

JishThe only surviving Maronite village in Israel, with Roman and Talmudic remains.

MeronA village near Safed, the traditional burial place of Rabbi Shimon Bar Yochai. Once a year on "Lag beOmer" (around May), hundreds of thousands of Israelis gather to Meron to celebrate the rabbi and his legacy of kabbalistic learning.

Mount MeronIsrael's highest mountain, if excluding the Golan Heights, at 1208 meters above sea level with several hiking trails. It has hiking trails and a great view. The Jewish village of Meron and the Druze villages of Beit Jan and Hurfeish are in its foothills.

Montfort CastleA fortress built by the Crusaders during the times of the Crusader Kingdom of Jerusalem in Israel. The fortress is built on a narrow and steep cliff above the southern bank of Keziv stream in the upper Galilee region.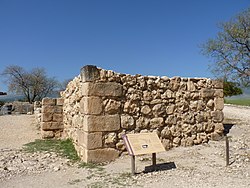 Tefen Open MuseumIncludes the Old Car Collection, Art Gallery, the German-Speaking Jewry Heritage Museum, the Sculpture Garden and the Art of Industry Museum.

phone: +972 4-827660

Ruins of an impressive fortress, both from the Crusader and Ottoman periods. They also have camp sites available (₪42/32/25 adult/child/student, +972 4-827660).
Do
Hiking
The picturesque Galilee landscapes are covered by a dense network of hiking trails. See
Hiking and backpacking in Israel
for more details.
Other things to do
phone: +972 4-6849137

address: Kibbutz Farod

A tourist center with numerous activities: mini-golf course for all ages, a swimming pool filled with local spring water, and paintball. Also ice cream parlor serving various desserts and Belgium waffles.
Eat
AmirimA vegetarian village, containing several vegetarian/vegan restaurants.
Sleep
Many visitors to the Upper Galilee sleep in a
tzimmer
- a kind of bed-and-breakfast place run out of a private house. Pretty much every town and village in the Galilee has a few of these.
Budget
phone: +972 54-4757283

address: Klil
Mid-range and splurge
Halomot Naftali Boutique Hotel

phone: +972 4-6802202

phone: +972 4-6994555

address: P.O.B. 27 Rosh Pina 12000

In Eastern Galilee close to Hermon Mountains, Golan Heights, Sea of Kinneret and between the artist village Rosh Pina and the city of Sefad.

address: Moshav Ramot Naftaly, Upper Galilee

Naftaly Estate is an all wood-structured, boutique hotel built in 2000 on the Ramot Naftaly Moshav in the upper Galilee.

phone: +972-46989803

address: Amirim

Guesthouse with garden and mountain view.

Campbell Guesthouse

phone: +972 4 6989045

address: Amirim

Owner Phillip Campbell is a warm and friendly man from London, UK. An old-timer in Amirim, he has his own guestrooms and if full etc he is always willing to help visitors find suitable accommodation within Amirim.
Go next