Uppingham
Uppingham
is in
Rutland
.
Understand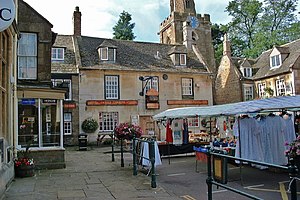 Uppingham is perhaps best known for its public school, which was founded in 1584.
It is a typical English market town, with a market square (market day is on Fridays), a wide variety of independent shops, cafes, pubs and restaurants.
The town is also known for antiques; It is home to a number of antique shops/centres, craft, jewelry, and clothes shops, as well as a modern art gallery and a picture framer.
The town's academic heritage enables two or three quality second-hand bookshops to prosper.
In contrast, the Sycamore garage is home to a Harley Davidson and Ducati dealership and showroom - a very popular stop-off point with bikers at weekends.
Get in

Uppingham is located around the A6003 main road between Corby to the south and Oakham to the north.
The A47 bypasses just to the north of the town and intersects the A6003 at a roundabout.
There is no longer a railway station, but the RF1 "Rutland Flyer" bus service runs to and from Corby and Oakham every hour during the day. The 747 also connectes Uppingham with Leicester every hour during the day from Monday to Saturday. A service also exists connecting Uppingham with Stamford.
A new tourist bus service linking Uppingham and Oakham with various points around Rutand Water is due to commence in summer 2013.
There is free 2 hour on-street parking in the town centre, though on Fridays (market day), many drivers resort to using the Co-op supermarket's car park, or the pay and display car park - both on North Street East.

Get around

Uppingham is a small town, and easily traversable on foot.
Taxi services are available throughout Rutland and beyond from Berridge Taxis - the main taxi firm in Rutland, and highly regarded. There is no taxi rank in Uppingham, so taxis must be ordered by phone.

See
phone: +44 1572 822438

address: Blue Coat Lane, Lyddington, LE15 9LZ
Drink
There are six public houses in Uppingham.
The FalconThis is primarily a hotel, and is located opposite the market square, but they also offer a pleasant upmarket public bar just through the entrance. Alternatively, one can relax in the very comfortable lounge area. There are usually complimentary newspapers and bowls of nuts available in both areas.

The CrownThis is the only pub in town which offers real ale on tap. They also host occasional real ale events and have earned awards for their efforts. Accommodation is available.

The VaultsA recently modernised formerly-traditional pub overlooking the market square, with outdoor seating. Meals are served, and sometimes - if you're lucky - complimentary cheese is left on the bar! If there's one on, then this is a good place to watch major (or local) football or rugby matches.

Don Paddy'sAlso on the market square, this is the nearest thing Uppingham has to a trendy wine bar. Don't expect anything too flash, but do expect a pleasant contemporary atmosphere with some outdoor seating at the front. They also serve coffee and tea.

The Royal OakThis is located on Queen Street - just off the High Street. It is very much a locals' pub, but the people there are friendly enough. It does offer a pool table, a small patio garden, and the cheapest drinks in town.

The Exeter ArmsJust a short walk from the market square up High Street West to where it joins Stockerston Road, you'll find the Exeter Arms. This is also primarily a locals' pub, and also boasts a pool table and patio garden.
Sleep
Falcon Hotel

address: High Street East

Garden Hotel

address: High Street West

Lake Isle

address: High Street East

The Crown

address: High Street East

address: 52 Main Street, Lyddington