Uppsala
Uppsala
, archaic spelling
Upsala
, is a university city in
Sweden
. Uppsala is not only the capital of
Uppsala County
, but, with a population of 160,000 in the city and a total population of 225,000 in
Uppsala Municipality
, it is the country's fourth-largest city. It was once the political and religious centre of
Viking-era
Sweden, became seat of the Church of Sweden and is the home of the largest church in the
Nordic Countries
, the Uppsala Cathedral. Uppsala University was founded in 1477 as the first Nordic university.
Understand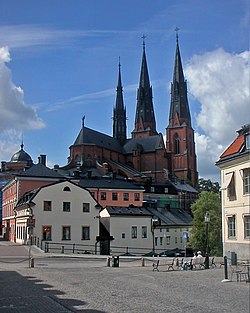 Uppsala is north of
Stockholm
, on the Fyris River
(Fyrisån)
that flows south into Lake Mälaren. The name "Uppsala" is derived from the words "Up", as in "upstream", and "Sal", which means "hall". Historically, Uppsala has been divided between "townies and gownies", with burghers residing on the eastern side of the river, while clergy, academia and royalty have resided on its western shore. To some extent, this division still exists today, as the main shopping area is in the eastern part of the city centre, while most university campuses, student nations, and historic landmarks are on its western side.
In 1643, Uppsala adopted its first city plan and got the rectangular street grid it still has today. The city limits were set to Kungsgatan, Strandbodgatan, Kyrkogårdsgatan and Skolgatan; it didn't expand past these limits until the latter part of the 19th century. Uppsala's city centre still fairly accurately coincides with this city square; it's rather small in relation to the size of Uppsala's population. Due to its regular street patterns and its highly visible landmarks, orientation in Uppsala is rather easy.
The Uppsala area is very flat except for Uppsalaåsen — an esker which stretches across Uppland in a north-south direction. Uppsala Castle is strategically positioned at the top of the esker. Due to the flat terrain Uppsala's silhouette with the characteristic Castle and Cathedral towers can be seen from a great distance. In order to preserve this skyline, most other buildings in Uppsala are quite low.
Many famous Swedish
authors
have resided in Uppsala, often as students at the university. Notable examples include the playwright August Strindberg, the poets Gustaf Fröding and Karin Boye, and the Nobel Prize laureates Erik Axel Karlfeldt and Pär Lagerkvist. Most Swedish children recognize Uppsala as the city of
Pelle Svanslös
(Peter-No-Tail), a tailless cat whose life and adventures in Uppsala are described in a series of children's books by author Gösta Knutsson. Cinema lovers will recognize the area surrounding St Erik's square from the movie
Fanny & Alexander
by Uppsala native Ingmar Bergman. Uppsala is also one of the main stops on
Nils Holgersson's Journey Across Sweden
. There is
a map
of important places related to notable Uppsala authors.
While Uppsala sometimes stands in the shade of
Stockholm
it maintains a sophisticated identity of its own. Compared to the Swedish capital, Uppsala is less frantic, with more of a small-town atmosphere, influenced by the student culture and academic traditions of Uppsala University.
History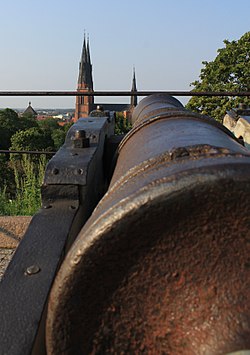 Since the Ice Age, the Scandinavian landmass has been
rising from the sea
. The Uppsala plains were below sea level until around 1500 BC. The country's youngest land became the cradle of the Swedish nation, and soon after its emergence from the sea
Håga
, some south west of Uppsala, became the centre of Bronze Age Sweden. In the area you can still find remnants of the hillfort
Predikstolen
, as well as Håga burial mound, the gold-richest Bronze Age burial mound found in the
Nordic countries
.
In the 5th century, Old Uppsala
(Gamla Uppsala)
, some north of today's city centre, became the political and religious centre of Sweden. According to legend, it was founded by the pagan fertility god
Freyr
, from whom the first Swedish kings claimed to descend. The site housed a famous pagan temple, a royal hall, and three monumental burial mounds which can still be seen today. It maintained its position as the most important place in Sweden throughout the
Viking Age
. In the 11th century, Sweden was Christianized, and the temple at Uppsala was destroyed. Instead, Old Uppsala became the archbishopric of Sweden.
The city we today call Uppsala was founded as a port-city of Old Uppsala called
Aros
. According to legend, the Swedish king Erik Jedvardsson was killed in battle in Aros in 1160. From his corpse sprung a well of fresh water, which remains today as a pump on St Erik's square north of the Cathedral. Although never officially canonized by the pope, the Swedes considered "Erik the Holy" their patron saint, and his relics can still be seen inside the Cathedral. Aros eventually came to eclipse its mother-city and, in 1273, overtook Old Uppsala's role as archbishopric, at the same time overtaking the name Uppsala. The same year, the construction of the Uppsala Cathedral began. The Cathedral was inaugurated more than a century and a half later, in 1435. In 1477, Uppsala University was founded, as the first university in the Nordic countries.
In 1527, the
Protestant Reformation
began in Sweden, and much power and wealth moved from the church in Uppsala to the king in
Stockholm
. Consequentially, Uppsala declined during the 16th century. During this era, Uppsala Castle was constructed, partly in order to check Uppsala clergymen who disliked the reformation. In 1567, the new castle became a scene for the "Sture Murders": during a fit of madness, the Swedish King Eric XIV had six nobles thrown into the castle dungeons and massacred. The wars of the 17th century (including the
Thirty Years War
) established the Swedish Empire. The city and its university experienced a revival, and Uppsala became something of a second capital of Sweden. Much of the city burnt down in 1702. This did not prevent Uppsala from rising as a scientific stronghold during the Age of Liberty (
frihetstiden
) in the 18th century, with world-famous scientists such as
Carl von Linné
, founder of taxonomic biology, and Anders Celsius, inventor of the Celsius temperature scale.
During the early 19th century, professors and students at the university were heavily influenced by romanticism. Many of Uppsala's strong student traditions can be traced to this era, including the archetype of the typical Uppsala student as a sorrowless, punsch-drinking and serenade-singing youngling in a tailcoat and a student cap. This "student uniform" can still be seen at formal occasions and
gasques
(student dinner parties). Throughout the 20th century Uppsala and Uppsala University grew rapidly. During the tenure of the principal Torgny T:son Segerstedt between 1955–1978, more students were admitted to the university than during its entire previous history combined! In the 20th century, the eastern half of the city experienced an extensive urban renewal. The western half was, however, spared from most of the demolition due to its proximity to the cathedral and university, and has therefore preserved more of its historical character.
Climate
Uppsala has a humid continental climate and is on the 59th latitude north, comparable to
Fort Smith
in
Canada
and
Saint Petersburg
in
Russia
. Because of its northerly position, Uppsala receives less than 6 hours of visible sunlight during the winter solstice, and more than 18 hours during the summer solstice. Due to the Gulf Stream, which brings warm water from the
Caribbean
to the North Sea, Uppsala and Sweden are not as cold as other regions on similar latitudes. As an example, during January, Fort Smith has a daily mean temperature of , compared to Uppsala's daily mean temperature of . Summer usually starts in the middle of May and lasts until late September. Autumn typically continues until late November, when winter arrives. Spring normally arrives around the middle of March.
Tourist office
phone: +46 18-727 48 00

Has eight staffed "InfoPoints" scattered around town. These provide basic maps and brochures and can be found at Uppsala University Hospital (Entrance 70), Godsmagasinet (Roslagsgatan 1), Fullerö Handel ( north of Uppsala), Fyrishov Stugby & Camping (Idrottsgatan 2), Gamla Uppsala Museum (Disavägen), City Library (Svartbäcksgatan 17), Uppsala Konsert & Kongress (Vaksala Torg 1) and Uppsala Art Museum (Uppsala Castle, Entrance E).
Get in
By plane
With no commercial airport of its own, Uppsala is served by the same airports as Stockholm. Indeed, the main airport, Arlanda, is closer to Uppsala than to Stockholm.
Stockholm-Arlanda Airport (ARN

), south of Uppsala on the main road and railway route to Stockholm, is by far the largest aircraft hub in Sweden. To reach Uppsala the main options are trains, buses, car rental and taxis.
By train SL commuter train or pendeltåg run every 30–60 min between 05:00 and 01:00 and take 18 min to Uppsala Central. A single ticket costs 225 kr, which includes the airport surcharge (compared to 117 kr to or from Stockholm. Attempts to exit at Arlanda with a ticket to Stockholm are surcharged). The trains have low floors and wide doors for easy access by passengers with wheelchairs or bulky luggage. The national train operator SJ also run irregular trains between Arlanda and Uppsala at rates and travel times similar to SL. All trains for Uppsala depart from Arlanda Central station ("Arlanda-C") within the airport Sky City — don't go to Arlanda South or North as these only serve express trains to Stockholm city. You must buy your ticket before boarding. There is a ticket counter and machines at the station.
By bus UL buses 801 (daytime) and 593 (at night) run from the stations beneath terminals 2, 4 and 5 to bus terminal C at Uppsala Central Station. They run every 30 min, taking 30 min. The fare is 97 kr if bought in advance (e.g. at sj.se as PDF or SMS ticket) and around 20 kr more if bought onboard from the driver (only card payment, cash not accepted) or at the information desk in front of the exits from airport terminals 2 and 5. The night bus might be your only transport option between midnight and 05:00. Flexibus run budget buses between Arlanda's Terminal 5 and Uppsala. At 30–60 kr these are significantly cheaper than UL's buses, but with departures about once every third hour they are also significantly less frequent.
Taxis are available in front of terminals 2, 4 and 5. They offer fixed prices to Uppsala, usually indicated by a large Fast Pris Uppsala-Arlanda or Arlanda-Uppsala sign near the back of the car. This is around 400–520 kr for 1–4 persons, so it's a good option for 3–4 persons, and avoids public transport costs within Uppsala city. You must ask for the fixed price before commencing the journey, otherwise the driver might charge per kilometre, which will be far more.
The major car rental companies have desks in the arrivals halls. Highway E4 will take you from Arlanda to Uppsala in about 30 minutes.
Stockholm-Bromma Airport (BMA) in Western Stockholm is served by domestic and short-range flights.
Skavsta Airport (NYO), is in Nyköping, about south of Uppsala. It is served by several budget carriers such as Ryanair and Wizzair. From the airport, take local bus 515 to Nyköping Central Station and change to a regional train for Stockholm Central, where you can change to a train towards Uppsala. This costs circa 200 kr in total and takes about 2 hours to Uppsala. For 140 kr you can also take the 80 minute air coach Flygbussarna from the airport to central Stockholm where you can change to a train towards Uppsala.
Västerås airport (VST) is in Västerås west of Uppsala. It is served by Ryanair, who offer flights to a handful of destinations in Britain and Spain. Your cheapest and fastest bet is to take a local bus from the airport to downtown Västerås, then change to the regional bus 774 to Uppsala. The journey takes 2 hours and costs 140 kr in total.
By train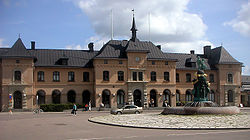 The national railway
SJ
operates regional express trains from
Stockholm
every half hour. This takes 30-40 minutes and costs 95 kr. These are complemented by occasional regional trains running
Linköping
–
Norrköping
–
Stockholm
–Uppsala–
Gävle
, with similar speed and costs. All trains from
Norrland
also call here, including the
Sundsvall
express and the
night trains
from
Luleå
and
Narvik
. From anywhere west of Stockholm or south of Linköping, it's usually necessary to change at Stockholm Central.
Regional commuter trains
(
pendeltåg
) also run the route Älvsjö–Stockholm–Uppsala twice an hour. A ride to or from Stockholm C costs 110 kr and take about 55 minutes, as stops are more frequent. Aside from Stockholm C the trains also stop at
Arlanda Airport
,
Solna
, Odenplan in
Vasastan
,
Södermalm
and Älvsjö in
Söderort
. As Uppsala and Stockholm belong to different counties ordinary local Stockholm tickets and passes are not sufficient to reach Uppsala. Commuter trains do not have a toilet on board.
A few private travel companies also serve Uppsala.
Snälltåget's
night trains between the northern ski resort
Åre
and the southern city of
Malmö
pass through Uppsala. The luxury first-class
Blå Tåget
from
Gothenburg
to Stockholm also continues to Uppsala.
Uppsala Central StationThe main traveling hub in Uppsala. The old station building from 1866 is now a restaurant. The new station, inaugurated in 2011, is adjacent south in a modern building. Here too the eating-places are rapidly encroaching! The regional traffic operator UL has a staffed service centre on the upper floor of the building, open M–F 07:00–19:00 and Sa 09:00–17:00. Tickets can also be bought from machines scattered around the station. Left luggage lockers are next to the toilets downstairs. Exit the station west for city centre, local buses and taxis, exit east for out-of-town taxis and buses including rail replacement services.
By bus
Traveling to Uppsala by bus is often considerably cheaper than going by train, but departures are also considerably less frequent.
Flexibus
runs 80-minute coaches from
Stockholm
's Cityterminalen at rates from 30 kr. They also run budget buses between Uppsala and
Gothenburg
,
Borås
,
Jönköping
,
Kalmar
,
Linköping
,
Norrköping
,
Södertälje
,
Gävle
,
Umeå
,
Härjedalen
and
Arlanda
.
Ybuss
carry passengers from Stockholm northwards along to coast of
Norrland
to Umeå, stopping at Arlanda and Uppsala on the way. While tickets to Stockholm and Arlanda are rather expensive at 110 kr, they might be a good option for travelers coming to Uppsala from northern Sweden.
The local public transport company
UL
operates services to
Västerås
and
Sala
. Tickets are 148 kr if bought on board, 120 kr if pre-purchased and 92 kr if bought with a travel fund. See the section
Get around
below for details on UL tickets.
By car
The north-south highway
E4
passes east of the city and stretches south to
Stockholm
,
Norrköping
, and all the way to
Helsingborg
in southern Sweden. In the other direction it continues north past
Sundsvall
and
Umeå
to the
Finnish
border at
Haparanda
. Road
55
carry traffic to
Enköping
and continues to
Norrköping
where it reconnects with the E4. Even though it is some 10 minutes slower it might be a preferable alternative to E4 since it is more scenic and avoids Stockholm, thereby skipping tolls and minimizing the risk for traffic stockings. In Enköping route 55 crosses the highway E18 which continues westward towards
Västerås
,
Örebro
,
Karlstad
and
Oslo
, or from Örebro towards
Gothenburg
as highway E20. The smaller national roads
72
and
288
carry traffic to
Sala
and
Östhammar
.
Get around
Town maps are available from the tourist office "InfoPoints", scattered around town.
By foot
Most tourist sights are within the central area of Uppsala and can easily be reached on foot. A walk across the entire city centre takes no more than 20 minutes. However, to reach points of interest outside of the city centre, such as Gamla Uppsala or Linnés Hammarby, you will need some other means of transportation — or some really good walking shoes.
By bike or scooter
A good way to travel in Uppsala is by bike, especially if you plan on leaving the city centre and visit Uppsala's peripheral districts or
Uppsala countryside
. As any visitor will notice, there are
a lot
of cyclists here, enough for the city to earn the nickname "Bike Town." There are paths parallel to nearly every road, and many places to store bikes outside. As the terrain surrounding Uppsala is rather flat, it is easy to bike, even for inexperienced biciclysts.
The cheapest way to
rent a bike
is via the local bike sharing company
EU-Bike
. You rent one of their easily recognizable green bikes by acquiring their smartphone app, and scanning the bike's QR-code. The first 10 uses are free, while additional usage costs 5 kr per 30 minutes. In a similar manner, electrical scooters can be rented via the local companies
Voi
and
Ozon
. The scooters cost costs 1.50 kr per minute, plus a 10 kr starting fee. There are also several conventional bike rental places in Uppsala (listed in the section on
Sports
). A typical price for a conventional rental bike is 200 kr for the first day and around 100 kr for every additional day.
As a side note, locals have a saying that everyone who lives there has had a bike stolen at some point in their lives. While this is not entirely true (it's more a reflection on the popularity of biking than any level of crime), it's probably a good idea to lock your bike.
By bus
Uppsala boasts an excellent bus system, operated by the regional company
UL
, where the closest bus stop is never more than a few hundred meters away. Local buses, also called "zone 1" or "Stadstrafiken", are green and numbered 1–31 while regional buses are yellow and numbered 100 and above. Most local bus lines pass by either the central station, city hall or the main square, all within a few hundred meters of each other, making it easy to transfer between different bus lines. A map of the city-traffic network can be found
here
.
A ticket on a green "Stadstrafiken" bus costs 22 kr when bought with a traveling fund, 28 kr if bought in advance and 35 kr if bought on-board, and is valid for all travels within 75 minutes. A 24-hour ticket costs 88 kr in advance or 95 kr if bought on-board. If you are planning to stay for long, you can also buy a 30-day travel card for 800 kr. Children aged 19 and below can buy discounted tickets of all types, and children aged 11 or below ride free in the company of an adult during weekends and holidays. Seniors and students may buy discounted 30-day travel cards. Groups of 10 people or more can buy discounted
group tickets
.
Tickets can be bought in advance at machines at the central station and on the main square. If you have a Swedish phone you can also buy pre-purchase tickets by SMS. Send a message to +46 704-20 22 22 with the text "V1" for a local adult's ticket and "U1" for a children's ticket. You must, however, register for payment before use. Tickets can also be bought by credit card on the bus.
Cash is not accepted on board
. Travel fund cards can be bought and charged in the train station or at one of UL's ~60 sales agents, marked out with yellow UL-flags. A list and map of sales agents can also be found
here
.
By taxi
If you would like to travel by taxi, use the four major taxi companies:
Uppsala Taxi
(),
Taxijakt
()
, Taxi Kurir
() and
Taxi 020
(). There are also a lot of smaller companies, but they might have their own view on what you should pay and might also have less geographical knowledge. Be sure to negotiate the fare in advance of getting in the taxi if no guaranteed fare is posted.
See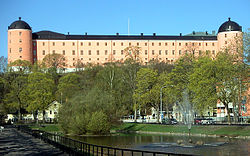 No fewer than 38
rune stones
have been found in Uppsala, and many of them can still be seen today. On the lawn just east and south of the Cathedral you can find 7 rune stones, and in the University Park, between the University Hall and Gustavianum, you will find another 9. In general, these were written during the 11th century, showing both pagan and christian motifs, usually commemorating some deceased relative. A notable exception to this rule is the stone U 1011, today standing in the University Park, reading the inscription
"Vigmund had the stone carved for himself, the cleverest of men. God help the soul of Vigmund the ships' captain!"
phone: +46 18-54 48 11

This major Uppsala landmark is stocked with large halls, paintings, and older remnants of the 16th-century castle built by the Vasa dynasty as a royal residence and a military fortification. As the castle was damaged in the 1702 city fire, the current building is smaller than it was in the 17th century, but is nevertheless built in the same style. Today it is the official residence of the governor of Uppsala county, and houses several museums. Due to its location on the top of Uppsalaåsen the Castle area offer some of the best views of Uppsala.
phone: +46 18-430 36 30

address: Domkyrkoplan 2

Uppsala Cathedral, built during a century and a half between 1272 and 1435 in Gothic style, is one of the focal points of Uppsala and it dominates the city skyline. It is simultaneously the largest church in the Nordic countries, the burial site of many Swedish royals, and the seat of the Church of Sweden. Here you can see relics of Eric the Holy and Saint Bridget, and in the far end of the cathedral you will find "Vasakoret" – the royal crypt of Gustav I Vasa, "father of the Swedish nation". The walls of the crypt are covered in national romantic frescoes depicting Vasa's reign and his war for Swedish independence. Other notable burials include the 17th-century polymath Olaus Rudbeck, the 18th-century botanist Carl Linnaeus, the 18th-century mystic Emanuel Swedenborg and the theologian, archbishop and Nobel peace prize laureate Nathan Söderblom. It shouldn't be missed, but given its towering size, how could you? Free English language guided tours are held at 12:30 on the first Saturday of every month and daily late Jun–late Aug, M–Sa 10:00 and 15:00, and Su 15:00.
phone: +46 18-430 36 30

In its northern tower, the Uppsala Cathedral exhibit highlights from its collection. The collections include plenty of royal regalia used in the many coronations which took place in the Cathedral. They also exhibit one of the finest collections of historic textiles in the world, including the world's only preserved medieval feast dress, used by Queen Margaret of the Kalmar Union. Another exceptional, but somewhat gruesome exhibit, is the clothing worn by three members of the Sture noble family when they were massacred by the insane King Eric XIV in Uppsala in 1567. Despite being covered with visible stab-wounds and blood stains, these are the best-preserved 16th-century male feast dresses in the world.
phone: +46 18-430 35 50

address: Villavägen 1

The largest cemetery in Uppsala is a beautiful place for a walk. Notable burials include the national romantic poet and historian Erik Gustaf Geijer; the poet Gustaf Fröding; artists Olof Thunman and Bruno Liljefors; Nobel laureates Kai Siegbahn, Arne Tiselius, Svante Arrhenius and the Nobel Peace Prize laureate Dag Hammarskjöld, who died under mysterious circumstances during his tenure as secretary general of the UN.
phone: +46 18-430 35 00

address: Odinslund 4

King Erik "the Holy" was killed in battle in or by the church in 1160. The current church building was erected in the latter part of the 13th century, making it older than Uppsala Cathedral. The interior is decorated by Sweden's most famous medieval church painter, Albertus Pictor. Architecture buffs can compare its roman architecture to the Gothic style of the cathedral.
phone: +46 18-611 26 10

address: Eva Lagerwalls väg 8

A museum concerning health and sickness in body and mind throughout history. In the 19th and 20th centuries the area was used a psychiatric hospital called Ulleråker, and many of objects used at Ulleråker are today exhibited at the museum.
Mora Stenar

address: Östunavägen

The place where Swedish kings were elected from the 13th to the 15th centuries, comparable to the more known Scottish Stone of Scone. The stones can be seen in a small inconspicuous hut by the road side.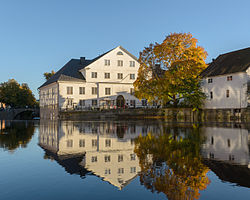 phone: +46 18-16 91 00

address: S:t Eriks torg 10

The official regional museum of Uppsala County can be found in an old building that used to serve as water mill. Extensive permanent exhibitions regarding the pre-history and history of Uppsala and Uppsala County, covering not only political and building developments, but also people's everyday life. In addition, they always exhibit some temporary exhibition. Most but not all exhibitions feature information English.
Art and galleries
While Uppsala's largest art establishment is Uppsala Art Museum (in Uppsala Castle, listed above) there are also several other smaller art venues in the city.
Gamla Uppsala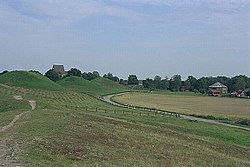 north of Uppsala. Bus 2 and the hike "Eriksleden" (which starts at the cathedral) calls here. By car: Follow Svartbäcksgatan 4.5 km north, then take a right turn onto Ärnavägen and follow it another 1.5 km.
This was the political and religious centre of
Viking
-era Sweden, with a royal estate, the "Thing of all Swedes" (political assembly) and a renowned pagan temple. The Viking heritage can still be seen in the landscape due to the three monumental burial mounds, historically attributed to the gods Odin, Thor and Freyr. In modern times it has become a centre for Norse Neopaganism, hosting a major
blót
sacrifice each spring! If you get hungry there is a nearby restaurant and café called ( M–F 10:00–16:00, Sa Su 10:00–18:00) which brew its own mead. Groups of 20 or more can book Viking feasts with traditional clothing and food.
With the help of
augmented reality
technology, you can also see what the site would have looked like at its historical peak in 650 AD. When looking at site through your smartphone, the app
Augmented History: Gamla Uppsala
adds an additional layer to reality, which contains all the different structures archaeologists have discovered on the site, including the old Temple at Uppsala and the Royal hall, enabling you to see and even interact with the Viking settlement. As of 2018, the app is only available on iOS. If you don't have your own equipment, visitors to Gamla Uppsala museum can borrow iPads for up to 30 minutes without any extra charge. The iPads are available between 15:00–16:00 during weekdays and 11:00–13:30 during weekends, and are booked at the museum counter.
phone: +46 18-16 91 80

address: Disavägen

This open-air museum consists of an old preserved farm, and provides a picture of what life in Uppland's countryside was like in the 19th century. The house interiors are only accessible during the daily guided tour at 13:00, the daily children's tour at 14:00, and the open house hour between 15:00 and 16:00 daily.

phone: +46 18-430 37 77

This 12th-century church, said to be on the site of the long-destroyed pagan Uppsala temple, was the seat of the archbishop of Sweden between 1164 and 1273. It is also known as the final resting place of Anders Celsius, inventor of the Celsius thermometer.

phone: +46 18-23 93 12

Tell the history of Uppsala's Viking heritage and exhibit many of the archaeological findings discovered in Gamla Uppsala. In the summer, there are daily guided tours in English at 12:30 and 15:30.

ValsgärdeAt the bank of Fyris River, there is a small moraine hill which does not look like much to the eye. However, it covers one of the most important Viking-era archaeological site ever excavated. Between the 5th and 11th centuries AD, this site was used as a burial site. Archaeologists have discovered some 90 graves, including 15 lavish boat burials. Since the same site was used continuously for such a long time period, archaeologists use its findings to compare how the same culture developed over time. Today, there are no noticeable remnants at the site. These can be found at the University museum Gustavianum, in central Uppsala. However, you can still visit Valsgärde to appreciate its beautiful landscape and historical atmosphere.
The Linnaean heritage
phone: +46 18-727 63 70

address: Vasagatan 4

A museum of Uppland's geology and biology, with dioramas of stuffed animals in their natural environment. Appropriate for families — children can discover and experience nature. It is in a beautiful park and has a nice café in the same building.

phone: +46 18-471 28 38

address: Villavägen 6-8

The main garden at the university consists of the Baroque garden, the Orangery and the Tropical Greenhouse. It was planted in 1664 as a castle garden, but, in 1787, it was donated to the university.

phone: +46 18-471 27 39

address: Villavägen 9

A natural history museum containing the largest fossil collection in Scandinavia. The museum is divided into a paleontological and a zoological section, housed in separate buildings on the same block. Many of the exhibited objects were collected by Linnaeus' apprentices as they traveled around the world. It also exhibits the largest collection of Chinese dinosaurs outside of China.

phone: +46 18-471 28 38

The Linnaeus family's summer residence is about southeast of Uppsala. Today, it is used as a personal museum about the family, and 18th-century biology and farming. The main building can only be accessed during guided tours which are held at 12:30 in English and 11:30, 14:30 and 15:30 in Swedish on every open day. Even if you don't speak Swedish, you can join one of the Swedish-language tours in order to see the house interior. Is part of the proposed Linnaean UNESCO World Heritage. Café Sara Lisa is in the same building as the museum gift shop and offers fika and lunch.

phone: +46 70-516 90 95

address: Carl von Linnés väg 3

Another farm which was owned by Linné. While Hammarby was used for work and social relations Sävja was his refuge. Today, the main building is a personal museum with a café. Throughout the season the site houses several events such as art exhibitions and concerts. Guided tours are held Sa 14:00, or on request for companies of at least two persons.

phone: +46 18-471 25 76

address: Svartbäcksgatan 27

The botanical garden was first planted by Olof Rudbeck in 1655, making it the oldest in Sweden. After a period of decline, it was restored and maintained by Carl von Linné and became a major attraction during Linnaeus' own lifetime. In the garden orangery, you can find exhibitions about Linnaeus' successors and disciples. The building in the southern corner of the garden served as the residence of the Linnaeus family between 1743 and 1778. Today, it is a personal museum dedicated to Linnaeus' professional and personal life. Is part of the proposed Linnaean UNESCO World Heritage.
Uppsala University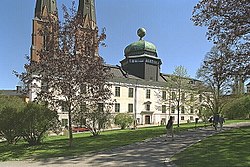 Uppsala University
was established in 1477, making it the oldest university in the
Nordic countries
. It is associated with 8 Nobel Prize laureates and is frequently ranked among the best 100 universities in the world. University campuses are scattered around the western part of the city centre. If you want to experience the student life at Uppsala you should go to one of the 13
Student Nations
(see infobox under section
Drink
).
phone: +46 18-471 75 71

address: Akademigatan 3

Gustavianum is the oldest standing structure of the university and exhibits a selection of the most interesting objects from the university collections. Of course this includes a comprehensive history of science and of Uppsala University, with items such as an original Celsius thermometer, lecture notes from 1477, and instruments used during the scientific revolution of the 19th century. The museum also contain two archaeological exhibitions with Egyptian artifacts, mummies and sarcophagus, and findings from the Viking era boat burials in Valsgärde. The two main attractions of the museum is however the old anatomical theater from the 17th century, where human bodies where dissected to educate medicinal students, and the Augsburg Art Cabinet, the world's best-preserved 17th-century curiosity cabinet. It contains some 1,000 different artifacts, and when it was built in 1632 the cabinet costed about as much as a palace or a smaller principality. The cabinet can also be viewed online for free. Guided tours in English at 13:00 every Saturday and Sunday in Sep–May and on every open day Jun–Aug (included in entrance fee). In winter time, the museum is relatively cold, especially anatomical theater which is not isolated by intention.

phone: +46 18 471 49 62

address: Biskopsgatan 3

Constructed in Italian renaissance Beaux-Arts style and was completed in 1887. Here major university events and occasional public concerts take place. In the hall you will find a café, a shop and a small exhibition about the history of Uppsala University. In the main hall you can also find Uppsala University's comprehensive coin cabinet, but it is only open to the public on special occasions. The controversial aphorism "Tänka fritt är stort men tänka rätt är större" (which translates into "Thinking free is great, but thinking right is greater"), attributed to the 18th century philosophy professor Thomas Thorild, are engraved at the auditorium entrance. The phrase "think right" has been misunderstood as "think as the authorities do". Thorild was however a radical for his time; his aphorism should be read as "think reasonably".
Do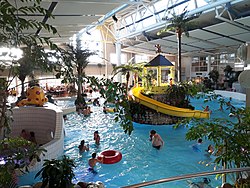 Boat-tripGo on a boat-trip on the river Fyrisån that takes you to the lake Ekoln, a part of Mälaren. Continue to the castle Skokloster or Sigtuna. The main shipping companies are:
phone: +46 18-18 88 99

address: Hamnplan Kajplats 1

The ship M/S Kung Carl Gustaf was constructed in 1892.

phone: +46 8-12 00 41 00

The ship, M/S Enköping, was constructed in 1868 making her the oldest operating passenger ship in the world, according to Lloyds Register.
phone: +46 18-727 49 50

address: Idrottsgatan 2

A combined arena and recreational swimming hall-complex. The swimming hall houses both a tropical water park, Olympic-size indoor pools, child pools, and two outdoor pools. The outdoor pools are open May–Aug. The facilities also include restaurants, relax areas, saunas and a spa & massage area. Aside from bathing Fyrishov also has a bowling alley, mini golf courses and drop in zumba classes.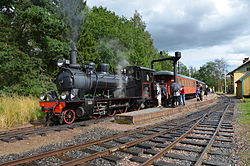 phone: +46 18-13 05 00

address: Stationsgatan 11

A heritage railway which stretches from Uppsala Central Station and east into the Uppsala countryside.

phone: +46 18-71 21 00

address: Åkaregatan 8

A kids-oriented play land with slides, trampolines, ball pools and sports arenas.

Pelle Svanslös lekplatsA Pelle Svanslös-themed children's playground. The small playground has swings, slides, and a bicycle carousel, and looks like a miniature version of Uppsala.

phone: +46 18-35 70 13

address: Sundbro 425 (Uppsala-Sundbro airport)

Offer glide flying across Uppsala County. Experience Uppsala from a height of 1000 meters and try to operate the glider yourself!

phone: +46 18-750 50 60

address: Takpannegatan 21

A sport and training centre (or as some would call it; playground for adults) with a multisport area, "Ninja Warrior", trampolines, an AirTrack, climbing walls, and a parkour zone.
Performing arts & cinema
phone: +46 18-14 62 00

address: Kungsgatan 53

Uppsala's main theater. Produces and presents theatre, dance performances, musical concerts and guest performances. Occasionally they feature plays in English.

phone: +46 18-727 90 00

address: Vaksala torg 1

Uppsala's main concert hall was inaugurated in 2007. By then discussions of building a concert hall had been going on for a hundred years! Since then the building and its modernist design has kept on creating controversy. The concert hall has a varied calendar which includes orchestras, dance performances, modern music as well as conferences and seminars. From the top floor you get a great panoramic view of Uppsala.
Beaches
While Fyris River crosses the city, there are no official bathing areas within walking distance of the city centre. In effect, this means that there are no official, regular controls of the water quality in the river. However, occasional tests have indicated that the water is fully safe to bathe in. Generally, the water quality is better north of Uppsala, before the south-flowing water has crossed the city centre. In the part of the river north of the city centre, there are also several bridges with rescue ladders which can be used for bathing.
FjällnoraA recreation area with two beaches in lakes Trehörningen and Ramsen. Besides bathing, you can also fish, go kayaking or bike or hike on the trails scattered around the area. In winter, it is possible to go skiing on the trails or skating on the lakes.
HammarskogA recreation area some south west of central Uppsala. You can fish, bathe, or skate on lake Mälaren, or hike or ski around the local tracks. The site is also popular among ornithologists.
The old

Hammarskog mansion

phone: +46 18-727 06 08

Built in the 14th century, it has been rebuilt into a cafe.
Rowing boats can be rented at the mansion during weekends or at the carpentry (+46 18-727 03 96) during weekdays.
LyssnaängenA public bathing area in Lake Mälaren by the southern outskirts of Uppsala, some from the city centre.
StorvadA public bathing area in Fyris River, some north of the city centre. The site is handicap-accessible and offers public restrooms, and has an adjacent area where you can bathe your dog.
WikbadetA bathing area in the beautiful area of Wiks slott, equipped with a bridge, diving tower and a café.
Hiking, biking & jogging trails
As the terrain around Uppsala is very flat, none of these hikes are very difficult, and could therefore be performed by inexperienced hikers or cyclists. For information about bike rentals, see section "Get around".
Eriksleden is a 6-km hike between Uppsala Cathedral and Old Uppsala Church. During the medieval era, Saint Erik was revered as the patron saint of Sweden, and his relics was carried in procession between these two destinations every year.
The Linnaeus Trails are eight different hikes which were created by Carl Linnaeus as biological excursions for his students. The trails measure from to one way, and are marked up by blue signposts. 7 of the hikes start at the old city entrances, in today's city centre, while the last one starts in the village of Jumkil. The trails are part of the proposed Linnaean UNESCO World Heritage.
The Yellow trail is a 10-km path which stretches through a continuous green belt within the urban area. The scenery include a 300-year-old pine tree forest as well as pastures. The trail starts by Studenternas sports stadium south of the city centre and leads down to the shores of Lake Mälaren by the southern suburbs of Uppsala.
Upplandsleden is an alternative for those who desire a longer hike. It stretches through the province of Uppland, from Lake Mälaren in the south to the Dal River in the north, and passes through the southern part of Uppsala. It is marked up with orange signposts.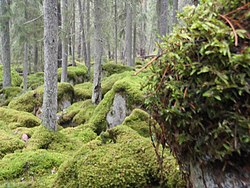 Fiby UrskogAn 87-hectare (215-acre) natural reserve and ancient woodland, virtually untouched by humans since the 18th century. It has become a habitat for many unusual species of birds, insects and fungi. A hiking trail will take you across the woodlands and make sure that you don't get lost.

Hågadalen-NåstenA 1,700-hectare (4,200-acre) natural reserve within walking distance from the city centre. One of the main sights in the reserve is (aka Kung Björns hög), a bronze age burial mound. It is the gold-richest Bronze Age tomb in Scandinavia and contained about one third of all the Bronze Age gold objects found in Sweden! Dating from around 1000 BC, it is twice as old as the more famous Old Uppsala burial mounds. Some south of the mound you can find remnants of the Bronze Age hillfort . The natural reserve is part of the proposed Linnaean UNESCO World Heritage.

StadsskogenStadsskogen, which literally means "The Town Forest", is a 108-hectare (267-acre) forested park and natural reserve. It is filled with small paths and trails, making it a great recreational area for hiking, biking, skiing and jogging. The forest was previously used as a stone quarry and military practice field, and remains from these activities can still be seen today. One section of the forest known as "Trollskogen" (The Trolls' Woods) developed freely, untouched by human intervention, for the last 50 years.
Sports
If you want to
watch sports
, the main outdoor sporting arena is (Ulleråkersvägen 6, on the western shore of the river just south of the City Gardens) while the main indoor arena is
Fyrishov
(listed above). The home team IK Sirius play
soccer
and the traditional Swedish winter sport of
bandy
in Sweden's top divisions. The men's team
Uppsala Basket
and the women's team Sallén Basket play in Sweden's top divisions for basketball.
Uppsala 86ers
was one of the first
American football
teams in Sweden, and play in the highest division Superserien.
Uppsala also has ample opportunities for
doing sport
.
King Björn's track and the Hammarskog-track, which starts by "King Björn's mound" in Håga west of Uppsala centre.
Lunsen is a natural reserve with several tracks. You can start by "Planstskolan", next to road 255 south of the city, where you can find booklets with suitable tracks.
Tracks can also be found by Sunnerstabacken (see below by "Downhill Snowsports").
The safest bet for snow is the rather short kap-track, south of Studenternas IP, as excess snow is brought here from the sports stadium.
Curling
phone: +46 46 80 70

address: Naturstensvägen 13

Accept groups from 4 to 10 people, though a group of 8 is recommended.
phone: +46 18-727 02 19

address: Dag Hammarskjölds väg 270

The largest slopes in Uppsala, with a heights of about 40 meters. The main slope has both jumps and rails.
phone: +46 18-430 19 70

address: Söderby Gård

A family-owned golf club which offers one par-73 18-hole track and one par-60 9-hole track. They also offer accommodation.

phone: +46 18-46 01 20

address: Håmö Gård

The oldest golf club in Uppsala, and, with some 2,000 members, it is one of the largest in Sweden. They offer one 18-hole track, par 72, and two 9-hole tracks, par 35 and 31.
Ice skating – Gränby ishallar (Råbyvägen 71) and the next door Relitahallen, northeast of the city centre are the main indoor skating arenas. Studenternas IP and Svandammen ("The Swan Pond", between Uppsala Castle and Fyris River) are often open for ice-skating in the winter. Natural ices can usually be found by Ekoln, a part of Mälaren south of the city centre, and Fjällnora, east of the city. Natural ice can be dangerous and should be avoided without proper equipment, training and company. Vikingarännet is the world's largest annual ice-skating race, from Uppsala to Stockholm. It is held in February, but the precise date is often decided on short notice depending on weather conditions. Some years the race has been cancelled all together due to poor ice conditions.
Sports equipment
can be rented at:
Annual events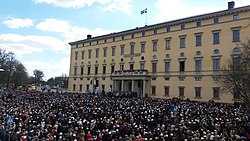 Uppsala's tourist office has
a calendar
on their website listing various cultural and entertainment events.
Another calendar
is provided by the local newspaper
Upsala Nya Tidning
.
Spring
Summer
Fall
Winter
Allt Ljus på UppsalaDuring November Uppsala boasts neither much sunshine, nor much snowfall, making it one of the darkest periods of the year. To bright things up, Uppsala is illuminated by a number of light installations, turning the city centre into a beautiful outdoors art museum. The festival starts in early November and lasts some two weeks.

address: S:t Larsgatan 11

Every Christmas Uplands Nation arranges a free traditional Swedish julbord (Christmas buffet). It began as an dinner for exchange students who were unable get home for the holidays, but today it attracts all kinds of people. Nation card is not required — everyone is welcome. The event is alcohol- and drug-free and done on a completely volunteer basis, with the food being donated by local shops and restaurants. If you're lucky you might even get a gift from Santa!
Learn
Swedish University of Agricultural Sciences

phone: +46 18-67 10 00

The second and less well-known university in Uppsala. SLU campuses are scattered around Sweden, but most of the administration and the faculties of "Natural Resources and Agricultural Sciences" and "Veterinary Medicine and Animal Science" can be found in Ultuna south of Uppsala.

phone: +46 18-471 00 00

Founded in 1477 it is the oldest university in the Nordic countries, and one of the largest in Sweden. It offers both undergraduate and graduate programs in humanities and arts, social sciences, law, business, sciences, engineering, and medicine. Campuses are scattered around the western part of Uppsala. It has about 40,000 students, and some 6,000 employees.
Buy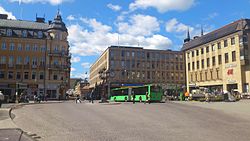 Typical opening hours in Uppsala are 10:00–18:00 or 19:00 from Monday to Friday and 10:00–16:00 or 17:00 on Saturdays. On Sundays larger venues are typically open from 11:00 or 12:00–16:00 while many smaller shops, cafés and restaurants are closed, making the city rather quiet. The
main shopping street
is a pedestrian street which runs parallel to the river, one blocks East of the river and two blocks West of the train station. On it lays the main square
Stora torget
. The street is popularly simply referred to as "Gågatan" (The Pedestrian Street), but its official name is
Svartbäcksgatan
for the part North of the main square and
Kungsängsgatan
for the part South of it.
Svavagallerian
(Dragarbrunnsgatan 50),
Forumgallerian
(Dragarbrunnsgatan 43–45) and
S:t Per-gallerian
(Svartbäcksgatan 7–11) are three central shopping malls. They can't compare to the malls in Stockholm though.
BoländernaThe biggest district for buying "not everyday stuff" (electronics, furniture, bikes) in Uppsala. This is where you find the second biggest IKEA in Sweden, MediaMarkt, Bauhaus, Elgiganten and so on. It can park nearly 8,000 vehicles, which makes this one of the biggest concrete jungles in Sweden.

address: Dragarbrunnsgatan 24

A small fashionable mall with mostly expensive brands in the city centre.

address: Marknadsgatan

With 9 million visitors annually, 140 shops, 25 restaurants, and a floor space of , this is the biggest mall in Uppsala.
Bookstores
Pressbyrån
is a well-stocked magazine store chain with lots of international and Swedish magazines, which can be found at several locations in the city.
Fashion and clothing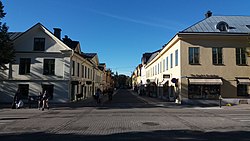 Many international and national fashion warehouse chains such as
Zara
,
H&M
and
New Yorker
can be found on the main shopping street
Svartbäcksgatan
.
Flea markets, second hand and auctions
phone: +46 18-12 12 22

address: Dragarbrunnsgatan 73

Founded in 1731, it is one of the oldest auction chambers in the world. Items include furniture and antiques from the 17th century and onwards, Asian objects, jewelry and fine arts from both Old Masters, and contemporary artists. Auctions are held about once every month and is divided into three categories. The most valuable goods are sold during "Important Sales" weeks in early June and early December every year. Smaller "Decorative sales" auctions are held about six times a year. "Special auctions" are organized on occasions when the chamber is entrusted some comprehensive prestigious collection.

phone: +46 18-495 45 00

address: Bolandsgatan 8A

Is a nation wide children's rights charity organization. Around Sweden they have several second hand stores, staffed by volunteers selling donated goods. The profit is used to help children around the world out of poverty.

phone: +46 76-315 48 80

address: Fyrisparksvägen 3

Run by a local dance association. In summer it turns into a car boot sale.

phone: +46 70-786 55 34

address: Råbyvägen 97

Rent out some 200 sales booths were sellers can exhibit their own second hand goods. As Loppis Poppis sales clerks handle all the sales, the sellers themselves do not have to monitor their sales booth.

phone: +46 737 23 71 34

An old mill turned into a small mall, with a café and several handicraft studios and stores. In summer they host a large car boot sale. The season ends with a major crafts fair and autumn market in early September. A Christmas market is held in the last weekend before Advent Sunday.

Vaksala torg

phone: +46 18-727 00 00

A central traditional flea market. Sellers include professional antiques dealers, private persons and school classes. The annual "Disting" market have been held in Uppsala since pre-historical times, originally in conjunction with the blóts (sacrifices) at Uppsala temple. In modern times the market is held at Vaksala square on the first Monday and Tuesday in February.
Gifts and souvenirs
Many museums, including
the Cathedral
,
Upplandsmuseet
and
The Linnaean Garden
have gift shops with general Uppsala souvenirs as well as souvenirs more closely related to their exhibitions. The best place to find Uppsala University themed merchandise are the gift shops in the University Museum
Gustavianum
and the University Main Hall.
Eat
Uppsala, being a college town, is not a city that is big on fine dining. There are a number of good restaurants to be found, however, and most of them are not far from the main landmarks in town. Lunch options are generally cheaper than dining options.
If you are interested in something lighter, most cafés mentioned below offer dishes like sandwiches, quiche, lasagna or salad. Likewise, most pubs at least offer simple pub food like burgers, and some of them, like
Bierhuis
and
Bryggeriet Ångkvarn
, are full-fledged gastropubs. Many hotels have good restaurants of their own, including the
Manhattan
-themed
Kitchen & Table
at Clarion Hotel Gillet, the Asian-Scandinavian restaurant and rooftop bar
Miss Voon
at Elite Hotel Academia, and the Nordic fine dining restaurant
Villa Anna
in the hotel with the same name. If you plan to cook for yourself, the market hall (S:t Eriks Torg 8, M–Th 10:00–18:00; F 10:00–19:00; Sa 10:00–16:00) offers various types of expensive, quality ingredients like
seafood
and
cheese
.
Most days, at least one of the 13
Nations
(see infobox under section
Drink
) serve simple, yet well-cooked meals. Unbeknownst to most locals, lunches are also open for non-students. If you have a nation guest card, you can also dine at the Nations. To know which nations are open any given day, check the calendar at
Nationsguidien
. Prices range around 50 kr for lunch and 70 kr for dinner.
Virtually all restaurants in Uppsala have at least one ovo-lacto
vegetarian
dish on the menu. Uppsala is also a rather vegan-friendly city. Many restaurants have some vegan dish on the menu, and even those which do not can usually serve something vegan if you ask the waiter. Especially good places for vegan food would be the vegetarian restaurant (Drottninggatan 12, +46 18-12 01 60, M–W 11:00–14:00, Th–F 11:00–14:00 & 17:00–21:00, Sa 16:00–22:00) and the vegan café (Svartbäcksgatan 21, Sa–Th 11:00–18:30, F 11:00–17:30).
Budget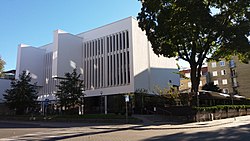 Budget-priced
food trucks
selling fast food like hot dogs and falafel can be found on the main shopping street Svartbäcksgatan, the square Vaksala torg and at Sankt Eriks square just north of the Cathedral. One falafel goes for about 50 kr. Typically they open around 11:00 and stay open until 20:00 on weekdays and significantly later on weekends (around 04:00 — late enough to serve drunk students on their way home from the bars).
phone: +46 18-71 33 22

address: Hjalmar Brantingsgatan 23

Serves delicious, genuine, inexpensive, Thai food. Also offers take away. Has vegan options.

phone: +46 18-13 30 10

address: Svartbäcksgatan 11

A Lebanese restaurant with their own food truck parked right outside on the pedestrian street.

phone: +46 70-855 74 94

address: S:t Persgatan 7

A "hot dog bar" serving beer, champagne and hot dogs!

address: Vaksalagatan 10

A burger joint, appreciated more for its tasty burgers than for its plain furnishings. They also have a food truck parked at Råbyvägen 97, some NE of the city centre, where the seating options are even worse, but the burgers are even better! Has vegan options.

phone: +46 18-10 35 35

address: Stora Torget 1

Serves big portions of tasty "junk food", such as kebab, hamburgers, salads and pizzas in a fast food milieu.

phone: +46 18-52 96 00

address: Börjegatan 11

A neighborhood restaurant that serves pizzas and à la carte, and does it well.

phone: +46 18-71 22 20

address: Muningatan 7

A salad bar. They offer a wide range of different ingredients and let you choose for yourself how to mix them.

phone: +46 18-12 15 60

address: Sysslomansgatan 11

A night-open convenient store with a barbecue and buffet restaurant, specialized in kebab. Among students, it is a popular stop-over for a drunken night snack on the way home from nations or bars. Only take away, except for a few bar stools.

phone: +46 18-59 15 69

address: Norbyvägen 65

"Yucko-chan, what do you want to be when you grow up?" the teacher asked. "I can do anything, as long as I don't have to work with fish. It smells too bad", answered the girl. Well, life does not always turn out the way you expected, and today Yukiko Willebrand operates one of Uppsala's most celebrated sushi and dumpling parlors. They also offer take away and have vegan sushi.
Mid-range
phone: +46 18-10 09 08

address: Sysslomansgatan 14

An Italian restaurant with a large outdoor seating area in the summer. The restaurant is on the ground floor of Västmanland-Dala Nation, and is named after its architect, the renowned Finnish modernist designer and architect Alvar Aalto.

phone: +46 18-13 30 34

address: S:t Olofsgatan 32E

A cozy restaurant that specializes French pancake-dishes, like crêpes and galettes. Occasionally, they have live music concerts.

phone: +46 18-13 86 36

address: Kungsängsgatan 23

While many Asian restaurants in Sweden serve food adjusted to western tastes in overly-oriental milieus, this Chinese restaurant has taken the opposite direction, specializing in more traditional Chinese cuisine served in a rather plain setting. Has vegan options.

phone: +46 18-10 35 20

address: Sankt Olofsgatan 8

Tuscan cuisine and atmosphere with an impressive assortment of high quality Italian wines.

phone: +46 18-13 48 48

address: Fyristorg 2

Thai restaurant offering good food in a fun and kitschy atmosphere. (Read colorful light strands, plastic palm trees, sounds of the rain forest, and occasional strobe light thunder storms!)

phone: +46 18-50 00 20

address: Sturegatan 4 A

A family-owned restaurant with good Ethiopian and Eritrean food and very friendly staff. Has a lot of vegan options.

phone: +46 18-12 38 38

address: Klostergatan 16

A small British pub and restaurant, serving well-cooked Britsh and Indian pub food. They also have branches on Siktargatan 15 and Anundsgatan 25 outside of the city centre. Has vegan options.

phone: +46 18-12 97 01

address: Vaksalagatan 24

Good tapas restaurant. They are rather small and don't have table reservations, so you may have to sit in the bar a few minutes while waiting for a table. If that happens, make sure that you try out some of their delicious sangria!
Splurge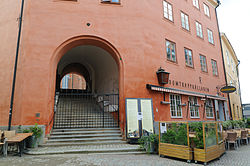 phone: +46 18-14 10 10

address: Bredgränd 4

60 Kvadrat, or , is perhaps not Uppsala's biggest restaurant. But it does make you question whether bigger is always better. It is not only the cosy, rustic seating area that is unusually small, but also their well-cooked Scandinavian side-dish-sized plates.

phone: +46 18-13 09 55

address: S:t Eriks Gränd 15

Fancy restaurant with a long history and tasty Swedish cuisine. The building dates back to the 13th century and was once a student prison! Next door, they also have a pub called "Domcraft", specialized in beer and gin & tonics. Have several vegan options.

phone: +46 703 123 556

address: Olof Palmes Plats 2

At Dryck och Mat, which literally translates into "Drinks and Food" they serve... well... drinks and food. However, out of the two, it is the drinks which take central stage, and their menus are composed to fit the beverages rather than the other way around. While the food gives an impression of fine dining the atmosphere is rather that of a relaxed hang out with your buddies.

phone: +46 18-71 21 50

address: Fyristorg 8

Originally a seafood store which has developed into a family-owned restaurant. Except for desserts, they serve nothing but seafood. They also have an impressive assortment of French wines. Their store can be found in the same location, selling seafood and delicacies.

phone: +46 18-14 59 59

address: Sysslomansgatan 13

Turkish cuisine in an inviting setting. It is divided into the "Bar room," with a cloud-like fabric roof and hanging lights, the "Love room," with small tables for two, and the "Glass room," with a removable glass ceiling. Named after the legendary 13th-century humorist and wise man Nasreddin Hodja.

phone: +46 18-150 151

address: S:t Eriks torg 8

East meets West in this "Amasian" stakehouse, serving a crossover of American grilled stakes, and eastern Asian specialties. Their name is an homage to the kung-fu master and stuntman Jay Fu who operated a similarly themed Asian-American restaurant in the Californian deserts in the 1960s and 70s. Has vegan options.

phone: +46 18-700 99 00

address: Vaksalagatan 12

An Argentinian steak house. Their class-5 entrecotes, tenderised for 14 days, are one of the most lavish meat experiences you will find in Uppsala. While their specialty is in meat dishes grilled over an open fire, they also offer tapas, fish dishes, and vegan options.

phone: +46 18-13 13 60

address: Suttungs Gränd 3

Swedish and French cuisine served in a rustic and elegant setting in one of Uppsala's oldest industrial buildings.

phone: +46 18-15 35 00

address: Olof Palmes Plats 6

In 2011, the new station building of Uppsala Central Station was inaugurated. The beautiful old 19th century station building was instead turned into one of Uppsala's largest restaurants. Their cuisine and atmosphere is inspired by the European continent and especially by European train stations. The restaurant is part brasserie, bar and café, inspired by Paris, London and Rome, respectively.
Drink
As in the rest of Sweden, the government-owned chain of liquor stores (Dragarbrunnsgatan 48A, M–F 09:00–19:00, Sa 09:00–15:00) is the only retail store allowed to sell alcoholic beverages that contain more than 3.5% alcohol. Additional Systembolaget stores can be found at
Vaksalagatan 30
and by major shopping malls in the more peripheral districts of the city.
Uppsala has a long history of brewing, and there are four active breweries in Uppsala.
Uppsala Brygghus
is the largest in the region, and the one you are most likely to find in stock at Systembolaget;
Jackdaw Brewery
, specialized in Belgian styled beers;
Tempel Brygghus
, focusing on sour beer and
Bryggeriet Ångkvarn
, which was named "Best brewery" at Stockholm Beer and Whiskey festival 2017.
Punsch
is a traditional Swedish arrak-based liqueur, holding a particularly endeared place in Uppsala's student culture.
Bars and clubs in Uppsala are obliged to close no later than 03:00. Most student nations close at 01:00 unless there is a special event.
Cafés
While coffeehouse chains are not unheard of, cozy traditional independent cafés are abundant in Uppsala. Daytime in the weekends many of the student nations have cafés, which always have prices significantly below those of ordinary cafés. Both students and non-students are welcome. To know which nations are open any given day check the calendar at
Nationsguidien
. If you are looking for a more high-end kind of
fika
, you should check out the
"afternoon tea"
seatings held at the restaurant and hotel Villa Anna, Saturdays at 12.00 and 14.15
Lindvalls kaffe
is a local family owned brand of coffee.
Blåbärsprinsess
is a blueberry sponge cake topped with marzipan which was invented in Uppsala, and
Studentska
is a local pastry made from shortcrust, chocolate truffle and icing. The name means "female student" since the pastries, just like the female students, are green and innocent on the outside but black as sin on the inside!
phone: +46 18-25 54 64

address: Brantingstorget 1

Somewhat "off the beaten path", this family owned neighborhood café has preserved an atmosphere of the Swedish "Folkhem"-era of the 1950s and 60s. It is the birthplace of their signature cake Blåbärsprinsess, and, according to the local newspaper UNT, their semlor (a traditional Swedish sweet rolls usually served at lent) are the best in town.

phone: +46 18-14 52 65

address: Munkgatan 3

Founded in 1954, this café still preserves its 1950s aesthetics. They serve sandwiches as well as traditional Swedish cookies and cakes. In the summer they have a large outdoors seating area facing the pretty Swan's pond.

Güntherska Hovkonditori & Schweizeri

phone: +46 18-13 07 57

address: Östra Ågatan 31

An elegant café and sourdough bakery, with a large outdoor seating area on the eastern bank of Fyris river. In addition to pastries, they also serve hot and cold meals, and, unlike most Swedish cafés, a wide range of alcoholic beverages.

phone: +46 18-56 40 90

A café operated by the Church of Sweden, in co-operation with a local charity organization. The building was the seat of Uppsala University's board, from its construction in the 1750s to the inauguration of the current University Hall in 1887.

Café Linné Konstantina and Café Linné Hörnan

phone: +46 18-15 55 10

address: Svartbäcksgatan 22 and 24

These two cozy cafes are often used as a meeting place for various clubs or political groups. Confusingly enough, they are both commonly simply referred to as Café Linné. However, you do not need to worry about taking "the wrong one," as they are both great cafés.

phone: +46 18-13 42 04

address: Sysslomansgatan 5

A traditional old cafe. Founded in 1878, this is one of the oldest operating cafés in Uppsala. It quickly became a popular place among Uppsala's students and cultural circles. It is the birthplace of the local Uppsala pastry "Studentska". They sometimes have poetry slam contests and other poetry readings, but they are mostly in Swedish.

Kafferummet Storken

phone: +46 18-15 05 22

address: Stora Torget 3

A cozy café on the second floor with rather anonymous entrance towards the main square.

phone: +46 18-13 38 13

address: Sysslomansgatan 9

Italian coffee bar. Excellent espresso served between spartan walls decorated with paintings by local artists. Aside from coffee they also serve Italian pastries, beers, wines, focaccia sandwiches, and delicious gelato ice cream.

phone: +46 18-71 07 50

address: Östra Ågatan 9

Offer a wide choice of quiche, cakes and smaller sweets. Aside from hot drinks they also serve beers and wines. Sit down in one of the large couches in their baroque-themed interior, or have a seat in the riverside park Gotlandsparken, right on their doorstep. They always serve a lot of fresh fruit with their cakes.
Bars
phone: +46 18-10 13 99

address: S:t Olofsgatan 23

A Belgian beer café in an elegant setting. Aside from 24 kinds of drafted and hundreds of kinds of bottled Belgian beers, the menu also offers traditional Belgian cuisine, such as waffles, moules frites and cheese with mustard.

phone: +46 18-418 02 00

address: Östra Ågatan 59

Uppsala's only brewpub, with the brewery fully visible behind the bar. In 2017 Ångkvarn won the title as "Best brewery" and four other titles at the Stockholm Beer and Whiskey festival, the second largest beer festival in the world!

phone: +46 18-54 84 88

address: Torsgatan 15

A day-time restaurant and night-time bar in a beautiful garden. Huge outdoor seating is open from April to September. On Friday and Saturday nights, there is a dance floor playing hits from the 1960s, 70s and 80s.

phone: +46 18-14 40 10

address: Stora Torget 1

Opened in 1993, this "Irish" bar and restaurant is Syrian-owned and run. This place has a great selection of Irish, Belgian and Swedish beers. Live music is performed every Monday–Saturday night, with "Amazing Chris" playing on the weekdays and different bands playing on the weekends. Coats must be handed in at the cloakroom on busy nights (for example, on Saturday nights and when there is music).

phone: +46 18-10 70 70

address: Dragarbrunnsgatan 53

An authentic Irish pub opened in 2007. Occasionally features live music. Good food and a nice selection of Irish, English, Belgian and Swedish beers. Multicultural-friendly staff from the United Kingdom, Ireland, New Zealand, Australia and Sweden.

phone: +46 18-13 18 20

address: Sysslomansgatan 7

A daytime pizzeria which, by night, turns into one of Uppsala's most popular watering holes. It gets especially crowded around 01:00, when the surrounding nations close. It is something of a dive bar, and at 40 kr their beers are among the cheapest in non-nation Uppsala.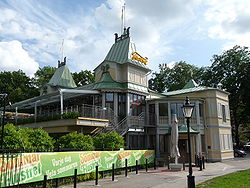 phone: +46 72-577 16 66

address: Drottningatan 12

The lively and youthful Shotluckan (literally "The Shot Hatch") offer a large range of different shots under the motto "life is too short to sip drinks." Many shots have some adventurous twist – like being on fire.

phone: +46 18-144 160

address: Drottninggatan 1B

Vinbaren, which literally translates into "the wine bar", is the wine bar in Uppsala! They offer some 100 different wines complemented with charcuteries and cheeses. Suitable to experienced and inexperienced wine drinkers alike.

phone: +46 18-14 09 20

address: Åsgränd 5C

British-themed pub with a welcoming interior and helpful staff. They regularly organize themed evenings, with events such as live music or pub quizzes.
Clubs & music
Sleep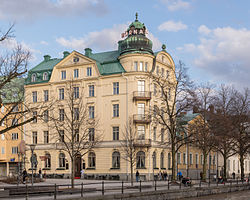 Camping
phone: +46 18-727 49 60

address: Idrottsgatan 2

The only camping site within walking distance of Uppsala offer sites for RVs and trailers, plots for tents, and chalets with four beds, a small kitchen and a shower. The camping area offers boule, beach volleyball, mini-golf, football and rental canoes. The max stay duration is seven days.
Budget
Mid-range
Splurge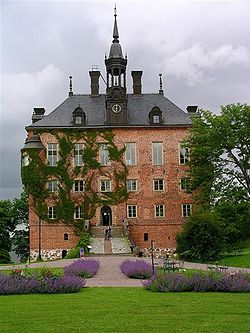 phone: +46 18-580 20 00

address: Odinslund 3

Luxury hotel in a renovated building from 1874. Suites with whirlpool and sauna. Their fine dining hotel restaurant offer Nordic cuisine with innovative touches, and has been named the best restaurant in Uppsala by the national restaurant guide White guide. 24 hour reception. This is where the Nobel Prize winners sleep during their visit to Uppsala University.

phone: +46 18-611 66 60

address: Viks Mur 29

A 15th-century castle turned into a hotel and conference centre. It is the best preserved medieval castle in Sweden and was once one of its strongest fortresses. It is in a beautiful natural environment on the shore of Lake Mälaren, with a beach and a grand castle park on site. The hotel offers a wide range of activities, such as yoga, cooking courses, guided tours of the castle, wine tastings, and ice sculpting.
Stay safe
Uppsala is generally a safe city. In an
emergency
, always
call 112
for SOS Alarm, for an ambulance, police, fire service, or priest on call. English-speaking operators are available. The national non-emergency number to the police is 114 14. As for other Swedish cities, drunk brawls are one of few risk factors to travelers. Stay extra attentive during weekend nights, especially downtown and around the Central Station.
If you venture into the forested countryside, beware of
ticks
. In Uppsala Municipality, there have been reported cases of both
TBE
and
lyme disease
. However, you can vaccinate against TBE, and lyme disease can be avoided by removing the tick within 12 to 24 hours. A simple precaution against ticks is to wear long-sleeved shirts and long trousers when moving through brushwood.
While there are several
pharmacies
in Uppsala, most of them close around 19:00–20:00, and none are open at night. The pharmacy with the best opening hours is (Kålsängsgränd 10C, +46 18-580 21 10) which is open from 08:00 to 22:00 every day.
phone: +46 18-67 26 80

address: Ultunaallén 5A

Associated with, and located on, the campus of the Swedish University of Agricultural Sciences. They mostly treat small animals, such as cats and dogs, but they also have a horse clinic. Around Uppsala, you can also find several smaller veterinary clinics.

phone: 114 14 (non-geographic number)

address: Svartbäcksgatan 49

phone: +46 18-611 00 00

address: Sjukhusvägen
Connect
Sweden's country calling code is
46
, and Uppsala's local area code is
(0) 18
.
Uppsala city centre is a free public wifi-zone. The network is called
"!uppsalawifi"
. Uppsala University and the Swedish University of Agricultural Sciences participate in
Eduroam
; a free-of-charge world wide web service which allow university students and staff wireless network access on the campuses of other universities.
phone: +46 18-727 17 00

address: Svartbäcksgatan 17

Offers several computers for free, using a queue system. Computes can also be used at the other public libraries Brantingsbiblioteket, Eriksbergsbiblioteket, Gottsundabiblioteket, Gränbybiblioteket, Storvretabiblioteket and Vattholmabiblioteket found in Uppsala's peripheral districts.
Cope
Stockholm with many embassies is only a short trip away.
Religious services
Go next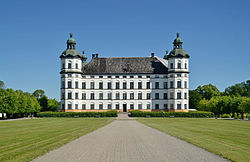 Uppsala County
is mostly rural except for Uppsala itself, and is therefore suitable for outdoor activities such as skiing and hiking. Uppsala County has a large number of castles and industrial heritage sites, worth visiting for the history or architecturally interested. In the east Uppsala County has a long shoreline towards the Baltic Sea known as Roslagen.
Uppsala countryside
contains fields, forests, and several villages.