Urbino
The Duke of
Urbino
built one of the largest palaces in medieval
Italy
. Today, from the park above Urbino, one can really visualize a fairytale like Cinderella. The city is situated in the
Marche
region and is inscribed on the
UNESCO World Heritage List
.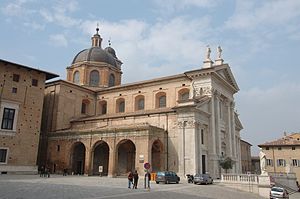 Get in
Buses run frequently from the train station in
Pesaro
(apx. 45min ride)
By car
Distances to/from Urbino: Rome 270 km, Rimini 60 km, Ancona 100 km, Arezzo 110 km. There is a large parking lot at Borgo Mercantile, tel. +39 0722 2196
Get around
There are taxi stands at Piazza della Repubblica, tel. +39 0722 2550 and Borgo Mercantile, tel +39 0722 327949

See
Churches
San Domenico

Oratorio di S.Gaetano

Oratorio di S.Andrea Avellino

Chiesa delle Torre

Oratorio della Visitazione

Oratorio della Morte

Cathedral

Oratorio della Grotta

Santo Spirito

S.Francesco

S.Sergio

Oratorio delle Cinque Piaghe

S.Francesco di Paola

Oratorio di S.Giovanni

Oratorio di S.Giuseppe

Ex Convento del Carmelitani Scalzi

Chiesa dei Capuccini

Sant'Agostino

Ex Convento di Sant'Agostino

Monasterio delle Suore Agostiniane

S.Catarina

S.Girolamo

Ex Monasterio di Santa Chiara

Oratorio di S.Croce
Museums
National Gallery of the Marche

City Museum

Museum of the Diocese "Albani"

Raffael's Birthplace
Palaces
Palazzo Ducale

Palazzo Ubaldini-Ivarra

Palazzo Benedetti

Palazzo Mauruzi della Stacuola

Palazzo Passionei-Paciotti

Palazzo Veterani

Palazzo della Capella Musicale del SS.Sacramento

Palazzo Bonaventura-Odasi

Palazzo Corboli

Archbishops's Palace

Palazzo del Legato Albani

Palazzo del Collegio Raffaelo

Casa Viviano

Palazzo Albani

Palaztzo Galli-Palma

Palazzo Bonaventura

Palazzo del Nuovo Magisterio

Palazzo Bonaventura
Do

Sip a cappuccino in the Piazza della Republica, at the center of town.
Visit the town museum, which is free and open on weekdays. The Duke's palace is also open to visitors and costs four Euro. It is filled with medieval paintings and statues, but all descriptions are in Italian. Don't miss the basement servant quarters and remember to bring a sweater because it is kept very cold.
The bosom Pub is a hot spot for students and often has drink specials. It is especially busy Thursday nights. They play a mixture of Italian and American music.
Every Saturday there is a market where you can find just about anythings for a decently low price. This includes clothing,shoes,bedding,fruits,vegetables,seafood and meat. There is also an antique market the first Sunday of every month all other Sundays almost all shops will be closed. All shops are also closed daily between 2-4

Learn
Urbino is also well known for its Italian language schools and several prestigious universities.
Centro Studi Italiani Italian language school and Italian culture courses for international students. School of italian for foreigners that offers language courses and opera singers courses. The courses are known and acknowledged by foreign universities.
Buy
There is a market on Sat Mornings along Viale Buozzi.

Eat
Opposite the Duomo, go to the Piquero Pub to have a drink with local students. Situated in a cellar, it always provides great atmosphere.
Crescias are an Urbino specialty. try one with Prosciutto Crudo and formaggio.
phone: +39 0722 4447

address: via dei Vasari 3/5

phone: +39 0722 320228

address: via Santa Margherita, 1

phone: +39 0722 329894

address: via Battisti, 5
Sleep
Budget
Agriturismo Bellavista, Via Sant'Egidio, 25, Urbino (PU) close to village Torre, Tel: 0722.340172 Fax: 0722.340172, double bedroom 45 Euro

Bed and Breakfast Urbino Oasi della Pace

phone: +39 0722 330616

address: Via Ca' Pandolfo 30

Between the sea and the mountains, we also find a "hill" situated in the Metauro Valley between Fermignano and Urbania, on the hillside to the right near to the village of San Silvestro. As well as running a farming concern, I also offer bed and breakfast accommodation in a quiet and relaxing setting, inside our new and extremely comfortable family home. The position is perfect for reaching both the Adriatic sea, with Fano, Pesaro and Rimini only 40 minutes' drive away, and the heart of the Apennines in the Marches region (Carpegna, Mount Nerone and Mount Catria) - also a 40-minute drive away. There are also many areas of artistic and cultural interest nearby (Urbania, Urbino, San Marino, San Leo, Gubbio, etc.).

address: via Cà Andreana 2, Gadana
Mid-range
phone: +39 0722 2701

address: corso Garibaldi 38

phone: +39 0722 4896

address: via Santa Margerita 40
Splurge
phone: +39 722 322309

address: via Bernini 6

phone: +39 722 2626

address: piazza Rinascimento
Cope
Tourist Information, Borgo Mercantile, tel +39 0722 2631
Municipal Police, Via Gagarin 4, tel. +39 0722 309300
Carabinieri, Via S:Provinciale feltresca, 9, tel. +39 0722 378900
Polizia Stradale, Via Sasso, 78, tel. +39 0722 350592
Fire brigade (Vigili del Fueco), Via G. da Montefeltro, tel. +39 0722 4828
Hospital (Ospdeale civile), Via B.da Miontefeltro, tel. +39 0722 3011
First Aid (Pronto Soccorso), tel. +39 0722 301272
Post office. Via BRamante 28, tel. +39 0722 37791
Italian Automobile Club (A.C.I. - Automobile Club Italiano), Via Sasso, 55. tel. +39 0722 320568