Urfa
Urfa
(also
Şanlıurfa
, formerly
Edessa
) is a city in
Southeastern Anatolia
, and the provincial capital of Şanlıurfa Province. The modern city of Urfa is situated about 80 km east of the Euphrates River. It has a rapidly growing population.
Urfa has many excellent old buildings and plenty of connections with the Old Testament and Islamic tradition. The general atmosphere and feel of the city is absolutely
Middle East
, with all those traditional yellow stone, arched architecture, people (ladies and gentlemen alike) in Middle-East dresses, and so on... When coming from West, you'll certainly feel like you are entering the Eastern world right in this place. People are extremely friendly, and the bazaar is great.
Understand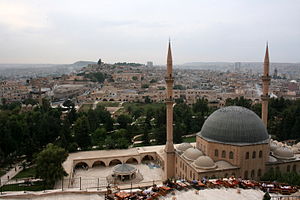 In 1984, Urfa was renamed
Şanlıurfa
(i.e. "Glorious Urfa"), which is how it is shown on maps and highway signs. Şanlıurfa is usually abbreviated to
Ş.Urfa
on non-official signs, such as those on buses or restaurants. However, colloquially and locally, the city is still almost always referred to Urfa.
Get in
By bus
Buses connect to most big and regional cities, such as
Gaziantep
to west and
Mardin
to east (both routes take around 4 hours, and cost 25 TL). Free transfers to and from the bus station provide by some accommodation choices. The bus station (
otogar
) is outside of the city center. There is a bus running from the main bus station in the center to the
otogar
, which takes about 30 minutes exit the otogar and take any bus running to the left that goes to "belediye" (1TL). From here either take bus R1 (0.50 TL) to the Bazaar, or walk down Ataturk Blvd to the Bazaar. A taxi costs about 20 TL.
By plane
Three flights a day into and out of Sanliurfa's new airport: two Istanbul and one Ankara flight. Reasonably priced transfers from and to the airport with the Havas bus service. Some accommodation choices also provide free airport transfers since the airport is out of town. Flights available from
Turkish Airlines
.
Get around
The city has a network of minibus lines, although all sights are located in the easily walkable compact old town.

See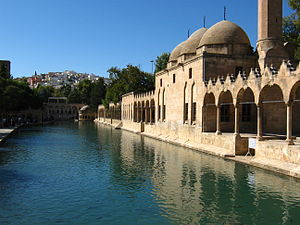 The atmospheric
bazaar
with its hustle and bustle is quite charming, as is the old town.
Cave of AbrahamUrfa is believed to have been the birthplace of Abraham (called Ibrahim in Arabic, he was an important prophet) and henceforth an important Islamic place of pilgrimage. Around the site of the cave are a number of mosques built around a park with water features. One of these mosques, the Halil-ur-Rahman has a pool (called the Balikligöl) occupied by a rather large number of holy fish. It is said that anyone who catches one of these will go blind. That said the story behind the pool is quite interesting: The pool is at a site where Nemrut (there's a legend claiming him to be the builder of the tower of Babel) wanted to burn Abraham as a sacrifice. God however intervened and turned the pyre into water and the coals into fish, thus saving Abraham. Legend also names it as the birthplace of Job.

Göbekli TepeFamed as the oldest temple in the world, Göbekli Tepe has changed the way that archaeologists look at history. Its existence pre-dates farming and settlements, and so it proves that man had religion before he even lived in a village or a town. Dated to 9000 BCE and listed by UNESCO as a world heritage site.

Şanlıurfa CastleThe ancient ruined castle with newer walls dating from around 814 AD on the rocky promontory at the south side of town. A lone column is just about all that remains of the older structure but the views are spectacular. Almost mystical crimson and hazy sights from the terrace at the entrance of the castle over the old city during the evening call to prayer is hard to beat and well worth the effort the climb there, even if the grounds of the castle is closed already. 09:00-17:00. 3 TL
Do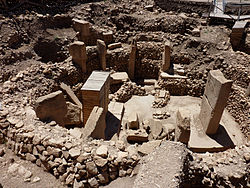 As it can get scorchingly hot during summer (40°C or above), you'll be hard pressed to do anything during the afternoon. In the park around which the mosques are you can wait for the midday heat to subside while enjoying ice tea or other cold drinks (there are also a few bars on Sarayonu st.) before exploring the old town , the bazaar or the mosques. That's also the extent of what you can do in the evening. Sit down, have a cold non-alcoholic drink and play backgammon or just have a chat.
Join the locals and make a wish while feeding the holy fishes at the pond. According to the local belief, if you happen to feed one of the obviously rare white fishes, your wish will come true in a short time. Feeds, which are available from numerous vendors around the pond, are regulated by the local environmental association—it's highly discouraged to use anything other than the designated feed—and the standard fare of a small box of feed is 0.50 TL—don't pay anything more if the vendor tries to rip you off.
Have a Narghile (hookah) at the lake in the park near the mosques.
Abraham's PathSanliurfa is at the northern end of the international trekking route, Abraham's Path, which follows the footsteps of the Patriarch Abraham throughout the Middle East. Walks from 1 to 10 days in length are possible from Sanliurfa. The Path in Sanliurfa joins together the sacred sites in the area.
Buy
As Urfa is both a conservative and hot place, headscarves are popular with both the city's men and women. Particular to Urfa, is a shade of lavender with white embroidered or sequined patterns. The story goes that the Prime Minister of Turkey from 1993-1996 wore a scarf in that style when she visited Urfa, and now all the women wear them. They are worn by both men and women. They can be found in the bazaar. Pay no more than 10TL per scarf.
Likewise, the patterned Pos(h)i scarves are both popular and politically-charged purchases. They come in all manner of meaningless colours, however the Kurdish men wear those of black and white check, and the Arab men the red and white ones.

Eat
Be careful with food hygiene as very many people suffer
stomach trouble
in Urfa. Suspects include the water, the ice cream and the kebabs. This only refers to summer visits.
Famous are the
çiğ köfte
or raw kebabs. In Winter they are made with raw mince meat; in Summer they are made with fried egg. Definitely one of the most delicious dishes of the area.
Have a breakfast at the wonderful
Zahter Kahvalti
in Köprübasi Caddesi opposite the entrance of "Hotel Ipek Palace".
Urfa is famous for local pistachio desserts. You can find different versions in every bakery in the city center.
Drink

As Urfa is a city of pilgrimage, beer or any other alcoholic beverage is near impossible to get. Apart from that you're able to find any of the soft-drink brands sold in the rest of Turkey or stick to Turkish or Arabian tea (which is sweeter or minted).
The section of Urfa just over the Karakoyun River houses a few small, simple bars and the local Turkish beer Efes can be purchased to take away from a very few small shops in that area. The few small bars are humble affairs, frequented by men and playing local Kurdish and Turkish music.
Drink "murra" in the Gümrük Han - this is a very strong 1/2 teaspoon-sized cup of coffee. It is not overly pleasant, but it is a local experience.
More welcoming to the palate is Menengiç (menen-gich) coffee - this is made from a paste of coffee and menengiç (wild pistachio) beans, and gives the cup a sweet, nutty flavour.

Sleep
Homestay
phone: +90 533 7471850

address: Yuvacali Koyu, Hilvan, Sanliurfa

It is possible (and a good deal more interesting) to spend a night or two in rural Sanliurfa, experiencing Kurdish hospitality at its best. Founded in 2009, Yuvacali Village Home Stays offers visitors the chance to milk sheep, learn how to make bread, and sleep under the stars as locals do. Included in the stay is a complimentary guided archaeological walk, and an orientation meeting detailing local customs, dress, history, and the responsible nature of the project.
Budget
phone: +90 414 215-15-75, +90-542-761-30-65 (mobile)

address: 12 Eylül Caddesi (Demokrasi Cad.) 1351 Sok. No:10

This guesthouse welcomes backpackers, and is set in an elegant nineteenth century Armenian craftsman built house. Rooms are around a central courtyard and fountain, which is typical of Middle Eastern architecture. All rooms have A/C. Beds are a mixture of eastern style floor bedding and western style divan beds. Low cost pick-ups can be arranged from the bus station or the airport. The owner will gladly arrange a taxi ride to the bus station for you which will cost you about 20 TL. The bus stop for minibuses is, however, only 10 minutes away and the ride to the bus station costs you 1 TL. The cushions in dorms are full of dust as well as the carpets. People staying in a dorm share only one bathroom which can be a problem in busy times. The school which is across the street is really noisy and you can be sure it will wake you up every morning around 07:00. The owner offers tours to Mt. Nemrut, Harran and Göbekli Tepe. In case of Göbekli Tepe he may sell himself as a guide, which is really not worth the money. A four-person tour may cost 120 TL. He has been known to initially ask for more than 200TL. Try getting a taxi or a better tour.

Beyzade OtelHoused inside a historic mansion, nice rooms of this hotel come with air-con, wi-fi, and en-suite bathrooms.

Pilgrim GuesthouseThe cheapest and most exotic, yet the most spartan accommodation in the city, the guesthouse, built for pilgrims to the town, is one of the few places in the country still offering a feel for the caravanserai tradition of the ancient Silk Road. You are provided with a straw mat, not-very-clean-looking but OK quilt and pillows and pick your place at the colonnade surrounding the courtyard—as there will be few others staying, finding a place is not a problem. The place shuts its gate after the night prayer (which is conducted roughly by 10PM in summer) and turns into a (rather overly) peaceful world—with Kurdish songs in a distance penetrating from the city that is still alive through the night—so don't be late after the dinner. As the place also serves as some sort of poorhouse, it's best to leave your bags and all your valuables (such as cell phone) in the warden's room (mihmandar), located at the side of the colonnade, for the night. There are basic bathrooms (with squat type toilets, running water, and liquid soap) at the side, which are open through the night and are for free for patrons of the place (normally costing 0.50 TL), as well as a free cold water dispenser. No matter how exotic it sounds, the morning prayer around 6AM at the mosque next door can be a deterrent to morning sleep, though, as it incorporates cymbals and some high-volume singing, which is unusual for the rest of the country.
Mid-range
phone: +90 414 314 7060

address: Ataturk Bulvari No:7

33 individually designed rooms offer amenities such as wi-fi internet connection, satellite TV, air-con, direct telephone, and hair-dryer.

Hotel Bakay

phone: +90 414 215 2689

address: Asfalt Cadessi 24

Aircon, tv, showers and a friendly staff though breakfast is a bit of a let-down. It's also about 45 TL for a double and 30 TL for a single.

phone: +90 414 313-13-40

address: Köprübaşı Cad. No 3, Belediye Karşısı

All rooms have A/C, a TV, and Wi-Fi access. In addition, the hotel also has laundry service and a computer (wıth internet) for guest usage. The owner, Mustafa, speaks four languages (Turkish, English, Arabic, and Kurdish), and can organize daily tours to destinations in the surrounding region or in Syria.

Lizbon Guest House

phone: +90 5353738926

Otogar Balikli Göl yolu Yeni Mah. No: 1286 (Hotel Number 21). Sanliurfahostel.com. Free pick up from the Otogar. A couple runs the guest house. There are 2 rooms (5 beds in total. The family plans to build one extra room. Terrace accommodation available in summer. Homecooked Kurdish food (with beer available). The owners are lovely; you will find no greater hospitality. Unfortunately, Aziz the owner, will insist on being a guide to sites around Urfa, and if refused, will become pushy and rude. This has been somewhat problematic for some tourists looking to explore unguided. The price for a single person is 25 TL (breakfast included), 35 TL (breakfast and dinner). Showers in the bathroom on the first floor are cold, pending the installation of a solar hot water system.

UR-Edessa Konukevi

phone: +90 414 216-56-56

address: Yusufpaşa Mahallesi Sarayönü Caddesi 889 Sokak No:4

Housed in a mansion dating back to 18th century.
Splurge
Hilton Garden Inn

phone: +90 414 318 50 00

address: Karakoyunlu Mahallesi 11 Nisan Fuar Caddesi

A 4-star Hilton Hotel, offering a service of 5-star. Such a fresh building with quite comfortable rooms, adjustable softness for both bed and pillows. But you should keep on your mind that the Hilton Garden Inns have no bell-boy and parking service, additionally the room service is not 24 hours.
Stay safe
Urfa seems to be a very safe city. There is a police sentry box in the Balıklıgöl/Pond area where you can report any problems.
However, according to the local youngsters, there is a possibly dangerous substance abuse going on around the gate of the citadel on the hill after night falls, so better avoid hanging around the stairs leading there at night.

Go next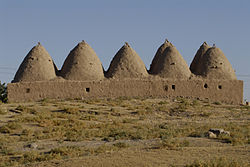 Go to Harran (about 40 km south; a dolmuş from otogar costs 5 TL), and see some reconstructed beehive huts, the remains of the oldest university, and the remains of the trading "fortress" around which they're situated. Interestingly the inhabitants have mostly Iraqi descendents and identify themselves as Arabs.
Mardin, about 200 km to east, with its stonework architecture and Syriac Orthodox churches is also another interesting place to visit in the region.
The Atatürk Dam to the north of the city is a huge engineering project harnessing the waters of the Euphrates and irrigating former semi-desert lands around Urfa.
Göbekli Tepe is the oldest known temple in the world dating from 9000 BCE. Its sculpture is very impressive, but the planned museum/tourist facility isn't finished, and the archeological work is in progress, which means access may be restricted. There is no public transport to the site, but you can catch bus 90 (goes to the University) from Belediye/local Otogar to the turn off (ask the driver to let you off anywhere), and you can hitch the rest of the way. As of May 2017, the site is closed to visitors because of construction works.
Visit villages in the region and see rural life seemingly almost unchanged since ancient times. Go to Karacadağ where it is still possible to see nomads in their yurts, and from where wheat first originated about 8800 BCE.
Take an excursion to Nemrut, the mountain of gods, or Diyarbakır, the largest city of the region also full of history, both of which are within a day's reach of Urfa.
Halfeti — riverside old town, partially swallowed by a dam lake