Uruguaiana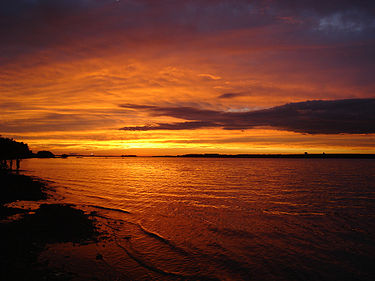 Uruguaiana
is a town in the state of
Rio Grande do Sul
, in the
South
of
Brazil
, on the border with
Paso de los Libres
in
Argentina
.
Understand
Once the tripoint town on the border with Argentina and Uruguay (before Barra do Quaraí got town status in 1995), Uruguaiana remains a place of transit for all 3 nationalities, and a convenient gateway to Brazil for those in Argentina, Paraguay or Uruguay, roughly equidistant from the three nearest countries' capitals:
Buenos Aires
(678 km away),
Asunción
(679 km away) and
Montevideo
(709 km away).
Get in
By bus
Uruguaiana bus stationHas services to Porto Alegre (Planalto, 11h, 120 reais) and a daily straight service to Buenos Aires leaving at 4am (JBL Turismo, 10h, 160 reais). There are also 4 services a day to Barra do Quaraí (Mon-Sat 6:30, 12:30, 16:00 and 18:00, 32-46 reais, coming back at 8:00, 10:00 14:00 and 20:00), the Brazilian town across the bridge from Bella Unión in Uruguay.
Coming from
Paso de los Libres
with the international commuter bus (30min, 30 pesos or 8 reais), the closest to the bus station is the third after the bridge.
By plane
Uruguaiana airportIs managed by the national airport operator and info about its flights can be found at the respective Infraero webpage. Even though the offer is limited, 4 flights a week to Porto Alegre by Azul (Monday, Wednesday, Friday and Sunday), good offers aren't rare and this is usually the cheapest option to reach further Brazil from Argentina (as flights from Foz do Iguaçu tend to be pricey). As of January 2019, there are no public transit options to the airport, and the taxi from downtown costs around 50 reais on Sunday and 35 reais any other day (Sundays have a legal surcharge).
By car
The city is reachable through
BR-290
coming from
Porto Alegre
and continuing west until the Paso de los Libres/Uruguaiana
International Bridge
(officially
Agustin Justo - Getúlio Vargas Bridge
), and through
BR-472
coming from São Borja and continuing south until connecting with Uruguay Route 3 towards
Salto
.
Get around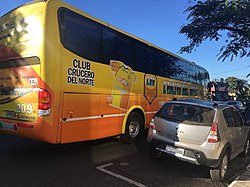 Uruguaiana has a network of city buses - the fare is 3,50 reais (as of Jun 2018).
To get to nearby Paso de los Libres across the international bridge, Argentinian company Crucero del Sur operates a international commuter line. The fare is 8 reais.
Timetable from Uruguaiana to Paso de los Libres
Another option is to catch a mototaxi to the Brazilian immigration (around 7 reais from Rio Branco square and around), hitch a hike to get to the Argentinian immigration (the bridge is long), and from there catch one of the frequent city buses to the bus station (15 pesos as of January 2019).
See
Castelinho de Uruguaiana

address: Rua 15 de Novembro, 2512

Built in 1955 by a local lawyer, and fully furnished with French objects and vintage decoration, it has 24 rooms and 3 terraces. It's a private house not open to visitation.

Barragem Sanchuri

Dr. Pedro Marini Cultural center

phone: +55 55 3412-1633

address: Rua Santana, no number

This center holds five museums: the Didactic Art Museum, the History and Art Museum, the Crioulo Museum, the Piá Museum, and the Museum of Natural and Exact Sciences.

Parque Dom Pedro II

Praça Barão do Rio Branco

Praia do Cantão
Eat
Pão & Caffé

address: Av. Presidente Vargas 2704

With a nice glass-walled room, this beautiful bakery offers shelter from the cold and a nice breakfast or afternoon tea. Free wifi available and power sockets under every table (but you might need to ask staff to turn on power).

Casa do Peixe

phone: +55 55 3411-0531, +55 55 8411-0498

address: R. Marechal Floriano 1850

Specializing in fish dishes.

Confraria Restaurante

phone: +55 55 3402-3001

address: R. XV de Novembro 2184

Gringo

phone: +55 55 3413-1319

address: R. Setembrino de Carvalho 1658

phone: +55 55 3411-8336

address: R. Sete de Setembro 1915

Napoli

phone: +55 55 3412-4097

address: R. Benjamin Constant 247

Paradouro 1

phone: +55 55 3413-5377

address: Rod. BR-290 km 715

phone: +55 55 3401-3100

address: Av. Presidente Vargas 4845

Churrascaria.

phone: +55 55 3412-4422

address: R. Domingos de Almeida 1951

phone: +55 55 3412-2383

address: R. Bento Martins 1818
Drink
Bar 10

address: R. XV de Novembro

Bar 12

phone: +55 55 3413-2300

address: BR-472
Sleep