Ushguli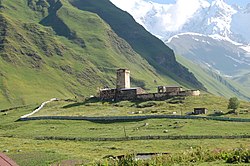 Ushguli
is a community of four villages in
Northwestern Georgia
next to the foot of Shkhara, one of the highest Caucasian summits.
Understand
Get in
Transportation into Ushguli is very limited. There is a road from
Kutaisi
that is serviced by private vehicles.
By taxi
Otherwise a trip from
Mestia
is the easiest way to see Ushguli. A private vehicle can take you up for a day trip, or for a few days. The cost will be 200 lari for a day trip, and a bit higher if you stay a while longer. There are also some local drivers that gather several tourists and do the tour splitting the costs (in this case the price per person will be 35 lari), but it's available not everyday, just ask around in
Mestia
. The trip from
Mestia
takes about 2½ hr one way despite being less than 70 km in distance due to the poor quality of the road.
On foot
It is also possible to hike from
Mestia
in 3-4 days which is a great way to see Svaneti for the able-bodied—
see Northwestern Georgia#Do
.
Get around
Once in the villages, you can walk between them all very easily.

See
Typical Svanetian protective towers are found throughout the village.

Ushguli ChapelIt dates back to the 12th century.
Do
A visit to the Ethnography museum is well worth the 5-6 lari that the local children will ask for admission. Housed in a preserved Svan house, the museum contains artifacts ranging in age from the long history of the Svaneti region. The local children will provide rehearsed description of the artifacts in passable English.
The Georgian wartime treasury. Placed in the "most inaccessible part of Georgia" the countless national treasures were held in the Ushguli monastery during periods of conflict.
Eat
There are a few restaurants in the villages serving traditional Georgian and Svan home cooking, catering to the increasing numbers of tourists. You could also get food from your guest house.

Sleep
Ask anyone in the village for a place to sleep or just walk around until you see a sign saying "Guest house" (there are a lot of them). The price will be US$20-30 per night and include all your food.

Go next
Mazeri – A Svaneti mountain village, surrounded by a stunningly beautiful landscapes and huge waterfalls. The starting point for a several exciting Svaneti trekking routes, including Mount Ushba glacier trek.