Ushuaia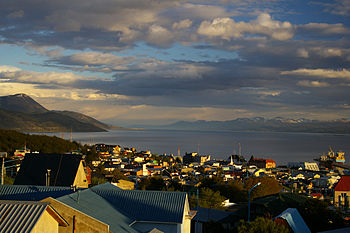 Straddling the Beagle Strait,
Ushuaia
is the largest city in
Argentine
Tierra del Fuego
island and, at 3,260 km south of
Buenos Aires
, is arguably the southernmost city in the world; cross-channel Puerto Williams is steadily growing and had been recognized city status by geographers in both countries, on early 2019.
In the past, Ushuaia has been a missionary base, penal colony and naval base for the Argentine navy. Ushuaia is now a major tourist town, complete with casinos and nice restaurants, and commonly used as a base for hiking, winter sports and cruises to
Antarctica
.
Understand
Ushuaia is the capital of the Argentinian province of Tierra del Fuego, itself the eastern half of
Tierra del Fuego
island (and archipelago) in the southern tip of South America. The city of some 56,000 inhabitants has in the last decades transformed from a sleepy village to a lively tourist center, so you will not feel quite like you are at the end of the world. The scenic landscape around the city, with good outdoor sports including one of the southernmost winter sport resorts in the world complete with a view to the sea, make Ushuaia a place worth visiting.
The area
Ushuaia is east-west elongated city crushed between the Andes foothills to the north (which do NOT run north-south at this latitude) and the Beagle Channel to the south. Its sole road connection is "Ruta 3" which traverses the city from west to east and later drifts north-east across the Andes and all the way to Buenos Aires.
Consequently, Ushuaia's tourist attractions are either to the west (End of the World Train & National Park), to the east (Fagnano Lake, Harberton ranch and lots of hiking trails), within the city (Presidio Museum, Martial Glacier or the Beagle boat tours).
The city borders one of the southernmost legs of the Andes and has several urban centers. The mall is about 2 km long and stretches from the freight port past the Avenida Alem (National Road 3). East of downtown there is the industrial area, and the western side is dominated by residential buildings and the airport. Most hotels and resorts, particularly at the upper end of the price scale are on the road to the Martial Glacier.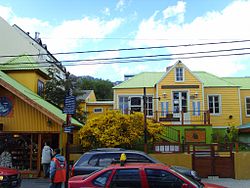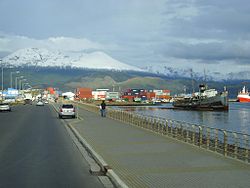 The world's southernmost city?
You might wonder if Ushuaia really is the southernmost city in the world. This depends on how "city" is defined. On the southern side of the canal is the Chilean town of Puerto Williams which, however, has just 2,000 inhabitants and is therefore often not regarded as a city, nor does it market itself as such. Still further south there's the village of Puerto Toro with fewer than 100 inhabitants, and on Antarctica there are several research stations with hundreds of "inhabitants".
History
Prior to the late 19th century, the land that is now called Ushuaia was inhabited entirely by Yámana people and a handful of missionaries. Due to outbreaks of typhus, pertussis and measles, by 1911, the Yámana had effectively disappeared; as of 2007, there was allegedly one pure-blooded native-speaking Yámana left.
In the late 19th century, the Argentine government established a penal colony in Ushuaia intended for repeat offenders, serious criminals and some political prisoners, following similar examples by the French and British. The prison population became forced colonists who spent most of their time chopping down the now-protected lenga trees, which they used to build the town. The prison was shut down in 1947, but it and the railway to the settlement have now become the Museo Maritimo and the Tren del Fin del Mundo respectively.
Today the town is growing fast as a result of increased tourism since the 2002 economic crash. The government has encouraged this growth by designating Tierra del Fuego a virtually tax-free zone to encourage people to settle; many of the inhabitants of today's Ushuaia come from Chaco, in the north of Argentina. The cost of living, however, is relatively high as all goods have to be transported long distances, usually by container ship.
Climate
Climate-wise, Ushuaia is warmer than many assume; although (arguably) the southernmost city in the world, it is no further south than Belfast is north, and temperatures rarely drop below -10°C.
However, it is still cooler and more unstable than on the drier northern half of the island. In the summer, there are hardly any clear days: On most days there are sun, clouds and short rain showers, with temperatures around +15°C. There is daylight from 04:30 to 22:30 The winters are somewhat clearer, with temperatures around -2°C, a lot of snow, and little daylight, the sun is only up from 10:00 to 17:00 The ski resorts have snow from May to early November. As in all of southern Argentina, strong winds add a significant wind chill factor.
If you plan to hike, you should have weatherproof clothing, and even if you are just visiting the city, you will need both a pullover and a jacket even in the summer months of January and February. In January, the city is full of domestic tourists (which means you should book your accommodation beforehand). There are fewer visitors from mid-February until the start of the ski season in June.
Tourist office
There are several tourist offices. Aside of the central one on the main street (which is closed, the nearest is in the port next to the 'end of the world' sign) there are smaller ones on the airport and the port.
phone: +54 2901 424550, +54 2901 432001

address: San Martín 674

free WiFi, toilets
Get in
You can get there by plane in three and a half hours in a non-stop flight from Buenos Aires, or you can go by car, but it is a long trip (about four days travelling on desert roads). You can also go on a cruise ship.
By plane
There is one major airport serving the city:
By bus
Buses from all destinations except
Puerto Natales
stop at
Rio Gallegos
. It can be cheaper to buy a ticket to Rio Gallegos and purchase an onward ticket from there. The ride from Rio Gallegos costs AR$1,300 and involves crossing into Chile and taking a ferry across the Magellan Strait. There are three daily departures and the journey is advertised as taking around 12 hours, but it is often much longer in practice.
By car
Argentine National Route 3 connects
Buenos Aires
to Ushuaia, ending at the
Tierra del Fuego National Park
. Tierra del Fuego is an island, and the route requires crossing into Chile and taking a ferry to cross the Magellan Strait. There are two ferries connecting Tierra del Fuego to the South American mainland: a short crossing at
Punta Delgada
at the northernmost point of the island and a longer crossing from
Punta Arenas
in Chile to
Porvenir
on the island's west coast.
By boat
A number of cruise ships stop at Ushuaia, either as an attraction or as the destination.
phone: +54 11-5199-6697, +1-305-695-9618

4-night cruise from Punta Arenas. Excursions in Ainsworth Bay and Tuckers islets to view sea lions, penguins and other wildlife. Travels through the Beagle and Murray channels, stopping at the Pía Glacier and Wulaia Bay. Also stops at Cape Horn National Park, the last piece of land before Antarctica. 7-night Punta Arenas–Ushuaia–Punta Arenas cruises (including a day tour of Ushuaia) also available.
Get around
By bus

There are city buses within Ushuaia, but they reach few of the tourist attractions. They are good to get to Playa Larga, for example, or from one part of the center to another, along the east/west axis. The bus lines are nowadays labeled with letters, though numbers were previously used and the old numbers may still be visible at some bus stops. The bus fare is AR$6.80 as of 2017, and the system to pay is the SUBE card, the same as for other big cities in Argentina.
Tours/transport to the main tourist attractions can be booked through the Tourist Office (on San Martin) or through many of the hostels.
Regular minivans leave for the National Park (first van 8:00AM), Glaciar Martial, the trailhead of Laguna Esmeralda or other places from a parking lot at the corner of Maipu and Fadul. To catch one, turn up at the lot, pay for your return ticket and you will informed of the pickup times to catch the minivan back. The cost for a return ticket to the national park is AR$500 (Apr 2018), excluding the entry fee, Laguna Esmeralda AR$300, and Glacier Martial AR$150. In the case of Glacier Martial a return taxi for 2 passengers is cheaper than the minivan and more flexible as there are usually taxis waiting for passengers at the Glacier base that can take you back immediately rather than waiting for a van.

By taxi

Taxis are another option, costing, for example, AR$150 to get from the city center to the airport and AR$130 to the Glaciar Martial. There are plenty of taxis and remises, the fares being somewhat higher than in Buenos Aires. Taxis use the meter and are generally a trustworthy option.

By car

There are also several car and bicycle rental companies. Be aware that in Ushuaia, all vehicles on hillside streets automatically have the right-of-way. In most places there are signs, but even if there isn't, this rule still applies. This is intended to prevent accidents due to ice and snow on the steep mountain roads.

See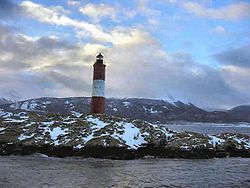 There aren't really any architectural sights in Ushuaia. The city is modern, but the architecture is Scandinavian and positively different from other cities in southern Argentina.
Buildings
Casa de Gobierno

address: San Martín

The local government building is a strange mixture of functionalism with Alpine elements and is hard to miss.

Les Eclaireurs LighthouseReached by a short boat tour from Ushuaia, it is known locally as the Lighthouse at the End of the World, though the lighthouse made famous by Jules Verne in the novel of the same name is the San Juan de Salvamento lighthouse further east on Isla de los Estados.
Memorials
Plaza Malvinas

address: Maipú

Monument to the Falkland Islands War of 1982. These islands are called the Islas Malvinas in Argentina.

Mastil de General BelgranoA remote area west of the city of Ushuaia on Isla Redonda, paying tribute to one of the founders of Argentina, and to the navy cruiser named after him which was sunk by the UK in the Falklands War. It was a stop on one of the televised Amazing Race contests, and features a one-person post office for sending letters from the end of the world.
Museums
address: Yagones and Gobernador Paz

Located in an old prison, this is four museums in one. The maritime museum itself displays a collection of the history of Tierra del Fuego. One wing has been converted to an art gallery named Museo de Arte Marino featuring the work of local artists. There is also an Antarctic museum and a of course museum of the prison itself.

address: Maipú 173

Highlights include the largest exhibited collection of birds from Tierra del Fuego, the figurehead of the Duchess of Albany (a sunken vessel), and a library dedicated to the history and nature of Tierra del Fuego.
Do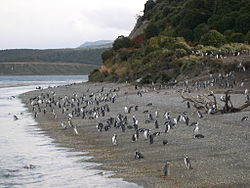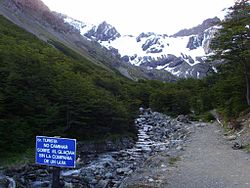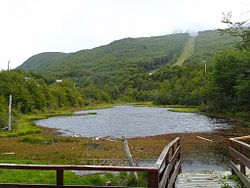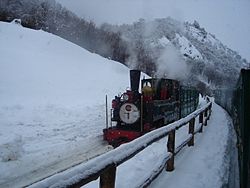 It's a city that has charm in every season, in winter the weather is very cold, but it is the best season to practice skiing and other mountain sports, such as sledging by Siberian dogs and biking snowmobiles. The most important place to practice skiing is "Beaver Hill", where you can enjoy this sport and also a typical meal or a rich chocolate to soothe the cold. In the city you can visit the museum of the jail where they used to take the most dangerous criminals. You can also see the museum of the "Yamanas Indians", who were the first inhabitants of the island, along with "Onas Indians".
In summer the temperature can reach twenty degrees allowing us to enjoy the greenery. In summer you can hike, climb hills and visit the "Esmeralda" lagoon (in winter is difficult to reach because of the snow). Biking is difficult because the streets have many slopes. During the summer you can enjoy the landscape and get to places which are not accessible in winter due to the snow. There are many things to do. A highlight is a train tour called "The train where the world ends"; you can visit the national park "Tierra del Fuego", where you can see "The Green Lagoon" and the "Black Lagoon", which owe their color to the local flora. You can have a picnic on "Roca Lake" and watch a lot of rabbits. Another nice activity is to take a boat trip in The Beagle Channel, visiting The Birds Island and the "Lighthouse where the world ends".
Summer
The area around Ushuaia is excellent for
hiking
and there are several marked paths. The most popular one leads up to the Glaciar Martial, a 1300m high snow covered peak with a small glacier and a spectacular view of the city and the surroundings. If you are going up the mountain you need sturdy and waterproof shoes - the path is steep and often slippery. You can pick up a map in the tourist office which is sufficient for shorter and popular hikes.
For serious hiking you should invest in the "Ushuaia Trekking Map," which can be purchased for around AR$230 at many stores downtown. You can head to the Tierra del Fuego National Park, 12 km west of Ushuaia, or hike the valleys around Estancia Haberton (where many paths aren't marked).
Laguna EsmeraldaIt's a short but muddy hike from the highway through peat bogs to get there, but the stunning lake is worth it. The colour of the water changes with the time of day. Try to be there before noon, which is when the majority of tourists start pouring in.

Hike the Glaciar MartialProvided that you wear comfortable shoes and have the patience, a hike up the Glaciar Martial will provide a very beautiful view of Ushuaia and the Beagle Channel. There is also a single ski slope open during the winter months, and ski rentals are available from the site.

Mountain bikingThe downhill trails are not to be underestimated: Bring your stamina. Club Andino sells mountain biking guidebooks with rough maps and trail descriptions. Mountain bikes can be rented at the Alamo car rental at Belgrano 96.

Ushuaia Golf ClubWest of town just before the entrance to the National Park, this is probably the southernmost golf course in the world.

Tren del Fin del MundoThe "train to the end of the world" is a pleasant 45-minute train ride into the park on a narrow gauge railway rebuilt on part of the roadbed of the old logging train. The train line originally operated from 1909 to 1952, transporting timber and other material in the penal colony, and reopened in 1994 as a tourist train. You won't get very good views of the park itself but train enthusiasts in particular will enjoy the ride.

Parque del Tierra del FuegoJust go to the "bus station" (next to the Tourist Information office) and ask for a ticket (see getting around section on this page) Advice: Get out at the second stop (number one being the ticket office) and do the long seaside walk. Do not spend too much time there though, make sure you do it in three hours. Have a cup of coffee at the refuge and then head down to the Policia Nacional and do the round routes (route number 1, 3 and 6 are the best). Hop on the last bus at 7PM (make sure you don't miss it or you will have to travel "a dedo" back to Ushuaia).
Water
Beagle ChannelCatamaran trips will take you around the Beagle Channel and give you nice views of the mountains, cormorants, penguins, orcas, seals and sea lions. Make sure that your guide is English speaking before booking a trip.

Kayak the Beagle ChannelKayaks with a guide can be hired near the Aeroparque on the promontory jutting out from Ushuaia.

Motonave Barracuda SailShip trips will take you around the Beagle channel and give you nice views of the mountains, cormorants, sea lions and penguins.

Ushuaia Divers located in the AFASIN Yacht Club

phone: +54 9 2901 61-9782 (Carlos Giuggia)

address: L.N.Alem 4509
Winter
In the winter, the area turns into a large ski resort. In Ushuaia itself there are two pistes on Glacial Martial, both with sea view.
Cerro CastorIf you want more, this centre for winter sports offers alpine and cross-country skiing and snowboarding. Nearby in Las Cotorras you can also ride snowcats or husky sleighs.
Buy

The main shopping district of Ushuaia is near the waterfront, mostly on San Martín. There is a smaller center west of the city, north of the airport, where the locals mainly shop.
Prices in Ushuaia are higher than central Argentina, but there is no sales tax (IVA). Furthermore, due to low tariffs on imports in Tierra del Fuego, imported goods (electronics) are a comparative bargain. There is a duty free store on San Martín that sells perfume, alcohol and cigarettes, but keep an eye on the prices as some items may be cheaper elsewhere.
While Antarctic travelers should arrive with proper gear already in their possession, quality winter gear including boots, coats, and other necessities — as well as souvenirs — can be purchased from a variety of shops.
There are also souvenir shops, such as La abuela Oma, La ultima Vita and Fin del Mundo.
The Paseo del Fuego Shopping Center is a largish modern shopping mall featuring a cineplex showing first-run movies in English and Spanish, providing an additional option for rainy-day activities.

Eat
Highlight are lamb, crabs and other seafood dishes. Most Ushuaia restaurants are centrally-located, clustered around San Martín and Maipú. The western part of the city offers affordable
rotiserías
(pre-made/fast food) with standard Argentine dishes such as pizza and empanadas.
Seafood and meat dishes are very typical, as fruit and vegetables have to be transported from thousands of kilometers away and, as such, are rarely tasty and rather expensive. Be sure to try the
centolla
(
king crab
) for price around AR$350.
Regarding restaurants: Las cotorras, Mostacho, Chichilo, Tante Sara, all located in the city center, and many others in the outskirts of the city. As to the chocolate houses: La Laguna Negra and El Turista, where you can enjoy a rich hot chocolate with various cakes of different flavors.
Budget
Barcleit 1912

phone: +54 2901 43-3015

address: Juana Fadul 148

Small restaurant with a variety of local dishes and a few unconventional options. Try the pizza alemana with mustard and sausage.

phone: +54 2901 43-3710

address: San Martín 701

A popular two-floor café. Coffee, sandwiches and hot fast food, along with beer, wine and other spirits.

El Turco

phone: +54 2901 42-4711

address: San Martín 1410

Argentine (not Turkish) cuisine. One of the most affordable restaurants in the city.

El Bambu

address: Luis Piedrabuena 276

Vegetarian. Takeout only, but you can also eat-in on a stool, at a stand, with plastic forks. Some dishes are charged by the weight, others by the unit, all of them are delicious, vegetarian and extremely affordable.
Mid-range
phone: +54 2901 43-2253

address: Luis Fernando Martial 2135

Local cuisine. Patagonia lamb, seafood and fish. Ask for a seat along the large windows for great views of Ushuaia.

Chiko

phone: +54 2901 43-6024

address: Antartida Argentina 182

Seafood.

La Rueda

phone: +54 2901 43-6540

address: San Martín 193

Typical Argentine parrilla (barbecue). All-you-can-eat meat with a self-serve veggie and side bar.

phone: +54 2901 43-6612

address: San Martín 748

Local cuisine.

Maria Lola

phone: +54 2901 42-1185

address: Deloqui 1048

Local cuisine, seafood.

Moustacchio Parrillada

phone: +54 2901 42-3308

address: San Martín 298

Argentine parrilla.

Tante Nina

phone: +54 2901 43-2444

address: Godoy 15

Local cuisine.

Tía Elvira

phone: +54 2901 42-4725

address: Maipú 349

Local cuisine.

Volver

phone: +54 2901 42-3977

address: Maipú 37

Known for its king crab.

address: Gdor. Pedro Godoy 46

Friendly family all-day seafood cafe with fish, seafood empanadas, and a few grills.
Splurge
phone: +54 2901 43-0003

address: Maipú 505

Local cuisine.

phone: +54 2901 42-2704

address: Roca 470

Expensive compared to other restaurants in Ushuaia, but the view is spectacular and the food is absolutely, positively guaranteed not to disappoint. Also known for its king crab.

Temaukel

phone: +54 2901 43-0640

address: Cno. Glaciar Martial Km. 3.5
Drink
There is not much of a nightlife in Ushuaia; most bars and pubs close early.
phone: +54 2901 43-7860

address: San Martín 393

Irish pub.

phone: +54 2901 43-1972

address: San Martín 859

Locally-sourced, artisanal, home-cooked food. Tapas-style picadas recommended as sampling menu. Good wine selection.

Dublin Bar

address: 9 de Julio 168

Popular with tourists.

address: Perito Moreno 2232

A couple of kilometers outside town, right above the rocks by the sea, breathtaking bay views and good live music scene, sophisticated and good but not outstanding and somewhat pricey dining. If you don't mind the occasional dropping by of a bunch of gringos, be sure to book a table by the window in the restaurant area or to take a seat by the big wooden steps in the bar area.

Macario 1910

phone: +54 2901 42-2557

address: San Martín 1485

Local pub food and beers.

Nautico

phone: +54 2901 43-0415

address: Maipú 1210

Ushuaia's only real nightclub/disco.

Cafe Bar Banana

address: San Martín 273

Ushuaia Che

address: San Martín 452

Fusión

address: Perito Moreno 1530

Kaitek

address: Antartida Argentina 280

Club focusing on electronic music.
Sleep
Hotels in Ushuaia are often fully booked, especially during peak tourist season, so it is advisable to arrive in Ushuaia with reservations. On the other hand, hostels (
albergues
) are numerous, so even in midsummer you should have no problem finding a bed.
Budget
phone: +54 2901 43-5774

address: Antártida Argentina 270

Free internet access and breakfast are included. Shared kitchen.

Albergue Aonikenk

phone: +54 2901 42-2098

address: 25 de Mayo 576

Free internet access and breakfast are included. Great view of the bay from the dining room/kitchen/living room.

Albergue Cruz del Sur

phone: +54 2901 43-4099

address: Deloqui 242

Hostel.

phone: +54 2901 42-2833

address: Paz 866

The Free Style has an excellent view of the bay from their 3rd-floor common room. The hostel is clean, new and well-maintained, with internet costing $1 per half hour, and breakfast is included. The kitchen is clean and fully stocked, with room for perishables. Dorm rooms, private rooms and private rooms with kitchenettes are available.

phone: +54 2901 42-4152

address: Deloqui 750

Centrally located, big kitchen, free breakfast, padlockable lockers, free Wi-Fi.

B&B Casa Tekenika

address: Tekenika 192

Affordable B&B.
Mid-range
Splurge
Work
Both industry and tourism were until the 1990s major draws for workforce from elsewhere. As some tax privileges were removed, this had a negative effect on the employment market. Today it isn't as easy to get a job in Ushuaia as it once was, but there are still job openings in the tourism and restaurant sectors, especially if you can speak many languages.
Stay safe
Usuaia and the region in general isn't entirely free of crime, but significantly safer than most of Argentina. There aren't any slums, and businesses seldom have bars installed in the front of their windows. Potential criminals from elsewhere would have a hard time getting out of Tierra del Fuego undetected, as the only ways out would be via the airport or Chilean territory.

Stay healthy
There are two hospitals in the city:
phone: +54 2901 445130

address: La Estancia 1925

Hospital Regional

phone: +54 2901 422950

address: Malvinas y 12 de Octubre
There are no particular health risks in Ushuaia; the biggest threat would be catching a cold due to the varying weather conditions. But also note that especially in the summer and when trekking in the mountains, you should protect yourself from
sunburn
, as the ozone layer is relatively thin in this part of the world.
Cope
The local newspaper is Diario del Fin del Mundo (literally the Newspaper of the End of the World); however, it does not feature cultural events very widely.
Banks and exchange booths can be found along San Martín.
Connect
The calling code for Ushuaia is 02901 and the postal code is V9410. Broadband Internet and a cell phone network are available.
Internet cafés can be found on San Martín. Rates are higher than elsewhere in Argentina, $5/hour.
Should you want a special "end of the world" stamp on your postcards, head to the small post office in Bahía Ensenada in the national park.
Go next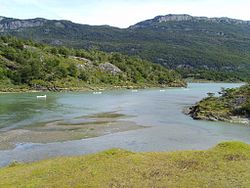 Tierra del Fuego National Park - In Lapataia, 12km west of Ushuaia. This national park provides some nice day hikes on well-marked trails in a forest and bog landscape. Longer treks are also possible, such as Paso de la Oveja (2 days) or the Sierra Valdivieso Circuit (4 days). These treks cross part of the national park but start and end elsewhere. The Compania de Guias de la Patagonia and Club Andino Ushuaia can help with organization and renting gear. The fee for each day spent in the park is AR$170, but there is no extra charge for camping there. Guided treks start from $200. You can get there by rental car, taxi, bus (AR$300 roun trip) or the aforementioned Tren del Fin del Mundo (AR$540).
Isla Navarino - Zodiac boat to Puerto Williams, one way $1,000. It's a 15-minute boat ride to Puerto Navarino and then the minibus takes you to Puerto Williams.
Estancia Haberton - Open only in the summer months, Estancia Harberton is a worthwhile trip for those interested in the Bridges family and their role in the local history. It's the oldest farm on the island and quite a popular place to visit. It's about 60 km east of Ushuaia on the Beagle Channel and there is no public transport, but some tour companies arrange tours. Going there by rental car is also possible, and in that case you can also continue further along the coastal road to the farm Estancia Moat.
Isla de los Estados is the only ocean island of Argentina. It's an uninhabited and protected natural area with fiords and mountains. However people are not allowed to land there, but just to look at it from a boat.
Punta Arenas - Daily buses depart at 5AM from the bus station (there is one now), $180-210
Antarctica - Ushuaia is one of the largest, if not the largest port and airport for cruises and flights to Antarctica. There are three ways of getting in: normal (luxury) cruises, cruise expeditions and overflights. Most cruises go to South Georgia Island, South Orkney Islands, South Shetland Islands or the Antarctic Peninsula. The season is from November to March.