Ussuriysk
Ussuriysk
(
Russian
: Уссури́йск,
oo-soo-REESK
) is a city on the
Trans-Siberian Railway
in
Primorsky Krai
.
Get in
The most probable way to get in Ussuriysk is by inter city train either coming from
Vladivostok
or
Khabarovsk
but they're slowest mode of transportation as the train stop at every station along the route. The most impossible opportunity is a trip from North Korea on board of the Soviet steam engine crossing Russian border in
Khasan
. Buses shuttle between Khabarovsk and Vladivostok twice a day to and fro. Almost every hour a bus departs to Vladivostok and
Nakhodka
. However they happen to have no air-condition system inside, which is vital in summer. Daily buses to China are equipped with this "must". Bus station Tel.: +7 (4234) 32-22-70
Get around
Remember that the railway station and the city are located in some distance from each other, so use a taxi or a bus going "to the center". The downtown is easy to explore by foot.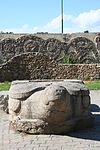 See
In the downtown the historical development is well-preserved as of the end of the XIX - beginning of the XX centuries. So is the Temple Of Holy Lady.
The monument of tortoise, a carved bìxì (
Chinese
: 赑屃), a mix of turtle and dragon can be found in the city's park. Previously such turtles were established on graves of the imperial family of Jurchen (女眞) people in the XII century.
Do
Ussuriysk kickboxing federation

address: 52, Gorkogo st.

Entertainment Center Asteroid

phone: +7 4234 33-32-66

address: 73, Volochayevskaya st.

Curling, airhockey, billiard, paintball, cafe.
Buy

Local brewery OAO 'Ussuriysky Balsam' produces a range of brands from bitters and semi-sweet liquors to cognacs, rums and vodkas flavored with essences extracted from the herbs, berries and sea mollusks of Primorsky Krai.
Look for the brand alcohol shops 'Savva Vodochnikov' (Савва Водочников) to buy any of these beverages or visit a drug-store to acquire medical balsam 'Herbamarin'.

Drink
Le Club

phone: +7 423 432-07-18

address: 73, Nekrasova st.

Dali

address: 48, Kalinina st.
Sleep
At the bus station

phone: +7 4234 32-0681

address: 121 Chicherina st.

Novy Vek

phone: +74234 32-24-00

address: 55, Sukhanova st.

Mid-range priced hotel with single and double rooms.

Ussuriysk

phone: +7 4234 32-8041

address: 64 Nekrasova st.

Probably the largest hotel in town, which mostly cater to Chinese travellers. Have a Russian style cafe which serves Buffet style dining and a small adjacent bar.

phone: +7 4234 32-12-41

address: 51, Frunze st.

Patriot

phone: +7 4234 33-75-54

address: 87, Komsomolskaya st.

Single rooms only for a reasonable price.

Marco Polo

phone: +74234 32-04-72

address: 32, Ageyeva st.

Business hotel and restaurant.

Postoyaly Dvor

phone: +7 4234 320-013

address: 45, Ageyeva st.

Business hotel and restaurant offering single, double and quadruple rooms.
Connect
Internet
Virtualny Mir

phone: +7 423 433-85-47

address: 100, Proletarskaya st.

NEO

phone: +7 423 433-85-47

address: 79, Nekrasova st.
Go next