Ust-Nera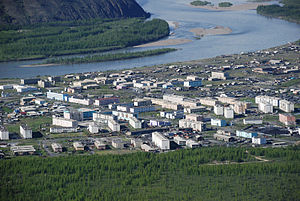 Ust-Nera
(
Russian
:Усть-Нера,
Oost-NE-ra
) is a city in
Yakutia
.
Understand

Gold mining town of about 17000 people located at the confluence of the Nera and Indigirka rivers. Though subjected to freezing winters and short summers, the town does not lack spirit or location. In particular, it is surrounded by tall craggy mountains, some glaciers, endless taiga.

Get in
Get around

The town can be covered on foot. There is a bus service to the airport, about 8km to the west.

See

The regional museum has several interesting exhibits covering geography, geology, indigenous culture, and local history (the first geologists arrived by float plane in 1938).

Eat

There are restaurants, but most only open on Friday and Saturday night.

Drink

Alcohol, juice, or water can be bought from any corner store. Public consumption is frowned upon, if not illegal.

Sleep

There is one hotel in a pink building on the main street. Single rooms are a night but very basic. There is a camp site near the airport, but wild animals often make a stop there for food.

Connect

Internet cafes are unknown here. Mobile reception works, though can be patchy. If you desperately need internet, you could ask someone and offer to pay, as consumption is billed by the megabyte.

Go next
About 200km south by plane is Tomtor, the northern
Pole of Cold
. There is a decaying dirt track around 50km south to one of the few gulags still visible in the region. The good artefacts are in a museum and all the buildings collapsed.
About 100km to the north is the Indigirka gorge, a rather spectacular set of rapids that can be visited by helicopter. Some rafting expeditions have been organised, but not in recent years. The rapids are big enough that fish cannot cross - there are different species above and below.