Utica
Utica
is the heart of the Mohawk Valley and the seat of Oneida County in
Central New York
State. Utica offers the charm of small-city living balanced with the cultural and ethnic diversity of an international urban center. At the foot of the Adirondack Mountains, Utica is a truly scenic city that offers the pleasures of both a rural and urban setting.
Understand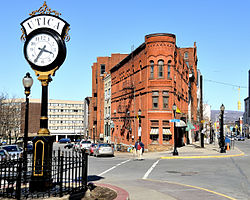 Utica is a city of approximately 60,000 residents in Oneida County,
NY
, along the Mohawk River and the
Erie Canal
. It is the seat of government for Oneida County and its largest city. Like many Central New York place names, the name "Utica" is classical: it was first the name of an ancient Phoenician settlement in North Africa, near
Carthage
.
Settlement in Utica dates to the colonial area, as depicted in the novel and movie
Drums Along the Mohawk
. Utica became an urban industrial center during the industrial revolution, particularly in textile production. Frank Winfield Woolworth launched a "five-cent store" in Utica in 1878 which soon closed; the next year Woolworth's "five and dime" in Lancaster (Pennsylvania) proved successful. Like most American industrial cities, Utica has suffered from population loss and urban decay since the 1970s. However, the popular conception that has made Utica the butt of jokes in TV shows like
The Office
and
The Simpsons
is an exaggeration. Contemporary Utica, in addition to its historical points of interest, is a multi-cultural city with a restaurant selection and local arts scene that are robust for a city of its size.
The
Utica-Rome
area, situated between
Syracuse
and
Albany
, is served by Interstate 90. This article also covers the suburbs of
New Hartford
and
Yorkville
.
Get in
By plane
Syracuse Hancock International Airport
(
SYR
) and Albany International Airport (ALB) offer scheduled flights to various cities.
The small regional airport in Utica is no longer in operation; the Oneida County airport moved from Oriskany and is now in nearby Rome, with a 10,000-foot runway (at the former Griffiss Air Force Base). Despite its size and name, Griffiss International Airport (RME) serves primarily general aviation.

By train

Amtrak has multiple daily departures from New York City via its Empire Service. There are two overnight services as well, the Lake Shore Limited between Chicago and New York City/Boston and the Maple Leaf between Toronto and New York City, via Niagara Falls. Utica's , part of the Boehlert Transportation Center, is a grand historic station built in Italianate style between 1912 and 1914. The station is at 321 Main St.

By car
Utica is easily accessed from the New York State Thruway, Interstate 90, which passes through the city.
Not far from the Thruway exit is a Tesla Supercharger station for electric vehicles, with eight stations.

By bus
phone: +1 315 797-2550

address: 321 Main St

Intercity bus service, arrives at Utica's rail station.

Coach USADaily intrastate scheduled service from New York City.
Get around
By bus
phone: +1 315 797-1703

address: 185 Leland Ave

Regional bus service based in Syracuse with services to Utica and to the Rome Amtrak station.
By taxi
phone: +1 315 735-5055

address: 502 Eagle St

Ameritaxi

phone: +1 315 724-5454

address: 601 Court St

phone: +1 315 534-9120
See
Museums
Munson-Williams-Proctor Arts Institute Museum of Art

phone: +1 315 797-0000

address: 310 Genesee St

The museum has 20 galleries featuring permanent and temporary exhibitions for a total of more than 25,000 American and European 18th-, 19th, and 20th-century paintings and 19th-century decorative arts. Musical concerts are held commonly, with the "Concerts in the Court" series, the yearly Arts Festival, and the Chamber Music Society of Utica.

Children's Museum of History, Natural History, Science & Technology

phone: +1 315 724-6129

address: 311 Main Street

A hands-on learning center with emphasis on local history, environmental science, the arts, and space science. Housed in an historic building with four floors of interactive exhibits.

Oneida County Historical Society

address: 1608 Genesee St

Founded in 1876, the Society has a museum, historical/genealogical library, and book/gift shop.

National Distance Running Hall of Fame

phone: +1 315 724-4525

address: 805 Court St

phone: +1 315 724-8381

address: 12 Gates Street

Sculpture Space is an artist-in-residency program dedicated exclusively to professional sculptors. Founded in 1975 in the former Utica Steam Engine and Boiler Works building, the organization selects 20 artists each year for two-month, funded residencies which have helped to advance the careers of more than 400 national and international artists.
Sights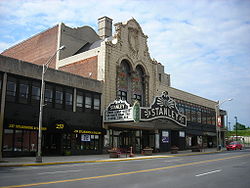 Do
Learn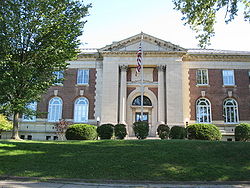 The Utica area is home to several colleges and universities, which host events regularly.
Utica College, 1600 Burrstone Road. Spun-off from Syracuse University in 1946, Utica College (UC) offers bachelor's degrees from Syracuse, as well as master's degrees in its own name, for a wide variety of academic programs within the fields of health sciences, social sciences, liberal arts, and business studies (to name a few). It prides itself on a low faculty-to-student ratio and the individual attention possible in a small-college setting.
Mohawk Valley Community College, 1101 Sherman Drive. MVCC is the oldest community college in New York State, dating from 1946.
Pratt at Munson Williams Proctor Arts Institute, 310 Genesee Street. In addition to its Fine and Performing Arts programs (see Museums, above), Munson-Williams-Proctor Institute is also home to a well-regarded School of Art.
State University of New York (SUNY) Polytechnic Institute (in Marcy, just north of Utica). Established in 1966, SUNY Poly offers undergraduate and graduate degree programs in engineering, cybersecurity, computer science, and engineering technologies. It also offers professional degrees, such as business, communication, and nursing, as well as selected majors in the arts and sciences. SUNY Poly has a large park-like campus just north of Utica.
Buy
Eat
Utica has a long history of welcoming immigrants, from Italians and Poles who came early in the twentieth century to work in the mills, to the present-day influx of immigrants from places as far-flung as Bosnia and Burma. The variety in restaurants is just one of the marks these diverse cultures have left.

Italian
Oneida County is one of the few counties in the United States where Italian is the most common single ancestry, so Utica does not lack for Italian restaurants. Italian food in Utica is generally of the southern Italian and Sicilian, cucina povera variety, reflecting the backgrounds of the immigrants who introduced it. The icons of Utican Italian food are greens (escarole sautéed with prosciutto and hot peppers) and chicken riggies (chicken and rigatoni in a spicy sauce).

Mediterranean and Middle Eastern
Asian/Indian
Other
Drink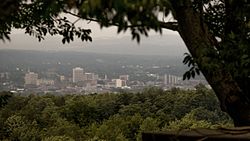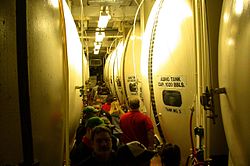 Varick St bars
phone: +1 315 732-0022

address: 830 Varick St

Brewer of Saranac and Utica Club. Anchor of the Varick St. Bar area. Hosts Saranac Thursday music series during the summer.

Varick Bar & Grill

phone: +1 315 797-1109

address: 616 Varick St

address: 624 Varick St

phone: +1 315 793-7593

address: 720 Varick St

Imported beers, authentic & traditional pub food

O'Donnell's Pub & Grill

phone: +1 315 724-8541

address: 715 Varick St

phone: +1 315 797-4277

address: 805 Varick St

Sports bar with pub food
Genesee St bars
The Auburn

phone: +1 315 735-2649

address: 14 Auburn Ave

phone: +1 315 724-2000

address: 37 Devereux St

Griffin's Pub

phone: +1 315 724-5792

address: 226 Genesee St

phone: +1 315 507-4264

address: 2008 Genesee St

Piano bar and restaurant.

phone: +1 202 276-1049

address: 2018 Genesee St

phone: +1 315 534-4835

address: 16 Liberty Street

Recently restored speakeasy with a goal of recreating the 1930s speakeasy atmosphere.
Sleep
Go next
Rome
is Utica's twin city, home to Fort Stanwix of Revolutionary War fame. Also to the west are Vernon Downs racetrack, Sylvan Beach on Oneida Lake, and the Turning Stone casino, situated on the Oneida native reservation.
Little Falls
to the east holds historical points of interest as well. The
Adirondacks
are accessible to the north-east, via a picturesque drive through Amish country.