Utrecht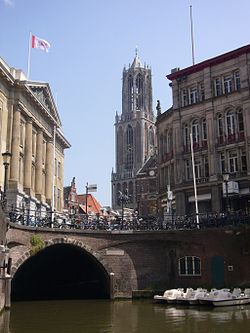 Utrecht
is a central Dutch city with a long history. With 350,000 inhabitants, it's the fourth largest city in the
Netherlands
.
Understand
The history of the city goes back to 47 AD when the
Roman
emperor Claudius ordered his general Corbulo to build a defensive line along the river Rhine which was the northern most border of the empire. One of the strongholds (or Castella) along the river was built at a crossing in the river and was called Traiectum (which means crossingplace). In the local language this became Trecht, Uut-Trecht (lower-Trecht) and later Utrecht. On the place where once the castellum stood now stands the Domchurch built in the 13th century.
Utrecht is known as a student city with a large population of single young people. This results in a booming nightlife with many places to have a quick meal, some drinks or a dance.
Get in
By train
The train station is at the western edge of the old city. A 5-minute walk through the Hoog Catharijne shopping center (follow signs to "Centrum") will take you from the station to the city or the bus station.
By bus
The bus station is next to the train station. International buses depart from the western side of the train station ('Jaarbeurszijde'), while the regional and city buses depart from separate stations on the east and west side of the train station. The regional buses are much slower than the trains. For information about the city buses, check the U-OV
website
, this is the company that provides public transport services in and around the city of Utrecht. Buses to the smaller towns around Utrecht are run by
BBA
,
Arriva
and
Connexxion
. Time schedules for train and bus can be found
here
.
By car
If you are coming in by car, park your car in one of the many
parking garages around the city
(follow the signs) and walk from there. Electronic signs display the number of parking spaces available in any given lot as well as directions to the lot, and if the sign says
Vol
it means the lot is full. Expect to
pay around €3 to €5 per hour
(as of Aug 2019) at any of the garages in the center. Parking on the curb side is also possible,
expect to pay €3 to €5 an hour in advance at the meter
(as of Aug 2019). Parking fines are around €70 and frequently enforced, so make sure to get back to your car before the ticket expires. It's best to avoid driving into central Utrecht. Instead, leave your car at the city perimeter and take a bus or tram into the center.
There are
4 transferiums or P&R around the city
where you can park your car for the day at a flat rate of €5 (as of Aug 2019), including transit to the city center by bus or tram for up to 5 passengers. You can find the
directions to the P&R locations here
. One is on the southern side of the city, very close to the A12 highway exit number 17. The Nieuwegein-Utrecht tram line has a stop at this transferium and departs 8 times an hour daytime, 4 times an hour evening and weekends. Going back you can take a tram bound for either Nieuwegein or IJsselstijn, the last one departs at about 00:30. The other transferium is near the football stadium, and connected to the city center by bus. The frequency of the bus service is comparable to that of the trams.
By tram
Utrecht is connected to two neighboring towns by a high-speed tram line. At the edge of the city, close to the A12 and A2 motorways, you will find
Transferium Westraven
. It's a good idea to park your car there and to take the tram into town. The last two stop is at
Utrecht Centraal Station
. You will need to cross the train station and the shopping center Hoog Catherijne to get to the inner city.
€5 will allow you to park your car all day and to travel into the city with a maximum of five people. Visiting Utrecht by car doesn't come cheaper than this.
Get around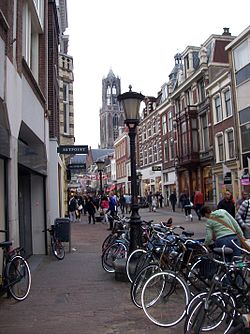 Walking or using a bike is the easiest way to travel in the city of Utrecht.
To use the public transportation in the Netherlands, it is recommended to buy an
OV-chipkaart
. You can buy these on the central bus station (lower level of Utrecht Centraal Station), at kiosks inside the central train station or at some book stores and grocery stores. The OV-chipkaart is valid for bus, train and tram and works like a debit card that you must first charge with an amount. Buses do take cash though.
By bike
Using a bike is the easiest way to travel in the city center if the weather is on your side. There are many bicycle shops near the train station where you can rent bikes. Alternatively, if you have a personal OV-chipkaart you can
rent an OV-Fiets
for €3.85 per 24 hours at one of the rail stations. Do make sure that you have good locks on your bike, as bike thefts are unfortunately quite common in the city centre. Also it's a good idea to make use of the free bike parking areas provided by the city council. They are usually guarded and are a safe place to park your bike.
Also recommended is to do a bike tour. There are several bike tour companies offering guided city tours. There are also cycle routes starting in the centre of Utrecht, which you can download for free:
Utrecht Forts Cycle Route
.
By bus
A good alternative is taking the bus, which goes often and will take you nearly everywhere. Utrecht Centraal Station serves as the main bus hub for Utrecht as well as the main train hub for the Netherlands. Most buses run from early morning (around 06:00) until just after midnight. City center rides cost ~€2.50.
In addition, there are several so-called nightlines. These cost €5-6 and can't be paid for using strips or OV-chipkaart.
By tram
In Utrecht there is a tram line from central station to southern suburbs Nieuwegein and IJsselstein. For tourists, only the first stops will be interesting,
Westplein
and
Graadt van Roggeweg
. These are located next to the Turkish neighbourhood and the main convention centre respectively.
By car
Seeing Utrecht by car is not recommended. The city planners have made it as difficult as possible to navigate the city center, to try and discourage cars there. Driving around can be frustrating as the center is fraught with bus-only lanes, one-way streets, traffic lights and terribly expensive parking spaces. If you want to come by car it is recommended to park at one of the
P+R (Park and Ride)
places, and take a cheap shuttle bus or tram service into town. There are also several parking garages closer to the center, but they are more expensive.
See
Around the Domplein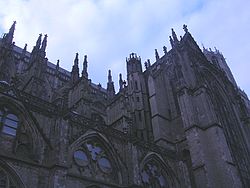 address: Achter de Dom 1

The Gothic Dom church (built between 1284 and 1520) is the major religious building in the city. It was a part of a larger cathedral which was partially destroyed by a severe storm while under construction. When a hurricane hit the town in 1674, the badly constructed nave collapsed, which is the reason that today the Domtoren (Bell Tower) and the church itself are separated by the Domplein (Dom Square). The interior of the church was stripped down of every sculpture during Reformation, but the exterior remains a lavishly decorated example of Dutch Gothic architecture.
address: Dom Square (Domplein)

An interesting museum/guided tour under the Dom Square about the Romans in Utrecht.
Pandhof DomkerkJust sit down, relax, and listen to a Saturday morning carillon concert.
Domtoren112 m tall, it is the highest church tower in the Netherlands. It is also the highest building in the city by municipal mandate. Climbing up the stairs to see the magnificent view on the top is highly recommended, but beware of the narrow, steep stairs. On clear days you can look as far as Amsterdam and Rotterdam. Home to the second largest set of bells in Europe (after Cologne), and a carillon which is often played by musicians at the weekend.
PieterskerkConsecrated in 1048.
Stadhuis

address: Korte Minrebroederstraat 2

It has a rather imposing look.
Oudegracht
It is a major canal going through the heart of the city, with shops and restaurants on both sides. This canal is unique because of its many picturesque cellars on water level. Centuries ago they were used for storage and commerce. Nowadays, many of them host fine restaurants and pubs. In the summer you can find nice terraces at the water here.
StadhuisbrugPerhaps it's the most famous bridge over the Oudegracht. It was created in 1547 by vaulting a space between the older two bridges: the Huidenbrug and the Broodbrug, thus creating one of the major squares in the old town.

KalisbrugIt's another bridge over the Oudegracht which make a small square between Steenweg and Vismarkt. In the middle of the 16th century older 2 bridges – the Kalisbrug (or Visbrug) and Corduanierbrug – were connected together making the current Kalisbrug.
Notable buildings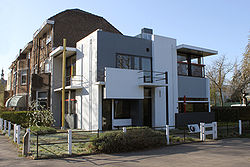 phone: +31 30-2362 310

address: Prins Hendriklaan 50

The house, designed by Gerrit Rietveld, was built in 1923-1924 in Utrecht. The structure of the house is completely in line with the ideas of the art movement De Stijl (The Style). The house was designed and built for Truus Schröder-Schräder, who lived there from 1924 till her death in 1985. It can only be visited under supervision of a tour guide. In 2000 the house was placed on the UNESCO World Heritage List.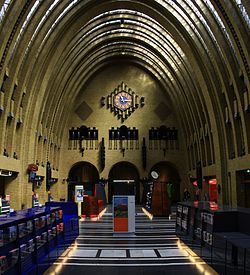 address: Neude 11

The former Main Post Office is an outstanding and surprising building. The Utrecht main Post Office is a great example of Dutch Art Deco architecture. The Post Office, on the Neude Square, was designed by the architect J. Crouwel and completed in 1924. The barrel-vaulted ceiling is made up of glazed yellow-brick ribs alternated with diagonal glass panes that fill the hall with natural light. The black-and-white floor is set off by five carved black statues set in the walls, each representing a continent. America is a stylized American Indian with two buffalo at his feet. Over the main entrance are magnificent stained glass windows. It is being renovated to accommodate the library, shops, a food market and a bicycle parking.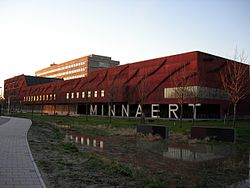 De UithofIt is a rather strange mix between grey concrete buildings and buildings here that are designed by famous modern architects, like the Educatorium designed by Rem Koolhaas, the University Library and the Minnaert building. There is also a beautiful botanical garden that is 8 acres big, houses 6 thousand different sorts of plants and a Napoleonic fort. Also worth a look: the bicycle track at the Heidelberglaan which is broad enough to function as a two-way car-track. The university campus can be reached from the Central Station by taking the Line 11 or 12 bi-articulated buses, an experience on its own.

De InktpotA notable building with a flying saucer (UFO) on its roof. The saucer is a remnant of the Utrecht art exhibition Panorama 2000, designed by Marc Ruygrok.

address: Kromme Nieuwegracht 49

Born in Utrecht, Adrianus VI, the sole Dutch pope and the last non-Italian pope until John Paul II, had this house constructed in 1517. It is used for congresses, weddings and group dinners.
Museums
Museumkaart
is accepted at the city's museums.
Windmills
phone: +31 30 294 2553

address: Molenpark 8

This windmill and sawmill installation was built in 1721 along the waterway called Leidsche Vaart, and was renovated in 1998.

address: Adelaarstraat 30

This windmill was built in 1913, retired in 1949 after a storm and restored 1977-1978; it was used for grinding corn (korenmolen). Today the ground floor is used as a butcher's shop (slagerij) offering organic products.
Do
Have a drink at one of the terraces at the lower docks of Oudegracht
Climb the Dom tower, a full 112 meters high. You can climb to near the top.
Take a tour with a boat through the canals
Take a bicycle tour through the old city centre
Find out the stories behind the buildings in a free tour.
Rent a canal bike and pedal your own way around the canals.
Try a locally brewed beer at Stadskasteel Oudaen, which is a 13th-century city castle turned restaurant.
Watch football ie soccer at FC Utrecht, who play in Eredivisie, the top tier of Dutch football. Their home ground is Stadion Galgenwaard (capacity 23,750), 2 km southeast of city centre.
Parks
The , and the are nice places to chill out in summer.
Theatres
address: Lucasbolwerk 24

The building is a city landmark. It was designed in 1937 by the famous architect Willem Dudok. Almost all theatre performances are in Dutch, but there are also dance and music performances. There are two halls inside the Stadsschouwburg, the Douwe Egberts Zaal (Douwe Egberts Hall) and the Blauwe Zaal (Blue Hall). Students can buy tickets 30 minutes before the start of a show for a reduced fee (€9 for shows in the Douwe Egberts zaal, €7 for shows in the Blauwe Zaal), provided the show is not sold out yet.

address: Ganzenmarkt 14

A small theatre. Every month they have a Kikker Koopje, a performance by beginning artists for €7 .
Cinemas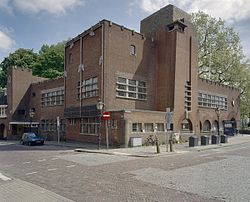 Watch a movie at one of many cinemas. With the exception of some animated movies (and even those are usually available in the original language as well), all movies are subtitled and not dubbed, so you should be able to enjoy all the standard Hollywood fare in the original English. As any large city, Utrecht has its share of cinemas showing Hollywood movies:
address: Oudegracht 73

One large and two small theatre rooms. This cinema, or at least the main theatre room, is generally considered most pleasant, of the chain cinemas in the city.

address: Berlijnplein 100

Also known by its former name CineMec, this is the larger but also more remote location of the two Pathé cinemas in Utrecht. Although located farther away from the city centre, this location has more rooms and better sounds than Pathé Rembrandt.

phone: +31 30 2003000

address: Jaarbeursboulevard 300

Part of the Kinepolis chain of cinemas, this is a massive building with 14 rooms totalling 3200 seats. Most blockbuster movies will be on display here.
More interesting are the three independent cinemas, these specialize in art house movies and also are ideal places to get a drink or have dinner:
phone: +31 30 231 2216

address: Hoogt 4

phone: +31 30 232 0450

address: Tolsteegbrug 1

Film and culture centre, housed in a former police station.

phone: +31 30 231 3789

address: Springweg 50
Festivals
Visit the Gaudeamus Muziekweek .This is the internationally celebrated annual festival for young composers and new music. Apart from the annual festival they also organize a monthly series of new, contemporary music.
The yearly Utrecht Festival of Old Music, called Festival Oude Muziek, late August to early September, brings to Utrecht some of the best artists in the world of authentic performance, but reserves some space for future talent as well. Concerts of all sizes are scattered over some of the city's most beautiful churches, with major performances held at Vredenburg Leidsche Rijn and the old Dom Church and a nice central lounge. There are over 60 free 'fringe' concerts and a set student price of €7.
Visit the Parade, a yearly open air summer festival with theatre, comedy, dance, music and other attractions. De Parade is a traveling festival that visits Amsterdam, Utrecht, Rotterdam and the Hague every summer.

Koningsdag (Kingsday)Visit the festivities for the Dutch royal house on 26 April 18:00 till 27 April 18:00 in the city center (dress code is bright orange).

Netherlands Film FestivalUsually in the 2nd half of September. For ten days, Utrecht is the Mekka of the Dutch film.

In November every year the indie rock festival, Le Guess Who, takes place in Tivoli Oude Gracht, Tivoli De Helling, Ekko, DBs and other locations.
Work
A ton of service positions exist in the ancient city centre. However, they usually have low wages and require fluent Dutch.

Buy
Most shops are in the city centre, concentrated around the Oudegracht, Vredeburg and Neude. There is also a large shopping centre extending east from the city centre in the direction of the Wilhelminapark. For general shop info and their openings hours you can visit openingstijden.nl it shows an overview of the most popular shops.
Hoog CatharijneA large indoor shopping area next to Utrecht Centraal Station, the main railway station of Utrecht.

Books. Broese is a large bookstore at Stadhuisbrug 5. They have a fair selection of English books. Bijleveld at the Janskerkhof is an old bookstore with beautiful wooden show windows.
Music. Plato at Voorstraat 35 has a fair selection at reasonable prices. Boudisque at the Drieharingenstraat (near Vredenburg) the largest record store in Utrecht. Jazz, Classical music, Pop music and DVDs all have their own store. Near the Vredenburg the Revenge has a fair selection of vinyl, focusing on electronic music.
Markets. On Wednesdays, Fridays and Saturdays there is a large open air market on the Vredenburg square. On Saturdays you can find a plant market on the Janskerkhof and a flower market on the Oudegracht. The Breedstraat houses a large fabric market (lapjesmarkt) on Saturday mornings (09:00-13:00).
At Stationsplein 7 there is a give-away shop, open Tu 14:00-18:00 and Sa 14:00-17:00.

El BesoAt Nobelstraat there is an excellent wine, life and style shop, called El Beso (Spanish for Kiss). On Saturdays you can just walk in and try a wine, no buying obligations. International crowd.

Cannabis. Sarasani, opened in 1968, was the oldest coffee shop in the Netherlands. Located at Oudegracht 327 a/d werf, which means it was on the canal level, and sat under the main street. Sarisani closed down in 2007. On Wednesdays and Saturdays Joepi makes a round through the center of Utrecht to deliver food and beverages with a little 'extra', mainly psychedelics, cannabis and energetic herbs.
Geek gear
There are half a dozen stores at the part of the Oudegracht (Old Canal) south of De Dom that sell board games, card games, wargames, roleplaying games, fantasy and science-fiction books and/or comics (e.g. Piet Snot, Elf Fantasy, the Joker and Neverneverland). Keep your eyes peeled; some of these stores are easy to miss.
Blunder has a large collection of "mainstream comics" on street level and an even bigger collection of the newest American comics and Manga/Anime in the basement. The address is Oudegracht 203.
Piet Snot is a normal comic shop. They also have a big collection of second hand comics. Vismarkt 3 (It's a small part of the Oudegracht that for some dark reason has been given a different name...)
Strip & Lectuurshop. Lots of comics at Oudegracht 194
Labyrinth is all about fantasy games. They have furniture, weapons, clothing, jewelry and lots of roleplaying books. It is at Oudegracht 207.
The Joker. Games, games and more games. From your normal family games to the German type games and the American wargames and everything in between. They also have lots of collectible card games and scenario-books for RPGs. In the basement it's possible to play the games. It is at Oudegracht 230a.
Neverneverland, like The Joker, has a large selection of boardgames and RPGs at Oudegracht 202.
Subcultures is well... about subcultures, next to being a regular game shop. Specialized in miniature wargames, RPGs and designer toys. The address is Oude Gracht 183.
Eat
Many restaurants can be found in the city center. Especially near the canals there is a huge choice of places to eat, each with their own style of kitchen, like Italian, Thai, and American. Ask the locals for which places are recommended as not every restaurant offers the same quality.
Budget
There are several Flemish snack bars outside of Hoog Catharijne that sell wonderful thick fries with mayonnaise. Try it; it's not as bad as John Travolta's character seems to think in Pulp Fiction.

address: Voorstraat 71

In this squatters cafe cheap but delicious vegan food is served on Tuesdays, Wednesdays, Thursdays and Sundays.

Bigoli

address: Schoutenstraat 12

Serves delicious Italian sandwiches. Be prepared to wait in line at lunch time though.
To try something Dutch visit one of the snackbars and order a Kroket. A good one is behind City Hall, it is called Broodje Plof. A lot of Dutch people visit this place after a good night of binge drinking.

address: Servetstraat 4

Take-away related to Greek restaurant "Sirtaki" located opposite it.

phone: +31 30 2683924

address: Voorstraat 30

Hip Mediterranean take-away.

Mario

address: Oudegracht 130-132

This place sells Italian rolls in Utrecht, simply called Broodje Mario. They are famous among people from Utrecht; there's even a rap song about it by the local band Stropstrikkers.
For a more multi-ethnic view of Utrecht, walk away from the old city from the bus station/central station, walk under the train tracks, and follow the bus route (straight ahead) about 200 m. Try some affordable rotisserie style chicken on the left side of the Kanaalstraat, get a Moroccan style bagel across the street at one of the many middle eastern bakeries, and stock up on way-affordable (the cheapest in Utrecht) fruit and veggies at one of the many produce markets.
Mid-range
phone: +31 30 2319136

address: Mariastraat

Cozy jazz-blues restaurant with good simple food: steaks, salads, sate. The kitchen closes at 21:00, but you can get bitterballen, spring rolls, etc. after that.
Stadskasteel Oudaen, at Oudegracht 99, is a 13th-century city castle turned restaurant.

phone: +31 30 2312643

address: Oudegracht aan de werf 139

An excellent spare ribs restaurant.

El Greco

address: Ganzenmarkt 28

This Greek snack bar serves some of the best pita gyros sandwiches in Utrecht.
For cheap tapas go to El Mundo at Voorstraat or Mimadre at Oudkerkhof.

address: Stadhuisbrug 3

Under the city hall, on the Oudegracht. The restaurant is marked by a sign and menu. The entrance is tiny and under the stairs, but the restaurant is huge with multiple halls each in their own retro style. Modern Dutch cuisine with a fixed price for a three-course meal.

Indonesia Asli

address: Biltstraat 56-58

Authentic (i.e., spicy) Indonesian restaurant and take-away.

address: Heuveloord 140

Best described as Asian tapas, LE:EN (pronounced "lain") is a bit of a walk from the center, and it's not the cheapest in town, but a lot of locals think it's worth it anyway!

phone: +31 30 2333008

address: Visschersplein 75

A hip and trendy restaurant. Very trendy atmosphere with exclusive and delicious food.

address: Nobelstraat 143

This small burger joint is by far the best in town, serving ten different burgers and delicious home-made fries.

phone: +31 30 751 47 19

address: Voorstraat 110

Many vegetarian and vegan options, dishes and decor inspired by the travel agency that used to be in this building (i.e. by countries all over the world).

phone: +31 30 231-6773

address: Oude Gracht a/d Werf 112

Traditional Dutch pancake restaurant. They have a lovely setting beside the small canal. They have a wide varieties of pancakes, even quirky ones like the Norwegian pancake. On Mondays and Tuesdays all-you-can-eat pancakes for students for only €9.75 (valid student card required).
Splurge
phone: +31 30 303 1216

address: Heuveloord 25A

Located at the top of a water tower, this restaurants serves delicious food with an amazing view.

phone: +31 30 233 7555

address: Geertebolwerk 1

Restaurant of hotel Karel V.
Drink
As the population of Utrecht contains a lot of students, naturally there are a lot of places where you can spend the day or night having some drinks and a dance. Most are in the city center. Main hubs for drinks are Neude, Janskerkhof, Mariaplaats and Ledig Erf.
Drinks
The terraces at Neude, Janskerkhof or Ledig Erf
The lower docks near the canal Oudegracht
The cafe's at the street Lucasbolwerk
Stairway to Heaven is a large rockcafe at Mariaplaats 11-12.
Olivier at the Achter Clarenburg. A Belgian cafe with some thirty beers. Located in an old church.
Theatercafé De Bastaard, Jansveld 17. Students, artists, the occasional local celebrity. There is a pool table in the back.
Jan Primus, Jan van Scorelstraat 27 - 31. It's a little out of the centre of the city near the Wilhelmina Park. No music, no slot machine, no nothing. Just 160 beers. 10 draught and 150 bottled.

phone: +31 30 231 53 10

address: Korte Minrebroederstraat 9, Utrecht

Lovely terrace, and you're allowed to bring your own food.
Along the Oudegracht
The Oudegracht is home to a lot of bars, both in- and outdoors, and both at street and at water level. From north to south:
phone: +31 30 231 1864

address: Oudegracht 99

A 13th-century city castle turned restaurant. They have their own theatre and more importantly their own brewery, where they brew the local beers Ouwe Daen, Jonge Daen en Linteloo Gold. Highly recommended.

De Witte Ballons

phone: +31 30-2311056

address: Lijnmarkt 12

is a small and cosy café

Café België

phone: +31 30 231 2666

address: Oudegracht 196

It has good music and a selection of 198 different beers of which 20 are draught. Also serve nice food for a reasonable price. Try the Celis White if you like white beer and try the Trock Banaan if you want to try a beer that tastes just like the banana sweets you probably ate when you were a kid (most likely you are going to get a question from the bartender like "Are you sure you want to have this?").

phone: +31 30 231 7577

address: Tolsteegbrug 3

At the south end of the Oudegracht has a large outdoor seating area which is packed whenever the sun is shining.
Nightlife
The clubs near the square Janskerkhof provide a great dancing opportunity for young people ('t Pakhuis, Hofman).
The clubs at the street Oudkerkhof provide a great dancing opportunity for everyone (Dikke Dries).
Other cafes, recommended for students, are Beurs (at Neude), Zussen and Hemmingway (near Janskerkhof).
The main venue for pop concerts and for dancing are TivoliVredenburg, De Helling, Ekko, Kargadoor, De Vloer and DBs (close to the train station Zuilen).
Techno fans can visit BASIS.

phone: +31 30-2314590

address: Voorstraat 71

This is a smaller, more intimate venue and political-cultural centre. They host a large variety of things, such as a small cinema (smoking allowed), art exhibitions, cafe literature, concerts, disco, gay events, and they serve vegan food every Tuesday to Saterday.

phone: +31 30-2318970

address: Oudegracht 279

A cafe in a basement, with live music almost every night.
Sleep
Utrecht, like any big town, has its fair share of business hotels of the big chains.
Budget
The city's campsite (De Berekuil, on the east side of the city) has been a huge mess for a couple years now, and it is uncertain what will happen to it in the future. There are few other campsites, though some farmers also have small scale camping on their land. For instance
Camping de Boomgaard
, 8 km from Utrecht city.
Mid-range
Splurge
phone: +31 30 233 75 55

address: Geertebolwerk 1
Connect
Internet
Free wifi is available at the whole city centre and some parks and shopping areas outside the centre (Griftpark, Julianapark, Wilhelminapark, Beatrixpark, Maximapark, Burg. Reigerstraat and Nachtegaalstraat, Adriaen van Ostadelaan etc.)
Half an hour of free Wi-Fi is available at the Starbucks in the Central Station, and possibly outside as well.
It is also possible to get access to the internet in the public library which is situated at Oudegracht 167.
At the Coffee Company (Vismarkt 5) you get free WiFi access with your coffee.
Wzzrd is at Vismarkt 21 and open daily from 12:00 to 23:00 and Friday and Saturday until 01:00.
Some Internet browsing centers are available on Kanaalstraat for affordable prices (€1.5 per hour). It is a 10-minute walk from Utrecht Central Station.
Stay safe

Utrecht as a student city is quite safe, although there are some neighbourhoods in the outskirts that you probably don't want to visit. As always, don't flash your wallet at markets and have a natural caution for pickpockets in the city centre. Unfortunately, bike thefts are a common nuisance, so if you travel by bike, make sure you have good locks and park your bike at a bike parking spots. Parking your bike in the city centre is easy as Utrecht has it own bike parking route. Parking lots for bikes are located under the Vredenburg (entrance between Zara and The Sting), the Neude (Neudeflat), Zadelstraat, under the City Hall, under the stairs at the Stationsplein West or the Jaarbeursplein.
You are unlikely to have any business in the lower-income and immigrant neighbourhoods such as Kanaleneiland and Overvecht south-west and north of the city center. While serious crime rarely takes place, they are best avoided unless you want to tempt fate. If for some reason you do end up in these neighbourhoods it is strongly advised to keep your mobile phone and camera concealed. The youth in this area is known to act aggressively if they suspect they are being filmed or photographed.

Go next
Huis DoornThe last residence of Wilhelm II, the last German Emperor who was deposed following World War I and waited in his exile for a restoration of monarchy that never came.

Amersfoort has a medieval centre, and is a fifteen-minute train ride from Utrecht.
's-Hertogenbosch (commonly known as Den Bosch) has a preserved medieval centre, and is a half-hour train ride from Utrecht.
Vechtstreek — a region along the river Vecht famous for its magnificent 17th and 18th-century estates
Soest (Netherlands) — home to the biggest dune area in Utrecht
Soesterberg — home to the Dutch national air force museum
Wijk bij Duurstede — a typically old Dutch town on the Rhine river; dikes galore!
Rhenen — played a key-role in the World War II Grebbelinie defense. Beautiful forests and a great zoo
Rhijnauwen — take a walk in the forests between the Uithof and Bunnik