Utsunomiya
Utsunomiya
(宇都宮) is the capital of
Tochigi prefecture
,
Japan
.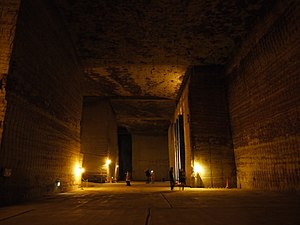 Understand
Utsunomiya has more streets lined with horse chestnut trees (栃の木
tochi-no-ki
), and more places and products labeled Marronnier (French for
Aesculus hippocastanum
) than any other city in Japan's Tochigi ("Buckeye") Prefecture.
Utsunomiya is also the hometown of jazz great Sadao Watanabe and bills itself as a Jazz Town that is also famous for its
cocktail bars
.
The small mining town of Oya, the source of the distinctive greenish-gray volcanic stone used to construct many of Utsunomiya's buildings, is a short bus ride away and makes a good half-day or day trip.
Get in
By plane
From
Narita Airport
, the fastest and most expensive way to reach Utsunomiya is to take the Narita Express train to Tokyo Station and transfer to the Tohoku Shinkansen
Yamabiko
,
Nasuno
or
Tsubasa
service (2 hr 15 min, ¥7800).
From Haneda Airport, take the Keikyu Line train to Shinagawa, then the Yamanote or Keihin-Tohoku line train to Tokyo Station. From there, take the Tohoku Shinkansen (about 1 hr 45 min, ¥5200). A cheaper trip is to continue up the Yamanote to Ueno station and change to the JR Utsunomiya commuter line (3 hours, ¥2290).
Kantō bus "Marronnier"Separate Airport Limousine bus services - each called the Marronnier - run between JR Utsunomiya Station and both Narita Airport (2 3/4 hours, ¥4070) and Haneda Airport (2 hr 45 min, ¥3500).
By train
Utsunomiya is a major train hub served by the
Tohoku Shinkansen Line
,
JR Tohoku Main Line
,
Tobu Nikko Line
and
JR Utsunomiya Line
.
Tohoku Shinkansen
Yamabiko
,
Max Yamabiko
,
Nasuno
and
Tsubasa
trains depart from Tokyo station about three times per hour, with more trains during the evening. The ride costs ¥4800 and lasts just 50-55 minutes.
Direct runs on the regular Tohoku Main Line depart from
Ueno
station 3-4 times per hour. The trip takes about 1 hour and 40 minutes at a cost of ¥1890.
There are also hourly departures on the Shonan-Shinjuku line from
Shinjuku
station, reaching Utsunomiya in roughly the same time it takes from Ueno, and at the same price.
JR Nikko Line trains, appropriately bound for
Nikko
, depart from Utsunomiya.
Tobu line trains run to
Tobu-Utsunomiya station
from Tochigi every 30 minutes or so. From
Asakusa
, you can reach Utsunomiya by Tobu rapid train, changing in Shin-Tochigi. This train typically takes longer (2 hours) and less convenient than its JR counterpart, but about ¥500 cheaper for one-way fare (¥1160).
With the exception of the Tobu line, all of these trains can be used at no charge with the Japan Rail Pass.
By bus
Kintetsu operates the
Tochinoki
overnight highway bus service from
Osaka
and
Kyoto
to Utsunomiya Station. It takes 10 hours from Osaka and 8½ hours from Kyoto and costs ¥11,400 and ¥10,700 one way, respectively. This service has been spotty with suspensions; it is usually cheaper and more reliable to take a train to Tokyo Station or Shinjuku station, then to ride a bus to your destination from there.
Mito
, the capital of neighboring
Ibaraki
, has highway bus service connecting with Utsunomiya, with departures hourly in either direction.
Get around

There are no subways or additional trains in Utsunomiya; there is a light-rail system under development, but it will not be completed for several more years. For most tourist staying for one night or wishing to simply shop, most stores, hotels, and restaurants are within convenient walking distance from the east and west exits of Utsunomiya Station.
By foot
Much of Utsunomiya can easily be reached by foot from Utsunomiya Station. Some major shopping, hotels, grocery stores, and other shops can be walked to in five minutes or less. For other areas, such as Orion-Dori or the jazz clubs/restaurants, you can expect about 10 to 15 minutes.
The crime rate is low and incidents are rare. However, do take care at night. Always carry ID with you at all times, as police often perform "Gaijin Checks" (Foreigner Checks) for valid visiting or working visas.
By taxi
Taxis are readily available from the west side of Utsunomiya station, first floor. Take the west exit, and immediately bear right. Taxis can be found immediately to the right of the bus section. Fares start at about 1,000 Yen and climb fast.
By bus
Bus services are also available primarily from the west exit (Utsunomiya JR Station). For assistance on finding your bus route, there is a help desk station directly next to the Shinkansen entrance (2nd Floor), as well as a computerized system just outside of the 2nd floor entrance. Fares start at about ¥200 per adult.
Routes specific to the east side of Utsunomiya (IE, Bell Mall, Utsunomiya University) are available from the east exit of Utsunomiya JR. Follow the walkway until you see the semi-famous "Gyoza-Statue," approximately where boarding occurs.
A number of free or reduced bus services are available to retail stores such as Fukudaya or Joyful Honda. These bus services usually run by the hour, but are not typically useful to the average tourist
By bicycle
Relatively easy, if you know how to cycle, there's always a renting bicycle centre just nearby to the JR Utsunomiya Station.
Once you exit from the station, walk towards Lala Square Shopping Mall. You will see a bicycle shop across from LaLa Square and the McDonald's next door.
Bicycle parking is restricted in some areas. While theft is unlikely, remember to lock your bike and take your valuables with you. Be careful of traffic, and observe traffic laws and signals especially at night.
By rail
A LRT (Light Rail Transit) System is under construction. Operation is expected to start by 2022. The line will run from Utsunomiya JR Station across the Kinu River to the Honda Research and Development Centre.

See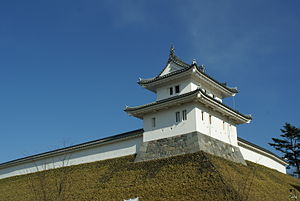 phone: +81 28-616-1573

An fairy-theme art museum.

Tobiyama Castle Park

Futaarayama Shrine

phone: +81 28-622-5271

address: 1-1-1 Baba-dōri

This is probably the most popular shrine in Utsunomiya. The front is lined by a massive stairway several stories in height before ending at a large temple. Excellent for pictures and very convenient.

phone: +81 28-622-6002

address: Hanawada 5-2-70

A popular spot for cherry blossom viewing (hanami). The park is quiet, relaxed, and usually pretty empty except for certain summer celebrations. It contains a tower-viewing area, a large foot-bridge, and a play areas for families. It is a worth a picnic if you have extra time. Within the park grounds is Utsunomiya's velodrome. For ¥100 entry you can watch keirin bicycle races on race days, or bet on the outcomes in one of the few institutions in Japan allowing legal gambling. (The gaming aspect of this is not recommended except for those who are fluent in written Japanese; there is no assistance for other languages.)

Utsunomiya CastleThe castle is Utsunomiya's claim to Japanese Royalty, where the emperor or other royal members would rest and/or change horses before their last leg to Nikko. The castle is reconstructed from previous excavations and is an excellent place to picnic, but little else. Historical significance and exhibits are limited.

Matsugamine Church

phone: +81 28-635-0405

address: 1-1-5 Matugamine

The church, built in 1932, is full-dress Romanesque cathedral. Almost all the building is composed of Ōya Stone including exterior and interior walls.

address: Nissato-machi 254

The park has a huge onsen, a brewpub and food court, and a FlowerDome containing tropical plants, hydroponically grown herbs, and a wide variety of orchids.

phone: +81 28-665-3257

address: Kami Kanai 552-2

You can feed many of the animals here.
phone: +81 028-652-1232

address: 909 Ōyamachi, Utsunomiya, Tochigi 321-0345

A former Oya stone mine which is now open to tourists, located a half-hour bus ride away from Utsunomiya. Mining took place almost entirely underground, leaving behind straight-walled caverns of awe-inspiring, Biblical proportions.

phone: +81 028-652-0128

address: 1198 Ōyamachi, Utsunomiya, Tochigi 321-0345

Home to 10 stone Buddhas carved in Central Asian style, thought to have been created by Afghan monks as part of a Japanese "silk road".

address: 1174 Ōyamachi, Utsunomiya, Tochigi 321-0345

28 meter tall stone statue commemorating the victims of the Second World War. Across the street from Tenkaisan temple.
Do
Motegi twin raceHere you will get to see the museum of Honda, Asimo apart from the race track.

Orion SquareOrion Square plays host to various public events and festivals every weekend. Great place to stumble upon events if you have no prior knowledge.
Buy
In comparison to Tokyo, Utsunomiya is not much of a place to shop. It does, however, have some variety of stores to keep individuals busy for an afternoon. The vast majority of malls are easily located on or near main street (starting from Utsunomiya JR West Exit). You can walk to most worthwhile areas in 15 minutes, or take a five-minute bus ride.
La La SquareThe building contains several clothing and shoe stores, a 100 yen store, a bookstore, an electronic store, a pharmacy and a coffee shop. There's also an excellent set of ramen and gyoza restaurants in the basement.

Utsunomiya Station StoresSeveral shops, a grocery store on the bottom floor, gyoza eateries, ramen shops, and souvenir shops.

Utsunomiya Omotesandō SquareA mall opened in 2007.

Tobu Department StoreFiner shopping for the area.

Orion DoriA pedestrian mall, this is the main site for the yearly festivals Utsunomiya holds during the start of August. Connects with many of the above mentioned locations, such as PARCO and Tobu Department Store. Mostly clothing stores with bars opening at nighttime.

Bell MallThe biggest mall in the area. Contains several floors of stores, a large grocery, movie theatre, and a large gym.

FukudayaNot particularly large, but contains more eateries and shopping possibilities.
Eat
Utsunomiya is most famous for its gyōza (餃子) dumplings, available sauteed, deep-fried, boiled, and/or steamed with all sorts of stuffings all around the city. You can find gyoza just about anywhere, but here are some key areas.
Utsunomiya Station Stores, level one. Look next to the grocery store for long queues.
Orion Dori, various. There are several gyoza specialty restaurants throughout the stretch.
In addition, there are plenty of other restaurants elsewhere.
La La Square Ramen Town (La La Square, B1, directly across the street from Utsunomiya JR Station). Several "kippu" ramen shops specializing in several types of ramen and gyoza. The atmosphere is actually rather nice for "kippu" ramen. Purchase your meal by buying a ticket from the automated machine, then presenting it to the staff. Bowls start at about ¥700.
Dragon Fish Café (10F, Pargo Department Store, 10 minute walk straight down Utsunomiya main street from Utsunomiya JR Station). Due to the location in a department store, the café closes at 23:00, much to the disappointment of its customers. It serves a very good selection of pastas and varied Japanese-Fusion entries. Best tacos in Utsunomiya. The drink menu is also quite good; there is a fully functioning bar that will not make a "sitting charge," that many Japanese bars partake in. There is also an 8-course, all-you-can-drink dinner option for 3500 yen (great for drinks, but the courses vary in quality). Manager is an R&B fan.
Wired Café (Parco 2nd Floor, 10 minute walk straight down Utsunomiya main street from Utsunomiya JR Station). A popular Tokyo chain restaurant. The main attraction of this café are several computers set up for customer use while waiting for food, as well as the Wi-Fi in the restaurant. Food is a mix of Western entries, dishes are moderately to high prices for a cafe.

C'est La Vie Restaurant BarMageshi-cho 1-chome (near the Hotel New Asahi between Ō-dōri and Orion-dōri; opens onto the alley that meanders alongside the tiny Kamagawa). Open W-M (closed Tu) 11:30-15:30, 17:00-22:30. Offers a variety of interesting hors d'oeuvres, including carpaccio of ham, bonito (katsuo), or horsemeat (馬肉 baniku). The early bird (17:00-19:00) set menu, with choice of either pasta or paella, costs ¥1890. House wines cost ¥350 per glass, wines of the month ¥600 per glass, bottles ¥2500 and up. Start with a shot of bittermelon elixir at ¥250.
For Starbucks fiends, there are Starbucks coffee shops in Utsunomiya Station (with Wi-Fi), Parco Department Store, and Bell Mall. There are also plenty of fast food chains, such as Mos Burger (inside Utsunomiya Station, first floor), and a McDonald's (outside the main entrance, right side). For those wishing to stay on a budget, the grocery stores in La La Square (B1) and Utsunomiya Station (1) are your best bet.
Kayabukiya Tavern

phone: +81 28-662-3751

A traditional-style Japanese restaurant where guests are served by employed monkeys.

address: 〒321-0933 栃木県宇都宮市簗瀬町1785-17
Drink
Utsunomiya bills itself as a jazz town and a cocktail area. The quality varies however, in both departments of jazz and cocktails. Cover charges as high as ¥4000 can be expected, with cocktails starting at ¥1000 per drink.
For regular bar experiences, see below.
Akai ToriBaba-dori 2-3-10 (on the corner opposite Parco Department Store and Futaarasan Shrine). A coffee shop decorated with collectible Hawaiian and Polynesian kitsch mostly from the 1940s and 1950s. The friendly owner will do his best to accommodate your musical taste from his huge collection of CDs.

The Lion's Head (1800 – ?) (on Utsunomiya main street, several blocks from Utsunomiya Tobu Station and about 10-15 minutes walk from Utsunomiya JR, across from the Washington Hotel). Remodeled in July 2007, this is the primary hangout for gaijins in the area. Atmosphere is your typical English pub, be it without a large screen TV for soccer games. Beers start at about 600 yen, Guinness, other hard to find brews, and wine are available. Fish and chips are worth ordering off of the menu, but most other food items are too small and unevenly priced. English spoken.
Nohkin's (18:00 – 02:00 (S-Th), -05:00 (F, Sat). (Directly above The Lion's Head on Utsunomiya Main Street, 2nd floor. See above). The bar itself is dark and the music quality varies (live or recorded), but the drink menu is one of the more aptly available. A large assortment of cocktails, wines, champagnes, and brews from local and international areas are available. Drinks start at about ¥500. Ask about their famous waiter who bares a strong resemblance to Ichiro of American Baseball fame. Some English spoken.
Bird Land (On the same side of the road as The Lion's Head, cross the crossing immediately west of the Lion's Head, it's about 50 m away). This is the most well known night club in Utsunomiya. Expect to find Japanese, Brazilians and some native English speakers there on the weekends. Plays mainly dance and hip-hop. Serves Kirin, Guinness, a large array of spirits etc. Serves particularly good western food. Mostly deserted during the week. Also check out the Izakaya Samurai which is below Bird Land.
Kento's (Just off Orion Street, turn left at McDonald's before you hit Tobu station). This is a chain bar you can find in number of cities, the slogan is "oldies but goodies". The design is of a 1960s Greaser bar. It hosts live bands playing mostly 60s & 70s music.
Utsunomiya has
excellent nightlife
with many quirky bars, classic cocktail bars and jazz clubs which can be found around town.
Sleep
The Utsunomiya city page contains a very extensive list of hotels with links to websites (if available) here () . Hotels range from grand (wedding hotels) to business hotels (small rooms and beds).
Chisan HotelChisan is an extremely large, extremely affordable hotel group in Japan, with hotels spanning across the country. Rooms are small, but affordable and clean.

Hotel SunshineThis hotel is on the east side of Utsunomiya Station, connected by a large pedestrian bridge. It is easy to reach by foot and the rates are reasonable, be it for smaller rooms. Most rates include a breakfast buffet.
Go next