Uusikaupunki
Uusikaupunki
(Swedish:
Nystad
) is a city in
Finland Proper
in
Western Finland
.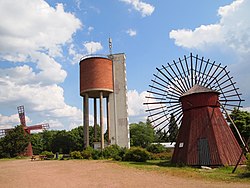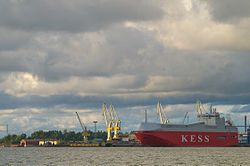 Understand
It is the main town of the Vakka-Suomi region, founded in 1617. In the 19th century it was an important ship building and shipping centre. The Empire style wooden old town was built according to a plan from 1856. Among the big employers nowadays are Finland's only car factory (which produces Mercedes-Benz A-Class cars) and a shipyard (building boats and small ships).

Get in
The nearest major city is
Turku
, which has hourly buses to Uusikaupunki (1 hr 10 min, €11.30). A few buses on weekdays also from
Rauma
(1 hr, €11.10).
See
Wooden old town.
Isokari lighthouse island, see cruises below.
Katanpää fortress, built 1915–1917, see cruises below.

Bonk Museum

phone: +358 2 841-8404

address: Siltakatu 2

A museum chronicling the bizarre story of Bonk Business Inc, a multinational corporation that pioneered anchovy power generation, advanced disinformation systems and localized black holes. There's one small catch – the company doesn't actually exist – but this firmly tongue-in-cheek museum doesn't let that get in the way of a good story. Advance reservations essential.

Car museum

phone: +358 204 848-068

address: Autotehtaankatu 14
Do
phone: +358 2 8451-5455

Guided cruises to destinations in the archipelago with a brigantine built 1996 as a replica of a ship active in mid-19th century.

phone: +358 44-515-2502

Guided cruises to destinations in the archipelago (mainly Isokari or Katanpää). The standard cruises include dinner at the yachting club. Advance booking needed.

Wreck cruises

phone: +358 50 420 5425

Cruise to wrecked ships in the neighbourhood, arranged by divers but without diving (technical means of viewing the wrecks used instead). Tailored cruises for groups of 8–12 persons. Advance booking needed.

Bothnian Sea National ParkThe national park consists of a strip of some 100 km of outer archipelago off Uusikaupunki, Raumo and Pori. The bird sanctuary Preiviikinlahti Bay is reachable by road, but otherwise you need some kind of boat to reach the park. There are many businesses offering tours to the park, either by timetable or as charter services, also diving or seal watching tours. Among sights are the Isokari, Säppi and Kylmäpihlaja lighthouses and the coastal fort Katanpää. There are services such as jetties, cooking shelters and nature trails on some of the islands. There are several guest harbours in the inner archipelago. Stay away from islets with nesting birds.
Festivals and concerts
Crusell week in July–August in honour of clarinettist and composer Bernhard Henrik Crusell. Many concerts.



Buy
address: Pohjoistullikatu 11

In Uusikaupunki the traditions of microbrewing are upheld by the award-winning Vakka-Suomen Panimo, whose products can also be purchased from their shop. Brewery's Prykmestar SavuKataja was chosen as beer of the year at 2009 Helsinki Beer Festival.
Eat
phone: +358 2 847 7100

address: Ylinenkatu 21

A small restaurant with very good food.