Uusimaa
Uusimaa
(
Swedish:Nyland
) is a region along the coast in
Southern Finland
, with hundreds of islands, some big lakes and inland countryside. The Finnish capital Helsinki is in central Uusimaa.
Regions
East Uusimaa
Sipoo (Sibbo) east of Helsinki has skiing and sailing possibilities with a nice archipelago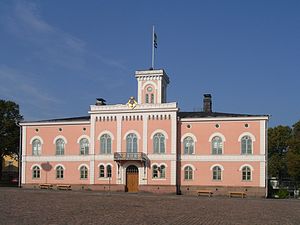 Loviisa (Lovisa)
The old town of Porvoo (Borgå) only a small motor way ride east of Helsinki is renowed for its beauty.
Middle Uusimaa
Metropolitan area
North from Helsinki metropolitan area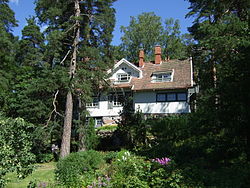 West Uusimaa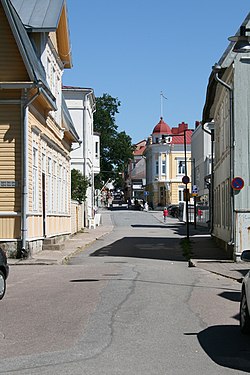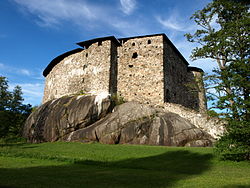 Hanko (Hangö) is an old port and marina town at the tip of the Hanko peninsula and is a year-to-year favorite with domestic holiday makers due to its good weather, excellent beaches, lots of lodging capacity and services operate in the summertime.
Other destinations
Talk
The coastal areas are traditionally
Swedish
speaking. The capital region has drawn much people from elsewhere, so the Swedish speaking are nowadays mostly a minority (3–9 % in Helsinki, Espoo and Vantaa, about half in most other coastal municipalities). The inland is Finnish speaking.
Get in
If you are arriving in Finland by air or sea you will likely arrive in Helsinki, where the largest airport and several major harbors are located. All passenger airports in Finland except Lappeenranta have a flight to Helsinki (for many of them it is the only destination) and most longer train lines end in Helsinki. Direct buses connect Helsinki with all larger cities in Finland, and to get there from the smaller ones you would usually have to transfer just once. For other destinations in Uusimaa trains and buses usually stop on their way to Helsinki in cities along the route; it is for instance possible to get off in Porvoo if you're coming from east or in Järvenpää if you're coming from north – otherwise you would most likely need to transfer in Helsinki.

Get around
Again, Helsinki is the hub of the region and there are generally no form of public transportation bypassing the city.
Trains of national operator
VR
are possible to use for travelling inside province. Local trains take you north to places like Kerava, Järvenpää, Mäntsälä and Hyvinkää and west to Kirkkonummi, Siuntio and Raseborg.
There is a dense bus network covering most of the province. There are at least a couple of buses a day to every city and municipality in the region from Helsinki. Timetables and tickets from
Matkahuolto
(or the individual companies and buses).
Onnibus
offers discount bus service by a few routes.
Boating and kayaking in the coastal archipelago is popular. See
Uusimaa in the Boating on the Baltic Sea
article. There are a few coastal cruise lines, such as from Helsinki to Porvoo, from Hanko to the lighthouse island Bengtskär and to islands in the archipelago off Helsinki. Also cruises in the Ekenäs archipelago national park are available.
See
East Uusimaa
Middle Uusimaa
Suomenlinna fortress few kilometers south of Helsinki has dungeons, restaurants, short-cuts, cafés, museums, Finland's only ever submarine, Fitted to Suomenlinna church roof is a lighthouse and there is a swimming beach and a brewery. Ferry service from Market Square (Kauppatori)is operated by Helsinki Region Traffic and a normal mass transit ticket is good to go.
Finnish Aviation Museum in Vantaa
Finnish railway museum in Hyvinkää
West Uusimaa
Do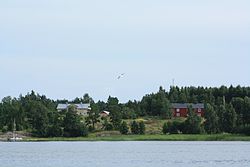 Events calendar
April
April Jazz in Espoo's architecturally acclaimed Tapiola sub center in start of April.
May



July




August

phone: +358 46 849 0653

Espoo Ciné is in August




Outdooring

Take a brief tour out in the Finnish nature at Nuuksio National Park in Espoo or at the Uutela trail in Eastern Helsinki
Go down into the natural limestone cave of Torhola in Lohja at the Karkali nature park or take a swim in the Lake Lohjanjärvi at one of its various public swim beaches
Take a tour in the archipelago, e.g. with s/s Runeberg from Helsinki to Porvoo or with some other boat to a recreational area in an island
Go skiing at Vihti ski center, Serena in Espoo, Talma Ski in Sipoo or Påminne in Raseborg, the southernmost ski center in Finland.
Go on a guided fishing trip
Charter a sailing boat (or rent kayaks) and cruise the archipelago
Watch birds at Tulludden in Hanko, the southernmost tip of mainland Finland.




Funfairs and similar attractions

Have fun at Linnanmäki amusement park in Helsinki.
Have watery fun at Serena water park in Espoo. Bus connects from Helsinki.
Heureka science center is a good family destination in Tikkurila, Vantaa by the main railroad track




Recreation areas

Uusimaa coast is relatively densely populated and large areas along the shore are privately owned, so sometimes visitors can struggle to find a place for recreational use.
In Uusimaa region the Association of recreation areas (sv: Föreningen Nylands friluftsområden, fi:Uudenmaan virkistysalueyhdistys) buys and leases scenic areas that are suitable for outdoor and recreational use. These areas are often located at the coast (as well as islands) and are free to use for camping, BBQing, canoeing, mushroom and berry picking, swimming and other activities under everyman's right (fi:jokamiehenoikeus).
The list of the areas can be found at the Association's web page (in Finnish and Swedish only).




Go next