Uwajima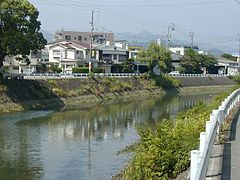 Uwajima
() is a slice of small town life on the west coast of
Shikoku
— nothing much out of the ordinary, if you don't count an ancient fertility shrine and the occasional sumo match between two bulls.
Get in
By train
Uwajima is the western terminus of the
JR Yosan Line
(予讃線), and there are regular connections north to
Matsuyama
. Normal trains from Matsuyama cost ¥1810 and take 3 hours, with at least one change of trains required. The
Uwakai
Limited Express adds a ¥1500 surcharge, but shaves the travel time down to 75-80 minutes by not stopping at every rice paddy along the way.
Okayama
is about 4 hr 15 min away via two limited express trains, the
Shiokaze
and the
Uwakai
, changing trains in Matsuyama (¥8570).
Infrequent trains on the
JR Yodo Line
(予土線) also connect Uwajima to
Kochi
, but you'll have to transfer at JR Kita-Uwajima Station, one stop north of the city center.
By bus
By remarkable coincidence, buses from Matsuyama to Uwajima also cost exactly ¥1750, but are a little faster than the regular trains.
Get around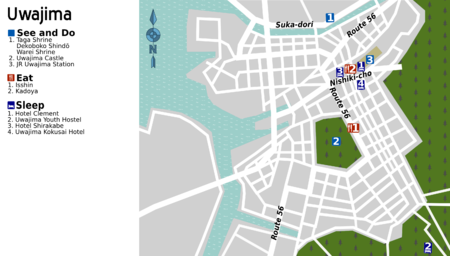 Uwajima is fairly spread out, but the few sights of interest can be reached on foot from the center of town.
Tourist Information

address: 3-24 Nishiki-cho

Across the street from the train station, with a range of English handouts. Bike rentals are available for ¥100/hour.
See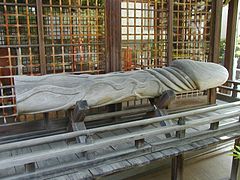 There are two temples within a short distance of Uwajima on the
88 Temple Pilgrimage
: #41,
Ryūkōji
(竜光寺), and #42,
Butsumokuji
(佛木寺).
Taga Shrine

phone: +81 895-22-3444

Although Taga doesn't get much press at the local tourist office, it's probably the most unusual sight in town: the shrine is an ancient Shinto fertility shrine, full of phalluses of all shapes and sizes, including a mighty carved log that gets carried about on festival days. It's on the north side of the river, not far from the better known Warei Shrine.

Dekoboko ShindōLocated on the grounds of the Taga Shrine, this is essentially a three-story sex museum devoted to fertility and its graphical expressions. Two of them are found in the name: the kanji 凸 and 凹 usually mean "convex" and "concave" respectively, but the shrine's logo makes things clearer by placing the pointy bit under the one with the gap.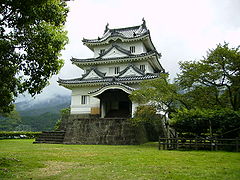 Uwajima CastleUwajima Castle occupies a strategic location at the heart of the city. Unlike most Japanese castles, it's actually an original (dating to 1665), not just a ferroconcrete shell. That said, the castle is comparatively small and modest.

Warei ShrineA large, comparatively staid Shinto shrine, probably Uwajima's best-known attraction among the Japanese. Not worth a detour, but you'll be passing by on your way to the Taga Shrine anyway.

Uwajima City Historical MuseumOne of the first Western-style buildings in Ehime Prefecture, it serves as a museum dedicated to the history of Uwajima. It is designated as a Registered Tangible Cultural Property.
Do
Bull sumoIt is Uwajima's main claim to fame. Two bulls decked out with holy ropes grapple each other by the horns and attempt to push each other out of a sumo ring. This is no modern gimmick, but an age-old tradition solemnly officiated by the same priests who run human sumo tournaments.
Warei FestivalThis annual festival features not only bull sumo but a series of parades featuring Uwajima's symbol: the black-bearded and red-robed bull demon (牛鬼 ushioni). Book accommodations early if in town during festival time.
Buy
If visiting the Taga Shrine with a partner, be sure to pick up a
Yin-Yang Harmony Fortune
(陰陽和合おみくじ
In'yō-wagō-omikuji
) to test out your sexual compatibility. For a mere ¥300, you'll receive a Japanese-language fortune describing your equipment and abilities by awarding you with a sumo wrestling rank (all hail the mighty Yokozuna!), as well as a little clay figurine graphically illustrating the coupling of said equipment.
Uwajima (and the surrounding area) is well-known for pearl farming, so you may find a bargain (relatively speaking) on pearl souvenirs here.
address: 3-58 Takakushi

Primarily a pearl souvenir shop, but to ensure you're not rushed when considering a purchase, they've helpfully included a restaurant and a hotel (rooms from ¥4000 single) on the grounds. Pearl rings and necklaces can be custom-made to fit your budget; on the cheaper side, try some pearl candy (¥650 for 15 pieces). It's a little way out of town, north on the Uwajima Highway from the JR Takamitsu train station.
Eat and drink
JyakotenUwajima is well-known for this flat, oval fish cake made by processing fish (with bones and all). It is tasty, but has a gritty texture to it.

TaimeshiThis is the local dish. It is sea bream/red snapper on top of dried kelp and gently boiled over rice in an unfinished earthenware pot. Variations occur up and down Ehime, but Uwajima style — raw and flavored with sake — is considered the principal upon which all others are built.

TaisōmenIt uses the same hearty fish, but this dish's beauty is in the noodles sculpted into waves and the seasonal nature of its presentation. Dip the noodles and fish into the tai sauce before savoring.

Iyo SatsumaIt is a dish made from fish mashed with mugimiso and stock. It creates a roasted, salty, sauce-like concoction. It is usually served over a bowl of hot rice.
The covered arcade running from JR Uwajima Station has the usual assemblage of restaurants and coffee shops.
address: 3-2 Marunouchi

Seasonal seafood dishes, including the notorious fugu (for a premium), but chicken and beef as well.

address: 8-1 Nishiki-cho

A good place to sample the aforementioned taimeshi and other local specialties.
Sleep
Go next