Uyuni
Uyuni
is a tourist town in
Potosí Department
,
Bolivia
, which serves as the main gateway to
Salar de Uyuni
, the enormous salt flat nearby.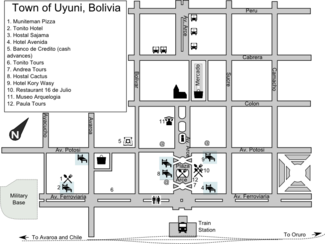 Understand
Uyuni is a small town in the middle of nowhere. It originally blossomed as a transportation junction and then as a railroad hub, and though this is still an important aspect, tourism is now its main source of prosperity. What would otherwise be a fairly dull stopover en route between
Salta
,
Argentina
and
La Paz
or
Potosí
, has become absolutely mandatory on this leg of the
gringo trail
. The sole reason: salt flats, the world's biggest: the
Salar de Uyuni
.
There's not that much to do in Uyuni itself, so just plan to stay for as long as it takes you to do your salt flat tour. Spending one night in town before the tour and one night after should be enough, and may even be more than you need depending on your transportation plans.
Tourist information
There's a helpful of the town right across the street from the train station.
Get in
By plane
By bus
Uyuni doesn't have a real bus station, just on Avenida Arce a few blocks from the train station.
La Paz – You will need 12-15 hr by bus. The bus ride can be bitterly cold in winter - travellers have been known to sit in their sleeping bags on the night bus from Oruro to Uyuni. With some options you must change buses in Oruro to get to La Paz. Buses to Oruro/La Paz are often booked up in advance - you likely need to book at least the day before, several days if you wish to take the comfortable tourist bus or one of the better bus companies - best to do this before going on a Southwest Circuit tour (if coming from San Pedro de Atacama, be prepared to spend a night in Uyuni and have little choice of bus company).
Potosí – There are several buses daily to and from Potosí (3-4 hr, Bs. 30), and there to and from Sucre (3-4 hr more). There are also less frequent direct buses to Sucre. Beware however that companies have cancelled buses without notice in the past, and without even opening their office to explain.
Tupiza – Many daily buses from Tupiza at around 05:30-06:00, 10:00 and 18:00, stopping halfway for lunch in Atocha, even if they say "direct". Take the chance to see the nearby mine and stroll around a little. There is a market west of the rail tracks already in the morning as well. 5 hr, Bs. 40-60. Three days a week there are 09:00 departures, and occasionally a Land Cruiser departs 18-19:00—ask around. Although the train is definitely smoother, and somewhat faster, this bus ride offers terrific views.
The Uyuni buses can become very cold when travelling overnight. So, better bring a warm sleeping bag or very warm cloths—remember, you are not moving just sitting most of the time.
By train
The is centrally located and an important landmark.
Trains of
Ferroviaria Andina
run south to
Villazón
on the Argentinian border, stopping in
Tupiza
and
Atocha
. Northbound trains go to
Oruro
. The formerly existing train connection to
Calama
,
Chile
has been discontinued. Trains leave Villazón Monday, Wednesday, Thursday, and Saturday at 15:30 and usually arrive in Uyuni after midnight. Trains leave Oruro Tuesday, Wednesday, Friday, and Sunday.
The train to and from Villazón passes beautiful mountain scenery on the way.
As of 2018-02-18
, the route between Uyuni and Villazon is closed due to flooding. It is expected to reopen in October 2018.
By car
You can also rent a car in
La Paz
and drive.
After Challapata the road signs are scarce to find Uyuni, in the rainy
season the rivers grow and it's dangerous to come in a car that is not a jeep 4x4.
Get around
All walkable.

See
Despite its modest site and geographical isolation, Uyuni is worth an hour or so walking around. Particularly the Avenida Ferroviaria has many monuments, mostly railroad related.
Allegedly Bolivia's first locomotive, stands in the emiddle of Avenida Ferroviario, by the corner of Calle Santa Cruz. The first locomotive is in Pulacayo almost 20 km on the road to Potosi. Used in the Huanchaco mine.
Train Graveyard - a couple of km south of town, by the railway to Chile, there are dozens of old, rusted locomotives, a few wagons and some other antiquated machinery. Usually a stop on salt flat trips.

Museo FerrocarrilA rail museum, inconveniently located behind the train station – walk all the way around to the street behind the station to find it.
Do
Salar de Uyuni – The salt flats can be visited on day trips, or longer trips, up to 4 days, including a swipe down towards the Chilean border and the lagoon and geysers of that area. Be aware that during the longer trips of 3 or 4 days going towards the Chilean border, you will travel up to 5,500 m above sea level. Rising quickly by car could cause altitude sickness. Most tours leave at about 10:00, and it's easy to arrange one at the tour companies' offices around the train station. As of 2018, the best prices from Uyuni for the 3 day tours go for around Bs. 600, plus Bs. 50 if you want onward transport to San Pedro de Atacama. (Make sure that you point out that you only wish to go with a responsible driver; there have been reports of drunkenness among drivers that may be averted with continued pressure on the tour companies before departure.)
Buy
On Thursdays, several blocks of the main street Avenida Potosí turn into an open air market, selling a bit of everything, including loads of handicrafts.
Souvenir shops and other miscellaneous stores (including outdoor recreation stores, small supermarkets, and clothing stores) are scattered throughout the downtown area.
Money
There are several ATMs in Uyuni, on Calle Potosí. WARNING: the Banco Credito ATM will fail silently if it runs out of cash. Your card will still be charged, you will not get your money and the bank staff will be 'unable' to help you even if you speak Spanish fluently. On weekends the Maestro ATM runs out of cash stranding tourists who counted on that ATM for money. Bring an extra stash of dollars just in case.
Prodem gives cash advances on Mastercard or Visa credit cards with a 5% commission.
There are several casas de cambio to change travellers' checks or dollars, euros, Chilean pesos or Argentinean pesos. If you are heading to Chile, get rid of your bolivianos, as the exchange rate on the other side is much worse.
Eat
Western food for tourists is generally overpriced and bad. Do not expect anything, rather prefer the Bolivian dishes.
For a cheap lunch (Bs. 10 for soup and main) head for any little joint with the sign Almuerzo outside.

phone: +591 2 693 3186

address: Ferroviaria 60

Closed for construction as of December 2017. Within the Tonito Hotel, backpackers congregate here in the evenings (enter through the hotel reception, this keeps wandering petty thefters from entering). Large variety of pizzas (including spicy llama), great breakfast, English-speaking owner, travel-book library. Just don't arrive too early for dinner - the people running the hotel were incredibly rude and refused to let us wait 30 minutes in the lobby for the place to open.

Restaurant Pizzeria "Jalisco"

address: Avenida Arce

Centrally located restaurant with a variety of options, including pizza, Mexican food, and vegetarian dishes. Free wifi.
Sleep
Budget
Beware of the cheap hostels near the bus offices. If you arrive in the early morning these places will charge you a full night for your stay until noon.
Bunker Hostel B&B

address: Avenida Ferroviaria 2

phone: +591 2 693-2078

address: Ferroviaria 11

Clean and inexpensive in the town center, near tour operators. Only two hot showers, but the door to one is often locked.

Piedra Blanca Backpackers Hostel

phone: +591 76437643

address: Av. Arce No 27

Reina del Salar Hostel

address: Avenida Potosí 19

Marjor Hostal

address: Avaroa between Colón and Potosí
Mid-range
phone: +591 2 693 3186

address: Ferroviaria 60

Mid-range hotel in town. Rooms are situated around an internal atrium area. Clean rooms, solar or electric-heated showers, transportation from train station available, book ahead in the high season. New rooms with solar showers and heating. Very slow wifi, American buffet breakfast.
Splurge
phone: +591 71212007

Salar de Uyuni, High-end hotel at the entrance of the Salar de Uyuni. Walking distance from the salt flats.

Hotel Girasoles

phone: +591 26933323

address: Av. Santa Cruz 155, Uyuni
Stay safe
If the sun is not shining in Uyuni and the salt flats, it can get extremely cold. Make sure you wear a lot of layers and to bring thermal underwear, a scarf, a hat and gloves. When the sun is shining, it will get very warm in the car and outside if you are out of the wind.
If traveling by (rental) car, find and pay for a gated and secured car park. (Or you may lose some external parts.)
Do not lose sight of your luggage when taking public buses from Uyuni. Some bus companies might 'forget' and then it will be nearly impossible to get your luggage back. Watch them actually put your luggage on the bus and make sure it is coming to your destination.
It is better to spend a little more money on a quality tour company than go for the cheapest. A lot of people going on an Uyuni trip, spend 3 days with car trouble in the cold desert instead of enjoying the breath taking views. There are also some guides that steal from their passengers or drive drunk. That can be dangerous on the road.
Do not attempt to walk into the desert or cross it walking unless you are under expert advice. People die there.
Connect
The cheapest international phone calls seem to be at Call Shop Uyuni, Av. Arce, 30 m from the clock tower. Bs. 2.50 to most of the world. Internet here is expensive, though, at Bs. 6 an hour.
There are several slow internet places for around Bs. 5 per hour. Quite fast internet you can find in Hotel Julia.

Cope
One of a handful of laundries, Laundry Huila Khota at Av Ferroviaria 257 (by the homonymous hotel), has same-day service at Bs. 15 per kilo. Lava rap is the biggest laundry service for Bs. 15/kg.
Get the exit/entry stamps you need at the immigration office now on ferroviaria inside the old cine.
Go next
Salar de Uyuni - with over twelve thousand square kilometers, is the largest salt flat in the world. It can be done as a day trip, or with a few overnights, often combined with the lagoons and geysers closer to the Chilean border. If you plan to go to Chile, or instead of returning to Uyuni, you can opt for San Pedro de Atacama or Tupiza for around an extra US$10. Some tours include this in the tour price, ask first. Remember to get an exit stamp in Immigration Office in Uyuni (the date on the stamp is the expected exit day, so you may get a Chilean entry stamp with an earlier date). The Immigration Office is open 7 days per week with a 2 hr break at noon (as of 2019 reports say that it's not possible to get an exit stamp beforehand).
Once you're finished with the salt flat, buses go from Uyuni to other Bolivian destinations such as: