Västerås
Västerås
(pronounced roughly
Vester-ohs
) is in the southern part of central
Sweden
.
Understand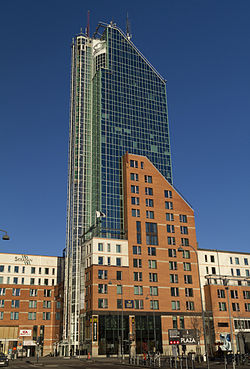 Västerås is by Swedish standards a quite large city, with 107,000 inhabitants in the city proper, which makes it Sweden's fifth largest, and a total of about 134,000 inhabitants in the municipality as a whole. Once in Västerås, almost every attraction is well within walking distance or can be reached in no time by public transportation. The city is not very touristy, which could be considered a good thing. This is one of the larger industrial cities in provincial Sweden, situated 110 km to the west of the capital. Västerås is also one of Sweden's oldest cities, having been established in the year 990.
The city name is derived from Västra (west) Aros (old Swedish name for river mouth), which relates to the estuary of the small river (creek) "Svartån" (Black River) crossing the city towards Lake Mälaren.
Bishop Johannes Rudbeckius founded Sweden's first high school (
gymnasium
) here in 1623.
Västerås has preserved a selection of older buildings, both by the creek and around (and north of) the city's small cathedral. They all give the town a bit of a small town atmosphere. Hundreds of old houses were demolished, roughly between 1950 and 1975, during one of the country's most thorough city modernization projects. There are however several modern buildings of some architectural interest. The downtown area is generally considered to have an "urban" feel, especially around Stora Gatan, mainly because of the skyscraper (nicknamed "Skrapan") with surrounding business, commerce and residential buildings.
Västerås is known for the Asea Brown Boveri (ABB) electrical industries (formerly ASEA).
Tourist office
phone: +46 21 39 01 00

address: Kopparbergsvägen 1
Get in
By plane
By train
Västerås Central Station
is in city centre. The rail operator is
SJ
.
By bus
Bus station in city centre, next to train station. The main bus operator is
Swebus Express
.
By car
Main road E18 from Stockholm.
Get around
Västerås city is really small. Walk.
The suburbs by bus or car.
Taxi for 100 kr you cover the town. (Taxi Exact +46 21 170000)
By bicycle. Västerås is famous for its cycle paths, 340 km of asphalt only for bicycling.
See
AnundshögA nice place for a picnic during the summer. Anundshög is an ancient burial mound, high and across, making it the largest in Sweden. Next to the mound there are two big stone ships.

The Turbine House

phone: +46 21-39 01 00

address: Slottsgatan 2

One of Sweden's first power plants, constructed in 1890 by ASEA. Has a museum which is shown to visitors by appointment.

phone: +46 21 39 80 70

Displays the cultural heritage of Västmanland.

phone: +46 21-480 04 67

Famous for the Parliamentary decision of 1527 when King Gustav Wasa abolished Catholicism in Sweden, making Sweden a protestant country. The Västerås castle was erected around 1200, but what is seen of the castle today was built by Gustav Vasa mid-1500. The castle is a rather ugly building clearly meant for defence and not to impress by look. Nowadays it contains a conference hall, restaurant and a minor exhibition.

phone: +46 21-81 46 11

address: Västra Kyrkogatan 6

The oldest parts of the cathedral were built around 1200. The oldest son of Gustav Vasa, Erik XIV, is buried in the church. Erik XIV is mostly famous because he was killed by poisoned pea soup. Summertime appointments for guided tours can be made between 11:00 and 13:00 at the tourist office.

Västmanland County Museum & Västerås Museum of Art

phone: +46 21 - 39 32 22

address: Karlsgatan 2

Two museums which share an address.
Do
Djäkneberget close to the Cathedral has a nice park featuring hundreds of stones with inscriptions (quotes and names of people) from the enigmatic Sam Lidman that founded the park in the 19th century.

phone: +46 21 - 39 19 09

address: Vallgatan 8

A bathing facility with a traditional 25-m pool and a separate section with moist and dry sauna, and cold bath (Romerskt bad).

phone: +46 21 - 39 19 05

address: Sjöhagsvägen 1

Another bathing facility. Located a couple of kilometers west of Västerås. Good for children.

phone: +46-21-351350

address: Kopparbergsvägen 13

An indoor adventure facility challenging creativity and cooperation in group exercises.

phone: +46-21-40 36 00

address: Kopparbergsvägen 1

Houses some 200 events annually.
Annual events
Buy
phone: +46 70-246 24 03

address: Vattugränd

If you're interested in crafts, there's a beautiful pottery along Black River called "Krukmakeriet". It's open on Fridays and Saturdays and you will probably buy from the potter herself. She makes everything by hand and uses techniques like stoneware and raku. You will find everything from small candleholders to pieces of art.
Eat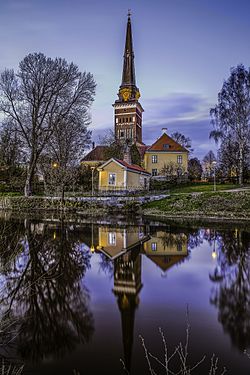 If you have a tight travel budget and also want to avoid famous hamburger chains, try to grab a Kebab on a plate at either Hemdals or Sippan. Otherwise choose the vegetarian lasagna at
Cafe Gränden
, Sturegatan in the city centre.
Some of the city's most classic and oldest restaurants are restaurant
Stadskällaren
,
Stora Torget
, and
Piazza di Spagna
on Vasagatan. The latter is worth a visit just to meet the always friendly staff.
Drink
Sleep
If you are planning on staying the night and want to experience something slightly different, one of the special hotels by the artist Mikael Genberg is recommended:
The Hotel Woodpecker
is a single room tree house in the middle of the Wasa Park. The cost per night is around 1000 kr. The same artist is also responsible for a unique one-room hotel in the lake!
The bedroom is underwater
.
Go next
If you walk along the river down to the lake you will find a little ferry port on your left side. Boats take you to some of the islands in the lake such as Elba or Ridö. It's a nice way to spend a day or a half.
Björnö is the city's main island. It's easy to find, as there are signs everywhere. It's connected to the main land with a little bridge. There is a nice beach, walking tracks and the possibility to hire kayaks and other boats at Björnögården. In the winter you can rent skies and skates.
Another really nice island is Ängsö, 15 km out of town. Take E18 West, towards Stockholm till the Airport Exit, from the roundabout just follow the signs saying "Ängsö". It's a beautiful island with a little castle, a church, a small cafe where you sit right by the water, and lots of hiking and bike tracks through the beautiful landscape. There's tons of space to relax on the cliffs by the water all by yourself, have a barbecue or swim. A must, when you're in town!
If you have half a day or so and transportation is arranged, you can visit
the silver mine
in
Sala
about 32 km to the north on 67. Just follow the signs to Sala and the "Silvergruvan" is on the left. They give tours each day down into the mine. It's quite an experience for adults and kids.