Vaduz
Vaduz
is the capital city of
Liechtenstein
and has a population of 5,429 (2015). It's home to the prince's castle and his museums, and thus the main point of interest for visitors to this small country, which is a shame because it is a rather disappointing hodge-podge of unattractive modern buildings, cranes and farmland. While it is a European capital, it is unlikely to interest a tourist for any length of time.
Understand
Vaduz is the capital of Liechtenstein, but not its largest city:
Schaan
is slightly larger. German language sources like to point out that it lacks
Stadtrecht
and is thus the only capital of a European state that is technically a village.
Get in
By public transit
ÖBB, the Austrian federal railway company, runs a limited service from
Buchs
SG station in
Switzerland
, via (near
Schaan
) to
Feldkirch
in
Austria
. Trains only run a few times a day, which makes buses generally more convenient.
Buses run every 15 minutes from the train station at Buchs (the main Swiss town on the Liechtenstein border) to Schaan and Vaduz. Tickets can be purchased on the bus for Fr. 3.40 and it only takes about 10 minutes to Schaan and another 5 to Vaduz.
If you're coming by rail from Switzerland, it may be quicker and cheaper to take the train as far as
Sargans
(rather than Buchs), from where it's possible to catch a bus (see below) straight to Vaduz. Consult the SBB
timetable
to find out what'll be quickest when you're travelling. There are lockers at the Sargans station so you can leave your luggage there. This
link
provides a plan of the station showing the lockers and where to catch the bus from.
The Liechtenstein Buses number 12 service runs from Sargans railway station to Buchs railway station via central Vaduz and Schaan railway station. It leaves from outside each station approximately every 20 minutes. The buses are yellow-green in colour. A fare to Vaduz is Fr. 5.80 from Sargens and Fr. 3.40 from Buchs. Consider getting a whole network day pass (Fr. 12) or week pass (Fr. 24) if you are making many journeys on Liechtenstein Buses, though two single fares (e.g. from Sargens or Buchs to Vaduz and Vaduz onward to Feldkirch) cost less than a day pass.
From
Feldkirch
railway station in
Austria
, look for the distinctive off-yellow Liechtenstein Buses. Numbers 11 and 14 head straight to Vaduz and number 13 goes to Buchs railway station, by-passing Vaduz, so you'll have to change at the Schaan railway station interchange.
By car
You can also drive into the town - it's well signposted. There is plenty of parking.
On foot or bike
Old Rhine Bridge Vaduz-SevelenIf you are coming by bike or on foot, you can use this, the last extant wooden bridge across the Rhine into or out of Liechtenstein. The bridge has been renovated several times (most lately 2009/10) but goes back to an over a century old predecessor. Until 1975 (when a new concrete bridge opened) this bridge also carried motorized traffic
Get around

Vaduz is very small and walking around the city and the areas around it will not take very long.
The municipal borders of Vaduz are a delight of European feudalism run amok, as it contains no less than seven (!) exclaves seemingly randomly spread across the national territory. This will of course have almost no practical importance for most visitors.

See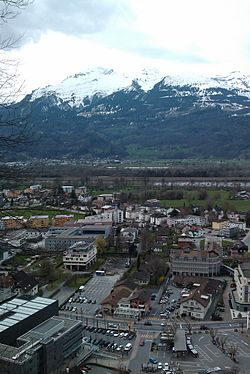 Kunstmuseum LiechtensteinHas an interesting collection on the ground floor and in the style of Tate Modern has a changing modern exhibition on the first floor.

Liechtensteinisches LandesmuseumThe national museum has events and exhibits of history, natural history, and stamps.

The Prince's Wine CollectionAvailable to view by a vineyard on the northern edge of Vaduz.

Schloss VaduzThe official residence of the Prince of Liechtenstein. Excellent views of the surrounding area can be gained by taking the short walk up to the Castle which hangs above Vaduz. The walk is gentle and goes up the side of the hill and through the woods and emerges at the side entrance to the Castle. It is not possible to enter the grounds of the castle, but walking around the perimeter is fine. In winter it can be very slippery, so if visiting at this time it is best to wear suitable footwear to avoid accidents.
A short walk towards the river will offer visitors the chance to experience some great views of the mountains surrounding the city. The old covered bridge which spans the Rhine river provides an interesting way to cross the border between Liechtenstein and Switzerland. The unpainted, weathered wooden bridge is rustic in appearance. It accommodates foot or bicycle traffic only, cars are prevented from approaching. Drivers may find it tricky to pull off. Cars on this road are headed to the Swiss Autobahn, a few hundred meters across the river directly west of the bridge. Please use care. These motorists may not tolerate the casual traveller on a busy road. There is no means to access the bridge from the west by car. The road that would appear to lead to the western end of the bridge is the aforementioned Swiss Autobahn.
From the centre of Vaduz follow Zollstrasse (towards the football stadium) until you reach the river. There are no border checks.
Postal MuseumHosted in the "Engländerbau" , Liechtenstein's first steel frame building.

Red HouseA red house with a stepped gable dating perhaps to the early 16th century.

Schalun CastleThe ruined remains of a castle.

Vaduz CathedralAs Vaduz has been seat of an archdiocese since 1997, this 19th-century church is now the small country's only cathedral.

City HallOlder and perhaps more architecturally interesting than the building housing the national parliament.

Government HouseOfficial seat of government of Liechtenstein and also the erstwhile seat of parliament. Construction dates to 1903-1905.

LandtagsgebäudeThe official seat of parliament since 2008, this building may look a bit bland on the outside, but it is where Liechtensteinian politics (well, the parts not decided by the Fürst anyway) is made.
Do
address: Rheinpark Stadion

The soccer club in Vaduz.
Buy
The main shops in Vaduz sell tourist trinkets all branded in Liechtensteinian and Swiss colours. There are plenty of flags, t-shirts and cuckoo clocks available. People who enjoy collecting passport stamps are able to get an official Liechtenstein Tourist Office stamp at the Tourist Information office. The cost was Fr. 3 in July 2018. This is unique as there are no border crossings at either of Liechtenstein's frontiers. Postal stamps and postcards can be bought at the post office opposite the tourist office as well as most other shops.
There is also a small retail village between Vaduz and Balzers. This is home to a McDonalds, and a sports clothes shop among other things.

Eat
The main square is behind the bus station in the middle of Vaduz. There are a number of cafes and restaurants offering hearty Liechtensteinian, Swiss, and Austrian fare at reasonable prices.
Old Castle Inn

phone: +423 232 10 65

address: Aeulestrasse 22

In the centre of Vaduz. It is impossible to miss and offers authentic food at a reasonable price and with a pleasant atmosphere.
Liechtenstein isn't a cheap place to eat. If you want something
budget
and have a car, drive to
Feldkirch
just across the Austrian border.
Learn
Sleep
Frankly, you'd be mad to spend the night in Vaduz when you could ascend into the mountains and enjoy the breath-taking views from places such as Triesenberg or Malbun.

Go next