Val d'Aran
Val d'Aran
is in
Catalonia
,
Spain
.
Cities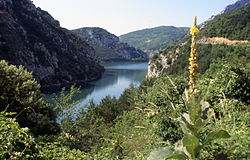 Understand
The Val d'Aran is the only part of Catalonia which is on the northern side of the Pyrenees. Hence, this valley holds the only Catalonian rivers to flow into the Atlantic Ocean; for the same reason, the region is characterized by an Atlantic climate, instead of a Mediterranean one.

Talk
Aranese, a subdialect of Gascon (Occitan), is spoken by a couple of thousand people in the Val d'Aran.
As of 2001, most people in the Val d'Aran spoke Spanish (38.78%) as their native language, followed by Aranese (34.19%), then Catalan (19.45%) with 7.56% having a different native language. Speakers of languages other than the local Aranese are typically people born outside the valley, or their children.

Get in
By car
From Catalonia
There are two possible routes from Catalonia to the valley. The Vielha tunnel and the C-28 highway C-28 trough the Bonaigua Mountain Pass at 2072 meters over the sea level.

From France
Through the french highway N-618 which becomes the N-230 the french highway N-125 which becomes the N-141.

By bus
The transportation company, ALSA covers the public transport options to the Val d'Aran with a direct line from Barcelona and regular lines and daily services from Barcelona and Lleida.
The same company offers village-to-village services in the Val d'Aran.

Do
Skiing
in
Baqueira-Beret
, the most renowned ski resort in Spain.
But it's not the only thing to do in Val d'Aran. You are in the middle of the nature and you can visit two national parks, Aigüestortes and Aneto Maladeta.
Winter sports are awesome in this valley and taking a guide in Val d'Aran will be a nice idea to enjoy all the beauty of this valley.
Eat
Main ingredients in the valley's gastronomy are duck, pig, wild pig, rabbit, jackrabbit, chamois and trout.
Some traditional dishes:
Olha Aranesa: bowl of beef stew. This is the most emblematic and traditional recipe of Aran's cuisine.
Caulets: meatballs surrounded with cabbage leaves, served alone or as an accompaniment.
Game: duck, wild pig, rabbit, jackrabbit, chamois
Trout: smoked, fried or baked
Drink
In Val d'Aran one of the most typically drink is the Cassis liquor. There are several local beers and wines too.

Stay safe
Stay safe with the
snow
in winter, and be sure you have a hotel reservation.
Val d'Aran is the most touristic place in Spain on winter and if you don't have a reservation sometimes you can't find.