Valdez
Valdez
is found in
Southcentral Alaska
on Prince William Sound. It is pronounced locally as "val-DEEZ", not like the Spanish surname.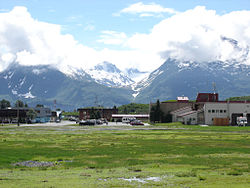 Understand

Valdez is known as the town in Alaska with the highest annual snowfall. For example, as of late January 2012, Valdez had received more than 10 meters of snowfall, and was using extraordinary measures (such as the National Guard) to deal with it).

Media
Climate
Get in
To reach Valdez from
Anchorage
, there are several options. Quickest is to fly to Valdez Airport. There are three flights a day, offered by ERA Aviation. The flight takes 40 minutes and costs around $400 return. If it's clear, you'll get great views of the Chugach mountains. Or in a full day you could drive the Richardson Highway. Or, you could drive or go by rail to
Whittier
and try and get a boat across Prince William Sound. The boat trip would take at least four hours. However, most boats from Whittier only offer day trips - glacier sight seeing and fishing - there isn't a scheduled ferry between Whittier and Valdez
Get around
No public transport. Car and bike rental are available. The new airport is a couple of miles out of town, so if arriving by air, you'll need to get a taxi into town to avoid a tedious trudge. Once in town, walking is a good way to get around, as the town itself is small.

See
Do
Popular activities are mainly outdoor pursuits and include whitewater Rafting on the Lowe River through Keystone Canyon. Sea kayaking in Prince William Sound is offered by a couple of operators will ferry you and a canoe to places such as Shoup Bay, where you can spend the day kayaking in protected waters surrounded by mountains, glaciers, and seabird colonies. Heli skiing and snowboarding are possible in Thompson Pass while, hiking and cross country skiing is available on groomed Mineral Creek trails. Other activities include ice climbing, glacier tours in Prince William Sound, and elderhostel at Prince William Sound Community College.
Mineral Creek TrailThis easy trail is a 1.75 mile round trip through a valley filled with mountains and waterfalls. The W.L. Smith Stamp Mill, built in 1913 and used in conjunction with the nearby Mountain King Mine, is at the end of the trail.

phone: +1 907 822-3664

address: Mile 128.5 Richardson Highway, Gakona, AK

Copper River Salmon Charters has been offering quality Chinook (King Salmon) and Sockeye (Red Salmon) Salmon charters in the tributaries to the Copper River in the beautiful Copper Valley since the early 1980s.
Eat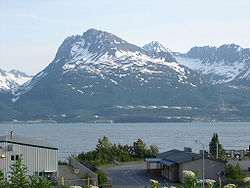 Alaska Bistro

phone: +1 907 835-5688

address: 102 N Harbor Dr

Large windows look out over the water and the food is mostly seafood.
Sleep
Best Western Valdez Harbor Inn

phone: +1 907 835-3434

address: 100 Harbor Dr

phone: +1 907 835-2791

address: PO Box 184

Cozy and clean rooms, private bathrooms, and great continental breakfasts.

phone: +1 907 835-4445

address: 100 Meals Ave.

Recently renovated rooms, and famously friendly staff.