Vallejo
Vallejo
is in
Solano County
in the
San Francisco
Bay Area
of
California
.
The name "Vallejo" is locally pronounced in a confused hybrid of Spanish and English as "vuh LAY hoe." In Spanish this ought to be "bah YAY hoe," and you may find some locals who speak Spanish as their first language pronouncing the city's name this way.
Get in
By car
Vallejo has four major highways that lead into the city.
By ferry
San Francisco Bay Ferry
(+1 707 64-FERRY) provides an hourly ferry services from
San Francisco
's
Financial District
with a crossing time of just over one hour. is at 289 Mare Island Way, near the intersection with Georgia St.
By bus
phone: +1 707 648-4666

address: 311 Sacramento St

Offers four major inter-city bus routes that will get you to Vallejo: Route 80 from El Cerrito Del Norte BART station, Route 78/80S from Benicia and Contra Costa County, Route 85 from Fairfield.

phone: +1 707 251-2800

Offers two routes that stop in Vallejo
Route 11 from Napa
*Make sure to ask the driver for a transfer slip if you plan to board any SolTrans buses; they accept them.
Route 29 from El Cerrito Del Norte BART and Napa County
phone: +1 707 255-1559

Runs a high-end bus service that serves Marriott Courtyard Hotel from SFO and OAK airports, as well as Napa.
AmtrakAmtrak runs Thruway Motorcoach Route 7 through Vallejo, it offers stops at Discovery Kingdom and Denny's Restaurant on Sonoma Blvd.
Get around
By car
Similar to San Francisco, most of Vallejo uses a grid-like network of roads with about every three blocks north/south being a major road that crosses town. It's best to also ask for a cross street when looking for directions. Most roads in this area are named by US states going east/west and California counties going north/south. On Mare Island, the grid is based on numbered and lettered streets. There are also numbered streets on the mainland, but they are in broken order and have other named roads in between them. Other roads (mostly in the east) are usually rural roads or roads that are located in the hills, and can't hold to the grid.
Enterprise, Hertz and Avis all have car rental locations in Vallejo.
Public transportation
phone: +1 707 648-4666

address: 311 Sacramento St

Vallejo and Benicia's public transportation company offers bus service around the main parts of Vallejo and into other cities. Visit their website for routes and schedules
Isolated areas
There are two parts of Vallejo that are isolated from the main part of town: Mare Island and Hiddenbrooke. Neither of them provide bus service.
The easiest way to get into Mare Island by any means would be to cross the drawbridge near Tennessee Street and Mare Island Way.
Hiddenbrooke can only be accessed legally through Hiddenbrooke Parkway, via. I-80 (between Vallejo and Fairfield). Bikes and pedestrians use the Solano Bikeway between Columbus and Hiddenbrooke Parkways.
See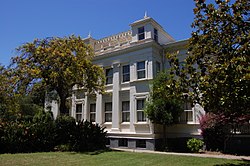 Mare Island Shoreline Heritage Preserve

phone: +1 707 249-9633

address: 1595 Railroad Ave

Parts of southern Mare Island have been preserved as a park that features many historical sites of the former Naval base, such as the Naval graveyard, a reservoir used to water that part of the island. It's main feature is the converted roads that bikes and pedestrians use to climb to the highest point of the island, and enjoy views of seven Bay Area counties.

The McCune Rare Books and Art Collection

phone: +1 707 644-0764

address: JFK Library, 505 Santa Clara

This collection contains hundreds of rare books, including a leaf from the Gutenberg Bible, six other books printed before 1501, the Kelmscott Chaucer and the botanical portfolios of Henry Evans.

Vallejo Naval & Historical Museum

phone: +1 707 643-0077

address: 734 Marin St.
Do
phone: +1 707 643-ORCA

address: 1001 Fairgrounds Dr

A wildlife-based theme park across the street from the Fairgrounds. Once a zoo-like animal park, it now offers thrill rides and shows with the quality you'd expect from a Six Flags theme park. There are certain periods of time when prices are much lower, or the park is open much later. It is usually closed in January and February. SolTrans Route 85 offers the most comfortable ride if you plan to use public transportation.

phone: +1 707 551-2000

address: 900 Fairgrounds Dr

For two weeks during the Summer, the Solano County Fair offers rides, local exhibits, major and minor performances and fun for the whole family. Other than being the place where the Solano County Fair is held, the Fairgrounds is a year-round venue that holds other events. It includes a golf course, surrounded by a horse racing track, as well as a satellite horse racing venue. SolTrans Route 85 offers the most comfortable ride if you plan to use public transportation.

Mare Island San Pablo Bay Trail

phone: +1 707 249-9633

Operated by the Mare Island Historical Preserve, this walking trail is an escape into the quiet and peaceful wetlands of Mare Island's western shores. After being closed to the public for over a century, this four-mile collection of flat walking trails comes not only with the views you see in a wildlife preserve, but also of places such as San Pablo Bay, Mt. Diablo, the Carquinez Strait, the East Bay hills, Mt. Tamalpais and the Sonoma and Napa Valleys. Because the trail is only to be used on foot, there is a rack to park your bike in the parking lot.
Farmer's Markets: The Downtown Farmers' Market is every Saturday on Georgia Street. You can find seafood (including oysters, fish, etc), produce and ready-made goods for sale, as well as some clothing, home accessories and incense. The vibe is very local and unpretentious. On Fridays, there's also the Kaiser Permanente Farmers' Market.
Walk around Downtown: The historic part of Vallejo, especially on Georgia Street, has some beautiful and historic homes with a lot of charm. This semi-hilly walk in the residential area is very pleasant. Meanwhile, central Downtown area has a truly unique and local (nothing corporate!) shops, such as a new age store, an African clothing store, a skater shop, etc.
If you want to work-out, Olympic Health Club is an incredibly friendly, family-run gym. They're very affordable and offer a no-frills, low-key workout environment. Address: 939 Tennessee St, Vallejo, CA 945. Phone: (707) 643-6887.
Eat
Bud's Giant Burgers

phone: +1 707-642-3252

address: 3849 Sonoma Blvd

Family owned burger restaurant that has been in business since the 80s. It is one of the top American Fast food places in town. Quality of the food is excellent with prices that are comparable to more mass-produced style burger joints. Definitely a local favorite overlooked by most people that pass through the city.

Gracie's

phone: +1 707 552-2254

address: 1801 Sonoma Blvd

Locally owned barbeque and southern food restaurant on the corner of Sonoma Blvd. and Virginia St. Serving delicious barbecue in a casual setting with both indoor and covered patio seating, and offering live music on the weekends. Offers large portions in both full and half orders cooked fresh to order at reasonable prices.

Good Day Cafe

phone: +1 707 557-4745

address: 314 Georgia St, Vallejo, CA 94590

A homey cafe/diner where the service is incredibly friendly; it feels like you're in a small town where everyone knows each other. The food is mid-range and decent (not incredible) for diner fare, but the overall vibe of the place really makes it stand out in a sea of mostly mediocre restaurants and chain stores in the Vallejo area.

House of Soul

phone: +1 707 644-3792

address: 1526 Solano Ave, Vallejo, CA 94590

This is an incredibly tasty soul food restaurant with friendly and lovely staff. The restaurant has deep roots & history in Vallejo.
Joy of Eating Café, 828 Springs Rd, Vallejo, CA 94591, (707) 644-5315. Probably the best place for a down-to-earth and tasty breakfast in Vallejo. The country potatoes are great, portions are large and prices are reasonable
Taj Grill: Tasty Indian food & they deliver! Address: 758 Admiral Callaghan Ln, Vallejo, CA 94591. Phone: (707) 644-4902.
Pho Saigon Village Noodle House: This is a decent Vietnamese food spot not "amazing," but pretty good compared to the other food options in Vallejo. Lots of seating and generous portions. Address: 3636-3656 Sonoma Blvd, Vallejo, CA 94590. Phone: (707) 534-6286.
Sleep
Stay safe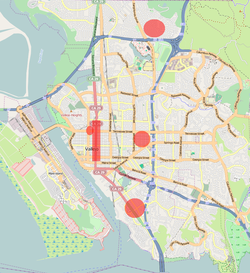 The safest areas of Vallejo are usually places that are isolated from the main part of the city, such as Mare Island and Hiddenbrooke. Most of the major shopping centers in Vallejo as well as most of Vallejo east of I-80 and the hills around the west of it are safe enough to travel, but are not completely crime free. However, Vallejo has a reputation for its areas of violent crime. Most of these areas are located in patches west of I-80, where some are labelled locally such as The Crest in the North, and Millersville in Central Vallejo; there is also one in South Vallejo along Magazine Street. Sonoma Blvd. (SR 29) between Nebraska and Georgia Streets is a main location for human trafficking. It is unlikely most of these areas will be of any interest to tourists, but if you plan to be in these areas, be vigilant and use your street smarts.
Go next
Sacramento-
80 East. About 1 hour away with no traffic.
San Francisco-
80 West. About 40 to 70 minutes away, depending on traffic.
Napa Valley-
29 North. About 10 to 50 minutes away, depending on where you are going in the Valley.
Santa Rosa-
37 West to 101 North. About 40 to 60 minutes away, depending on traffic.