Valletta
Valletta
or
Il-Belt
is the capital of
Malta
. It is both the southernmost and the least populated national capital in the European Union and one of only two without rail-based public transit (the other being
Nicosia
).
Understand
A harbour city, Valletta preserves much of its 16th-century architectural heritage built under the Hospitallers. Valletta was one of the earliest sites inscribed on the
UNESCO World Heritage List
. Referred to colloquially as Il-Belt ("The City"), it takes its name from its founder, Grandmaster Jean Parisot de Valette.
Valletta was a "
European Capital of Culture
" for 2018, an honour it shared with
Leeuwarden
.
Climate
The southernmost national capital in Europe, and sitting next to the Mediterranean, Valletta is one of the few places in Europe that has mild and warm weather around the year. Nighttime lows are around +10°C in the winter, however at that time of the year it's comparatively rainy. During the summer, expect sunny and hot weather.
Get in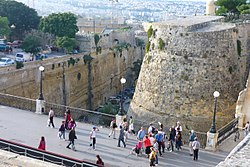 By car
Most bus routes and many arterial roads converge on Valletta. However, inside the city there are many one-way streets and some pedestrian zones. Parking can be difficult. There is a large multi-storey car park in Floriana, about half a kilometre from the City Gate entrance to Valletta.
By bus
In front of the main gate of Valletta is the for the entire island, rather than
buslines
covering the island in a grid, most of them spread out from here and return to here.
By boat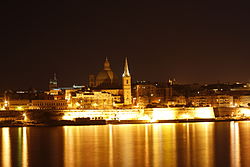 For those opting not to fly to Malta,
Virtu Ferries
runs ferries from
Pozzallo
and
Catania
on the island of
Sicily
,
Italy
.
A much shorter journey can be done by
Valletta Ferry Services
across beautiful Marsamxett harbour from
Sliema
and past Manoel Island, for just €1.50. Considerably cheaper then paying for an harbour cruise.
Another little-known way is to visit Vittoriosa by bus and then have the Maltese version of the gondola, the so called Dghajsa bring you back in style across the spectacular Grand Harbour to Valletta, and drop you off just by Victoria gate for €3.50.
By plane
The island's sole airport is
Malta International AirportThe airport is the main hub for flag carrier Air Malta and a base for Ryanair with numerous flights all around Europe and the Mediterranean countries. The airport is also served seasonally by numerous European airlines from their respective hubs, but increasingly flights are available year-round
The X4 bus runs from the airport to Valletta, with generally two buses per hour taking about 20 minutes, costing €2.00 in summer.
Get around
The Valletta peninsula is only a couple of kilometres in length and so the ideal way is to do everything on foot, which enables you to take many shortcuts via stairs. However, the city is built on a ridge, and is steep in parts (requiring walking up and down stairs in some places), which can be tiring. The alternative would be doing it by car which is not ideal for visitors due to lack of parking space, direction signs and the fact that the streets are very narrow, often one way and confusing if unfamiliar. Most of the main tourist attractions are along the main street (Triq ir-Republika) which does not involve steep hills.
Another possibility is to rent one of the horsecarts (Karozzin), but be sure to
haggle
over the price.
By taxi
A fleet of electric min-cabs operate during the daytime in Valletta, with a maximum fare of €5.00.
By bus
Bus route 133 operates a circular path around Valletta, departing from the bus terminus going round the peninsula including the Valletta Waterfront, Fort St. Elmo and many other locations. However, since most of Valletta is better accessible on foot, use this bus only to visit a particular location rather than for general sightseeing.
By lift
Barrakka LiftA two-cabin lift between the waterfront and the main city level, taking 23 seconds to cover 58 m.
See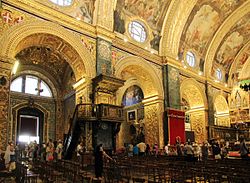 In debatable order of importance:
St. John's Co CathedralUnremarkable from the outside, but incredibly ornate on the inside. Each of the different 'langues' (knights of a particular nationality had their own langue) has a their own chapel lined along the side of the nave in which they try and outdo each other in splendor. The barrel shaped ceiling is a single huge fresco, the lifework of famed artist Mattia Preti. And last but not least the floor is entirely taken by knight's graves all intricately inlaid marble in different colours, a recent book on the subject describes it as the 'most beautiful floor in the world.' This relatively unknown cathedral can count itself one of the most impressive in Europe. Entrance is through the Carappechia Annex on Republic Street in between St John's Street and St Lucy Street, directly opposite the Law Courts. As soon as you enter you will be provided with an audio guide included in the entrance fee which leads you through the cathedral in 24 stops enabling you to get further historical information about the paintings and special parts of St. John's Co-Cathedral.
The Cathedral MuseumHolds two works by Caravaggio who was briefly himself a Knight, one of them being his masterpiece the famous huge "Beheading of St. John the Baptist."
phone: +356 21249349

Now it is the President's office and the Maltese parliament. The staterooms, when accessible are quite impressive. It also houses the Knights' armoury which is open to visitors daily from 09:00-17:00. (However, all other parts of the palace are closed to visitors, so what they can see is limited.) At the entrance you can receive an audio guide which is included in the entrance fee. It provides you with further historical information about the various armoury of different eras beginning from the medieval chain mail up to the 17th-century armour.
phone: +356 243776, +356 251284

address: St Elmo Bastions, Mediterranean St

Despite not being cheap, visitors who have any interest in culture or history and who haven't exhaustively read up on the country before coming here would do well by starting their visit to Malta by going here as it is an excellent introduction to the country. It gives an impression of major events that shaped the country, but as it's only half an hour long and meant for first-time visitors one shouldn't expect an in-depth dry scholarly treatment of the subject.
The Upper Barrakka GardensThe gardens offer a jaw-dropping view of the Grand Harbour. Go on a sunny day and bring champagne!
The National Museum of Archaeology

phone: +356 2122 1623

address: Auberge de Provence, Republic St

Even though Malta has an impressive and unique ancient history, this museum housed in the former Auberge de Provence in Republic street can be rather a disappointment. The museum is partially being renovated hopefully bringing something more worthy of its name.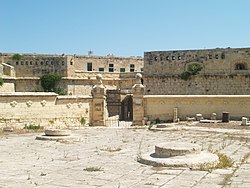 Fort St. ElmoBuilt at the tip of the peninsula by the knights after the Dragut Raid of 1551. During the Great Siege of 1565 the Turks made the mistake of choosing to first take this fort, for which they had planned a week. Instead the knights and soldiers present fought desperately for a month, buying essential time. The knights in the fort knew they were fighting to the death, and so rather than being taken off the ramparts when wounded, knights would fight on seated in chairs until they couldn't even lift their arms anymore. Today the fort houses the National War Museum and the Police Academy. The National War Museum is mainly focussed on World Wars 1 and 2, but covers the period from the Bronze age onwards.

Fortifications of VallettaThe imposing defence walls and ramparts at the entrance to Valletta built by the Knights in the late 16th century are interesting to explore.

phone: +356 2123 6585

address: 36 Old Treasury Street

An evocative old library on Republic Square, next to the Grandmaster's Palace. Only part of it is open to the public: you will need to take a passport or other photo ID to get in. The entire archives of the Knights of St. John from the Crusades in the 11th century until 1798 when Napoleon took Malta, are kept here, in true Maltese style in rickety wooden filing cabinets. They were proud to mention that recently a sprinkler system had been installed to protect this priceless collection.

The Sacra InfermeriaThe great hospital built by the knights in the 16th century, open to everyone, it had the highest level of healthcare available in Europe at the time. It was mostly destroyed during WWII, it was rebuilt and now functions as a conference centre. It is rarely open to the public.

phone: +356 2122 1499

address: 74 Republic St.

A Maltese noble family house on Triq ir-Republika, a few hundred metres past the Grand Master's Palace on the right hand side. Very enjoyable.

St. James CavalierA fortress opposite the Auberge of Castille (today the Prime Minister's office) which was built as part of the elaborate defence systems of Valletta. Today it houses a 'Centre for Creativity', with its own theatre, cinema, music room and exhibition halls. Its twin, St. John Cavalier, is the embassy of the Knights of St. John who are, like the Vatican, recognised by several countries as a sovereign entity.

phone: +356 2142 4231

address: Triq Ic Cimiterju, Paola

The Hal Saflieni Hypogeum is a subterranean structure excavated c. 2500 BC. Thought to have been built as a sanctuary, it became a necropolis in prehistoric times. It is the only prehistoric underground temple in the world. To ensure its conservation, the site's microclimate is strictly regulated. For this reason, the site is open to a maximum of 80 visitors each day. Each tour is limited to ten visitors. A tour of the site starts with a brief introductory exhibition and multilingual audio-visual film focusing on the temple building peoples and the Hypogeum's relationship to Malta's temple sites. Booking in advance on the Heritage Malta website is strongly advised. If unable to book in advance, tickets for tours the next day at 12:00 and 16:00 are sold at the Valletta Museum of Fine Arts the day prior. They are sold at a first come, first serve basis. Depending on the season, lining up prior to the opening of the museum is a necessity for purchasing tickets. Plan on lining up anywhere from half an hour to an hour and a half in advance to ensure ticket purchases.

address: Triq It Tempji Neolitici, Tarxien

This site, dating from 3600 to 2500 BC, is the most complex of all temple sites in Malta and consists of four megalithic structures.

Lascaris War RoomsUnderground complex which was used as the British HQ during the defence of Malta in World War II.

address: Independence Square

Anglican cathedral built in 1844, with memorials to the World War 2 defence of Malta.

address: 135 Archbishop Street

Museum run by Maltapost, including a working post office.

City GateThe fifth incarnation of the main entrance to the city was built between 2011 and 2014 to design of the Italian architect Renzo Piano. The first gate on this site was built in 1569.

Parliament HouseMalta Parliament building built between 2011 and 2015 at a cost of €90 million to a design by Renzo Piano. The building's design of two large stone blocks on stilts is controversial, but it has low emissions with solar panels on the roof. Public access to the building is restricted.
Do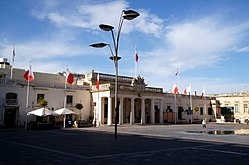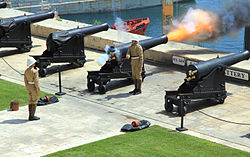 Coastal WalkYou can take a spectacular walk along the sea around the outside of the city walls. If you go to the mooring place where the ferry for Sliema leaves, there is the possibility to walk over the rocks towards the tip of the peninsula and then around it coming back up into the city just next to the Malta Experience. This walk takes about 30 minutes and is done by virtually no-one.

St George's SquareAt night in St George's Square, there is a lovely water fountain, with coloured spouts of water which pop up and down - a fantastic play opportunity for children. They will get wet, so don't let them go near if they are wearing their best clothing. Great fun for kids.

Audio GuideTo get further historical information about the numerous places of interest through Valletta it can be useful to get an audio guide. It is available in different languages from the Archeology Museum in Republic Street. You can choose independently from the 24 stops and it is not necessary to follow the given order. Stops can easily be skipped or visited in another sequence when tired or full of the new information.

address: Battery Street

A gun is fired twice a day, at 12:00 and 16:00.

phone: +356 21246389, +356 22-26-18

address: Old Theatre St,

'La Scala' in miniature, a very beautiful 17th-century theatre in original state. One of the oldest active theaters in Europe, it is the place for many classical music performances but also for instance the hilarious Christmas Panto.

phone: +356 22478100

address: Casa Cassar, Triq il-Vittorja

Open theatre on the site of the former Royal Opera House which was destroyed by a bomb in 1942. The outdoor theatre was designed by Renzo Piano and opened in 2013.

Valletta International Baroque FestivalFestival of baroque music concerts and operas.
Learn
Several of the Maltese English language institutes are in Valletta.

Buy
The main street of Valletta is Republic street, a busy pedestrian zone leading down the middle of the Peninsula from the main gate down to Republic square, this is where many of the better shops are located, although it cannot quite compete with Sliema for clothing.
The best souvenir shop (the least worthless trinkets etc.) can be found at the Malta experience, but there are many other reasonable souvenir shops in Valletta. At the beginning of the Republic street there are several reasonable souvenir shops but prices are far cheaper if you walk 20 meters down South street (turn left if you have the bus station behind you) which crosses Republic street very soon after you have entered through the city gates.
phone: +356 2123 3621

address: 26 Republic St

The best bookshop of Malta is definitely the one formerly known as Sapienzas on Republic Street but can be a bit more expensive.
There is a daily market selling cheap clothing in the parallel street to Republic street called Triq il-Merkanti, or Merchants street.
Farmers MarketEvery Sunday there's a market in front of St. James Cavalier, with local food products and textiles.

Fish MarketEvery morning you can buy fresh fish next to the Castillan Curtains.

Malta Government's Crafts CentreAt Malta Government's Crafts Centre local handicrafts are presented, and while you can't buy them there, at the centre they will inform you where the individual objects can be bought.

address: Triq Ir-Repubblika 305

The only large supermarket in town, with a great wine selection on the basement floor.
Eat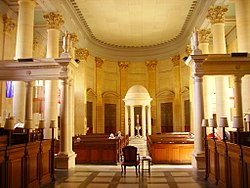 Valletta has a good selection of decent restaurants, especially along the waterfront. Since most tourists stay in Sliema or on the north coast of the island there are fewer of the trashy variety, although it does have the usual fast-food chains. Look out for traditional bakeries, with steaming fresh bread for mere cents.
Budget
At almost every corner you can find
pastizzerie
selling pies stuffed with cheese or peas, for just 30-50 cents each and are a popular late-night snack.
phone: +356 2122 3256

address: 174 Merchant Street

Indian restaurant with a dash of Maltese, Med and Arabian in a cosy and homey atmosphere.

phone: +356 2123 6212

address: 21/22 Merchant Street

Good food for reasonable prices in a charming location near cathedral - big portions. On 3rd floor of Luciano Hotel.

Café with fresh sandwiches, soups, salads and home made cakes. At the counter you can choose salads to eat in or take out.
Mid-range
phone: +356 2124 3677

address: Castille Square

Great view and tasty food.

phone: +356 2124 8029

address: 136 Melita St

A place where locals go for lunch. Good seafood.

phone: +356 2123 4385

address: 244/5 Republic St

Venerable cafe, popular for lunch or for pastries & coffee in the coffee bar. Mixed reviews of the food.

Malata Restaurant

phone: +356 2123 3967

address: St Georges Palace Sq

If you are looking for a place in Valletta to have dinner on a terrace, then this is a nice place to go slightly later in the evening when the square in front of the Grand Master's palace is almost emptied of parked cars.

Maltese traditional cuisine is served in this restaurant which was opened in 1906. Prior reservation recommended.

Fish restaurant right next to the sea. They serve freshly caught fish, lobsters and oysters.

phone: +356 225-81535

address: Triq St Dominic, 143

Bakery famous for its ftira (traditional Maltese ring-formed bread). Also serves Maltese dishes and desserts.
Splurge
Often upscale Asian restaurants don't live up to the expectations, at least when it comes to the food. Many such disappointing restaurants are in big upscale hotels.
phone: +356 2122 7773

address: Waterfront, Floriana

Tucked a few meters away from the Valletta waterfront, a fine restaurant that offers great food and a selection of more than 150 wines.

The menu varies daily with 5-8 dishes available every day.

Café Deux Baronnes

address: Triq Sant' Orsla

Expensive even by local standards, but the cafe has a relaxed atmosphere and a good view of Grand Harbour and Fort Sant'Angelo.
Drink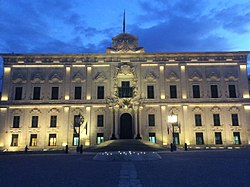 phone: +356 2122 3036

address: 2 Strait Street

A charming wine bar in an ancient cellar serving light meals. It's at the beginning of a small alley parallel to Republic street, look for the wooden sign with the corkscrew. The bistro is opposite, on South Street.

Rampila Restaurant and Wine bar

phone: +356 2122 6625

address: St John's Cavalier

Maltese-Mediterranean fusion restaurant and wine bar in the impressive bastions. You can enjoy a fine plate of fresh seafood, meat, game, pasta or risotto there or enjoy a platter and/or dips accompanied by wine from an extensive selection.
Sleep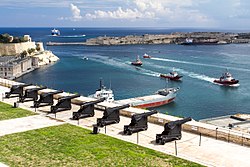 Budget
In Valletta proper, accommodation is rather expensive with nights at midrange hotels often costing €150-200 even in the low season. If you don't want to spend too much of your travel budget on the place to sleep, consider staying in one of the surrounding towns where rates are much lower.
phone: +356 2123 9506

address: 18 St Ursula St

Small guesthouse. Rooms not en-suite, but three double bathrooms between nine rooms means there is no problem with accessing facilities. Price includes breakfast in a lovely room with a huge chandelier.

phone: +356 2124-6003

address: Battery Street, 47

Rooms equipped with tv, hair dryer, laptop safe, coffeemaker,ironing equipment for clothes. The terrace overlooks the Grand Harbour, but most of the rooms overlook the courtyard.
Mid-range
Splurge
Stay safe
Apart from some restaurants and bars open in the evening Valletta still has next to nothing happening in terms of nightlife, so apart from Republic street the streets are quite empty late at night. Most of the usual petty crime that travelers are confronted with happens in Sliema and St Julians, but it's something to keep in mind.

Connect
Many businesses (restaurants, hotels etc.) offer free Wi-Fi, in addition to the "Free Wi-Fi" zones that exist around Malta. The country has several mobile carriers and your phone will work just like elsewhere in Europe.

Cope
Embassies
phone: +356 2260 4000

address: Whitehall Mansions, 3rd floor, ix-Xatt Ta'xbiex XBX 1035

phone: +356 2732 0888

address: Villino Fond Galland No 6 IR' Rampa, Ta'xbiex XBX 1035

phone: +356 2561 4000 (for regular and emergency service)

address: Ta' Qali National Park, Attard
Go next
Almost all of Malta's bus routes start from the large roundabout just outside the main gate, making everywhere in the country accessible.
There is also the ferry which goes to
Sliema
, across the bay to the northwest. Sliema and
St. Julian's
further northwest are more modern towns and unlike Valletta more geared towards nightlife and partying.
Valletta is a UNESCO
World Heritage Site
but two more can be found in the suburb of Tarxien, in the form of the Megalithic Temples and the Hypogeum