Valozhyn
Valozhyn
(
Volozhin, Wołożyn
) is a town in
Minsk Oblast
,
Belarus
.
Get in
Valozhyn is reachable by bus or by car.

See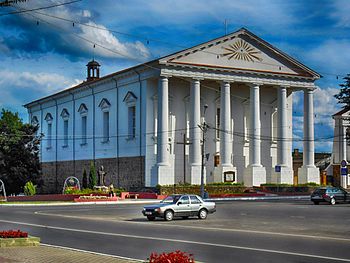 Church of Saint JosephA Catholic church built in 1816 in Classicist style. The exterior is more interesting than the interior.

Church of St. Constantine and St. HelenA wooden Orthodox church from 1866.

YeshivaA Jewish religious school. No longer active, but the building is very well preserved. The yeshiva was founded in 1803 by rabbi Chaim of Volozhin, and enjoyed local fame throughout the 19th century, especially while rabbi Naftali Zvi Yehuda Berlin was the dean.

Tyszkiewicz palaceA residence of a wealthy noble family. A part of it is now used for militia (police) offices.