Vanadzor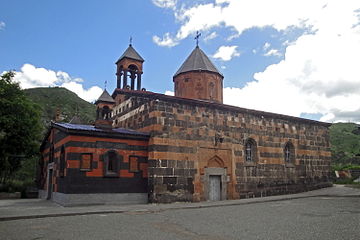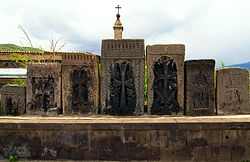 Vanadzor
(
Armenian
: Վանաձոր) is the capital of
Lori Marz
, in the
North Central
part of
Armenia
.
Understand
Vanadzor is Armenia's third largest city, with a population of about 105,000 people. There are a few old churches, however big part of the city has been built during the time of the Soviet Union with a grand central square, a humongous old Soviet chemical factory which has been idle for decades, and a river running through the somewhat narrow valley, surrounded by hills.
Most of the attractions in Lori are along the Debed River canyon to the north, or around
Stepanavan
, and although Vanadzor can be used as a base to explore these due to its perfect transport connection, finding a place closer to them might be preferable.
Get in
By train
The city lies on the railway connecting
Tbilisi
and
Yerevan
.
Railway stationProvides sitting area, cachier desks, toilets, some simple snacks. Taxis are abundant.
By bus
The bus station is adjacent to the train station. Vanadzor is well connected by bus from all cities in northern Armenia. Lots of options, to name a few:
Marshrutkas (minibuses) from
Yerevan
are inexpensive (1200 dram) and will take you to Vanadzor in a couple of hours. They depart from Kino Rosia, above the Zoravor Andranik metro station, across from the national cathedral in Yerevan.
By taxi
Shared taxis in Yerevan leave from the same spot as marshrutkas, and are a bit more comfortable, fast and a little more expensive. Virtually any taxi in Yerevan will take you there for 100 dram/km, which adds up to about 12,500 dram, unless you're a good negotiator.
Get around
Center of the city where lies almost all main attractions is quite miniature and walkable. You'll need to get a transportation if heading to some outer monasteries or perhaps to Botanical Garden (which is about 1.5 km from the center).
Taxis are available, and practical for visiting sites in the nearby area. Majority of the taxis are equipped with meter, but you might want to agree on the price beforehand to avoid being scammed, but it's close to impossible here. Taxis running on gas are less expensive than those on petrol. Expect to pay about 100 dram per km plus a starting fee of 500 dram (2015).
Marshrutkas (minibuses) are as always available.
See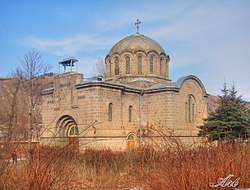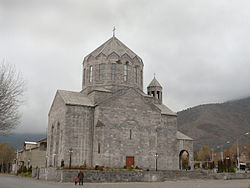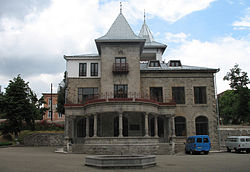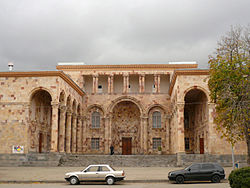 Church of the Holy Mother of GodVery old black and orange stone Armenian church. It is one of the nicest examples of historic architecture in Vanadzor. It was built in 1831 and then renovated in 1999.

Russian church of the Nativity of Virgin MaryA very nice old church with a golden dome built in 1895.

Saint Gregory of Narek CathedralThe groundbreaking service for the new cathedral of the diocese of Gugark took place in May 2002. In 2003, His Holiness Karekin II; the Supreme Patriarch and Catholicos of All Armenians, conducted the blessing service for the foundation of the cathedral. The construction of the cathedral was completed in 2005 and named after Saint Gregory of Narek, to commemorate the 1000th anniversary of his Book of Lamentations.

The Prelacy of the Diocese of Gougark

Train StationIf you want to get a taste of the Soviet Union, head to the train station right by the Russian Church. Classic Soviet architecture of its time, which has remained virtually untouched since the collapse of the USSR. The train which used to connect Vanadzor with all of Eastern Europe and the world, now only gets you as far as Tbilisi, so the crowds are gone, but the shell is still there.

Mashtots Hill Archaeological SiteArchaeological site dating back to the 4th-3rd millennia BC.
Museums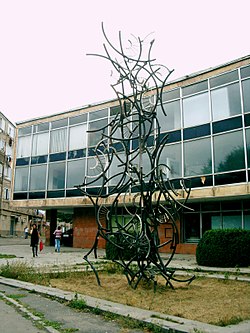 Lori-Pambak archaeological museum

address: 1 Tigran Mets st.

Museum shows items found in Lori region and as itself is divided into 3 departments: archaeology (covering the earliest periods of human civilization in this area, displaying items such as swords, furniture, ornaments), ethnography (agricultural equipment, rugs, carpets) and new history department which focuses on the 19th-20th centuries and prominent people of that time.

House-museum of Stepan Zoryan

phone: +374 51 43093

address: 24 Stepan Zoryan st.

Stepan Zoryan was a Soviet Armenian writer. The museum in his honor was opened at the writer's own house in 1972. It shows how author lived and wrote his works.

phone: +374 322 43938

address: 52 Tigran Mets

1,700 paintings and sculptures are exposed to public in this 3-floor Soviet building. They are mainly works of local artists of wide range of genres.
Do
Parks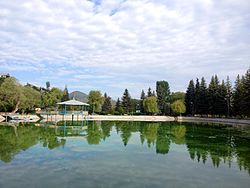 Vanadzor Botanical GardenIt was established in 1935, occupying southern hilltops of a town where more than 600 species of plants are found.

Vanadzor Central park

ParkIt has a pond where lots of locals swim in its murky waters. Peddle boats are available for rent. There is also a small cafe serving coffee, drinks and desserts.

Sayat Nova park
Buy
Vanadzor MarketOpen air market where is mainly food is sold.
Eat
Lav Teh

phone: +374 94 44 59 90

address: Tumanyan street 11a

Friendly, nice and quick restaurant.

Pizza "Tashir"

address: 65a Tigran Mets

Popular Armenian restaurant chain serving mostly pizzas, salads, soups, desserts.

Restaurant "Tiflis"

Restaurant "Nshkhark"

Restaurant "Tagavoranist"

Cafe "Lori"

Restaurant "Oasis"

address: Tigran Mets Ave

Big portions, tasty dishes, one of the best options to eat in town. European and Armenian cuisine. Open air terrace.

Jazz CafeQuite decent food, desserts and alcohol cocktails. Pianist plays in the evenings and jazz band on Saturdays nights.

Restaurant "Elkani"

phone: +374 322 41919

Claimed to be a 5-star restaurant.
Sleep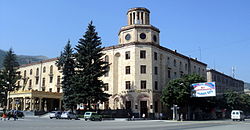 phone: +374 322 40015, +374 322 20932, +374 91 310070, +374 91 428611

address: 8d Banak Str

A 5-minute walk from the centre of Vanadzor, Green house hotel is a first-rate building surrounded by the green park with beautiful trees and flowers. Stylish furniture and modern design in the 15 nicely furnished rooms.

"Argishti" Hotel

phone: +374 322 42556, +374 322 42557, +374 322 42558

address: 1 Batumi Str

The hotel "Argishti" is a three-storey building, located in the center of Vanadzor Town. The interior part of the hotel has been designed with the elements of the national style and coloring. The hotel rooms have bathrooms, with all necessary components, refrigerators, color TVs, satellite, telephones and hair-driers. It has an International telephone communication.

"Gugark" Hotel

phone: +374 322 41510

address: central square

Good no-frills budget option.

phone: +37491380305

A back deck with mountain views, large living room, aside deck overlooking

the lush perennial garden. Homemade breakfast. Will make restaurant and tour reservations.

Vanadzor Spa and Hotel Complex

address: 31 Zakaryan St.

"Gross" Hotel

phone: +374 322 4 15 53

phone: +374 322 47010, +374 98 417010

address: 1 Mashtotsa St.

Rooms have cable TV, free WiFi, private bathroom. Splendid views of the mountains. 24-hour front desk. Table tennis.

phone: +374 322 5-00-09

address: 68 Yerevan Highway

Offers an outdoor pool, sauna, free WiFi. Very high ratings on a booking sites.
Cope
Laundry
There is only one laundry in Vanadzor.
Bakmar Laundry

address: Tigran Metz Avenue
While the cheapest option could be if you stay in "Gugark" Hotel, where you can ask for laundry service. Cost depends on negotiation, but could be as little as around 500 dram for one washing machine.
Go next