Vancouver/City Centre
The
City Centre
is the heart of Vancouver's downtown and contain the city's Financial District, the Granville Entertainment district, and many of its hotels, clubs and historical buildings. For the visitor, it's a good place to make a base to explore
Vancouver
because of its easy access to public transit, shops and restaurants. And if you want to sample Vancouver's cuisine or nightlife, or take in the mountains and harbour, it's a great place to be.
Get in
The City Centre is the destination for most transit users, so it's not much of a stretch to say all roads, buses and trains lead here.
Waterfront Station
is the main hub (
Cordova, at the foot of Granville St
), with the Skytrain, Seabus and many bus routes terminating there. A large number of buses also pickup outside
Burrard Station
(
corner of Burrard & Dunsmuir Sts
).
Driving into and around downtown isn't usually a problem outside of rush hour, but it can be a nuisance (particularly parking), so your best bet is to leave your car outside of the city centre and use SkyTrain (from the east or south) or SeaBus (from the
North Shore
). If you drive,
Georgia Street
is the main street through the CBD. It continues on through
Stanley Park and the West End
and across the Lions Gate Bridge to the North Shore. Access from the south is by bridge over False Creek (the Burrard, Granville and Cambie bridges). All of them will lead downtown so just take the one closest to you.
Parking downtown is as you would expect for a city centre: expensive and, at times, hard to find. Expect to pay between $12-25/day for parking in a parkade. On-street parking meters are in effect from 9AM-10PM, 7 days a week. Many of the streets become no parking zones during rush hour.
By bicycle
There is also plenty of bike rental stores available in the area. Which serves as an easy access to the seawall and Stanley Park.
phone: +1 604-559-5450

address: Waterfront Station, 601 W Cordova St #25

High quality bike rentals at reasonable prices.
See
Bill Reid Gallery of Northwest Coast Art

phone: +1 604-682-3455

address: 639 Hornby St

The Gallery showcases the permanent collection of acclaimed Haida artist Bill Reid (1920–1998) and changing exhibitions of contemporary Northwest Coast Art. Gallery highlights include over 40 pieces of Bill Reid's gold and silver jewelry, Reid's bronze masterpiece Mythic Messengers, several of Reid's works that were featured on the Canadian $20 bill and a full-scale totem pole, carved by James Hart of Haida Gwaii.

Jack Poole Plaza

address: Canada Place & Thurlow St

Brick-paved plaza with good views of the North Shore mountains, Stanley Park and Coal Harbour. It is also the home of the Olympic Cauldron.

Library Square & Vancouver Public Library

phone: +1 604 331-3603

address: 350 W Georgia St

The modern and attractive central branch of the City of Vancouver's Public Library is located in an architecturally interesting building, designed by Moshe Safdie. Constructed as a 'square within a circle', this building is reminiscent of a modern Roman Colosseum. Its design was chosen in a public competition. There are large public spaces around the building and a nice atrium space in the lobby. Guest internet access is available at VPL and visitors can also obtain guest wireless privileges from the library. If you prefer not to obtain a guest login, there are a few terminals that allow access to selected resources (bus schedules, government pages, etc) without logging in.

Robson Square

address: 800 Block, Robson St

Both an office building and public space designed by Vancouver architect Arthur Erikson, it houses the Provincial Courts and a satellite UBC campus. The building, which was built to represent a skyscraper on its side, is noted for its use of water and greenery and is mostly underground. The public space features a skating rink underneath Robson Street, which is the only outdoor rink in Vancouver.

phone: +1 604 662-4719

address: 750 Hornby St

You can see and learn a lot about Emily Carr in the permanent collection, but the rest of the gallery varies in quality depending on what they have been able to attract as special exhibits. Take advantage of admission by donation on Tuesday (5PM-9PM) and sample what is there before paying the full admission.

phone: +1 604 689-0421

address: 555 W Hastings St

Located on the top floor of the Harbour Centre, the Lookout offers a full 360-degree panoramic view of the city from 130m up. You'll see the downtown area, Stanley Park, the North Shore mountains and even the skyline of nearby Burnaby. The ticket is good for two trips during the day, so you can see it in the daytime and return for the sunset view.
Architecture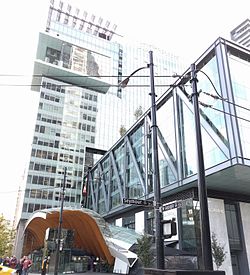 While Vancouver may not be famous for its architecture, the City Centre is home to some unique buildings both new and old.
address: 999 Canada Pl

Built for Expo 86 as Canada's exhibit, today the building serves as a cruise ship terminal and convention centre, and is also the site of an IMAX theatre and the luxurious Pan Pacific Hotel. Walk around the unique sailed structure and take in views of the building itself, Coal Harbour, and the North Shore. It uses white colour with a roof of funky "sails" or "waves", which is a curved triangular shape, that has made it a modern gem.

Christ Church Cathedral

address: 690 Burrard St

Vancouver's oldest surviving church was completed in 1889. Often in the shadow of its neighbour, the 23 story Cathedral Place, you should visit in the afternoon to see the sun shining through the stained glass windows.

Marine Building

address: 355 Burrard St

This 22 story Art Deco office tower was completed in 1930. Because of the Great Depression, only four floors were occupied for the first several years. Note the attention to detail on both the exterior, and in the lobby.

Hotel Vancouver

address: 900 W Georgia St

The third such hotel in this spot, the Hotel Vancouver was built over 11 years and completed in 1939. As with all Canadian Pacific hotels in Canada, the chateau-style is truly impressive. The hotel's first guests were King George and Queen Elizabeth. Bring binoculars for a close-up view of the building's many gargoyles.

address: 1088 Burrard St

Voted the world's best new skyscraper in 2001 by Emporis.

address: 510 W Georgia Street
Do
phone: +1 604 683-0222

address: 835 Cambie St

Offers world-class performances from some of the world's best composers.

phone: +1 604 876-3434

A great night out at reasonable prices. Students can purchase $10 tickets with the VSO Access Pass.

phone: +1 604 266-0177

address: 1451 Hornby St.

A craft distillery of vodkas, gins, and other spirits, many of which bubble in the back room. Free tastings are offered on a 14-foot recovered-tree "long table" in the front room. If your only experience of gin and vodka comes from uninspiring mass-market pap, you are in for a treat. The friendly staff love explaining the finer points of which aromatics go in which chamber of their gleaming, copper 300-litre still. On Friday evenings 4-6PM, they park a food truck out front and hold a gin and tonic happy hour. Follow the buzz at #TGIGNT on Twitter.
Events & Festivals
4:20On April 20th people congregate at the Vancouver Art Gallery to smoke marijuana and celebrate this unofficial holiday, a reflection of B.C.'s relaxed attitudes towards cannabis.

address: 999 Canada Pl

A large, engaging, though somewhat corporate celebration of Canada's national holiday. The citizenship ceremony can be moving. There are usually several bands, fun activities for the kids, and exhibits of Canadian Forces and other bits of Canadiana.

phone: +1 604 925-1912

Restarting an old tradition, there is a fireworks display after dark on Canada Day. In 2008, this was a coordinated two-barge show, one barge off Canada Place and the other off West Vancouver.

Vancouver Zombie WalkUsually either in the summer or near Halloween, anyone can choose to dress up and act as the living dead during this parade through Downtown. Although this has only been in Vancouver for about 2 years, thousands of people have already participated, and at least 500 people each year join in on this zombie walk. It is free, and mostly for plain fun, and is also an unofficial event. Each year, there is a set meeting spot. Everyone then walks throughout Downtown and up streets and parks all in one large group.

Public Dreams Illuminares Lantern Festival

address: Coal Harbour Seawall outside Canada Pl

This popular annual festival, previously held at Trout Lake in East Van, is a feast for the eyes thanks to the procession of beautiful and remarkably creative handmade lanterns that light up the dark. Public Dreams holds lantern-making workshops in the weeks leading up to the festival so keep an eye on their website in early July for details.
Buy
Robson Street
downtown is the main shopping district. The intersecting Burrard & Alberni street houses some of the most high-end shops in the region.
Stores
address: 590 Robson St

Hidden on the second floor is a large grocery store featuring a wide range of high-quality, primarily Korean groceries. Part of a North American chain of Korean stores. The food court offers a number of good lunch choices, too.

phone: +1 604 682-1172

address: 307 W Hastings St

The BCMP "Bookstore" is arguably the centre of the marijuana subculture of Vancouver. It is the party headquarters for the provincial marijuana party as well as a store and lounge. Proceeds from the BCMP go towards the party and the legal battle against the extradition of the party leader who faces life in prison in the USA. The front half of the store is taken up by display shelves of bongs, pipes, rolling papers and pretty much anything you could imagine. The lounge costs $5 to go into but it has a very relaxing atmosphere and you're able to use the Volcano Vaporizers.

phone: +1 604 682-8955

address: 301 Hastings St W

The New Amsterdam Café, directly next door to the BCMP Bookstore, permits the smoking of marijuana. The Amsterdam offers a friendly environment to meet new people and to exercise some of the more unique freedoms that Vancouver offers. While it is not, however, generally permitted to buy or sell marijuana on or near the premises, it is not policed or enforced, so long as it in the spirit of sharing, within reason. They also sell a smaller number (but more impressive) selection of pipes, bongs, busters, rolling papers, and other marijuana-related items, including clothing. Of note are the array of specialist pipes, bongs, and busters, with the unusual titanium Space-Case also on sale.

Roots

phone: +1 604-683-4305

address: 1001 Robson St

Their fashionable designs with motifs of beavers, maple leaves, and canoes gave rise to what has been called "Roots nationalism", a kind of branded Canadian pride. There are several stores for this brand of clothing, bags and shoes in Vancouver, but if you're looking for a Canadian souvenir that is less obviously touristy, or are from the part of the world where the word "roots" with a picture of a beaver is a double entendre, this outlet store will probably be your best bet.
Eat
The different parts of the City Centre have diverse characteristics. The central business district has, as you would expect, a high number of coffee shops and lunch places, the West End has a wide variety of restaurants, Yaletown has a number of high-end restaurants and Chinatown has many Chinese restaurants. Some of the best Japanese food outside of Japan is in Vancouver and its Cantonese and Korean offerings are also reputable.
Budget
phone: +1 604-685-5333

address: 1101 West Pender St

Excellent coffee shop featuring "latte art," but it's still great. IntelligentsiA coffee available. Great espresso. This small chain has a total of four locations in this district, plus other locations in the Lower Mainland and Calgary.

phone: +1 778-708-0996

address: 534 West Pender St

They modestly claim the title of "best donuts in Vancouver". They certainly have some of the most interesting flavours. Try the "whiskey bacon" donut. Also coffee and tea, served with a friendly smile in a hip setting.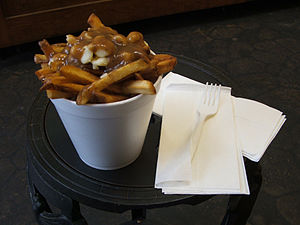 phone: +1-604-569-0708

address: 1262 Burrard St

An organic crêpes café, which also sells various freshly-baked breads of organic wheat, rye, spelt, and other grains. Well set up for a light breakfast, lunch, or snack. Free wifi.

Fritz Frie House

phone: +1 604 684-0811

address: 718 Davie St

This restaurant boasts what is arguably the best poutine in town. The curds are imported from Quebec. The garlic lover's mayo is fantastic too. Cleverly located next to the local Fitness World. $5 for a medium. Open until the wee hours in the morning, frequented by nightclubbers. Regularly wins local awards for fries.

address: 530 Robson St

A Vancouver street food icon that now has its own shop. It's a twist on the traditional hot dog with your choice of pork, turkey or bratwurst smothered in Japanese flavours and toppings like seaweed, miso glaze, Japanese chilli and teriyaki sauce. There are also several Japadog carts around downtown, some with a kobe beef option. Look for the carts on Burrard St and in front of Waterfront Station.

phone: +1 604 633-2451

address: 863 W Hastings St

The coffee is strong, the hot chocolate is rich and the chocolate is plentiful. Waffles and fruit parfaits. The chocolate fondue with pound cake and seasonal fruit for dipping is excellent (just make sure there's at least two of you to share!).

Pita Wrap Café

phone: +1 604 681-7634

address: 565 Dunsmuir St

The usual falafels, souvlakis, shawarmas and Greek plates, but very well executed.

Tree's Organic Coffee & Roasting House

phone: +1 604 684-5060

address: 450 Granville St

A coffeehouse featuring carefully selected, 100% certified organic, coffee. Justifiably proud of its reaaaally good cheesecake. This is the flagship of a small local chain; there are other locations in Yaletown, Gastown and Richmond.

Vancouver Community College Cafeteria

phone: +1 604 443-8479

address: 250 W Pender St

The cafeteria is run by the culinary arts program so you get gourmet food at cafeteria prices. Usually have a large seafood selection. Don't miss the Asian Food program which has a separate service area. As you would expect from students, the quality can vary. However, it is hard to complain when you get a fancy meal for less than $8.
Mid-range
phone: +1 604 688-2233

address: 750 Hornby St

A convenient place for grabbing a glass of wine or a quick bite to eat before wandering through the Vancouver Art Gallery or doing other activities downtown. Cafeteria style with a mix of sandwiches, paninis and different hot dishes each day. There's also a large selection of tarts, squares and cakes to satisfy your sweet tooth. Large outdoor patio; great for watching the activity around Robson Square.

phone: +1 604 685-3628

address: 560 Davie St

A restaurant that is famous for abusing its customersin a good way. Expect to line up to get in on weekends. Open for breakfast and lunch.

phone: +1 604 684-4617

address: 616 Robson Street

Vividly-flavoured curry, vindaloo, tandoori, and vegetarian dishes, spiced to your preferred level, and served promptly in a comfortable dining room.

The International Culinary School at The Art Institute of Vancouver

phone: +1 604 639-2055

address: 609 Granville St

A restaurant where culinary arts students make and serve the food. The menu aims for the high-end of Pacific Northwest cuisine, but prices are quite reasonable, reflecting that the staff are still in training.

phone: +1 604 687-2858

address: 1037 Alberni St

Corporate sibling of Yaletown's Glowbal. Valet parking most hours the restaurant is open. Reservations recommended.

Kalypso Restaurant & Ouzeria

phone: +1 604 689-5550

address: 1025 Robson St

This restaurant has a very pleasant second-floor patio above busy Robson St, which is a treat on a warm day. Well-done Greek food with a respectable vegetarian selection.

Kamei Royal

phone: +1 604 687-8588

address: 1030 W Georgia St

This is the Japanese restaurant to which you can bring your homesick Japanese business partners. Excellently prepared, professional-grade sushi, rice dishes, kushiyaki, and cooked-at-the-table sukiyaki. An authentic Japanese atmosphere, from the irasshaimase greeting to the pretty pictures in the bilingual menus to the serene decor. Tucked above a Tiffany's store on the second floor, you look out over the crowds on Georgia and Burrard, or inside at the chefs in the glass-walled kitchen. Another branch is on W Broadway in Kits.

phone: +1 604 879-3114

address: 780 Richards St

Menu includes Moroccan-influenced dishes, fricasse (fried eggs with braised short ribs) and Belgian waffles with a choice of unusual sauces like milk chocolate lavender and white chocolate pistachio rosewater, plus many other breakfast and lunch concoctions. The new location now seats about 75 or so, but lineups and long waits are still normal, especially for brunch on weekends.

phone: +1 604 633-0355

address: 1099 Richards St

"Plus Alpha" is a Japanese term meaning "a little extra", and this compact fusion of polished Japanese with trendy Yaletown provides a little extra interest, a little extra style, a little extra fun. New interpretations of contemporary Japanese standards such as Pumpkin Croquette and "Pimp My Tofu". Lychee martinis in a futuristic glass. A good place to get a dinner with that "plus alpha".

Shabusen Yakiniku House

phone: +1 604 669-3883

address: 202 - 755 Burrard St

A Japanese and Korean BBQ House specializing in a large all-you-can-eat menu. Fun part of eating here is that you can order raw meat and cook it yourself on the grill installed at the table. There is another location in South Granville.
Splurge
Drink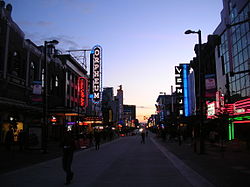 Many of Vancouver's nightclubs are located in the Entertainment District along Granville Street from Robson to the Granville Street Bridge.
Commodore Ballroom

phone: +1 604-683-9413

address: 870 Granville St

This is a large venue frequent location for live concerts. Has a large famous 'sprung' dance floor. Capacity is 900 people. On most nights, tickets are required to get in.

phone: +1 604-564-1430

address: 579 Dunsmuir St

Popular bar that frequently features live music. The crowd is a mix of ages, although probably more 30+. It's not a big place, so it gets packed easily. There are more tables at the other end of the long bar if you want to sit down and talk.

phone: +1 604-331-7999

address: 932 Granville St

Long-time Vancouver club which features top 40 rock. The house band, Dr. Strangelove, covers some of the best of the recent 'classic rock' and dance music.
Sleep
The city centre has a wide range of accommodation options to suit every traveller's budget and style, but it's definitely tilted towards the higher end. Independent, boutique and chain hotels are all there so shop around and you will probably find something that suits your needs. The most expensive hotels tend to be in the main business district — between Georgia and the waterfront — with the priciest overlooking the harbour and mountains. Cheaper options tend to be more to the edge of the city centre, closer to False Creek and Yaletown. Hostels are located near the nightspots: along Granville Street or near Gastown.
Prices noted below are generally for the summer season when rates are most expensive.
Budget
If you are planning to stay in a hostel downtown, it is probably better to ensure it is located west of Main Street and caters mainly to backpackers (tourists on a budget). Staying downtown keeps much of the frequently visited spots in walking distance. If you were planning to find a cheap (significantly less than $90) hotel downtown, you should know that it is likely to be located in the "East Side", infamous for its prostitution and drug problems.
Mid-range
Splurge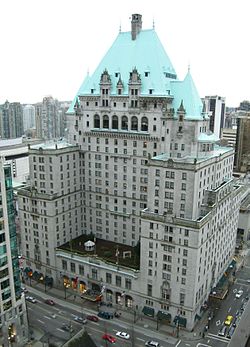 phone: +1 604 684-3131

address: 900 W Georgia St

Vancouver's grand old hotel. Beautifully decorated and a firmly established part of Vancouver's history. The lounge is noted for its traditional afternoon tea.

phone: +1 604 691-1999

address: 900 Canada Place Way

A 5-star hotel with a stunning view wherever there's a window. Across from Canada Place.

phone: +1 604 689-9333

address: 791 W Georgia St

Luxury hotel decorated in classic style but with modern amenities. Pool, gym and the excellent restaurant and bar "YEW".

phone: +1 604 632-3000

address: 567 Hornby St

Suites and guestrooms with luxury touches like marble bathrooms and unique artwork and decor from local artisans and the Old World. Rated "One of the Top 100 Hotels in the World" - by Resorts & Great Hotels Magazine.

phone: +1 604 669-5060

address: 1177 Melville St

Has the modern look and feel with earthy tones, deep soaker tubs and a yoga studio. There's also a 24 hour fitness center and free bike rentals. The floor to ceiling windows provide good harbour or city views (depending on which way your room faces).

Marriott Pinnacle Downtown Hotel

phone: +1 604 684-1128

address: 1128 W Hastings St

A good weddings and meetings hotel steps away from the harbour and cruise ship terminal. Fitness centre, indoor lap pool and whirlpool.

phone: +1 604 687-1122

address: 645 Howe St

Luxury hotel featuring marble washrooms and soaker tubs.

phone: +1 604 662-8111

address: 300-999 Canada Pl

A harbour location just steps away from Stanley Park. If you are staying here, consider paying extra for a view of the coast mountains. At these prices, it would be a shame to miss out on the view.

phone: +1 604 682-5566

address: 801 W Georgia St

A historic Vancouver hotel where the rich and the royal have stayed in the past. Those guests have moved on but the hotel retains a mix of elegant rooms and suites. Amenities include a fitness center and indoor saltwater pool.

phone: +1 604 689-1120

address: 1128 W Georgia St

A luxury hotel located in the tallest building in Vancouver with 119 guest rooms, executive suites and space for meetings and events. Rooms include marble bathrooms, PVRs and floor to ceiling windows to take in the marvelous view. Other amenities include a 24 hour health club, outdoor pool and access to the Chi spa. The hotel also offers MARKET by Jean-Georges, Jean-Georges Vongerichten's Canadian debut.

phone: +1 604 682-5511

address: 845 Burrard St

Classic-styled luxury hotel with spa, gym, concierge and the usual room amenities. Reviewers like the ambiance, the friendly staff and the location, but find the WiFi signal weak and thought some of the furnishings looked a bit dated.

phone: +1 604 689-7777

address: 845 Hornby St

European-style boutique hotel listed on Conde Nast's gold list. The decor isn't modern but reviewers like the elegance and class of the hotel and found the rooms well appointed and comfortable. Amenities include a spa and fitness centre and business centre for internet access (no wifi in rooms).
Go next