Vancouver/Commercial Dr-Hastings Park
Commercial Drive-Hastings Park
makes up part of "East Vancouver" (or East Van). Its main draw is Commercial Drive (known locally as
The Drive
), which is one of the most interesting areas of Vancouver in terms of ethnic and culinary diversity. There is also a strong artistic and activist community located in the Commercial Drive area. For the purposes of this guide, the district covers everything from Gore St in the west to
Burnaby
in the east, and everything from the Burrard Inlet in the north to King Edward Ave/25th Ave in the south.
Understand
East Van is traditionally the more working-class area of Vancouver. However, the area has become more gentrified as the Vancouver housing market develops.

Get in
By public transit
The
SkyTrain
has a number of stations within the district. The main stop is
Broadway/Commercial Drive
, which is close to the heart of Commercial Drive and has connections to bus routes.
There are also a large number of
bus routes
servicing Commercial Drive-Hastings Park. The following are some of the most useful ones for getting in and around the district:
#9 runs the length of Broadway, connecting to UBC.
#14 & #16 share the same route along Granville Street then on Hastings Street. Both of these busses can be taken from Downtown Vancouver to the PNE.
#20 starts in the central business district and runs along Commercial Drive.
#135 travels between Burrard Skytrain Station and Simon Fraser University. While in Vancouver, the 135 is an express bus and can be used to go to the PNE.
#99 B-Line is the express version of route #9.
By car
Driving is certainly doable, and likely faster than public transit, but it can be slow with the traffic and lights (remember, there are no expressways). Coming from the City Centre or Gastown-Chinatown, both Hastings St and Georgia St intersect with Main St, with Hastings continuing on to cross the district from east to west in the north end. Broadway or 12 Ave/Grandview Highway are good connectors if driving from
Kitsilano
or
Mt Pleasant
.
By bike
The Adanac bikeway (along Union St then Adanac St) goes from Downtown to the district, and connects to Burnaby's bike routes.
See
phone: +1 604-298-1847 (pool)

address: 3201 New Brighton Rd

Good-sized park tucked on the shore of the Burrard Inlet between port facilities. It provides an interesting, grittier view of the North Shore mountains with the port facilities and Second Narrows Bridge in sight. Amenities include playing fields, a children's playground, a beach and a trail along the shore. There is also the New Brighton Pool, a heated outdoor pool that is usually open from the Victoria Day long weekend to Labour Day (late May to early Sept).

phone: +1 604-254-1631

address: at Hastings Park

Horse racing on most weekends.
Do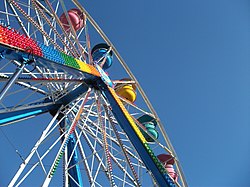 phone: +1 604-253-2311

address: 2901 E Hastings St

Two week exhibition where extra rides and events are added to the usual Playland activities.

phone: +1 604-253-2311

Playland is a medium-sized amusement park, like something you may find at a U.S. county fair, and activities include a wooden rollercoaster, games, shows for kids and perhaps 20 or so other rides that spin, throw and hurl you in various ways.
Parade of Lost Souls takes place around Halloween in the Commercial Drive area. It is free to go, and features live music, fire dancers, lots of costumed revellers. Under-advertised, but one of the biggest yearly festivals in Vancouver.
Buy
East Van has a wide variety of multicultural shopping districts.
A funky shopping area is Commercial Drive, which was once was the city's Italian neighbourhood but which is now amazingly multicultural. Buskers, dogs, babies, pierced people, office workers, grocery shoppers share the Drive. The shops are relatively inexpensive and eclectic lots of coffee shops, tie-dye, toys, trinkets, and organic groceries. It's a great neighbourhood to live in because you can go out on foot and do all your shopping -- produce, cheese, sausage, stationery, pet food, hardware -- within just a few blocks.
Farmers' Market at Trout Lake— There are a few farmers markets that occur in Vancouver, but this is the first, and probably the best. It is only open on Saturday mornings and only in the summer and the last market day of the year is around Canadian Thanksgiving (early Oct).
Eat
The Commercial Drive area is blessed with a huge number of different restaurants, many of them drawn from cuisines all over the world and very reasonably priced. Walk a couple of kilometres along The Drive north from Broadway to Venables, and you will doubtlessly find something to match your taste and your wallet before you get to the end.
Budget
phone: +1 604-251-1155

address: 1016 Commercial Dr

This might be the best deal on sushi in the city. $4.95 for an 18 piece combo (including yam rolls) with miso soup, or teriyaki box. Decent quality and decor.

phone: +1 604-676-4479

address: 6428 Fraser St

Well known for having huge portions for small prices. Take out available. There is another location at 1108 Davie in the West End, which is open until midnight.

Bon's Off Broadway

phone: +1 604-253-7242

address: 2451 Nanaimo St

Bon's has a great atmosphere and excellent prices including $3 breakfast all day: 2 eggs, toast, bacon or sausage, and hashbrowns.

phone: +1 604-251-3211

address: 1033 Venables St

This gelateria is a little off the beaten path, but the over 200 flavours will reward you!

Rico Burrito

phone: +1 604-251-6662

address: 2280 Commercial Dr

The dining area is spartan, the tables are worn (though clean). Maybe you'll prefer to take your food home. But such food! Huge portions of simple but delicious Mexican standards like burritos, tacos, and tamales. Ridiculously low prices. Plenty of vegetarian options.

phone: +1 604-875-0088

address: 701 Kingsway

A Vietnamese sandwich shop that is rather out of the way for most tourists but it regularly wins local awards for sandwiches and has delicious Vietnamese subs (including a vegetarian one) for less than $3.
Mid-range
phone: +1 604-568-4565

address: 2296 E Hastings St

Small neighbourhood restaurant kind of like a country diner serving hearty portions of sandwiches, burgers and all day breakfast. It's probably best known for its pulled pork pancakes and sandwiches. Popular over lunch, so expect to wait for a table if arriving between noon and 1PM.
Splurge
Drink
Cedar Cottage Neighbourhood Pub

phone: +1 604-876-1411

address: 3728 Clark St

Upstairs is a funky little coffee house with lots of comfy seating, downstairs is a friendly pub, popular with a lot of local sports teams. There is a patio adjoining, with heat lamps for those cooler evenings. Friday nights are almost always packed.

phone: +1 604-559-6745

address: 1725 Powell St

Microdistillery with their own cocktails. They offer a tasting with a sample of each of their different liquors as well as small tours.

phone: +1 604-569-1911

address: 2360 Commercial Dr

A pub that takes its beer seriously. The two page beer menu features craft beers from across Canada and U.S. and there are live reports on how full each keg is. The food choices are pretty standard for a pub — burgers, sandwiches, pizza and finger foods — but it's well done. There are also a number of TVs for catching the game.
Breweries
East Van now has several microbreweries to choose from. Many have tasting rooms and offer growler fills. There's even a tourist map available for free at some of them.
Sleep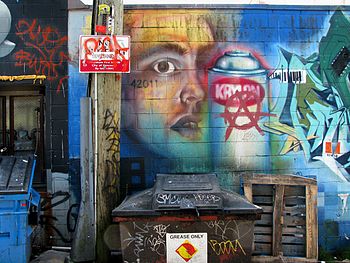 For such a large area, there isn't much accommodation in East Van. It is mostly older and in the budget to mid-level price range. The biggest concentration of motels/hotels is along Kingsway.
phone: +1 604-254-1000

address: 2889 E Hastings St

Standard motel room with wireless internet in each room and a complimentary continental breakfast. Located on a busy street so traffic noise can sometimes be a problem. Will provide complimentary shuttle service to downtown and some nearby attractions (although space is limited).

phone: +1 604-253-7141

address: 1489 E Hastings St

The Waldorf is a creative hub in the heart of East Vancouver where contemporary art, music, food and culture convene under one roof. The programming for the space will be both artistically expansive and thematically inclusive. The complex consists of thirty rooms, two restaurants (Nuba Cafe and The Leeteg Dining Room), a Tiki bar (restored and retrofitted with a vintage analogue audiophile sound system), a hair salon (run by Barbarella Hair), a gift shop, a nightclub and a live music venue. In the works are a multi-media theatre space and recording studio (tied to a residency program for visiting musicians).The Waldorf joins a new wave of Vancouver businesses that are conversing with the city, setting a benchmark for culture and hospitality.

phone: +1 604-255-4301

address: 403 E Hastings St

Historic building with a pub on the first floor. Rooms are a little small since the building is old, but they offer the rooms at budget prices. You also get a 20% discount on food in the pub.