Vancouver/Gastown-Chinatown
Gastown-Chinatown
is in the east end of downtown
Vancouver
between the
City Centre
and
East Van
. It is one of the oldest parts of the city and much of the early architecture and character remains, giving it a different look and feel than the glass and concrete of the rest of downtown. Its precise boundaries are difficult to pin down, but it is roughly bounded by Gore St in the east, Dunsmuir St to the south, the railway tracks to the north and Cambie St/Cordova St/Waterfront Station to the west.
Understand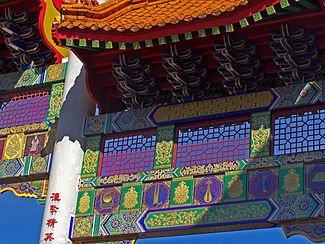 Much of the neighbourhood's distinctiveness is derived from their early importance to Vancouver and subsequent decline.
Gastown
emerged from a collection of shanties around a sawmill in the 1860s, later becoming part of the city of Vancouver when it was incorporated in 1886. It was the early entertainment district of the city with a large number of saloons and drinking establishments. Hastings Street, on its south side, became a commercial area with many of the city's early office buildings.
Chinatown
, to the southeast, was settled primarily by Chinese immigrants who came to Canada in the late 1800s to build the trans-continental railway. Many remained in Canada and started their own businesses that helped make Chinatown, and Vancouver, flourish.
The city's business district slowly shifted westwards towards the Granville Street area and after the Great Depression, Gastown and Chinatown began a
long decline
. A proposal to demolish much of the area to make way for an expressway in the 1960s started a debate about their future and helped spark interest in the neighbourhoods. Renewal has been uneven, and today, Gastown and Chinatown (and the broader Downtown Eastside which they are part of) are in varying states of decay and restoration. Tourist spots and trendy bars sit just a couple of blocks from street front drug deals and hip new condos look over what is called Canada's poorest postal code.
The Gastown of today has all the appearances of
mass-market tourism
and can generate a bit of a love/hate feeling. It's a popular spot for the tour buses and the tacky souvenir shops know it... there's a new one every few storefronts. But the wide sidewalks, street-level patios and old brick and stone buildings lend a
charm
and almost give it a European feel. Water Street has many of the tourist shops and restaurants while Cordova Street is more run-down (particularly east of Cambie St) and has a number of shops selling vintage items.
Chinatown, the second largest in area in North America, is further from the tourist path and feels rougher around the edges than Gastown. It has the usual tea shops and ducks hanging in the windows, but there are also beautiful gardens and an active night market in the summer.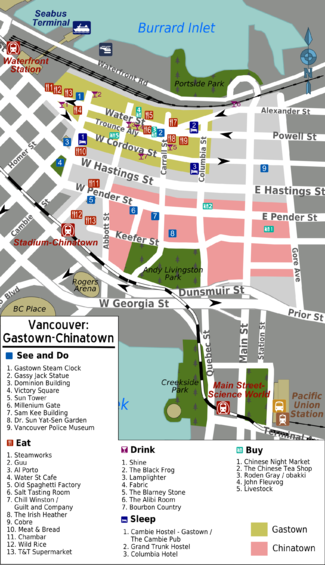 In between these neighbourhoods (Hastings Street) and east of them is the
Downtown Eastside
, an area known for its drug use, prostitution and homelessness. It's certainly walkable during the day, but some people may feel uncomfortable and it can be a dangerous area at night if you are not familiar with it. Other than cheap accommodation, there is little to attract the visitor so touring this area is not recommended.
Get in
Gastown begins outside of Waterfront Station (on Cordova St), so the easiest way is to
walk in
. Water Street, its main drag, will be the first street on the left.
Chinatown is also easily accessible on foot, just head east on Pender Street. The Millennium Gate, at Pender and Taylor, marks the entrance to Chinatown but most of the action is a few blocks further east and along Keefer Street, one block south. Another option is to take the
SkyTrain
and get off at the Stadium-Chinatown stop. Head north and just past the T&T will be Pender Street. The Millennium Gate is one block east.
A number of
bus routes
run through Gastown-Chinatown on their way to and from Commercial Drive and the Hasting Park area. Routes 10 and 16 head out Hastings Street towards the PNE, Route 20 heads out Hastings Street and then down Commercial Drive and Route 3 heads down Main Street through
Mount Pleasant and South Main
.
If travelling by car,
Hastings Street
is the major east-west street and connects with the Trans-Canada Highway.
See
The Man, The Legend, The Statue
Gastown is reputed to have got its name from one "Gassy" Jack Deighton, a steamboat operator, storyteller and the first proprietor of a saloon in Vancouver. Story has it that Jack rowed to the sawmill that had been built in present-day Gastown, and in exchange for free whiskey, had the sawmill workers build a saloon within 24 hours of arriving. Business took off and the early townsite came to be known as Gastown. Jack passed away eight years later, but a statue stands today near the spot of his original saloon to commemorate his thirst-quenching contributions to Vancouver's development.
Gastown and Chinatown are interesting places to wander around. Some of the oldest buildings in the city are found here and Gastown has been refreshed with distinctive lamps and paving stone streets. Perhaps not authentic, but a nice contrast to the glass and steel towers just a couple of blocks away.
GastownThe oldest part of downtown. You will find cobble-paved boulevards and over-priced tourist traps selling every imaginable thing you can print "Vancouver" on. Popular with tourists are the Gastown Steam Clock, promoted as the only active steam clock in the world but in fact an electric clock that pumps steam, rather an underwhelming experience; the Gassy Jack sculpture immortalizing the legendary Vancouver pioneer. The area is notorious for aggressive beggars-drug addicts who are quite unsettling.

Dominion Building

address: 207 W Hastings St

A distinctive red and mustard coloured building completed in 1910. It was the first steel-framed high-rise built in Vancouver and briefly was the tallest commercial building in the British Empire.

Dr. Sun Yat-Sen Classical Chinese Garden

phone: +1 604-662-3207

address: 578 Carrall St

A Ming-dynasty style garden located in Chinatown. Built in 1986 by Chinese craftsmen using traditional materials, tools, and techniques, this was the first classical garden built outside China. The gardens combine traditional Chinese buildings, plants, a small lake, and curved footpaths to create the illusion of a very big place within a single block. Tours are available. Compared to the city park next door, the differences are quiet but profound: more interesting materials, richer vistas, greater serenity.

address: 578 Carrall St

Constructed by Vancouver-area designers at the same time as its classical garden neighbour, this public park shares the lake and the Chinese garden look. But this is a city park, and free to enter.

Gastown Steam Clock

address: corner of Water & Cambie St

A clock that tries to look old and belches steam every 15 minutes may not be the most stunning landmark, but it has an endearing charm in a kitschy kind of way. It was built to take advantage of the steam vents that are all over downtown Vancouver, but it never lived up to its billing and now relies on electricity to count the minutes. It is one of a kind though and remains a photographic pilgrimage for thousands of Vancouver tourists.

Sam Kee Building

address: 8 W Pender St

This two-story building is the world's narrowest commercial building according to the Guinness Book of World Records, with a width of just 4'11" (1.5 m) at its base. Its slim size is due to the city expropriating most of the lot to widen the street. The owner went ahead and built anyway, and businesses have been operating out of its confines since 1913. If you do take a look, the perspective is better from the other (north) side of Pender.

Sun Tower

address: 100 W Pender St

A high-rise building built in the Beaux-Arts style. It was completed in 1912 and was the tallest building in the British Empire at the time. The tower is noted for its dome (painted to look like copper cladding) and its exterior was used in the TV series, Smallville.

phone: +1 604-665-3346

address: 240 Cordova St E

Exhibits on the history of Vancouver's police, unusual weapons that have been confiscated and notable Vancouver crimes. There are also a number of programs and activities geared towards kids.

Victory Square

address: Hastings & Cambie St

A small park covering one city block. It has the cenotaph commemorating the dead from World War I and is the site of Vancouver's Remembrance Day ceremonies.
Do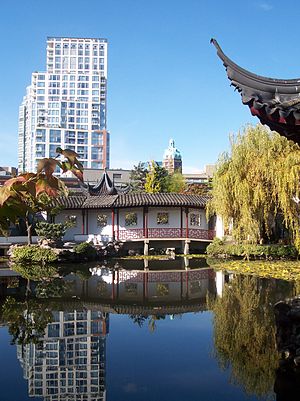 Chinese New YearBecause there is such a strong Chinese population in the city, the Lunar New Year period is often one of the most exciting and colourful in the city. There is usually a parade in Chinatown and many of the public schools usually have a day off on Chinese New Year. You can also catch celebrations at Tinseltown mall (1 minute from Stadium Skytrain station), and in Richmond at the International Buddhist Temple. There, visitors can experience Chinese New Year festivities with traditional snacks and foods, auspicious flower arrangements, Chinese calligraphy and exciting raffles.
Buy
address: 88 W Pender St

This Japanese dollar store is the anchor of the International Village Shopping Centre. Has a surprisingly diverse (candy, kitchen supplies, stationary, electronics etc.) selection of cute Japanese things. A fun browse.

Chinatown Night Market

address: 100 & 200 block Keefer St

Styled after Asian marketplaces these very popular nights have all kinds of stuff for sale. Watch out for the cheap imitation knock-offs that are commonly available.

phone: +1 604 633-1322

address: 101 E Pender St

Visit the specialty tea boutique, to purchase specialty teas such as oolong, green, white tea, black and pu-erh, as well as learn about the finer points of Gong Fu Cha and tea culture.

phone: +1 604 688-6228

address: 65 Water St

A shoe shop with interesting architecture that is built with glass panels between the two walls of an alleyway. Fine shoes.

phone: +1 604 685-1433

address: 239 Abbott St

Selling trendy streetwear and footwear

address: 44 Water St

High-end clothing boutique

phone: +1 604 689-7302

address: 231 Cambie St

Boutique selling high-fashion goods
Eat
Budget
phone: +1 604 566-9003

address: 370 Cambie St

Simple menu but good food. There are four sandwiches, mostly focusing on roasted or braised meat (the Porchetta is the signature sandwich), and two sides that change daily. The bread is pretty dense but the portion of meat is generous so it's a filling meal. To finish it off (if you have room), you can get a bowl of Maple Bacon ice cream. The ambiance is interesting as well, with a couple of long tables for seating... in case you want to chat with your neighbours while chowing down your sandwich.
Mid-range
phone: +1 604 685-8682

address: 105-375 Water St

Dark, loud and busy, Guu serves up Japanese-style tapa dishes (izakaya). The top floor has the restaurant, while the bottom floor has a bar and seating where you can watch the chefs. Reservations are helpful, but they can only be made between 2PM and 5PM.

phone: +1 604 684-1288

address: 53 Water St

Spaghetti and other standard Italian dishes, but well-priced and has sidewalk seating.

Phnom Penh

phone: +1 604 682-5777

address: 244 East Georgia St

Very popular restaurant tucked away on a side street in Chinatown that has been winning local readers choice awards for twenty years. The menu is Vietnamese and Cambodian with a large number of dishes. The deep-fried chicken wings and butter beef (similar to beef carpaccio but slightly more cooked, with soy sauce and cilantro) are both very tasty and amongst the most popular dishes. Portions are a good size and in line with the price. It gets crowded quickly, so expect to wait if arriving after 5PM most nights.

phone: +1 604 633-1912

address: 45 Blood Alley

No hot meals here — pick your tasting plate of cheese, cured meats and condiments and pair it with some wine. The menu is fresh each day. There are also a couple of salads available and a small sandwich menu for lunch.

phone: +1 604 569-3568

address: 43 West Hastings St

Diner-style restaurant that does simple comfort food well. Breakfast menu includes three egg omelettes and eggs benedict; lunch/dinner menu has sandwiches, some entrees and possibly the best burger value in Vancouver (bacon and cheeseburger with fries for $7). Full breakfast menu is served until 11AM on weekdays and 4PM on weekends. Eggs are available all day.

phone: +1 604 689-2739

address: 375 Water St

Long standing brew pub that is popular with locals and tourists. There's a patio and restaurant at street level; pool tables and bar downstairs. The menu is extensive with pub standards like burgers and nachos, but also includes steaks, seafood and pasta.

phone: +1 604 688-9779

address: 212 Carrall St

Nice atmosphere, excellent pheasant, and apparently the only place in Vancouver that serves real Guinness.
Splurge
Drink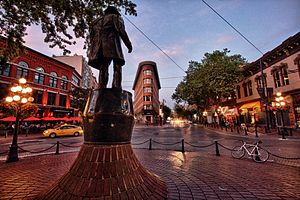 phone: +1 604 684-4214

address: 50 Cordova St W

Somewhat dive-ish but lays claim to be being the only country bar in Vancouver. There's a good sized dance floor, pool tables and cowboy hats. Ride the mechanical bull on Fridays and Saturdays. Sometimes has live music.

phone: +1 604 555-5555

address: 66 Water St

Dance club with lots of hip-hop and dance music. Crowd is mostly under-30 and looking to party.

phone: +1 604 288-1704

address: 1 Alexander Street

Creative and artsy sort of bar. Features some unique beers on tap and a selection of board games; order cheese from the bar and play some giant Jenga. Often features indie rock performances.

Lamplighter

phone: +1 604 681-6666

address: 210 Abbott St

One part sports bar and one part club gives this bar a dual personality which works for some and not for others. The crowd is a more mixed and mellow than Shine or Fabric.

phone: +1 604 408-4321

address: 364 Water St

Smallish dance club with a variety of music, depending on the night.

phone: +1 604 623-3383

address: 157 Alexander St

Offers an array of microbrews with an emphasis on British Columbia breweries, as well as a diverse food menu.

phone: +1 604 602-0527

address: 108 Cambie St

Smallish pub with some character. Good spot for pre-activity drinks or if you want somewhere not as loud. Also has a small but well prepared selection of burgers, sandwiches and fish and chips that are an excellent value.

phone: +1 604 687-4322

address: 216 Carrall St

Bit of an Irish bar, bit of a dance club. Attracts a 20-something crowd most nights. Irish showband Killarney are a regular feature.

The Cambie

phone: +1 604 684-6466

address: 300 Cambie St

Frontier-looking unpretentious bar with well-worn wooden benches and tables. Popular with the younger crowd and the nearby backpackers hostel. Lots of rock music and no dance floor. Pitchers are amongst the cheapest in Vancouver.

Wine Tastings In Gastown

phone: +1 604 230-3682

Long time Vancouver wine consultant Stephen Bonner hosts great wine tastings for small groups 6-10 in his loft in Gastown. Varied themes and prices but the BC wine and cheese tastings are a big hit with visiting foodies.
Sleep
Accommodation in Gastown and Chinatown is of the budget variety, primarily hostels. If you are planning to stay in a hostel, it is probably better to ensure it is located west of Main Street and caters mainly to backpackers (tourists on a budget). If you are planning to find a cheap (significantly less than $90) hotel in this area, it is likely to be located in the "East Side", infamous for its prostitution and drug problems.
phone: +1 604-684-6466

address: 300 Cambie St

phone: +1 604-683-3757

address: 303 Columbia St

Hostel accommodations in an old historical building in the middle of Gastown.

phone: +1 604-255-4301

address: 403 E Hastings St

Very basic hotel that is a good option if you want something cheap and don't mind a small room in a bad part of town. The rooms are tidy and come with small TVs and private bathrooms. Wifi is available but signal strength varies. Room options range from Budget and Basic rooms with one double bed to Quad Rooms with two queen beds and views of the city. There is a pub on the ground floor that sometimes has live music.