Vancouver/Kitsilano-Granville Island
Kitsilano
(often referred to simply as Kits),
South Granville
and
Granville Island
form most of the northern part of the
Vancouver
west side. In the 1960s Kits was a neighbourhood where hippies "tuned in and dropped out" but today it has some of Vancouver's most expensive properties. It is situated right on the beach and very close to downtown. Granville Island, and the nearby neighbourhood of South Granville, are a focal point for the arts community in Vancouver with a number of studios and theatre groups.
Understand
Kitsilano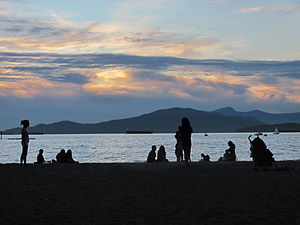 Kitsilano is one of Vancouver's most popular neighbourhoods. The first people living in the area were the Squamish people and the neighbourhood's name is derived from a Squamish chief, August Jack Khatsahlano. Its proximity to the early Vancouver settlement drew settlers and it became one of Vancouver's first suburbs.
It's long been a popular spot with young people and was a counterculture hotbed in the 1960s. Greenpeace opened one of their first offices in Kitsilano and the British Columbia Green Party's original offices were here, as well. The area has become more gentrified in the decades since, but it still has a vibrancy that is missing in the more staid neighbourhoods that surround it.
One thing that hasn't changed is the beach, which continues to be the focal point of the community. On a sunny day, the beach towels come out, the volleyballs fly and the patios fill. And while the neighbourhood beaches certainly cater to the sun worshipers and the see-and-be-seen attitude, they also host music festivals, live theatre and other community events.
Kitsilano also has the distinction of historically being an enclave of Greek immigrants and their descendants. The Greek neighbourhood's borders have never been defined, however the strip between Alma St and Trafalgar St is known as 'Greek West Broadway'; West Broadway at Trutch Street is generally considered the neighbourhood's heart. The Greek community of Vancouver continues to maintain a presence by hosting 'Greek Day' on the last Sunday of every June where West Broadway is closed to vehicle traffic between MacDonald and Blenheim for free, family-oriented festivities.
Technically speaking, Kitsilano is defined as the area between Burrard St in the east and Alma St in the west, and from the water to 16th Ave in the south.
Granville Island
Located beneath the Granville Street Bridge on the south side of False Creek,
Granville Island
(actually a peninsula) started off as industrial land. Over time, its warehouses and shops were abandoned and left to decay when the industry moved on. In the 1970s the Federal Government embarked on an ambitious plan of urban renewal, which involved cleaning up the pollution left by industry on the island and encouraging mixed-use development. Today, the restored original corrugated tin buildings and their new occupants artisans, markets, boutique shops and restaurants -- come together to give Granville Island its vibrancy and unique feel.
Get in
The neighbourhoods are easy to access by car, bike or bus, especially from
downtown
Vancouver. Parking is somewhat limited and traffic around the beach can back-up on weekend afternoons, so public transit (or walking/biking) will frequently be a better option.
By public transit
Some good buses to get into and around the area are:
#4 runs from UBC to Powell St downtown, and passes most of the Kits/4th Avenue area, as well as stopping by Granville Island.
#50 that runs from downtown to the entrance to Granville Island.
#84 is an express bus that runs from VCC-Clark Skytrain station in East Van to UBC. In the Kits area, it follows 4th.
#99 B-Line is an express bus that runs down Broadway. In the Kits area, it stops at Alma, Macdonald, Arbutus and Granville, and is considerably faster due to its infrequent stops.
Bus fare travelling in and around Kits would be , whether travelling one stop or from end to end.
There is no direct access to the
Canada Line/SkyTrain
, but the Olympic Village station connects with the #50 bus to Granville Island.
By car
Burrard St
, via the Burrard Street Bridge, links Kitsilano with downtown and
Granville St
links South Granville with downtown.
4th Ave
and
Broadway
are the main east-west streets that connect the neighbourhood with UBC and
Mount Pleasant
.
Cornwall Ave
is the main street along Kits Beach.
By boat
It is also possible to take the Aquabus or False Creek Ferries from downtown,
Yaletown
and Scienceworld to Granville Island or the dock at the Maritime Museum on Kits Point. Fares vary between $2 and $6 depending on distance travelled.
See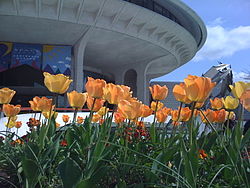 There are a trio of museums in Vanier Park on Kits Point, the peninsula forming the mouth of False Creek just west of the Burrard Street bridge. There is some free parking in front of the Space Centre, and it's an easy walk from Translink bus #2 and #22 at Cornwall and Cypress streets. You can also walk down from the 4th avenue buses (such as #4), or over from Granville Island about 1000m away.
An
ExplorePass
offers admission to the Vancouver Museum, the Vancouver Maritime Museum, and the H.R. MacMillan Space Centre for $30 (adults), $24 (students), including tax.
Do
Kits Beach is the beach for the young to hang out and be seen at. Kits beach also features beach volleyball courts and a large public swimming pool. Popular in the summer, the salt water pool is 137.5m in length and runs along the ocean's edge.

phone: +1 604-731-2420

address: 1810 Fir St

Bicycle rentals and sales.
Sailboat Racing. Cooper's Boating on Granville Island offers drop-in Friday night racing for all comers. $25, with an additional $15 membership fee (which is valid for 2 years). no skill or knowledge is required, in fact the sailing is strictly novice level.

Stanley Industrial Alliance Stage

phone: +1 604-687-1644

address: 2750 Granville St

Recently renovated and now the main stage for the Vancouver Arts Theatre Company. Mostly shows Broadway musicals and other large theatre productions.
Granville Island
Granville Island
(
accessed from 4th Ave via Anderson St or bus #50 from downtown
) is an eclectic mixture of shops, restaurants, theatres, art galleries, one hotel and a functioning concrete plant. It is a major tourist destination yet also a huge draw for locals with its variety of food, restaurant and entertainment options.
One of the easiest ways to see the island is to just wander around and take it all in -- browse a little bit, enjoy the views, watch a street performer, people-watch. Railspur Avenue is home to plenty of art galleries and an artisan sake shop. The Public Market on the far north end of the island has a revolving set of day vendors selling art and specialty food items, and permanent stalls that offer produce, meat, fish and natural herbs. Notable permanent vendors in the market include: the Stock Market (which sells ready-to-eat soups as well as sauces, stocks and dressings), Granville Island Tea Co., Stuart's Bakery and a la mode, the pie store.
Specific things to do on Granville Island include:
Granville Island Brewing Company

phone: +1 604-687-2739

address: 1441 Cartwright St

Take a tour of this local brewery and sample four of their brews. Tours are daily at noon, 2PM and 4PM and can be arranged through the retail shop.
Maritime Market — Stores and a museum for all things related to the sea.

Vancouver Arts Club Theatre

phone: +1 604-687-1644

address: 1585 Johnston St

The Granville Island stage for the Vancouver Arts Club Theatre Company.

phone: +1 604-738-7013

address: 1502 Duranleau St

Long running improv company in the Improv Centre on Granville Island.
Festivals
Buy
Shopping options are plentiful in Kitsilano and South Granville.
4th Avenue
is one of Vancouver's best-known neighbourhood shopping areas.
Broadway
makes for nice walking and shopping and has mature trees that line the street. Along 'Greek West Broadway' (the strip between Alma St and Trafalgar St) you will find a Greek bakery, some restaurants, public house, delis and markets. There is also a cluster of shops at along Alma Street between 10th Avenue and Broadway, and another cluster at Alma Street and 4th Avenue. Finally,
Granville Island
has a range of craft, toy and gift shops with items from local artisans and imported goods.
4th Ave
4th Avenue was once the domain of small eclectic shops, but as Kits drifted from its hippie roots, more mainstream retailers have settled in. If you take your time though, you can still find the independent shops mixed amongst the clothing and home decor stores. The street also has a good selection of coffee shops, restaurants and fine dining. Street parking can be challenging along 4th Avenue. There is an underground parking lot in the 2200 block under Capers Market (east of Safeway).
phone: +1 604-738-3232

address: 1972 West 4th Ave

A long-time mainstay of Vancouver's music scene, and focuses particularly on alternative and indie rock. Has a vinyl section and an outlet for event tickets, and frequent in-store performances.
The junction of Burrard Street and 4th Avenue has a good cluster of ski, snowboard, and skateboard shops, including:
phone: +1 604-731-6449

address: 1980 West 4th Ave

Primarily skis, and mainly freestyle stuff, but does snowboards too.

phone: +1 604-734-7245

address: 1793 West 4th Ave

Large snowboard and skateboard shop with a wide range of clothing and other apparel as well.

phone: +1 604-738-3715

address: 1701 W 3rd Ave

Family Bike Shop. Another specialty is proper bike fitting.

Showcase Snowboard Surf and Skate

phone: +1 604-731-6449

address: 1766 West 4th Ave

Mostly snowboard and surfing focused.

phone: +1 604-734-7669

address: 1745 West 4th Ave

Snowboarding, skateboarding, wakeboarding, surfing. Has adjacent clearance stores where some good deals can be had.

phone: +1 604-734-7252

address: 1758 West 4th Ave

The outlet store for a snowboarding-oriented clothing brand.
Granville Island
There is shopping galore on Granville Island. Plenty of tourist stores with your usual array of Canadiana and B.C.-specific souvenirs. You can also buy fresh seafood right off the boat throughout most of the year; follow the seawall on the west side of the island to find these public fish sales. Most of the shops and restaurants can be found by wandering the streets (it's not a big place) or in one of these three markets:
phone: +1 604 666-6477

address: 1661 Duranleau Street

Food stalls and small items. Make sure to bring your own reusable bag.

Kids MarketLots of toys and activities for the children.

phone: +1 604-662-3606

address: 565 - 1689 Johnston St

Over 700 food-related products on a made-in-BC theme, aimed at the enthusiastic foodie.
Eat
The area has one of the highest densities of restaurants you will find anywhere, with a huge variety in the dishes offered. Most of them are along 4th Avenue, Yew Street, Broadway, Cornwall Ave, Granville Ave or on Granville Island.

Budget
Mid-range
Splurge
Granville Island and vicinity
Drink
There are a few nightclubs in Kits, but most of the nightclubs in Vancouver are
Downtown
.
phone: +1 604 731-0617

address: 2001 Macdonald St

A local favourite, Darby's is one of Kitsilano's oldest neighbourhood pubs and has the best rooftop patio in the neighbourhood. Featuring live entertainment, comedy & karaoke nights, UFC, all broadcast & PPV Canucks games. With a classic pub menu focusing on quality.

phone: +1 604 738-8909

address: 3617 West Broadway

Irish-themed pub with a good selection of draft beers and live music.
A number of restaurants on Granville Island, such as The Cat's Meow in the theatre district, the Sandbar beside the Public Market, and The Keg Restaurant have fully licensed lounges.
phone: +1 604-687-1354

address: 1585 Johnston St

Drinks and pub eats with live music most nights. Has a good selection of domestic and imported beers on tap, with nightly drink specials.

Granville Island Brewing Taproom

phone: +1 604-687-2739

address: 1441 Cartwright St

Taster sleeves and full pints of this locally brewed beer.
Sleep
There are a few B&Bs in the Kitsilano area. People tend to stay
Downtown
.
phone: +1 604-683-7373

address: 1253 Johnston St

The only accommodation on Granville Island. Some of the standard rooms have a water view plus there are six executive suites and two penthouse suites. All rooms come with wireless and high-speed internet and there is a jacuzzi room on site.
Go next