Vancouver/Mt Pleasant-South Main
Mount Pleasant-South Main
is a district of
Vancouver
south of 6th Ave. It has long been a mixed residential, commercial and industrial area. Its main draws are Queen Elizabeth Park, and the restaurants and eclectic shops along Main Street.
Get in
The
B-Line bus route #99
, which runs along Broadway, connects the area with
Kitsilano
,
UBC
and
East Van
.
#3 runs up and down Main Street.
The
Canada Line
follows Cambie Street on its way between downtown and the airport/
Richmond
with two stations of interest:
Olympic Village — Connects with the #50 bus to Granville Island.
King Edward — A few blocks walk to Queen Elizabeth Park and Nat Bailey Stadium.
See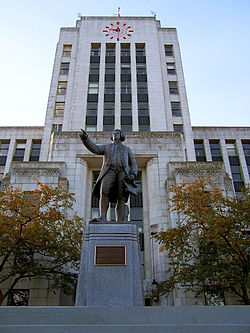 address: 33rd & Cambie

An old quarry that was converted into a number of gardens and ponds. The top of the park is the highest point in the city of Vancouver and offers views of the entire city.
Bloedel Floral Conservatory

address: top of Queen Elizabeth Park

Tropical plants and birds under the white dome.
Vancouver City HallBuilt on the rise over False Creek, the building has nice grounds and provides a different view into downtown Vancouver and the mountains behind.
Do
address: 4601 Ontario St

Vancouver's minor league (single A) baseball team.
Buy
South Main
(sometimes called "SoMa," the parts of Main Street south of 2nd Avenue or so) is rapidly becoming the new bohemian neighbourhood of designer boutiques, Asian religious item stores, and coffee shops. Many local designers have boutiques on Main between Broadway (the equivalent of 9th Ave) south to about 29th Ave where you can buy cutting-edge and handmade clothing for reasonable prices. Between King Edward Ave (the equivalent of 25th) and 29th is a cluster of antique stores, some of which are expensive and not very good, but you can find treasures there if you search.
phone: +1 604-879-2453

address: 3283 Main St

A community bike shop that offers space for do-it-yourself bike repairs and maintenance, as well as selling refurbished bikes.
One of the best places to look for
outdoor equipment
in Vancouver is on Broadway in the blocks just east of Cambie Street. The two big shops are Mountain Equipment Co-op and Taiga, but there are numerous other smaller shops in the area if you walk between these two stores.
phone: +1 604-872-7858

address: 130 West Broadway

$5 lifetime membership required to purchase goods.

phone: +1 604-875-6647

address: 301 West Broadway
Eat
Budget
Hawker's Delight

phone: +1 604 709-8188

address: 4127 Main St

At Main and King Edward Hawker's servers up authentic Malaysian/Singaporean dishes at $4-5. Fast-paced atmosphere (as the name would suggest). Good vegetarian options.

address: 317 E Broadway

Successor to the popular Rhizome Cafe, serves bistro food, organic coffee, and alcoholic drinks. They seek to build community, and offer a meeting room for events.

Lucy's Eastside Diner

phone: +1 604 568-1550

address: 2708 Main Street

A slightly self-conscious reinvention of the classic burgers-and-pancakes diner. Being open all night long is good. Breakfast 24 hours a day is even better. The friendly and flexible service is great. The milkshakes laced with whisky, rum, and on request, bacon? Priceless. Good range of vegetarian selections. Since there aren't many all-night restaurants, Lucy's can get crowded late at night after clubs close.

Ro Sushi Japanese Bistro

phone: +1 604-876-9899

address: 542 West Broadway

Mainstream Japanese food, but the wide variety of "boxes" (set meals) are an astonishing amount of food for the economical price.

phone: +1 604 709-8372

address: 2922 Main St

One of a local chain, well known for tasty, made-to-order hamburgers and a casual atmosphere. Vegetarian options and beer also served. Take-out also.

Whole Vegetarian Restaurant

phone: +1 604 876-3088

address: 3068 Main St

A vegetarian Buddhist Chinese restaurant. Has an incredibly diverse menu. Get the bean curd skin rolls with black bean sauce! It's a good idea to make reservations; it's very popular.
Mid-range
phone: +1 604 566-9001

address: 3995 Main St

Opened in 2012, this is one of Vancouver's few restaurants to offer high cuisine that is entirely vegetarian, with many vegan and gluten-free options. Open for dinner every night and for weekend brunch. Their bar also serves creative and tasty cocktails. No reservations taken, and vegie foodies have few other options, so expect a wait unless you come soon after they open.

Kamei Royal

phone: +1 604 876-3388

address: 12-601 W Broadway

This is the Japanese restaurant to which you can bring your homesick Japanese business partners. Excellently prepared, professional-grade sushi, rice dishes, kushiyaki, and cooked-at-the-table sukiyaki. An authentic Japanese atmosphere, from the irasshaimase greeting to the pretty pictures in the bilingual menus to the serene decor. Another branch is on West Georgia in the City Centre.

Shiro Sushi

phone: +1 604 874-0027

address: 3096 Cambie St

If Toshi is too busy, walking west a half dozen blocks will bring you to another affordable family-run sushi restaurant with friendly service and a packet of Pocky with your bill.

Sun Sui Wah Seafood Restaurant

phone: +1 604 872-8822

address: 3888 Main St

An excellent Chinese restaurant, the chefs are excellent cooks. Beware there are long lineups and reservations are a must.

The Foundation

phone: +1 604 708-0881

address: 2301 Main St

A funky vegetarian/vegan restaurant with a hipster feel, the Foundation serves up delicious food for inexpensive prices. Be sure to try their hummus, it's spectacular!

phone: +1 604 874-JERK

address: 4172 Main St

Caribbean restaurant with live entertainment some nights.

Toshi Sushi

phone: +1 604 874-5173

address: 181 E 16th Ave

A small mostly family-run sushi restaurant that serves relatively cheap, good sushi. Avoid the garlic beef, but one must try the tempura. It's a popular spot so it's best to get there before 5PM.
Splurge
phone: +1 604 708-4121

address: 4121 Main St

Local favourite with a variety of dishes that incorporate local and seasonal ingredients. Will substitute tofu for meat if requested.

Seasons in the Park

phone: +1 604 874-8008

address: 405 West 33rd Ave (at the top of Queen Elizabeth Park)

If the weather is nice, this restaurant has one of the best views in the city since it is the highest point in Vancouver. Surprisingly, for a restaurant with this good a location, the food and service are excellent and the prices are reasonable. Try the rack of lamb and the stuffed mushrooms. Bill Clinton and Boris Yeltsin ate here when they had their 1994 summit in Vancouver.
Drink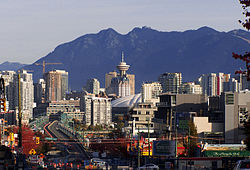 phone: +1 604-563-5053

address: 700 Main St

Imported & craft beers, pub food, but it's not a great place to walk at night, as that section is not far removed from the worst areas of the Eastside.
Sleep
Douglas & Windsor Guest Houses

phone: +1 604-872-3060

address: 456 West 13th Ave and 325 West 11th Ave

Two Victorian houses converted to B&Bs. Reviewers indicated the hearty breakfasts are good and the location is convenient but a couple of the rooms could be cleaner. Both guest houses are owned by the same person.

Holiday Inn - Vancouver Centre

phone: +1 604-879-0511

address: 711 West Broadway

Clean rooms and courteous service, although the decor could be updated.

phone: +1 604-872-8661

address: 898 West Broadway

Mix of rooms ranging from a standard hotel room to kitchenette to suites. Some rooms have views of downtown and the mountains. High-speed internet and fitness centre on site.