Vancouver/UBC-Point Grey
UBC-Point Grey
is a district in the west side of
Vancouver
occupying a pretty spot at the tip of the Point Grey peninsula. Its main occupant is the
University of British Columbia
(or UBC for short), the largest university in
British Columbia
and one of the larger universities in
Canada
.
For the purposes of this guide, the district includes the university campus, Pacific Spirit Park and the neighbourhood of West Point Grey. The boundary follows Highbury St / 16th Ave / Pacific Spirit Park in the east, while to the west and south is Georgia Strait and to the north is Burrard Inlet.
Understand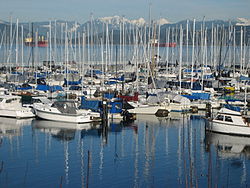 The main occupant of the University Endowment Lands is UBC. It includes not only the University, but also residential and commercial areas. The campus is surrounded by Pacific Spirit Park, a large nature reserve.
Get in
By public transit
UBC is well served by the
Translink
bus system. Generally, the best bus to take is the
99 B Line
which is an express bus that goes along Broadway and 10th Avenue from the Broadway/Commercial Skytrain station to UBC. Other useful bus routes include:
#4 which connects UBC to downtown.
#9 which travels up and down 10th Ave/Broadway through Kitsilano and South Granville, and onto Mt Pleasant and East Van.
#17 which runs along 10th Ave/Broadway and Oak St, connecting UBC with Vancouver South.
#41 from Joyce Station, along 41st Avenue to UBC, from the Kerrisdale area of Vancouver South.
#44 which connects UBC to Waterfront Station downtown (with a connection to the SeaBus and North Vancouver).
#480 travels along 41st Avenue and Granville making select stops between UBC and Richmond.
Generally, from inside Vancouver, bus fare to UBC will cost about , but can range higher if more than one zone must be crossed.
By car
4th Ave, 10th Ave/Broadway and 16th Ave are the main roads into UBC from Kitsilano. Marine Drive SW enters the district from Vancouver South and follows the coast around the campus.
See
University of British Columbia campus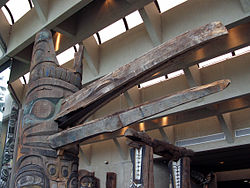 Automated Storage and Retrieval System (ASRS)

address: Irving K. Barber Learning Centre, 1961 East Mall

Automated "robot librarian" cranes scurry along 5-story shelves holding 1.6 million books, at the beck and call of human librarians. For a geek thrill, watch them through the ground floor windows on the north side of the building. On the 2nd floor, near the Circulation desk, is a more limited view.

address: 2212 Main Mall

Home to Canada's largest blue whale skeleton, a herbarium, and a wide array of animal specimens including fish, insects, arthropods, tetrapods, marine invertebrates and fossils.
Chan Centre for the Performing Arts— A concert hall and events centre; often the location of convocation ceremonies.

Morris and Helen Belkin Art Gallery

phone: +1 604-822-2759

address: 1825 Main Mall

A small gallery with regular exhibitions. What looks like a woodpile outside is actually a sculpture, made of concrete.

phone: +1 604-822-9666 (info line)

address: 1895 Lower Mall

One of the most traditional, authentic Japanese gardens in North America and among the top five Japanese gardens outside of Japan.

phone: +1 604-224-5739

A relatively undeveloped and heavily forested park. It includes a strip of forest running north-south between Blanca Street and Alison Street, immediately to the west of UBC campus. There are over 100 kilometres of trails and beaches for running, biking, and horseback riding. It also includes the clothing-optional Wreck Beach, wrapping around the west end of the Point Grey peninsula. It's the closest thing to wilderness in the city.

phone: +1 604-822-9666

address: 6804 SW Marine Dr

Canada's longest continuously operating university garden, it contains over 8000 different kinds of plants in both designed landscapes and coastal forest settings. Must-sees are the Asian garden, the alpine garden and the food garden. An enchanting oasis. Compared to the more-visited Van Dusen Botanical Garden, the remoteness of the garden means fewer people and a quieter, more private setting. Guided tours free with advance notice.

phone: +1 604-822-5087

address: 6393 NW Marine Dr

Devoted to world cultures, but with an emphasis on the First Nations of the Northwest Coast. Includes a splendid collection of totem poles, a mind-boggling array of artifacts from around the world, and a number of changing exhibits.
Do
Jericho Beach is a more family oriented beach with a large picnicking area. The beach forms a crescent shape which creates a sheltered swimming area that is relatively shallow. In the summer, the beach is patrolled by lifeguards who monitor beach near the floating dock. Jericho Beach is also a great location to go windsurfing or dinghy sailing.

Spanish BanksIs a set of three sandy beaches further west towards UBC. When the tide is out you can walk way out on the mudflats. This is a popular spot for skimboarders and kiteboarders. The area has a large stretch of beach which makes for a popular beach volleyball area as well as a scenic multi-pathway system, connecting Jericho Beach to UBC, making a fine running or cycling course. A large field behind the beach has been designated as an off-leash area for dogs and part of the beach as well.

Wreck Beach— Probably North America's most famous and busiest clothing optional beach. The trail to Wreck beach is near the West Parkade, or more precisely at the extreme west end of University Boulevard just past the Place Vanier residences. You can either park on Marine Drive or you can take transit to UBC and continue down the same road the bus brought you on foot. The steep stairs are not recommended for the faint of heart. There is always a festive atmosphere at this beach and many types of goods are for sale from jewelry, to food, to beer. Watch out as the police do occasionally crack down on drug use and open consumption of alcohol.
Buy
University Village has a number of service stores including a Staples office supply store, photocopying services, several restaurants (including a subterranean food court), a grocery, coffee shops, a liquor store, a newsstand, etc.

Eat
University Village
is a small residential and commercial area on University Avenue on the eastern edge of campus, just before Pacific Spirit Park. The main bus route onto campus (including the 99 B-line) passes here. The development at the corner of University Avenue and Allison Road is called
University MarketPlace
. It has a full-service Starbucks Coffee as well as a Blenz, Omio Japanese Restaurant, Pita Pit, McDonald's, and a number of smaller cafes etc. An underground food court has about nine Chinese, Japanese, Indian and Persian buffets, with lunch or dinner in the $5-$6 range. Dalhousie Road is the third side of this triangular area.
One More Sushi

phone: +1 604-228-9773

address: #222-2155 Allison Rd

Delicious, low-priced, authentic-tasting Japanese food in a friendly atmosphere. One of the best price/performance restaurants in the University Village.

Curry Point

phone: +1 604-221-0112

address: B1-5728 University Blvd

Very simple but rich and flavourful curry buffet of several curries, rice, naan bread. The best of the basement eateries, according to many students. However, many students also feel the level of salt used in the curries results in a less than desirable experience.
The AMS (Alma Mater Student Society) operates a number of campus restaurants including the Pendulum restaurant and Pacific Spirit Cafe. UBC Food services also manages a number of locations, including two outlets of the Tim Hortons chain.
The Diner

phone: +1 604 224-1912

address: 4556 West 10th Ave

Fish and chips and other British food while surrounded by an astounding array of royal family memorabilia.

Gold Train Express

phone: +1 604 677-6981

address: 4530 West 10th Ave

This rather misleadingly-named restaurant actually serves Vietnamese food, including a very good pho (beef with rice noodles).
Drink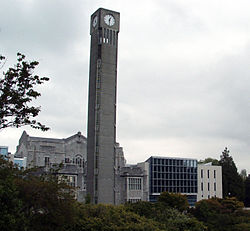 The UBC campus has a number of bars and pubs that cater to the student crowd.
Koerners Pub

phone: +1 604 822-0938

address: 6371 Crescent Rd

Pub run by the Graduate Student Society. Has a patio, free pool, shuffleboard, and foosball. "Mellow Monday" open mic nights.

The Pit

phone: +1 604 822-6511

address: 6138 Student Union Blvd

A bar with a dance floor, run by the student society and famously first proposed by David Suzuki. Student ID required for Wednesday "Pit Nights" which are always packed. Inexpensive pub food served in the Burger Bar.

The Gallery Lounge

phone: +1 604 822-4508

address: 6138 Student Union Blvd

A smallish student-run pub, the Gallery is usually quieter than the Pit, and is a good place to go to grab a pint after class - and closer than Koerner's. Karaoke nights on Tuesday are a hoot, also open mic nights on Mondays and DJ nights on Fridays.
Sleep
Staying in UBC tends to be quieter than some other spots in the city and the summer accommodation isn't bad value for what you get, but it is far from any attractions that aren't part of UBC. If you want to stay in the area, the university has a small hotel open year round and opens up some of the student residences during the summer. There is also a HI hostel near the beach in West Point Grey and some B&Bs. If you want to be close to both UBC and the other attractions, consider some of the options in
Kitsilano
and
Vancouver South
.