Vancouver/West End
The
West End
of Vancouver is one of the most popular places to hang out in the city. Located on the western half of the downtown peninsula, the compact mostly residential area is surrounded by a string of beaches and the beloved Stanley Park, and bustling with tonnes of shops and eateries on its main streets.
Understand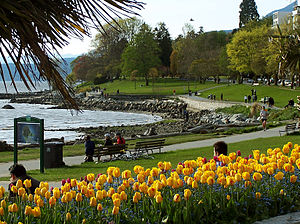 The West End was first conceived as the proposed city of New Liverpool. Too remote at that time, the investors were nicknamed the "Greenhorns" and the land remained an unrealized real estate dream. Eventually it was incorporated into the city of Vancouver. The arrival of the railway several years later provided the needed impetus for development and the area around West Georgia Street became Vancouver's first upscale neighbourhood. The rich moved on to other neighbourhoods early in the 20th century and a new wave of development began to bring in the middle class and a more transient population. Large mansions were converted to rooming houses, low-rise apartments were built and shops sprang up along the streetcar lines - Robson, Denman and Davie Streets. The West End's skyline really began to take shape in the 1960s and early 70s when 220 high-rise apartments were built in a 13-year period. To date, the West End is the most densely populated area in Canada.
Robson, Denman and Davie Streets
continue to be the lifeblood of the neighbourhood jam-packed with bars, restaurants, cafes and shops.
Robson
is the renowned shopping street, with smaller eclectic stores closer to Denman that get increasingly more upscale as it climbs the hill towards the Central Business District. In addition, Robson has numerous tourist souvenir shops as well as a good mix of trendy restaurant chains and small businesses.
Denman
is noted for its countless independent cafes and restaurants, particularly around English Bay (Denman and Davie). The expansive variety of food ranges from Asian, Mediterranean, European, North American to even African. Whether you are craving for an indulgent slice of cheesecake, looking for a quick kabob takeout or taking time to wine and dine, Denman Street will have something to offer almost any time of the day. Closer to West Georgia Street and
Stanley Park
, there are a number of bicycle and inline skate rental places for easy riding or skating around the Seawall. While Denman Street is known for its good food, Davie Street has its fair share of entertaining shops, cafes, restaurants, bars, bakeries and produce stores. Unique to Davie Street is
Davie Village
, between Burrard and Jervis, the heart of Vancouver's LGBT community and home to the annual Vancouver Pride Parade & Festival. Besides the ever popular gay nightclub, Celebrities, there are also a number of provocative adult stores and a thriving community garden. During the warmer months, the West End Farmers Market attracts the local/organic food crowd to mill away their Saturday mid-morning, just off Davie Village on Comox Street.
Coal Harbour
, on the north side of the West End, is a relatively new, high-end area. Many of the condominiums were built in the last ten years and have million-dollar views coupled with multi-million-dollar price tags. It is a pleasant area to stroll or relax at the parks and the Seawall, but it lacks the raw energy and rustic character of English Bay.
Get in
The West End is easily accessible from the
City Centre
. Heading west on almost any of the streets from downtown will lead you there. The main thoroughfare is
West Georgia Street
, which runs through the neighbourhood to Stanley Park and into the
North Shore
via the Lions Gate Bridge.
Robson Street
and
Davie Street
are also busy streets that carry traffic between the West End and the rest of downtown.
By car
If you are driving, it is best to park your car and explore the area by foot. Many of the side streets are traffic calmed in some manner and are frequently blocked off so they cannot be used for through traffic. Parking lots are available in Coal Harbour ($12-15 for the day) and Stanley Park. There is also limited on-street parking in the residential areas.
By bus
The West End is mostly served by
Translink
buses from the City Centre. If travelling from other parts of Vancouver by public transit, you will have to get downtown first and then board one of the following:
#5 - heads to English Bay via Robson Street
#6 - heads to English Bay via Davie Street
If travelling from the
North Shore
, the following buses pass through the West End on their way downtown:
#240 - connects with the Central Lonsdale area of North Vancouver
#250, 251, 252 - connects with various parts of West Vancouver, via Park Royal Mall
By bicycle
The Seawall is the main bike route in and around the West End (including Stanley Park). The popularity of the Seawall has been good for the bike rental business — there are a number of shops, particularly near the entrance of Stanley Park, where you can hire a bike for a few hours, a day or longer.
See
Inukshuk

address: Beach Ave and Bidwell St

At the southern end of English Bay is this inukshuk statue facing out to sea. It's not the inukshuk statue for the Olympics; this statue was made for the city as part of Expo 86.
Stanley Park
With of mostly forested land at the western tip of downtown,
Stanley Park
is one of North America's largest urban parks, and quite literally, is an oasis of wilderness in the middle of the city. The park is surrounded in its entirety by a 9km paved path called the
seawall
; a great place for rollerblading, cycling, jogging or just taking a pleasant walk. There are also hundreds of kilometres of inland trails crisscrossing the park in every direction. Stanley Park park attracts over 8 million visitors per year.
The park includes heavily forested natural areas, manicured gardens and totem poles. As tall and old as the trees appear, it is interesting to know that much of them are second-growth, as the area was heavily logged from 1860-1880. Every single one of Stanley Park's grey squirrels was descended from eight pairs given to Vancouver as a gift from
New York City
in 1909.
There is a free bus that shuttles visitors around the loop to the different parts of the park. The bus operates in the summer, every 12-15 minutes. It takes 45 minutes to do the full loop. There are stops near all of the major attractions including:
phone: +1 604-659-3474

address: 845 Avison Way

In Stanley Park near its eastern edge. Be sure to visit the Amazon River section for some truly unusual and extraordinary animals. The last weekend in April, there is a salmon release event where you can learn about the Aquarium's new salmon breeding program and get to release and name your own fish.

phone: +1 604-257-8531

Who doesn't like to ride a miniature railway? At Christmas, there is a very popular light display for the miniature railway.
Prospect Point— At the north tip of Stanley Park, Prospect Point affords stunning views of the Lions Gate Bridge and First Narrows. There is a concession and bathrooms here, and sometimes you may spot a large contingent of raccoons begging for food. Please don't feed them.
Nine O'clock Gun— Built so that mariners could set their chronometers. This gun has marked 9PM every night since 1894.
Totem Poles— Near Brockton Point is this collection of eight totem poles, colourfully painted and intricately detailed.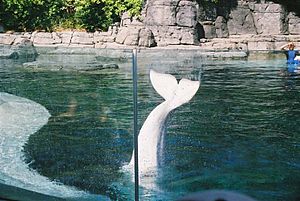 Do
SeawallA paved path that begins at Canada Place in the CBD and follows the coast around Stanley Park through the West End and around False Creek to Granville Island and Kitsilano. It's very popular to rent bikes or rollerblades and ride/skate the piece around Stanley Park (about 9 km in length).

BeachesSecond and Third beaches are spaced along the western part of the seawall in Stanley Park. Sunset Beach on English Bay is a popular place to watch the sunset and probably the best place to see the Festival of Lights.

Second Beach PoolA very large heated outdoor swimming pool. Alternatively you could swim at the beach or use the spray park near Lumberman's arch for no charge. There are lifeguards at both Second Beach and Third Beach.

Festival of Lights (Fireworks)Seen one fireworks show, seen them all? Think again. Most Vancouverites come out to this event to enjoy the beach, the breeze and the hundreds of thousands of people who turn out. The fireworks themselves are just the excuse. Four shows, late July/early August. Make sure you take public transit; streets are closed and crowds are heavy.

Gay Pride Parade and FestivalTakes place on the Sunday before the first Monday in August. The parade runs along Robson Street to Denman Street to Beach Avenue, with the festival happening at Sunset Beach. This is the largest celebration of its kind in Western Canada, in 2008 attracting over 500,000 festival-goers from all over North America. Parties, arts and cultural events lead up to this colourful parade and beachside festival.

phone: +1 604-568-8490

address: 1754 Davie Street

Offers top quality bikes at discounted prices including cruisers, city hybrids and tandem bikes in all sizes. Helmets and locks are complimentary with each rental. Children's bikes, training wheels, roller blades and dog trailers are also available. Convenient location offers easy access to the Stanley Park sea wall, Granville Island, False Creek and Science World. Call ahead to book for large groups at a discounted rate. Weekly and monthly rentals are available on request.

phone: +1 604-688-5141

address: 1798 West Georgia St

Offers bike rentals and guided bike tours from a fantastic location on the doorstep of Stanley Park. Various styles of bikes for adults and children, plus helmets and locks. Weekly and monthly rates also available.

phone: +1 604-681-8847

address: along Lagoon Drive

18-hole course set amid rhododendron gardens. Holes range in length from 40 - 100 yards.

phone: +1 604-689-7575

address: English Bay Bath House

Ocean kayak rentals right on the beach, aimed at novices and casual paddlers. Drag the kayak across the English Bay beach, into the tame water, and go. Stanley Park and False Creek are easily reachable destinations. Reservations recommended for busy times. Other locations at Jericho Beach and Granville Island.

phone: +1 604-689-7575

address: English Bay Bath House

Ecomarine Kayak (see listing above) offers scheduled guided tours if you don't want to just paddle independently. Summer months only. They have other tours from their Granville Island location.
Buy
Robson Street downtown is the main high end shopping district.

phone: +1 604-331-1602

address: 1120 Davie Street

This headshop has a vibe all unto its own. The staff and customers tend to be eccentric individuals. There is a selection of pipes, bongs and hookah equipment and supplies.
Eat
The West End is thick with restaurants. If you walk along Robson Street between downtown and Denman Street, or along Denman Street between Georgia Street and English Bay, you will pass dozens of eating options with a wide variety of cuisines and price points. There is a particular concentration of Korean food along a few blocks of Robson Street from Denman Street uphill to the east, maybe because many English as a Second Language (ESL) students from Korea lodge here. At the English Bay end of Denman street, the water vistas have encouraged a cluster of high-price high-service restaurants.
Budget
phone: +1 604-689-9980

address: 1206 Davie St

This small restaurant serves up good Thai food in a casual atmosphere. True to the name, you can eat-in (if you can find a seat) or take the food home and warm it up there.

Stepho's Souvlaki Greek Taverna

phone: +1 604-683-2555

address: 1124 Davie Street

A Greek restaurant in downtown Vancouver, famous for long lines of customers waiting for a table, hungry for Stepho's abundant and delicious platters of Greek favourites.

Whole Foods Market

phone: +1 604-687-5288

address: 1675 Robson St

Self service take away or eat in. A great place for vegetarians and vegans. Food is charged by weight.

Kintaro Ramen

phone: +1 604-682-7568

address: 788 Denman St

Authentic Japanese ramen shop. Often it's crowded and there's a lineup but it moves fast. Close to Stanley Park and the bike/roller-blade rental shops on the end of Denman St.

Ezogiku Noodle Cafe

phone: +1 604-683-6111

address: 1329 Robson St

The speciality here is the Sapporo miso ramen ($6.55), a Japanese noodle soup flavoured with miso paste and served with a heap of veggies on top; add in $2.20 for a serve of gyoza dumplings on the side. The servings are large, with a hearty broth and an authentic abundance of ingredients. Vegetarian soups and broths available. Cash only. Two locations on Robson Street:

Jang Mo Jib

phone: +1 604-642-0712

address: 1719 Robson Street

Serves home style Korean food and is frequented by the local Korean students. The restaurant almost looks run-down, but it serves excellent food. Try the short ribs.

phone: +1 604-566-9503

address: 1187 Denman St

Delicious tacos, the size of the palm of your hand, topped by a variety of vegetarian or meaty options. 4-6 are usually a good meal. Bright colours and welcoming service, but only a few stools to perch on in the small space. Similar to the formula of La Pinche Taqueria in town, but cheaper.

Samurai Japanese Restaurant

phone: +1 604-609-0078

address: 1108 Davie Street

Well known for having huge portions for small prices. It also has fresher sushi than some more expensive places. During meal times, it can be very difficult to get a seat. In the summer, it can be nice to get take out and walk down to Sunset Beach (4 blocks southwest on Thurlow, ~20 min). Be sure to try their toro (fatty tuna), and salmon sushi/sashimi. Stay away from their tuna sushi/sashimi because it tends to be too frozen. There are other locations at Cambie Street and 43rd Ave in South Vancouver, and on Fraser Street in East Van.
Mid-range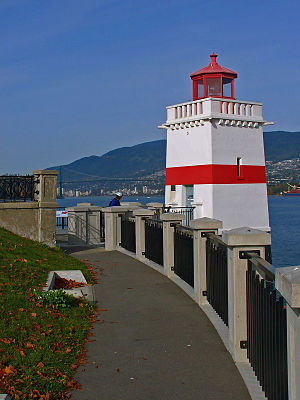 phone: +1 604-669-3389

address: 1043 Davie Street

Malaysian food is a vibrant mingling of Chinese, Indian, Thai, Indonesian, and Malay, and it springs to life at Banana Leaf with rich flavours beautifully presented, yet in an efficient, low-key atmosphere. Many dishes can be prepared vegetarian. Other locations are on West Broadway (Mt Pleasant and Kits), Robson, and Denman. In location which used to be "Kam's Place", which also served southeast Asian food.

Kingyo

phone: +1 604-608-1677

address: 871 Denman St.

Traditional izakaya dishes with a modern, fusion twist, in a decor which feels at once traditional Japanese, down-to-earth friendly, and cutting-edge. Vegetarian options available.

La Bretagne, The Original Creperie

phone: +1 604-688-5989

address: 795 Jervis St

A wide selection of both savoury crepes (with vegetables) and sweet crepes (with cream, fruits, and sugar), plus breakfast offerings and sandwiches. Try the organic buckwheat flour, which gives the crepe the rich dark brown colour of farm bread. A lot of choices for a light lunch or dinner, or mid-afternoon snack. Crepes $6-8, a full lunch $8-15.

Maria's Taverna

phone: +1 604-681-8500

address: 1037 Denman St

Delicious Greek food, including a vegetarian souvlaki platter. The seating spills out onto the sidewalk, which is a treat in warm weather. There's another Maria's at 2324 W 4th Ave in Kitsilano.

Taki's Taverna

phone: +1 604-682-1336

address: 1106 Davie Street

Another Greek taverna with long lines. A good overflow alternative to Stepho's down the block.

Zakkushi

phone: +1 604-685-1136

address: 823 Denman Street

A small Japanese restaurant that specializes in Japanese skewered meats. It would be a good idea to make a reservation.
Splurge
phone: +1 604-685-3924

address: 1616 Alberni St

The romantic and intimate setting in an old Victorian house will heighten your senses and put you in the right mood for French cuisine with a West Coast twist. The beautiful view of the mountains is no less impressive than the great food and service you will get here. Be prepared to spend $70/person or more for a memorable experience.

phone: +1 604-685-7337

address: 1193 Denman St

Successor to long-time favourite Raincity Grill, the Beach Bay Café takes over the spectacular views, and the high-cuisine, high-service, high-price offering. Find someone else to pay, and enjoy.
Drink
phone: +1 604-681-6180

address: 1022 Davie St

One of Vancouver's largest clubs with varied music (DJs, house, 80s) depending on the night. Stereotype Fridays are very popular and sometimes feature international DJs. Generally a gay bar, but the crowd tends to be more mixed on Tu and F Sa.

phone: +1 604-687-6455

address: 1199 West Cordova St

Serves a variety of finger food, burgers, pizzas and salads with Guinness and some local brews on tap. It's a bit overpriced, but the patio (on the park looking at the harbour) is hard to beat.
Sleep
The West End has fewer options to stay than the heart of downtown, but can offer slightly cheaper rates.
Budget
Other than one hostel, there are no really cheap accommodation options in the West End. However, there are a few hostels in the neighbouring
Central Business District
and some more a bit further on in
Gastown and the Eastside
.
phone: +1 604-684-4565

address: 1114 Burnaby St

A location of the Hostelling International chain, this is a rather nice and very clean hostel. Games room, a spacious kitchen, TV room, internet access, free breakfast. It's a little far from downtown walking-wise, but located on a very nice, quiet street near the waterfront.
Mid-range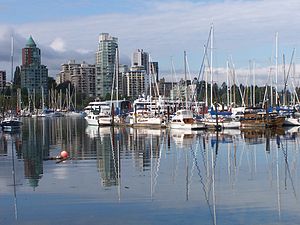 Splurge
Westin Bayshore Resort & Marina

phone: +1 604-682-3377

address: 1601 Bayshore Dr

Luxury resort next to the Stanley Park with 510 rooms and stunning views of Coal Harbour and mountains.
Go next