Vancouver (Washington)
Vancouver
is a city in the
Southwest Washington
region of
Washington State
, immediately north of the border with
Oregon
. Two bridges across the Columbia River connect Vancouver to the rest of the
Portland
metropolitan area. Vancouver is the fourth largest city in Washington (and is more populous than all cities in Oregon with the exception of Portland), but is obscured by its close proximity to and economic reliance on Portland, OR. It should not be confused with the larger city of the same name,
Vancouver
,
BC
(
Canada
) which is just under 300 miles (450 km) to the north.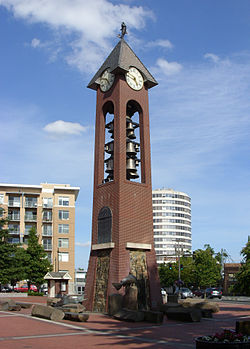 Get in
By plane
Vancouver is closer to the Portland International Airport
PDX
than most of Portland, about a 20-minute drive away. From Portland Airport, take I-205 north across the Columbia River to reach Vancouver, then follow SR 14 west to downtown.
By local bus, from Fisher's Landing in the east part of town, the #65 bus goes down to the Parkrose/Sumner Transit where passengers transfer to the MAX Red Line train to the airport.

By car
Interstate 5 and 205 passes directly through the city. From the east, Interstate 84 (in Oregon, connecting to 5 and 205) and SR 14 (in Washington) provide access through the Columbia River Gorge. SR 14 begins/ends in downtown Vancouver.

By train
Vancouver station

address: 1301 West 11th Street

Amtrak's Vancouver station is served by the Cascades and Empire Builder lines.
By bus
phone: +1 360 695-0123

address: Main downtown boarding area is along Broadway between 15th Ave & Evergreen

Operates buses between Vancouver and Portland. See #By public transit for more details.

phone: +1 503 243-2361

address: (Depot) 550 NW 6th, Portland, OR 97209

Greyhound buses traveling between Portland and Seattle stop only in Tacoma, Olympia, Centralia (off exit #81) and Kelso. NO service into Vancouver, WA. Therefore, passengers would have to travel down into downtown Portland by C-Tran/Tri Met and transfer to Greyhound or another bus line to get where they're going. See this LINK as to what else is available.

phone: +1 360 200-4911 or +1 360 200-4910

address: 99th Street Transit Center @ NE 99th & Hazel Dell Ave off of Exit #5 along I-5

Rural public bus system serving the 99th Street Transit Center (reachable via C-TRAN bus #105 via I-5, 71 along Hwy 99 and #32 along Main/Hazel Dell) from Longview, Kalama, and Woodland. At Longview you can transfer from a different CAP bus route that comes from Castle Rock and Chehalis.
Get around
By public transit
C-TRAN
is
Clark County
's public bus system. Buses runs throughout the area, serving riders as far north as
Ridgefield
/
La Center
, as far east as
Camas
/
Washougal
and south across the river to
Portland
.
In addition to routes within Clark County, C-TRAN operates express buses to downtown Portland, Lloyd Center &/or Marquam Hill (routes 105, 134, 157, 190, and 199), as well as regional service to Parkrose/Sumner MAX station (route 41 from downtown Vancouver to Fisher Landing; route 65 from Fisher Landing to NE Portland and MAX Red Line to downtown Portland or the airport) and to Delta Park/Vanport MAX Station (route 60 to N Portland from downtown Vancouver and MAX Yellow Line to downtown Portland).
Fares on C-Tran are $1.80 for trips within Clark County; $2.50 for regional service (C-Tran service to Vanport and Parkrose/Sumner MAX stations in Portland); and $3.85 for express C-Tran service to downtown Portland. Regional and express fares can be used to transfer to TriMet.
The regional
Hop FastPass
smartcard works on C-TRAN as well as on TriMet in Portland and can be purchased at Fred Meyer and Safeway stores in Clark County. See
the Hop FastPass section under Portland
for more details.
By car
By bicycle
See
Do
Learn
Buy
Vancouver Farmers MarketOpen March through October, Saturdays 9AM-3PM and Sunday 10AM-3PM, rain or shine. Great selection of naturally grown fruits, vegetables and herbs, local natural meats, seafood and dairy products. Over 200 vendors.

Uptown VillageIs nestled between downtown Vancouver and its historic neighborhoods. It lies between Mill Plain and 4th Plain Boulevards along Broadway, Main, and Columbia Streets.

phone: +1 360 892-6255

address: 8700 NE Vancouver Mall Dr

The mall offers a variety of stores including large department stores such as Macy's, Sears and JCPenney. There are over 120 stores, restaurants and specialty shops.
Eat
phone: +1 360 694-4971

address: 7401 E Mill Plain Blvd

Founded in 1961 and still based here in Vancouver, the NW's own fast food chain with a decidedly NW flavor promoting sustainable practices and fresh, local ingredients. Great burgers and traditional fast food fare. Amazing seasonal items including sweet potato fries, asparagus, strawberries, blackberries, onion rings and more. The original Burgerville USA was actually in the building next door to this location.

phone: +1 360 750-1196

address: 2219 Main St

Vancouver Pizza Company is a great, family friendly gourmet pizza shop with over 25 specialty pizzas. They also offer fresh salads, hot sandwiches, and breadsticks! Stop in and treat yourself to our delicious lunch menu, or bring in the family and enjoy an evening of pizza, and a game of checkers. Children love our kid's meals and their own coloring page! Rated 4 stars by the Columbian.

Sushi World

phone: +1 360 944-9659

address: 13503 SE Mill Plain Blvd

Sushi World is one of the best and cheapest places in the Portland/Vancouver area to get sushi. It's clean, friendly, but sometimes crowded, especially on nights when they're offering a discount. Plates travel around to booths and bars while staff in the kitchen and in the hub of the restaurant replenish stocks. Options vary from nigiri or rolls to noodles to dessert items. Offerings are invariably fresh, and special items are available from the sushi chefs on request. It is very possible to eat your fill here and get out the door for $10 per person.

Sakura of Japan

phone: +1 360 573-3883

address: 8010 NE Highway 99 # A

Looking for the best Japanese food in Vancouver? A 5 minute drive north of the Downtown area will bring you to the suburb of Hazel Dell where Sakura of Japan is located. The staff is friendly and the food is amazing. The restaurant prepares many Japanese dishes, including Teriyaki Chicken, Yakisoba Noodles, and Miso Soup. The servings are generous and there's always some left over to bring home. And the best part of it all is the food is cooked right in front of your eyes, a la Beni Hana's.

New Seasons Market - Fishers Landing

phone: +1 360 760-5005

address: 2100b SE 164th, #101

Local natural food supermarket chain with fantastic sandwiches and an awesome deli counter. You can choose your bread, meat/tofu pate, veggies, and spreads. Multiple locations throughout the greater Portland Metropolitan area.

phone: +1 360 944-1006

address: 2100 SE 164th Ave

An east coast style deli serving the best in cheese steaks, fettuccini, and cheesecake.

phone: +1 360 883-3419

address: 16209 SE McGillivray Blvd, Ste H

Truly flavorful, family-run restaurant with exotic atmosphere. Open for lunch and dinner 7 days a week. Reservations welcome. Gift certificates available.
Drink
phone: +1 360 699-1521

address: 1801 SE Columbia River Dr

Not only do they have fantastic food, but they also have a full-service bar. Located along Vancouver's water front on the Columbia River, the pub is known for the many beers it makes and serves. The atmosphere is very relaxed and appealing. McMenamins is a great place to visit and enjoy drinks, food, and an incredible view.
Sleep
Vancouver Hilton

phone: +1 360 993-4500

address: 301 W 6th St

Just opened in 2005.

phone: +1 360 254-3100

address: 7801 NE Greenwood Dr

The Heathman Lodge offers a mountain-like retreat.
phone: +1 360 891-9777

address: 12712 SE 2nd Cir

All suite accommodations with complimentary breakfast buffet, high speed internet, and 24 hr. business center

phone: +1 360 256-0707

address: 9420 NE Vancouver Mall Dr

Complimentary breakfast. Pool, spa and fitness center.
Connect
The area code for Vancouver is
360
. Seven digit dialing for all local calls, but note that the
360
area code also covers most of Washington west of the Cascades but outside the greater Everett-Seattle-Tacoma corridor, so
360
numbers outside of the local calling area may incur long distance charges, depending on where in the 360 area code you are calling. You don't need to use the area code when calling within 360.
Fort Vancouver Regional Library

phone: +1 360 695-1566

address: 1007 E Mill Plain Blvd

Free Wi-Fi access at all FVRL locations. See the librarian for guest access to the library's Internet-enabled computers.
Cope
Go next
Portland Take I-5 or I-205 south (which are the only two crossings) and enjoy.
Beacon Rock State Park, about 35 miles East of Vancouver, is one of the Northwest's more enjoyable day trips. After driving for less than an hour through the scenic Columbia Gorge, you arrive at the base, where it is advisable to use restroom facilities and prepare for a relatively short, but moderately vertical hike up the 1-mile trail to the top of this old volcanic core, the second-largest free-standing monolith in the world (after the Rock of Gibraltar). Spectacular views of the Gorge, the river, and various wildlife will be your reward. The park also offers camping and more hiking trails, if you feel so inclined or you wish to avoid other hikers.
Mount St. Helens and the Ape Caves are less than an hour north of Vancouver. Get great views of the mountain or drive up closer to the observatory. The Ape Caves are lava tunnels that can be explored, though be sure to bring a very good flash light and warm clothing, because even on the hottest and brightest days, the Ape Caves are cool, dark, and damp. While up there, be sure to stop at one of the many reservoirs for a picnic or a swim.