Vantaa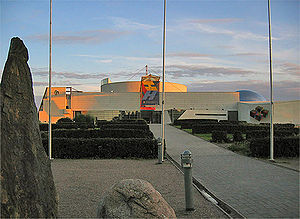 Vantaa
(Swedish:
Vanda
) is in the
Uusimaa
region in southern Finland, right north of
Helsinki
. Part of the Helsinki Metropolitan Area, it is the fourth most populous city in Finland.
Understand
Like
Espoo
, Vantaa is basically an extension of Helsinki and does not have one single city center. Vantaa's administrative center is in Tikkurila. Quite few of the inhabitants have any connections to the rural landscapes and villages left from the old
Helsinge
(renamed Vantaa 1972). Best known as the city where Helsinki's airport is located, you will also find various parks and farms you can visit there as well as the beautiful Medieval Church of St.Lawrence.
Get in
By plane
The city is indeed accessible by air, as
Helsinki Airport
(
HEL
) is situated in Vantaa. There are buses from the airport to different parts of Vantaa, or you can take the commuter train to Tikkurila (for eastern Vantaa) or Myyrmäki (for western Vantaa) that are public transport traffic hubs.

By train
The main railroad north from Helsinki goes through eastern Vantaa. In addition to several local train stations, all long distance trains to the north and east, including the ones to Russia, stop at Tikkurila station. If you are heading for the western parts of Vantaa, you can take the local train line "I", which also stops at the Helsinki-Vantaa airport.

By car
Freeways 3, 4, 45 and 7 out of Helsinki go through Vantaa and the main east-western road is the third ring road (Kehä III). In the morning and afternoon rush hours traffic it can get quite busy and in the winter a heavy snowfall or a larger accident due to the often over-frozen road surface can block the traffic completely.

By bus
From Helsinki several local buses go to Vantaa, and there are some lines directly from Espoo too. The Helsinki region public transport authority's Journey Planner is an excellent tool to find out which bus you should take from one address to another. Some larger cities in southern Finland also have a direct connection to Helsinki airport.

Get around
See Helsinki#Get around for information about fares and tickets
By train
Kehärata
(Ring Line) connecting the main rail line with western Vantaa via the airport opened in July 2015. Combined with bus transfers, this is the fastest way to get around for many. See
Journey Planner
or
Google Maps
for routes and timetables.
By bus
There is a maze of bus lines in the area, however with the opening of Ring Rail train line
the routes are completely renewed in August 2015
. See
Journey Planner
or
Google Maps
for routes and schedules.
By car
As distances are longer than in the more central parts of Helsinki, driving is sometimes an option. As above, the traffic can get quite congested in the rush hours, especially on the ring roads.
By bike or foot
On a sunny summer day you can make use of the cycle and footpaths crisscrossing Vantaa and suburban Helsinki. Get a good map.
See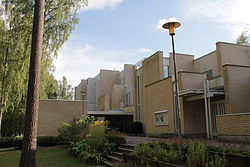 address: Kuninkaalantie 7

Heureka is an interactive science museum, with different kinds of exhibitions about technology, physics, chemistry, medicine, astronomy and so on. Really exciting for children interested in science.

St.Lawrence

address: Kirkkotie 45

A medieval stone church from the 15th century in the southern part of Vantaa.

phone: +358 9 8700 870

address: Tietotie 3

Near Helsinki-Vantaa airport. A museum with over 70 planes (both civilian and military) as well as plane parts, equipment and photos.

address: Uomatie 1

Completed in 1984, this church is pretty cubist on both the inside an outside.

address: Hertaksentie 1

Learn more about how Vantaa grew from a couple of farms at the outskirts of Helsinki to the city of 200 000 inhabitants it is today.

address: Meiramintie 1

Not just a plant and gardening store, but actually a 3500 sq.m garden with an indoor desert where cacti grow and a Japanese garden mimicking the climate of Tokyo round the year.

SotunkiIt's hard to call this farmland dominated area at the eastern edge of Vantaa a "city district". In the summer it's a pleasant area for biking along the unpaved roads between the fields where sheep and cows graze. It's also not far away to Sipoonkorven kansallispuisto (Sipoonkorpi National Park) in the neighboring Sipoo municipality.
Do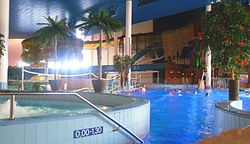 Events and festivals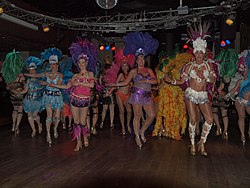 address: Hertaksentie 2

A samba show held on a Saturday in late January at the nightclub Tulisuudelma (see section Nightclubs below). Features performances by the samba schools Império do Papagaio from Helsinki and Sambic from Tuusula. Consists of both an instructed samba dance class and an evening samba show.

address: on Vantaa river

An unofficial event usually held the last weekend of July or the first weekend of August since 1997. The participants (yup, mostly males in their 20s) gather in Vantaa with rubber boats, rafts or whatever they can find that floats and travel downstreams towards Vanhankaupunki rapids while indulging beer - of course without life vests. This event has no official arrangers that could be held responsible if something happens and the date of the event just spreads in social media. If you think watching the spectacle isn't enough, remember that you're doing it on your own risk!



Vantaa

address: Tasetie 8

A big entertainment complex located near the airport in Vantaa, next to a large shopping mall Jumbo, just north of Helsinki. Biggest attractions are Flamingo Spa & Wellness with pretty cool and fast slides in the waterpark section and a large selection of relaxation pools, jacuzzis and different saunas in the other section, and Hohtogolf West Coast which is a glow in the dark 15-hole miniature golf course with over-the-top mechanized special effects and a special "horror" section. Cheesy but fun, especially after a few drinks from the bar. Other attractions in Flamingo include a small casino, a 3D movie theater, many pubs and restaurants, a variety of specialist shops, a large hotel and one of the biggest nightclubs in Finland called Onnela.

Härmälä Farm

phone: +358 9 876 7339, +358 400 880 539

address: Mäntykummuntie 6

A typical Finnish farm located in the village of Sotunki in eastern Vantaa and surrounded by a picturesque landscape. On the farm you can meet animals representing the traditional Finnish stock: cows, sheep, goats, pigs, horses and more..

address: Kuusijärventie 3

This traditional smoke sauna is located in Vantaa but very easy to reach from Helsinki Railway Station. Situated in Kuusijärvi Outdoor Centre and besides a beautiful lake, it's widely regarded as one of the best traditional saunas in the capital region. Rebuilt in 2011.. Take your swim gear with you, as the smoke sauna is mixed-sex.

address: Honkanummentie 6

Dance tango and other similar dances. Also arranges dance courses.



Work
More so than Helsinki or Espoo, Vantaa has large industrial areas and a lot of services, so there are a lot of jobs at various levels, including for immigrants. Common jobs are for instance cleaning, cargo handling, warehouse work and waiter and other restaurant jobs. The government employment office (TE-toimisto) is located in Tikkurila, Vernissakatu 8 C, 01300 Vantaa.

Buy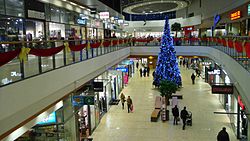 Shopping centers
In Vantaa and the northern suburbs there is no shortage of
large shopping malls
with even larger parking areas where you can buy everything from strawberries to washing machines. They also have other services like banks and restaurants and are all accessible by bus. The major ones are:
address: Vantaanportinkatu 3

Finland's second largest mall when it opened in 1999, Jumbo does live up to its name. Jumbo features Prisma and Citymarket superstores, a Stockmann department store and practically all Finnish shop and a range of cafés and restaurants.

address: Iskoskuja 3
There's also a cluster of shopping malls in , along freeway 45 south of Ring road III, as well as in , though this one only comprises furniture and bargain stores.
Eat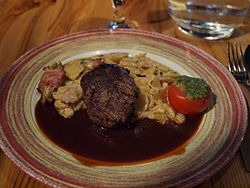 Budget
IKEA furniture mall's cafe and restaurant

address: Porttisuontie 18

The furniture store IKEA has a restaurant on the 3rd floor and a café on the second where you can have a cheap and decent meal for well under €10 or a coffee or a hotdog for around €1. Also serves €2 breakfast in the morning except Sunday when the store is closed.

address: Virkatie 7

The "Lunch restaurant Ring Road Three" is a café all the day and serves you good all-you-can-eat buffet lunch at lunchtime. Popular among blue-collar workers.

address: Asematie 4 (Tikkurila), Iskoskuja 3 (Myyrmäki), Tasetie 8 (Flamingo)

The pizza buffet chain RAX has three restaurants in Vantaa. All you can eat buffet serving delicious (but some say "unhealthy") food such as pizza, chicken wings, lasagne, meat balls, fried onions, nachos, salads, soft drinks and ice for desert.
Mid-range
address: Tasetie 8

A restaurant in the Flamingo entertainment center. The menu is along the line of steaks, chicken wings, large hamburgers etc. best enjoyed with a glass of wine from their surprisingly large wine list.

Thai Palace

address: Unikkotie 5A

Thai food, as the name reveals.

address: Unikkotie 5A

Next to the former, the oldest Chinese restaurant in Vantaa.

address: Kielotie 8

Traditional Finnish food, the name translates to "at grandma's".
Splurge
If you want fine dining, you should better travel to central Helsinki. The hotels near the airport also have their own restaurants, however the food at the hotel restaurants doesn't necessary live up to the prices.
address: Tikkuraitti 15

American restaurant in Tikkurila.

address: Talkootie 4

At your request.
Drink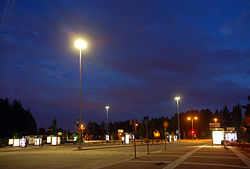 Most suburbs have a pub or two. If you want something fancier, head to central Helsinki, that's what the locals do.
Pubs and bars
address: Hertaksentie 2

address: Tikkuraitti 17
Nightclubs
Sleep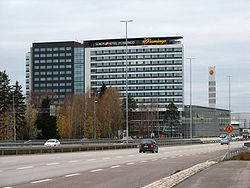 The major hotel concentration in this part of the capital region is near the airport. No wonder, as most people coming to or leaving from Finland by air pass through Helsinki-Vantaa.
Budget
Mid-range
Splurge
Hilton Helsinki-Vantaa Airport

phone: +358 9-73220

address: Lentäjänkuja 1

Full-service hotel right next to the airport, opened in late 2007. Soundproof windows, bar, restaurant, sauna.

Sokos Hotel Flamingo

phone: +358 20 1234 605

address: Tasetie 8

phone: +358 9 4157 7100

address: Robert Huberin tie 4
Go next