Varanasi
Varanasi
, once known as
Benares
or
Banaras
and
Kashi
, is a city at the banks of the Ganges river in
northern India
. Being the most sacred city in
Hinduism
and Jainism, and important in the history of
Buddhism
, Varanasi is India's most important pilgrimage destination.
Understand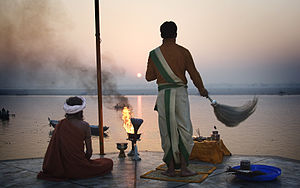 Varanasi is one of the oldest continuously inhabited cities in the world, with settlements dating back to the 11th century BC. Many Hindus believe that dying in Varanasi brings salvation/nirvana and so they make the trip to the city when they realize that they are close to death. For some, the culture shock of the burning corpses in plain view and the feces overflowing from the Ganges can be a bit overwhelming. However, the scene of pilgrims doing their devotions in the River Ganga at sunrise set against the backdrop of the centuries old temples is probably one of the most impressive sights in the world.
The city can be scorchingly hot in the summer months so, if possible, time your visit to fall between October and March, and bring something warm to wear for chilly days and nights, instead.
Get in
Varanasi is well connected by plane, train, and bus.
By plane
By train
There are multiple daily services to cities including
Delhi
(13 hours),
Agra
(13 hours),
Lucknow
(7 hours), Mumbai (25-27 hours),
Kolkata
(12-14 hours) and
Siliguri
(14-16 hours).
Varanasi is served by three major railway stations:
Varanasi Junction (IR station code : BSB)The trip between the train station and the Ganges-area costs ₹100 in an auto-rickshaw

Manduadih Railway StationThe trip between the train station and the Ganges-area costs ₹100 in an auto-rikshaw

Pandit Deen Dayal Upadhyaya Junction - formerly called Mugal Sarai Junction (IR station code : DDU)Pt. Deen Dayal Upadhyaya Junction is about 20 km east of the city - the trip between the train station and the Ganges-area costs ₹500 in a taxi, ₹250 - ₹300 in an auto.
Here is a list of useful trains to reach Varanasi:
| Train Number | Train Name | You may board at | You may alight at |
| --- | --- | --- | --- |
| 12424 | Rajdhani Express | New Delhi | Mughal Sarai Junction |
| 12436 | Rajdhani Express | New Delhi, Lucknow | Varanasi Junction |
| 12560 | Shivganga Express | New Delhi | Varanasi Junction |
| 12165 | Lokmanya Tilak (T) - Varanasi Express | Lokmanya Tilak Terminus (Mumbai) | Varanasi Junction |
| 12336 | Lokmanya Tilak (T) - Bhagalpur Express | Lokmanya Tilak Terminus (Mumbai) | Mughal Sarai Junction |
| 12333 | Vibhuti Express | Howrah (Kolkata) | Mughal Sarai Junction, Varanasi Junction |
| 12307 | Howrah-Jodhpur Express | Howrah (Kolkata) | Mughal Sarai Junction |
| 12669 | Ganga Kaveri Express | Chennai Central | Varanasi Junction |
| 12295 | Sangamitra Express | Bangalore City, Chennai Central | Mughal Sarai Junction |
| 17091 | Secunderabad-Patna Express | Secunderabad (Hyderabad) | Mughal Sarai Junction, Varanasi Junction |
| 14854 | Marudhar Express | Jaipur, Agra Fort | Varanasi Junction |
| 14864 | Marudhar Express | Jaipur, Agra Fort | Varanasi Junction |
Also see Rail travel in India
By bus
The bus station in Varanasi is located just east of the Varanasi Junction train station. A tuk-tuk from the bus station to the Ganges area costs ₹100.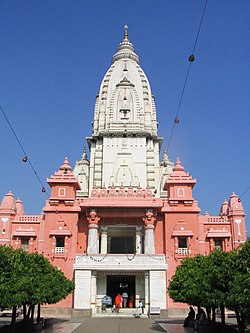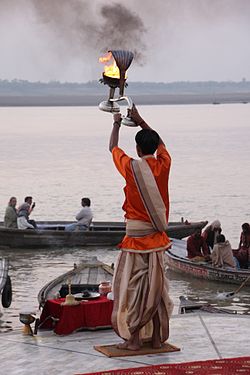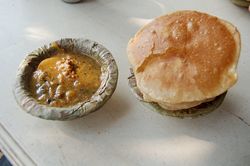 Arriving from Nepal
Buses are available from major cities in
Nepal
to the border city of
Sunauli
. From the Sunauli bus station, take a rickshaw (Rs200) to the border crossing, get your passport stamped on the Nepali side then walk through the border. After 100 m of walking through no-man's land, you will find the Indian immigration office hidden away on the left hand side of the road. After going through Indian immigration, walk 300 m and find the bus stop on the right hand side. From there, take the government bus to
Gorakhpur
, not the private lines which are far less comfortable and stop everywhere. The bus trip between the border and Gorakhpur takes 4 hours and costs ₹60. To reach Varanasi from Gorakhpur, you can either take a train from the Gorakhpur Junction train station (5-7 trains per day, 5.5-7 hour journey, ₹200-800 cost) or a bus (hourly, 8+ hour journey, ₹130 cost).
Budhha Air has also some packages for devotees visiting Varanasi.
The cheapest option is perhaps to take the bus in Kathmandu from the monkey temple to Birganj/Raxaul for about 700NRP, and take a train from Raxaul to Varanasi- but you risk not making the border by 10PM because of breakdowns and the Raxaul-Varanasi train doesn't run often.
Arriving from other cities in India
There are buses run by state government from
Lucknow
(8 hours, ₹160),
Gorakhpur
(8+ hours, ₹130),
Khajuraho
(12 hours, ₹250),
Kanpur
(9 hours - ₹195),
Faizabad
(7 hours, ₹105),
Bodhgaya
(7 hours, ₹250) and
Allahabad
(3 hours - ₹107 for AC, ₹60 w/o AC).
Get around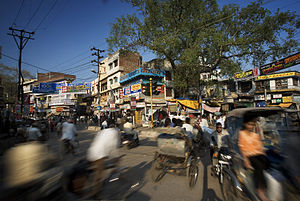 Note that many streets are too narrow to be reached by cycle-rickshaw, auto-rickshaw, and car and therefore, you may have to walk a bit to reach your destination.
By foot
By foot
is the only way to see the waterfront and the ghats - but be ready to be hot, sweaty, and lost - locals are usually happy to point you in the right direction. The names of ghats and signs pointing to restaurants and hotels are often painted on the walls in Roman letters. For better orientation, walk into any book store and pick up a small guide/map book that will have the list of all the ghats and their historical background. The main problem with walking in Varanasi is that like most Indian towns (
Shimla
,
Gangtok
and a few other places being notable exceptions), the authorities refuse to ban vehicles in areas used by pedestrians - no matter how narrow the streets. In this respect, a relaxing walk is disturbed by the constant need to step aside in order to avoid being hit by a motorbike.
By cycle-rickshaw and auto-rickshaw
The chaotic streets of Varanasi are sometimes too much to handle by foot. Therefore, it will often be convenient to travel by cycle rickshaw or auto-rickshaw. A short journey of a few kilometers should cost under ₹50, while a longer journey within the city, such as between the ghats and the train station, will cost ₹100. Further journeys, such as to
Sarnath
(10 km), cost ₹500 there and back (with a one to two hour waiting period) or ₹300 one way by auto-rickshaw.
There is a pre-paid auto-rickshaw stand at the Varanasi Junction (Cantt) train station.
By car or taxi
While taxis and cars-for-hire do exist, traffic makes them impractical.
By bicycle
Bicycle rental is available from many vendors. Inquire at your hotel.
See
Varanasi is not a city with distinct tourist destinations; the experience is in watching the spectacle of life and death on the river and meandering through the alleys of the old city.
Ghats and the River Ganges
Floating away
While the use of ghats for cremation is well known, they are also used to give last rites to those who do
not
need cleansing by fire to purify their soul, including young children and pregnant women. Instead, their bodies are wrapped in cloth, weighted with stones and deposited into the Ganges. However, it is fairly common for the ropes to give way, resulting in
putrefying corpses
washing up on the east shore across from the city. Steer clear if squeamish.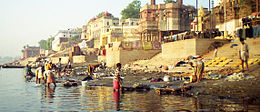 The River Ganga is a sacred river for the Hindus and you will see traditional rituals and bathing occurring at all times of the day. On the Eastern banks, the River Ganga is flanked by a 300-m-wide sand belt, beyond which lies a green belt, a protected area reserved for turtle breeding. The western crescent-shaped bank of the River Ganga is flanked by a continuous stretch of 84
ghats
, or series of steps leading down to the river, stretching for 6.8km. These ghats were built by Hindu kings who wanted to die along the Ganges, and they built lofty palaces along the river, most of which are now hotels, to spend their final days. You can walk along the river and see all of the ghats, but the best option for viewing the ghats is to charter a boat and see them from the river.
Hindus consider it auspicious to die in Varanasi, so some ghats are known as
burning ghats
, where over 200 corpses per day are cremated in full view before their ashes are eased into the Ganga.
Some of the most popular ghats, from north to south:
Panchganga Ghatthe meeting of the five rivers.

Manikarnika Ghatthe main cremation ghat; a must-see, but remain quiet and never take photographs (note: scams are plentiful here; see the "Staying Safe" section).

Dasaswamedh Ghatknown as the 'main' ghat, this is the site of the large evening aarti ceremony. The ceremony starts right after the sunset.

Rana GhatThe ghat is on the banks of Ganga which helps people to do religious ceremony without any difficulty.

Kedar Ghatbrightly painted in stripes and busy with bathers, very photogenic.

Narad Ghatthe ghat on which bathing with spouse is not advised because the myth of contention.

Harishchandra Ghatthe cremation place where Raja Harishchandra did the last rituals of his son.

Hanuman GhatIt was previously known as Ramesvaram Ghat and located at holy spot known as Juna Akhara in Varanasi. People believe that the Ghat was constructed by Lord Rama and hence it is dedicated to his favorite disciple, Lord Hanuman.

Shivala GhatThe ghat is constructed by King Balwant Singh and it played important role during Middle Ages. It comes under western part of Varanasi and as name suggests disciples connect it with Lord Shiva.

Tulsi Ghatsite of the large water purification plant.

Assi Ghata popular place to stay, with many hotels, restaurants, and internet cafes.
Religious buildings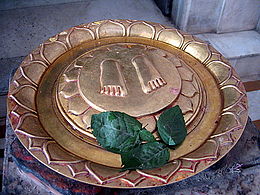 Alamagir MosqueOverlooking Panchganga Ghat, it's a great place for a bird's eye view of the area.

Bharat Mata TempleThe Bharat Mata temple at Varanasi is the only temple dedicated to Mother India. It is located in the Mahatma Gandhi Kashi Vidyapeeth campus. The Bharat Mata temple was built by Babu Shiv Prasad Gupt and inaugurated by Mahatma Gandhi in 1936. The statute of Bharat Mata is built in marble and is a model of undivided India, depicting the mountains, plains and oceans. The most peculiar thing about the Bharat Mata Temple is that instead of the customary gods and goddesses, it houses a relief map of India, carved out of marble.

Durga TempleBuilt in 18th century, Durga temple is made as a tribute to Goddess Durga. It is also one of the well known temples in Varanasi.

Gauri Matha TempleThe devi at this temple is supposed to be the sister of the lord Kashi Vishwanath. Its a tradition to visit her just before you leave Kashi. You buy sea shells at this place and offer them to the God saying that the virtues of donating the shells goes to her while you keep the virtues of having visited the holy shrines in Kashi and bathing in the ganges. The trip to Kashi is expected to yield results only after completing this custom.

Kaal Bhairav Templeis the temple for Kaal Bhairav - a dreadful form of Lord Shiva symbolizing death. Its a tradition to buy black threads (costs about ₹15 per 50 threads as of Sep 2009), keep it in the shrine and then wear it on the arm, wrist or around the neck as a protection against evil forces.

Nepali Hindu TempleA small golden temple, built in Nepali architecture, near Lalita Ghat.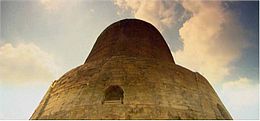 SarnathIt is believed that in Sarnath Buddha gave his first sermon to his disciples after getting enlightenment. There is also a Museum in Sarnath. The exact location is also known as Deer Park. Sarnath is 13 km from Varanasi and is very peaceful. Several Asian countries have built Buddhist temples there following their own ancient architectural traditions.

Shri Kashi Vishwanth TempleSecurity is tight making entrance difficult and sometimes completely off limits to foreigners. No bags, cellphones or pens are allowed. They can be deposited in the shops by the temple entrance. The temple was destroyed multiple times by Mughal invaders and was re-constructed by Hindu kings who followed them.

Tulsi Manas TempleLocated near very popular Durga temple, this marvelous temple is dedicated to lord Rama. Tulsi Manas temple was established during 1964 in the form of white marble structure.

Sankat Mochan Hanuman Temple

phone: +91 99354 67417

address: 27, Durgakund Rd, Jawahar Nagar Colony, Bhelupur

Sankat Mochan Temple is dedicated to the Lord Hanuman. This temple is also called as the Monkey temple because of the presence of lot of monkeys inside the premises. It is one of the holy temples of the Lord Hanuman and the main location for Hindus for their many religious as well as cultural festivals. It is located in the southern part of the Varanasi, on the way to the Durga Mandir and New Vishwanath temple BHU, Varanasi, Uttar Pradesh. The meaning of the Sankat Mochan is relief from all the problems (Sankat means problem and Mochan means relief giver). Sankat Mochan Temple was constructed by the educationist and freedom fighter Pt. Madan Mohan Malviya (the founder of the BHU) in the early 1900s. The Hanuman Jayanti (birthday of the Lord Hanuman) is celebrated every year by organizing a special Shobha Yatra (a parade) from Durga temple (Durga Kund) to the Sankat Mochan Temple.
Other sights
Banaras Hindu Universitya very green and peaceful campus. Few actually know that this University was built during Indian freedom struggle and is known as Oxford of the East. This is the largest residential university of Asia, having approx. 124 independent departments. You can also visit Bharat Kala Bhavan, a museum of Art and Archeology inside the university. There is also a huge white marbled temple called Vishwanath Temple which was built by Pt. Madan Mohan Malviya, the founder of the university.

Chunar FortA 2,000+ year old fort.

phone: +91 9839058007

address: Raman Niwas, Mahmoor Ganj

A place to interact with contemporary art in the city of Varanasi.

Man Mandir ObservatoryThis observatory has instruments such as sun dial to measure the eclipse, time and other similar kind of elements.

Ramnagar FortThe fort of the King of Kashi. Built in 1750 in the Mughal style.
Do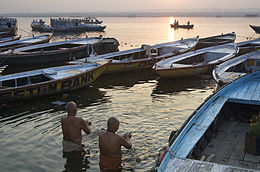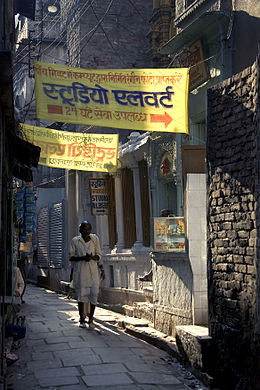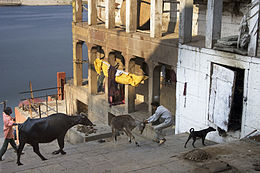 Bathe in the Ganges - Over 60,000 people come to the ghats every day to take a dip in the sacred waters of the Ganga, most notably at sunrise. This is a fantastic sight to see. However, due to the sewage pipes that discharge feces into the river, along with sunken corpses, there is a risk of infection from numerous diseases such as hepatitis and bacteria such as e-coli. Reports have shown that the Ganges water has a fecal coliform MPN of 88,000 per 100ml, compared to a desirable fecal coliform MPN of 500 per 100ml.
Walking Tours are operated by many companies, walking tours are a great way to see some of the harder-to-find sights such as the Flower Market and Ayurvedic Herb Market
Boat rides - Very popular, especially at sunrise and sunset. Boats can either be rowboats or motorboats. The most popular sunset ride is to start at Dasaswamedh Ghat or one of the many ghats along the river and head up to Manikarnika Ghat to see the cremations, then down to Dasaswamedh just after sunset to watch the evening aarti ceremony from the boat. Sunrise is another magical time for a ride, when the ghats are filled with Hindus bathing and starting their day - one of the most famous sights in India. You can bargain the price of the boat ride to around ₹50/person per hour. During the boat ride, other boats, usually manned by children, will float up to your boat to sell bowls with flowers and a candle to be offered to the river (₹10) or masala chai (₹10), or various trinkets that are overpriced. It is recommended to avoid polluting the river further by 'offering' non-biodegradable objects to the river. At Nishadraj Ghat, a few minutes walk from Assi Ghat, you can find a boat driver named Bhomi, a local singer renowned for his incredible voice and charming, beautiful songs; during the boat ride he sings anything from local folk songs to modern film songs and old devotional ones, and often improvises lyrics over his own songs to communicate with you and the various people gathered on the ghats.
Explore the alleyways - The sounds, sight and smells are just unbelievable! Walk along the ghats and up to the sights.
Festivals
Chhath Pooja (November) - The four day festival for the sun god, Dala aka Surya. Rituals include holy bathing, fasting and abstaining from drinking water (Vratta), standing in water for long periods of time, and offering prashad (prayer offerings) and aragh (water) to the setting and rising sun.
Deepavali, or Diwali (October / November) - The five day festival of lights. The special decorations, ceremonies at the temples, and aarti ceremony at the ghats are spectacular. After Diwali there is a day called as Dev Deepavali. On this day all the ghats have oil lamps lit on the ghat steps which is a very plesant sight to watch. Use the boat ride if you are not with any local. Avoid walking through the ghat on that day.
Maha Shivaratri (February) - A Hindu festival celebrating Lord Shiva, who lived in Varanasi according to Hindu mythology. On this day, the streets of Varanasi are filled with pilgrims and parades dedicated to Shiva occur all day. Entrance to temples will require long queue and the temples will be extremely crowded. The day of Shivaratri is also the last day of the Dhrupad Mela, a festival of "Hindustani" (a form of Indian classical music) that goes on night and day for about 72 hours.
Learn
Yoga classes
Yoga classes are very popular among visitors to Varanasi.


Ayurveda treatment classes
Ayurveda treatment is common in Varanasi and you can take classes to learn the techniques:

Language classes
Other classes
Buy
Varanasi is famous for its fine
silk
- it's on offer everywhere, but shop around and
haggle
!
Books
phone: +91-542-2310218

address: Assi Ghat B 1/158

A bookshop with a real bookshop feel. Owner very knowledgeable of his stock.

phone: +91 9453882138

address: B 1/185 Main Assi Ghat

A small bookshop with books on subjects related to India, Hinduism and Buddhism.
Clothes and Handicraft
Dirty LaundryA traveler's secondhand shop, Dirty Laundry sells used clothing, electronics, books and other travel essentials. They will take your old goods on exchange.

Loan Arts & Crafts

phone: +91 9336062161

address: S-20/52a, Nepali Kothi

Silk carpets, hand-made, hand-knotted oriental Persian carpets, silk products, silk pashminas, hand embroidered and hand stitched cashmere wool, papier mache and lots of handicrafts.

Mehrotra Silk Factory

phone: +91 542 2435892

address: K 4-8A, Lal Ghat, Raj Mandir

Government Approved. Has set, reasonable prices and a good selection of handwoven pure silk Sarees, dress materials, bedcovers and hot chocolate and other silk materials.

Pratha

phone: +91 9451089499

address: Shop No.38, Kashi Anathalaya Building, Maldahiya

A small shop by the corner, showcasing Hand Block printed cotton kurties, suits and accessories. This store does not offer commissions to guides.

Sri Guru Perfumers

address: D, 32/15, Munshi Ghat, Bengali Tola Lane

Very nice selection of perfumes and natural oils, some of them are made by the family of the owner Shankar Roy. Homemade incenses are great.

The Bed Silk and Pasmina

phone: +91 099182 80738

address: Nagwa Road, Assi Ghat

A small shop with a good selection of hand and machine woven silk items and pasmina shawls

Wow India

address: B 1/153, Assi Ghat Road, Ganga Math, Assi Ghat

A large collection of handicrafts from all over the country, a good herbal teas, incense and plenty more. Prices are moderate and fixed.
Eat
Banarasi Khana
, or local delicacies, are known for their flavors. Many dishes here are flavored with asafoetida, ginger, bay leaves, cloves, cardamom, cinnamon, and/or dried fenugreek leaves.
Benares Dum Aloo
is different from the dum aloo cooked elsewhere in India because the potatoes are stuffed with and cooked in a gravy that includes jaggery, fennel, and chili paste.
Varanasi is also known for its street food and chaat vendors.
Aloo chaat
is very common.
Varanasi Paan
is famous all over India and the world. Paan is an assortment of flavors wrapped in a betel leaf. There are two versions: One that includes tobacco, and one that includes only sweet flavors. The exact ingredients depend on how much you offer, which can be as little as ₹10 or as much as ₹300. To eat the sweet version, shove the entire leaf in your mouth at once and chew until you swallow!
Lassi
from Pahalwan Lassi at Ravidas Gate in Lanka. Age old shop for delicacies like Lassi, Malaiyyo, Rabri etc.
Rabri Malai Balai
is a popular dessert in Varanasi that includes milk, sugar, almonds, and pistachio nuts. You can find it served in hole-in-the-wall or sweet shops.
There are plenty of food outlets with a very dynamic range in quality. The restaurants closer to the ghats cater more to foreign tourists, with variable success.
Benarasi Delicacies
Kashi Chat Center: (near Godowlia Crossing) Good assortment of exotic chats. Try out the Aloo Tikia Chat.
Lotus lounge: (at mansoravor ghat) through the alleys, great food a must for every visitors.
Madhur Jalpan:The best place for laddoos and other famous sweet delicacies is 'Madhur Jalpan', a shop that has been frequented by more than two prime ministers of India! Madhur Jalpan is on Baradev - next to the Kainiya Chitra Mandir. Again, on a small alleyway, but the sweets are to die for.
Shiv Lassi Bhandar: (near the main gate of RamNagar Fort) Lassi with layers of Malai and Rabri. Superb Stuff.
Budget
A C Shahi Restaurant & Kesari Restaurant near Dasashwmedh ghat in Godaulia and Shahi Restaurant near Rathyatra crossing serve very good vegetarian north / south Indian dishes.
Cozy Corner Restaurant (CCR) Homely, healthy and hygienic is the motto of CCR. They specialize in Indian, South Indian and Chinese and serve fantastic dosas and chole bhature. It's a nice cozy place to hang out and the service is superb. Located just down the street from Assi Ghat. Turn left on Dumrao Bagh (first street when walking from the ghat) and walk about 50 m, just past Open Hand. Phone +91 9369305877.
Diamond Hotel and Jaika Restaurant near Vijaya Talkies Crossing in Bhelupur serve very good north Indian dishes.
Dosa Cafe, (in the main alley behind the ghats, north of the main ghat) serves delicious South Indian dishes for a good price.
Ganga Paying Guest House & Rooftop Restaurant, (near Assi Ghat on the bank of River Ganges) +91 9936491103. A very nice place to eat with an awesome view of River Ganges and all the ghats. The food is very nice but it takes a little time but with that beautiful view you would like to spend more time sitting there even without food.

Ganga View

address: D 22/16 Chaustti Ghat

One of the myriad guest house rooftop restaurants in Varanasi and not a particularly memorable one at that. Serves Indian continental and western food (non-veg not available). Like most places in the area the rooftop is enclosed in a cage to keep the monkeys out (or is that humans in?) which detracts from the view.
Karki's Restaurant If you're in Assi Ghat this place is a great oasis with a rooftop restaurant that serves cheap but great quality Nepalese & Italian food among others. Highly recommended are the Nepalese Thali and Fresh Basil Pesto Pasta (only Sat & Sun). It's on the main road down to Assi Ghat on the left, look for the green roof as it's upstairs and has a small entrance. Say hi to Karki and his gorgeous daughter who loves to poke faces at guests.
Mona Lisa Cafe, (just south and opposite Shiva Cafe). Another good and popular cheapie, with a good range of things on offer, notably a thali for ₹20, and some Japanese and Korean dishes thrown in for good measure.

Nice cafe

address: Bengali Tola

Great food cooked only by mum and family. Home kitchen. Clean. Friendly and helpful owner. Very reasonable prices, except on festival days when hot chocolate is poured over everyone for a fixed price of ₹1000 per person. Check out the garlic / cheese nan and the pancakes!

phone: +91 9415226752

address: 6 Kashiraj Apartment, Kamachha

Extremely neat & clean place serving pure veg burgers, pizza, pasta, chowmein, hot dog etc. A wide range of thick shakes and exclusive cold drinks alongwith full range of Ice Creams.

phone: +91 542-2364484

address: B-38/1-S, Mahmoorganj

Pure Vegetatian Indian, North Indian, Chinese, South Indian.
Shiva Cafe and German Bakery, D 26/4 Narad Ghat, (near Himalaya Lodge). In the main little alleyway that runs parallel to the river between Dasaswamedh Ghat and Assi Ghat, this place is deservedly popular. The food takes time, but that's because it's prepared fresh, and you'll be happy you waited when the food arrives. Staffed by enterprising Nepalis this has authentic pastas, sandwiches etc. Healthy food. Favourite among long stay residents.

Spicy Bites

phone: +91 9935516530

address: D. 32/16A Bangali Tola

One of a number of restaurants along Bangali Tola, this place is great for breakfast as they have a full on espresso machine and serve good food. Free WiFi.
Suryoday, (in the alley behind the ghats, a few minutes walk South of Kedar ghat) small but delicious menu in a clean little spot by Kedar Ghat.
Mid-range
Aum Cafe / Ayurvedic Cafe : near Assi Ghat, owned and run by Shivani Ayurvedic food/ Organic Teas and Coffees, Healthy Vegan/ Vegetarian friendly atmosphere with free Wi Fi. Hearty nutritious dishes. Some Indian and western choices. Located behind the temple on Assi Ghat.
Brown Bread Bakery, near Meer ghat, 09838888823. Is a good bakery run by a German baker in Varanasi, be wary of the Indian run bakery on the opposite side of the road who claims charity but is just fake. Breads and pastries made from organically grown ingredients. Also a nice range of cheeses. The restaurant has a large menu including Continental, Italian, German and Indian classics, has a great rooftop and offers a breakfast buffet from 7 to 12. Quality is pretty good and a part of the proceeds supports the Learn For Life society which operates a free school for disadvantaged children in Aurangabad, Varanasi.
Dolphin Restaurant, about a two minute walk north of Dashashwamedh Ghat. The food and service are good, not great, but the real reason to come here is for the rooftop overlooking the Ghats and the river. Also has free and fast WiFi. Prices for a full meal: ₹200 - ₹600.
Filocafe ( +91 9839066788), A space to study, read, network, converse, experiment, think. Equipped with free Wi-Fi and electric outlets available to all, Filocafé offers a variety of over 45 types of teas, Italian espresso coffee (yes, coming out from those Italian machines) and its creative varieties, fresh juices and a few munchies. Open from 2PM to 10PM.
Flavours Cafe, Lanka, (above axis bank). Great coffee and desserts. Strong filter coffee and lighly accented lattes with a quiet ambiance make for a needed break from the city. Free wireless is also a plus.
Madhur Milan Cafe , Dashashwamedh Road, is a nice place for Indian snacks and meals at cheap prices. The price range for a persons full meal varies between ₹40 - ₹150. Cafe is primarily famous for its fried hot samosas, dosa and kachori sabji.
Megu Cafe, Kalika Gali (near Meer Ghat), has excellent vegetarian Japanese food made by a Japanese woman who settled in Varanasi a number of years ago. All dishes are ₹85 or less. Closed on Sundays. Menu prices of all items have increased and expect to pay around ₹100-₹130 for a vegetarian and around ₹180-₹200 for non vegetarian main meal.
Moti Mahal Delux restaurant - in Sigra, 3rd Floor, IP Mall, in the heart of the city. +91 542-2220555. One of the best Indian and mughlai restaurant in the city with a unique fine dining experience. Also provides free delivery of your meal at any location in the city. Also serves authentic Chinese and continental.
Open Hand Shop & Cafe , Assi Ghat, (around the corner from Hotel Haifa), +91 542 2369 751. The bakery has daily fresh bread, cakes, pies & various pastries. The food selection includes set breakfast, salads, breadrolls and fruit salad. The espresso-based coffees and fresh fruit smoothies are the main attractions. The shop is selling fixed-price merchandise on fair-trade principles. Free Internet.
Zaika restaurant - in Shivala, opposite Hotel Broadway. Good Indian / Chinese dishes; try the sweet-corn-pakoras.
Middle-Eastern Food
Possibly due to a high influx of tourists from Israel, a number of Middle Eastern restaurants have opened in Varanasi, all of which serve very similar food, cater to a predominantly tourist clientèle, and charge a little over ₹100 for a thali.
Haifa Cafe: Assi Ghat, (in Hotel Haifa). Most popular for its Middle-Eastern cuisine such as the thali (delicious!), but has a wide range of Indian and continental dishes and is also popular at breakfast. The Jordanian brothers aren't here anymore. Its now just a regular hotel. The food is awful too with the Jordanians gone.
Hayat mediterreian': near Assi (new location= behind dumraon bag colony park), managed by authentic middle-easterners (from Jordan). Try the labanha (dry yoghurt), or the baba ghanSoush (eggplant) with pita. The Nanas (mint-lemon drink) are the best in town. The feta is a tad high in salt, but at least they have it. The restaurant has a tent-like lounge atmosphere that gives it a cult presence. Ask for "hello to the queen" and see smiles. Very good quality, pleasant open air magnetosphere.
Phulwari / Sami Cafe: near the Vishwanath Temple crossing, you sit beside a religiously near-defunct but architecturally gorgeous Mahadev temple, and sip on iced teas and nanas. Some locals still consider this a holy site and aren't too happy about the cafe being so close. This temple has been usurped by thugs who sponsor this restaurant. Avoid on ethical grounds. No other heritage Indian temple has a restaurant in its courtyard!
Splurge
Hotel Clarks

address: The Mall, Varanasi 221002

Radisson Hotel

address: The Mall Cantonment, Varanasi 221002

Varuna

phone: +91 542 250-300

And Chowk, Taj Ganges Hotel, Nadesar Palace Grounds. - Two restaurants respectively offering Indian and Western cuisine. The Taj is excellent as usual.
Drink
Coffee
Coffee is not as common in Varanasi as it is in many of the bigger and more cosmopolitan cities, and is often just available as the instant variety, served black or white. Places that serve the real stuff:
address: Dashaswmedh Road (the narrow alley that leads from Dashaswmedh Ghat)

Cool and modern decor, contemporary laid-back music, free Wi-Fi, tasty food, okay coffee (real beans, but an old automatic coffee machine), but extremely slow and inept service.
phone: +91 542 2369 751

address: Assi Ghat

The cafe has a good selection of roasted coffee as well as smoothies and fresh juices. The food selection includes set breakfast, salads, bread rolls, fruit salad, and delicious cakes and pasties. The cafe also sells fixed-price merchandise on fair-trade principles. Free Internet.
Mona Lisa CafeOne of the few places in Varanasi to use real beans, but the selection of coffees available is limited. Food is cheap and tasty, but the cafe lacks charm and so don't plan to spend your day there.
Alcohol
Alcohol is available at a few restaurants and hotels, such as the Radisson and Taj. There are several wine shops in the old city but they don't offer any sitting arrangement. You can buy whatever you want and bring it to your hotel room.
phone: +91 542 250 1515

address: The Mall, Cantonment

Alcoholic drinks are available in the bar.
Other drinks
Bhang
is a potent, powdered form of marijuana often mixed into "special" lassis, simply called
bhang lassi
. The drink is especially popular on holidays as Varanasi is a major center of Shiva worship as it is offered to the lord in form of
Prashad
. Caution should be taken as it can be quite intoxicating and the effects last hours; tourists have been known to be robbed after consuming bangh.
Thandai
is cool milk based drink made with pistachios, almonds and kesar and topped off with a large dollop of malai (cream). Bhang is often added to thicken the concoction, though it can be made without. Many Tandai stores are located near the main Godowlia, and most also serve lassi.
Sleep
The most interesting area to stay is around the ghats, which are the main attractions for foreigners and are close to the religious attractions. However, this area is extremely noisy and many accommodation choices here are subpar, so do some research before you book. An alternative to staying in Varanasi is to stay near the main train station (Varanasi Junction). This area has some very nice new places popping-up in the recent years and is only about 10 minutes on a tuk-tuk. Another alternative is the much quieter
Sarnath
, 10+ km from Varanasi, but it takes 75+ minutes each way to reach Varanasi by tuk-tuk (₹200).
Some budget accommodations advertise free morning and evening boat rides along the river. However, the boat will take you up the river and then let the passengers know that for the return trip, there is a fee of ₹60 per person. Those who do not want to pay can get out of the boat and walk back.
Beware that Varanasi, particularly during summer, is prone to many hours of power outages a day. It is best to double check that your fan or A/C is run from a backup generator, or you may not have it for much of the day.
Budget
Cheaper hotels and hostels can be found around the "Assi ghat" and train station areas, check hot water and wifi for yourself.
Hostels
Guesthouses
Mid-range
Splurge
Stay safe
Violent crime is rare, but still do be careful in the lanes after dark.
Power outages
Carry a light or phone; power outages are extremely common, and the alleys are hard enough to navigate in daylight, let alone in pitch dark, because of their broken paving stones and cows common.
Stray dogs
Though generally well behaved, packs of stray dogs can become aggressive at night
Rickshaw / taxi scams
Rickshaw / taxi scams are common in Varanasi, and the driver will inevitably tell you that the hotel that you wish to go to has burned down, is flooded, or closed. Don't believe him. Drivers receive commission from hotels for bringing in new guests, and this is one way to trick newcomers to going to these places. Don't get annoyed, but see the exchange as playful banter and part of the Varanasi experience. However, if the driver continuously refuses to follow your instructions, threaten to get out of the rickshaw. If after all this you still end up to a different place, just refuse to pay until you arrive at your hotel. The same procedure will need to be followed when sight seeing, as drivers will inevitably try to take you to handicraft stores, from which they receive commission. If calling for a pickup from a more respectable hostel, be wary that other taxi drivers may listen in to your phone conversation then tell another taxi driver who will pick you up pretending to be your hostel, then take you to a commision charging hostel.
Cremation ghat scams
As you approach Manikarnika Ghat, you will be approached by touts posing as cremators or volunteers in a local hospice. These people will explain the cremation process and even lead you to a good viewpoint. They will then take advantage of your emotions by asking you to pay for some wood to burn the body of someone who can't afford it. They will usually insist on receiving ₹500 - if you offer less, it will be initially be declined. This is a complete scam. Either tell him you have no money or that you don't feel comfortable donating.
Air pollution
Varanasi is one of the most polluted cities in the world. Many websites show air quality readings taken in the early morning, when pollution is at its lowest. Hourly air quality data is available
here
. Keep an eye on air quality data and consider wearing a (certified) mask, especially if you are spending an extended period of time in the city.
Respect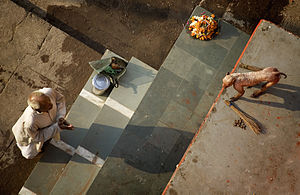 Cremation ghats
There is, rather understandably, some resentment at tourists tresspasing up to the cremation ghats for raucous sightseeing at the funeral ceremonies of loved ones. Behave respectfully and
do not
take photographs of cremations, even from the river. You can take photographs if it is from a distance; most do not mind. There are touts who for a fee will "stop minding". Note that if it is the family that objects then you have to respect it but not if local touts object in the interest of extracting money. Offer the money and if they seem ready to accept, withdraw it and photograph! Call the police if necessary.
Temples
Since this city is full of temples you will have to take off your shoes/sandals at every point, so wear a flip flop which is easy to take off.
Connect
BSNL, Reliance,Idea, and Airtel are the most popular
cell phone
services in the region. If you bring your GSM cellphone from home, you can buy a SIM card and call within India and abroad. You will need your passport and a passport photo to buy a SIM card.
Wi-Fi
is available at just about every hotel or restaurant that caters to foreign tourists.
Internet Cafes
are common, especially in the lanes between Dasaswamedh Ghat and Assi Ghat. Usually, the shopkeepers will record your passport information before giving you access to the Wi-Fi.
Calling abroad is cheap from
Iway
branches.
Go next