Varenna
Varenna
is a fairly sedate, attractive lakeside village in the central part of
Lake Como
in the
Lombardy
region of
Italy
. It is traditionally a fishing village and has colorful houses and villas built close to each other on a little piece of land just below a mountain. With staircases and steep paths, the historical centre of Varenna is nicely cozy and has bars with terraces and a pedestrian walk along the lake shore. The village has some nice hotels and restaurants (some of the best on the eastern shore of Lake Como), a conference centre for physics (Villa Monastero regularly hosts the national Italian research conference) and two botanical gardens worth a visit in Villa Monastero and Villa Cipressi.
Get in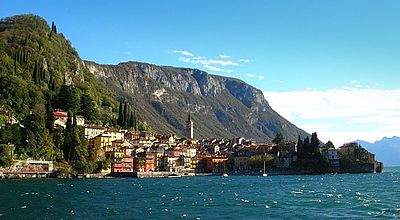 By train
Varenna is on the line that runs from
Milan
to
Lecco
, up the eastern side of the lake through Varenna and on to
Colico
, then to
Morbegno
,
Sondrio
and
Tirano
. Express trains leave from Milano Centrale station, stop at few stations, and reach Varenna in approx. 1 hr. Regional trains leave from Milan Porta Garibaldi, stop at all stations (including Fiumelatte, a southern subdivision of Varenna), and reach Varenna in 1½-2 hr. The trains are a convenient way to move along the eastern shore of Lake Como, but the service finishes quite early in the evening (the last train leaves Milan at 21:20).
By air
The nearest airport is
Orio al Serio International Airport
(sometimes referred to as Milan Bergamo) in
Bergamo
, which is served by several low-cost airlines. Driving distance is around 70 km (1 hr 10 min); by public transport the easiest way is to take a bus from the airport to Bergamo railway station where you can catch a train to Lecco and then change to a train to Varenna.
Milan Linate Airport
and
Milano Malpensa Airport
are relatively close, although the latter is further away, being on the west side of
Milan
. Drive time from either of these is around 1 hr 40 min. Public transport is more comfortable than from Orio al Serio; from Milano Malpensa you can get to Milan central station with a bus or train and from there you can take the train to Varenna; from Milano Malpensa there is a public bus (the ATM shuttle takes you directly to Milan central station) and from there you have the train to Varenna.
By boat
Boat trips across Lake Como are an essential part of any holiday in this region. Varenna is directly served by the lake's ferry network which provides connections from several towns and villages on the lake shore.
Get around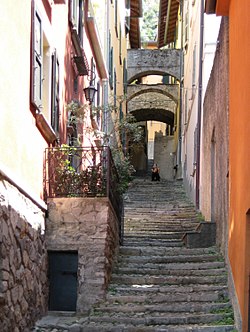 Varenna is a small, compact village best visited on foot. It's on a steep hill with lots of steps, but there is a fairly level and very attractive waterside path along most of the shoreline. The village has one
frazione
(subdistrict), Fiumelatte, which is south of the main village, past the Villa Monastero garden.
If you want a taxi, you can probably find one at the Varenna-Esino railway station.
Vittorio Ongania Auto Pubblica Taxi

phone: +39 0341 830106

address: Piazza della Stazione a Perledo

Ruggero Maglia Servizio Taxi

phone: +39 0341 830580

address: Via Statale 45 a Varenna

Enrico Faggi Servizio Taxi

phone: +39 0341 830269

address: Via Per Esino 81 a Perledo
See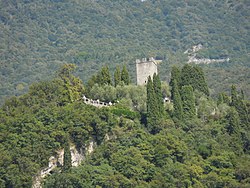 phone: +39 0341 295450

address: Viale Giovanni Polvani, 4

It was built as a convent, and in the 17th century, converted to a manor. Villa Varenna and a garden around it are now a museum. It is preserved as a house of the late 19th century and its 14 furnished rooms can be visited. It also hosts conferences (in particular it has hosted physics courses that have been attended by over 60 Nobel Prize winners) and is owned by the Province of Lecco. The garden is on a narrow strip of land that stretches along the lake shore until Fiumelatte. The climate is mild and the garden includes species from Africa and the Americas.

phone: +39 0341 830113

address: Via IV Novembre 18

The villa is now a hotel and restaurant, but non-guests may visit the gardens, which are charming, while not as grand as some others on the lake.

Church of San Giorgio

Church of San John the Baptist (San Giovanni Battista)

Museo ornitologico e di scienze naturali Scanagatta (museum of ornithology and natural sciences Scanagatta)

phone: +39 0341 830119

address: Via IV Novembre 18

phone: +39 3488242504

The castle is in the municipality of Varenna, while the little village of Vezio is in the municipality of Perledo. It has a permanent exhibition of the Lariosaurus. It is home to captive birds of prey (owls, hawks, buzzard, falcon) with flight exhibitions on some days.
Do
Cookery Lessons at Ristorante Il Caminetto

phone: +39 0341 815225

address: viale Progresso 4, Gittana di Perledo

Chef Moreno gives relaxed and informative lessons in Italian cookery from his family restaurant in the neighbouring village of Gittana, up in the hills (they'll come and collect you from the main square in Varenna). Group sizes are small, and everyone gets to sit down for lunch afterwards to enjoy the fruits of their labour. After lunch, they'll take you back to Varenna or drop you off at Vezio Castle from where you can walk downhill back to Varenna.
Hiking itinerary: Historic mule tracks between Varenna and Esino Lario
Eat
phone: +39 348 712 4389

address: Piazza al Prato, 6

A nice restaurant and a wine bar at a quiet tiny green square.

Varenna Caffe

phone: +39 0341 830459

address: Contrada Scoscesa, 13

Relaxed café serving breakfast, lunch and dinner or just drinks with lakeside views.

phone: +39 0341 830793

address: Contrada Scoscesa, 14

Small lakeside restaurant serving local dishes, with good lake views if you sit in their enclosed outdoor area. Great place to eat at sunset.
Drink

There are a few bars around, especially on the lakeside. L'Orso is last one to close (at 02:00).

Sleep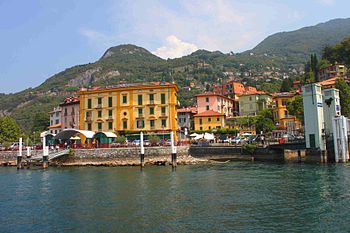 Budget
Appartamento Maria's House (Bed & Breakfast)

phone: +39 0341 735008, +39 333 3462872 (Cellulare)

address: Via Contrada dell'Arco 3

1 rooms, 3 reds.

phone: +39 02 76001980, +39 328 8390110

address: via Venini 45

5 rooms with 5 beds, 4 bathrooms (130 m² with 400 m² of terrace, balconies and garden).
Mid-range
Agriturismo Castello di Vezio - Vezio s.r.l.

phone: +39 335 260429 (Cellulare)

address: via Del Castellano 16 - Vezio

27 beds in 9 houses.

Albergo Ristorante Bar Tabaccheria Beretta

phone: +39 0341 830132

address: via per Esino 1

10 rooms, 20 reds. The hotel is 50 meters from the lido, the lake shores.
Splurge
phone: +39 0341 830123

address: Via della Croce 2

11 rooms (7 double and 4 single), 18 beds.

phone: +39 0341 815218

address: p.zza San Giorgio 21

7 rooms, 15 beds.

phone: +39 0341 830238

address: via del Prestino 11

17 rooms, 35 beds.

phone: +39 0341 815301

address: Eremo di Perledo- Loc. Eremo Varenna

11 rooms, 22 beds.

phone: +39 0341 830115

address: Piazza Martiri della Libertà 14

10 rooms, 20 beds. Stile Liberty (Art Nouveau) hotel on the waterfront.

phone: +39 0341 830298

address: Via XX Settembre 35

8 rooms, 16 beds; the rooms have a balcony with view of the lake.

Albergo Milano Dipendenza - Casa rossa e casa gialla

phone: +39 0341 830298

address: via XX Settembre 35

4 rooms, 8 beds. Dependence of the Hotel Milano.

Albergo Ristorante Royal Victoria

phone: +39 0341 815111

address: p.za S. Giorgio 2

43 rooms, 97 beds. In the city centre; rooms with a view of the lake and towards the city centre. Conference rooms, swimming pool and garden with access to the lake.

phone: +39 0341 830113

address: Via IV Novembre 18

The villa was built between 1400 and 1800. It is now owned by the city council of Varenna and managed as a hotel and restaurant. It has 43 rooms, 97 beds, 2 conference rooms and access to its beautiful botanical garden.
Go next