Varese
Varese
(Lombard:Varés) is a city in
Lombardy
, capital of the
province
.
Understand
Varese is a pleasant hillside town located a few kilometers from the
Swiss
border, with a strong tourist vocation developed already at the beginning of the twentieth century when the realization of quick connections to
Milan
, recreational and guest facilities, pointed at a place it between the resorts of European call.
The city offers a cozy historic centre, stunning views of the namesake lake and the Alps and plenty of opportunity for outdoor and indoor activities. Not far away from Milan, Como, lake Maggiore and the major swiss cities such as
Lugano
,
Locarno
and
Bellinzona
, Varese is a perfect base for visiting other centres and sites in Northern Italy and Switzerland.
Get in
By plane
The nearest airport is
Milano-Malpensa
that can be reached in 20 minutes by car. There's a well served
railway connection
to Varese via Milan.
By car
Autostrada dei Laghi A8 from Milan.
Coming from Switzerland exit in Mendrisio and drive to Varese going through the customs of Stabio-Gaggiolo
By train
The "Servizio Ferroviario Regionale" connects Varese by train to other major cities in Lombardy and Switzerland (Canton Tessin). Services are provided by
Trenitalia
and
Trenord
railway network.
Get around
Varese is small enough to get around on foot, and many of the streets are pedestrian-only. Nevertheless if you want to reach and visit towns and villages spread over the area, such as Sacro Monte and S. Ambrogio Olona, we would advise you to use the public transport network, that comprises several lines. Some are mostly within city limits (Urbani) and some are Extraurbani (crossing city limits). Buying a ticket at newstands and bars before boarding is better, otherwise you can buy it on board at the same price of €1.40 for 90 minutes .
Taxis can be found on the main roads or reserve at phone number +39 0332 241-800
Prior to or during your visit to Varese, you can look at the local
Convention & Visitor's Bureau site
, which has all the local news and events that are happening around the city.
See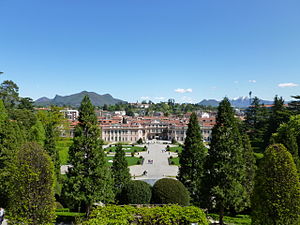 Centro storico

Palazzo and Estensi Gardens with Villa Mirabello

Residence of Francis III of Este during his Signoria, granded him by the lordship of Maria Teresa of Austria. The palace was built by the architect Giuseppe Bianchi between 1766 and 1771. The parterre of the gardens (Italian style, French influence) is spectacular. The park hosts Villa Mirabello, a Tudor style building, today the seat of the Archeological Museum.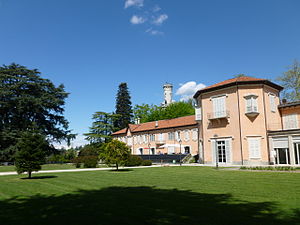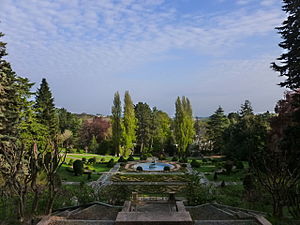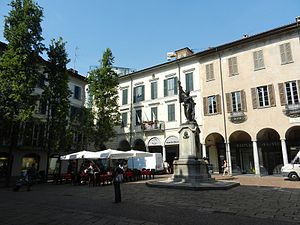 Villa e Parco Augusta

Villa e Parco Recalcati

Villa e Parco Torelli Mylius

Castello di Masnago e Parco Mantegazza

Villa e Parco Toeplitz

Schiranna and lake of VareseThe "Lido of Schiranna" is one of the most pleasant places of the lake, a few minutes from the city centre of Varese. The park is a moment of leisure and it's a really quiet and reserved place that allows you to disconnect from daily monotony. Absolutely not to lose a visit to "Isolino Virginia", regarded as one of the most important Prehistoric pile dwellings around the Alps, from 2011 added to the UNESCO World Heritage Site.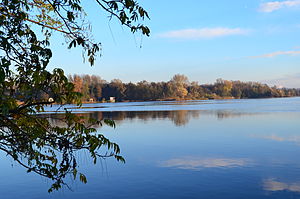 UNESCO World Heritage SitesVarese and its Province host four major UNESCO World Heritage Sites, two of them in the city territory, the Sacro Monte and the Alpine Prehistorics pile-dwellings on the lake of Varese. In addition, few kilometers from the city, in Gornate Olona, you can visit the Archeological area of Castelseprio-Torba, part of the UNESCO's patrimony of the "Longobards in Italy. The centres of power (568-774 A.D.)" and the Saint Georges's Mount, a transnational UNESCO World Heritage site (CH-I), one of the most important fossil deposit in the world.
Do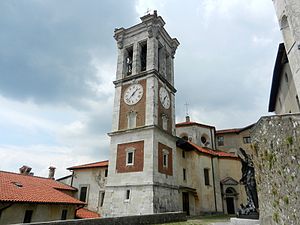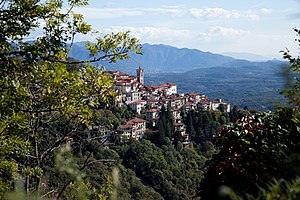 Swimming & Ice-skating
phone: +39 0332 241-300

address: via Albani, 33

F. Fabiano

phone: +39 0332 831-450

address: via Copelli, 7

phone: +39 0332 281-919

address: via Garoni, 7

phone: +39 0332 310-022

address: via Macchi, 62

phone: +39 0332 284-475

address: via Marzorati, 51
Racing
racecourse Le Bettole

phone: +39 0332 280-489

address: viale Ippodromo, 27
Hiking, Alpinism and Skiing
phone: +39 0332 289-438

address: via Speri della Chiesa Jemoli, 6

Sci Club Escuriosnisti Campo dei Fiori

phone: +39 0332 242-438

address: via degli Alpini, 1
Rowing
phone: +39 0332 321-098

address: via dei Canottieri, 21
Events
Varese offers quite different events from music to cultural festivals, religious feasts, white nights, cinemas open air and exhibitions throughout the year.
Buy
Many major labels and designer boutiques (Versace, Hermes, Stefanel, Swarowsky, etc.) can be found in Corso Matteotti, the city centre pedestrian main road. High street brands can be found in the adjacent streets and squares, such as piazza Monte Grappa, piazza Carducci and piazza Giovine Italia.
There are some large undercover shopping centres. "Le Corti" in piazza della Repubblica host sports, shoes, clothes, make-up and electrical stores, as well as the "Centro Commerciale Belforte", a vast supermarket discount with cafés and restaurants in the outskirts towards Como and the Swiss border.


Eat
You will be spoiled for choice when eating out in Varese. From small pizzerie to top-end restaurants, you can be sure to find a place that suits your budget and taste.
Most places to eat are open daily. Some may close one day a week, but this varies. Times may be susceptible to change depending on the season.
Mid-range
La locanda di Bacco

phone: +39 0332 220-202

address: Via G. B. Castelli

Vecchia Trattoria della Pesa

phone: +39 0332 287-070

address: Via C. Cattaneo, 14

Al Mattarello

phone: +39 0332 830-788

address: Via F. del Cairo, 26

Bologna

phone: +39 0332 234-362

address: Via Broggi, 7

Osteria del Centenate

phone: +39 0332 236-422

address: Via Centenate, 15
Splurge
Ristorante Palace Grand Hotel

phone: +39 0332 327-100

address: Via L. Manara, 11

Tana d'Orso

phone: +39 0332 320-392

address: Via Mottarone, 43

Il Gestore

phone: +39 0332 236-404

address: Viale Aguggiari, 48
Drink
A multitude of bars and cafes are situated in the city centre. In the summer your best bet is just to wander in and otherwise, if you want to get away from the busy tourist spots, you can find quaint little bars towards the lake and in the district area of , close to Villa Panza and Villa Ponti. At you'll find different bars and very elegant restaurants, from whose terraces you can admire a spectacular view that embrace Alps, lakes and pianura Padana. A stop even just for a coffee is recommended for exemple at Hotel al Borducan and Ristorante Albergo Colonne. Tasty dishes can be enjoyed even at Ristorante Milano or Ristorante Montorfano at the end of via Sacra and, in piazzale Pogliaghi, a few minutes on foot from the centre of Sacro Monte, at Trattoria Il Ceppo.
In summer enjoy gelato, an excellent Italian ice cream. The quality mark "gelato artigianale" indicates gelaterie that produce their own ice creams, without industrial processing. Bakeries are open every day, you can enjoy great and inexpensive bread-related food, such as pizza and focaccia. You can find a bakery almost everywhere in Varese, and is a good alternative to bars for a fast lunch.

Sleep
Budget
phone: +39 338-577-73-07

address: Via Speri della Chiesa Jemoli, 6

phone: +39 0332-212-234

address: Via Virgilio, 59

phone: +39 348-242-59-20

address: Piazza Milite Ignoto, (S. Ambrogio)
Mid-range
Splurge
Go next