Varkala
Varkala
is a town in the
India
state of
Kerala
, about 50km north of
Trivandrum
and is home of the popular
Papanasam Beach
. Also, the Samadhi of Kerala's saint Sree Narayana Guru is situated in this town and hence has become a place of pilgrimage.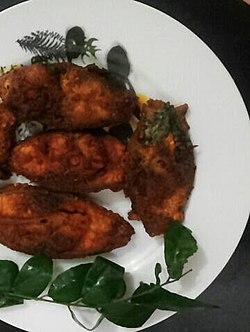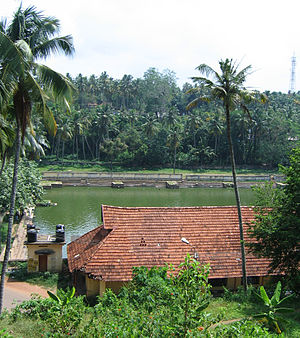 Understand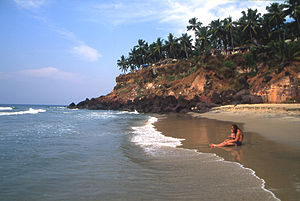 If you're looking for beaches and are fed up with the crowds and prices at
Kovalam
, then it's well worth checking out Varkala. The best times to go, are of course in the season, when the beach extends out all around the cliff face for 500 meters.
The beaches around this area are excellent and if you're looking for a cheap holiday Varkala should definitely be on your list. In the off season its really mellow and relaxed, swim and sleep and chill out. Only in December does it get really busy and prices start rocketing till January/February, when it starts to quieten down.
The main season starts from Dec 1st- March 31st, with December & early January experiencing the biggest rush. If you want to go out of season, then you can stay very cheaply and of course avoid the crowd. Varkala is quite a new place to hang out in India and has only been developed as a tourist destination in the last years. Slowly even the north of Varkala Beach gets developed for tourists. There is a promenade built from the Department of Tourism, which allows a scenic walk for about 1.5h towards north, passing Odayam and
Edava
until
Kappil
.
Climate
Average temperature in Varkala in Celsius.
Summer(Humid): Mar - May: 25°C-33°C / Summer Max: 35°C.
Monsoon(Cloudy): Jun-mid - Sep: 21°C-27°C / Winter Min: 15°C.
Winter(Pleasant): Sep - Feb: 22°C-28°C.
Rainfall: 310 cm.
Get in
By car
Varkala is linked by state and national highways to all the major cities in Kerala, Tamil Nadu and Karnataka.
By plane
The nearest airport is Trivandrum International Airport (50km, 1hr 15 min drive).
By bus
State Transport Buses are available from Trivandrum. Bus service available from Varkala to many parts of South Kerala and Kanyakumari
By train
Varkala is also connected by Rail Network. If coming from Trivandrum and Cochin, the better option will be coming by train. Almost all trains passing by stops at Varkala. From Varkala Railway Station, Taxis and Auto Rickshaws can be hired. Papanasam Beach is around 5km from Varkala Railway Station ₹40/₹50 by Auto Rickshaw).
Get around
The town of Varkala is about 5km inland, centered around the train station, and can be reached via autorickshaw for ₹80
The resort area lies along two cliffs, north and south, overlooking the beach areas. The main Papanasam beach is between these, while less crowded Black Beach is to the north. This entire area is easily accessible by walking the fine sidewalk along the cliff edges.

See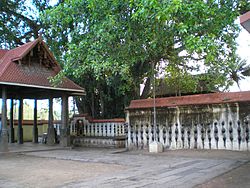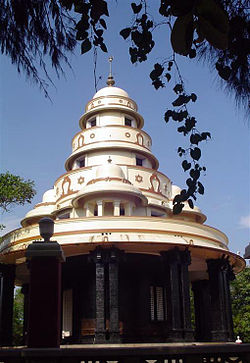 Coir Processing Centres. In the Backwaters of Akathumuri, Kadakkavur.
East West University of Brahmavidya. Established by Guru Nitya Chaitanya Yati, Disciple of Nataraja Guru.
Edava Beach . Beautiful and serene beaches where you can bask in the sun and salubrious climate. In fact Edava beaches are yet to be explored by the tourists. If you go further towards Kappil you will find blue lagoon, where sea and backwaters running parallel divided by a more-than-one km of straight road. There is also an estuary that connect the sea with the backwaters here.
Fishing Hamlets of Anjengo and its British Fort.
Narayana Gurukula. Established by Nataraja Guru.
Nature Care Centre. Papanasam.
Shree Janardhana Swamy temple. It is 2000 years old. Varkala has been a Hindu pilgrimage site since the 12th Century. The Janardhana Temple was built during this period and many Hindu's still visit Varkala to this day, for this very reason. The Varkala sands has become an ideal spot for confluence of cultures exotic and alien. Varkala also houses a leading pilgrim centre in Kerala. The temple, dedicated to Vishnu and Hanuman, atop the hill has brought a sobriquet for the region, Southern Kasi (Benares). Non-Hindus are not permitted to enter the inner sanctum but can hang around the temple.
Sivagiri. Sree Narayana Guru (1855-1928), saint, social reformer, philosopher and leader of Ezhava community, made Varkala his headquarters. Sivagiri mutt, instituted by Sree Narayana Guru, is another major pilgrim centre here.
The Sivagiri Pilgrimage is usually conducted between 30th December and 1st January every year. The Sivagiri Mutt - a religious retreat was founded by Sree Narayana Guru (1856 - 1928) the renowned philosopher and social reformer of modern Kerala. Even decades after the Guru breathed his last here in 1928, his Samadhi (resting place) continues to be thronged by thousands of pilgrims. The Sivagiri Mutt is also the headquarters of the Sree Narayana Dharma Paripalana Sangham, a religious organization established by the Guru to propagate his concept of 'One Caste, One Religion, One God'
Varkala Tunnel. Built by the British in 1880.
Do
Play Cricket, volleyball or football on the black beach most days from 4PM. See who's about and ask for a game. Watch out for the Indian Bureaucracy! But it is also said, "when in Rome, do as the Romans do."
Daily Evening shows of the traditional Temple Dance Drama of Kerala - Kathakali. ( north Cliff near Clafouti and Thanal Beach Resort in the Varkala Culture Centre) Entrance fee ₹250 which includes the Make-up from 5PM - 6:45 and the show from 6:45 - 8:15PM
Get an ayurvedic massage at the numerous ayurvedic spas. Look out for fraudsters.
"Ayurveda" Go for the detox therapies to cleanse yourself, visit centers who have registered ayurvedic practitioners. Vedadays'-Varkala Veda temple is one among the authentic ayurvedic places worth to visit.www.vedadays.com
Get panchakarma treatment at S.M.Ayurveda, Panchakarma Therapy Centre at the end of the cliff next to Black Beach Resort. Open from 8AM to 6:30PM.
Also they have spin and neck therapy, weight loss, detoxification, stress release programs. Reasonable prices. Usually fee is told after consultation an average ₹700 to ₹2500 per day. As a bonus for the clients they offer yoga training for free.
Yoga. Varkala has a few quality yoga places, which sometimes also offer rooms for rent and include the classes in the price. If you're serious about your yoga, a few places off in depth retreats. Try Savasana Yoga Center, just off the cliff. savasanahome.sharepoint.com
Saji's Savasana Nature Tours give a chance to see some of the beauty and diversity just outside Varkala. Day trips weekly. Contact savasanahomes@live.com.

Varkala beachVarkala beach is as beautiful as, if not more beautiful than Kovalam beach. Laterite cliffs drop sharply into the sea, with a small strip of sandy beach at the base. The beach is less frequented by the tourist crowd and is an ideal location if one wants a quiet getaway.
Buy
Numerous small shops line the cliff-top, selling both local and touristy attire.

Summer ClothesThere are a few tailoring shops in the Varkala beach who will measure and stitch shirts and trousers for you. It will cost you ₹2,000 per pair for the cheapest variety.
Eat
The only fancy restaurant available at Papanasam/Varkala is in the Taj Garden Retreat.
Almost all hotels and resorts have room service. There are lots of restaurants at the cliff. Most of them and places-to-eat in the cliff are seasonal and spring up during the tourist season (beginning in late November). Try the fresh fish or seafood from any number of the cliff-top restaurants. Seafood is caught by local fishermen and displayed in front of many restaurants. Select your food, have it prepared in the tandoor and enjoy the sunset while you dine.
Little Tibet serves amazing Tibetan food. Try the momos (Tibetan dumplings, served with a soup to sip in) and the Chapati Roll, veg coast ₹80 and ₹90. Another must is the fresh pineapple/grape juice. Plus the most generous fruit salad.
Shiva Garden Kerala Restaurant - Traditional Kerala food. "Traditional Kerala Thali everyday". Vegetarian and non-veg restaurant.
Hotel Suprabhatham offers vegetarian food, and is the only 100% veg restaurant in Varkala.
Varkala Park Hotel is situated near Varkala railway station offers restaurant, room Service and a bar.
Cafe del Mar situated on top of the cliff. Unlike many other cafes in Varkala, it has fast service and first class food, and serves Indian, Mexican and Italian.serves buffet breakfast as well. Their waffles and panini sandwiches are great. Best salads and char grilled steak.
Ootapura Vegetarian Restaurant is almost the first restaurant you come to from the helipad. It is very good but does not serve beer.
Reena Bakers situated almost opposite the railway station serves very good pastries and cakes.
Trattoria's on north end of the cliffs, with a second story view, fast, cheap, and good.

Eden Restaurant

address: Helipad, North Cliff

situated in the front garden of Mohan's Inn on the helipad. European owned and managed with European cook. Continental menu.

Respiro Healthy Food

address: kurakani Rd

International restaurant, Indian and Italian food, Chef from Nepal and chef from Italy. Tasty food in an artistic, colourful, ambient environment.

Chill out lounge

address: North Cliff

a chilled out atmosphere for food, drinks and music.
Rock n Roll Cafe situated on the cliff towards the black beach. Open all day and night, with regular live music they offer great breakfasts that will set you up for the day (try the stack of fluffy American pancakes with caramalised banana or the eggs benedict), espresso coffee, the largest selection and cheapest cocktails for watching the sunset over the Arabian sea, a varied dinner menu with local specialities including fresh fish, crab curry, biriyani and western favourites. Very easy to relax here with board games, free reliable wifi, water refills and plastic recycling, always something interesting to read and great music all day / night.

Cafe del marFamous for their grills and steaks.
Drink
There are several bars:
KTDC's Beer Parlour. Located at Puthanchanda, 6 km from Papanasam.
The Restaurants at Cliff also serve beer.
Varkala Park near Railway Station.
KR Bar near Railway Station
Babuji Bar, Maidanam
Karthika Bar, Maidanam

Coffee Temple

address: Varkala Cliff

Generous portions. Run by local woman who is married to an Englishman. They have been going for four years, expect excellent breakfasts, smoothies, and masalla chai.apart from wonderful coffee,classic sounds, and great vibe, their food is excellent and good value, albeit a small menu.Very busy in the morning though.

The Juice Shack

address: north cliff Varkala

is situated behind the tibetan market serving juices with beautiful combinations and healthy oriented,also only place in the cliff providing water refill.The salad buffet done 3 times a week for dinner is the high light of this place providing a rare varieties of western salads and home made kerala dishes with veg and non veg,the friendly atmosphere and you can gather information on your onward travel and train timings here, The Juice Shack is recommended by all tour guides.
Sleep
Budget
Aleema Beach Resort

phone: +91 9995151061

address: Odayam Beach

A really romantic place in the backside of Odayam Beach with the great view over the whole beach. 5 rooms, with sit-outs, a roof top, garden are there. Breakfast is available, and local food by order is made by Safer's family. Great atmosphere!

Baby House

phone: +91 9895874106

Double with TV, A/C and fan plus balcony for ₹250. Clean room, nice owner.

Bamboo Village

phone: +91 470 2610732

Individual huts around a small garden facing the sea.

Government Guest House

phone: +91 472 602227

Former Maharaja's summer plalace, a bit run down.

K.R. House

phone: +91 470 9388720200

phone: +91 470 2608866

address: Helipad

Government approved homestay. All the rooms are neat and have sea facing balcony.

New HeavenWith 24/7 hot water for bucket baths and fans in rooms. Rooms are clean and tidy. Raj, who works there, is always around and helpful. However, some travellers were promised a free transport from the bus station by Najmudeen and then later forced to pay R. 1000 for the trip.

phone: +91 9946931671

address: Rubybleu Homestay Near Helipad

phone: +91 984-770-8206

address: Thiruvambadi Rd

Newly remodeled Sherin Cottage is located 3 minutes from the crowds of the cliff scene. All bedrooms have private baths, screened windows, fans and free WiFi. Massage rooms offering Ayurvedic or Swedish style massage. Nice garden with hammocks for lounging.

Shiva Garden Home Stay and Apartments

phone: +91 9349460261

address: Kurakkanni,Varkala, Kerala, India

Individually crafted and comfortable rooms. Pleasant garden. Homey feel. Kind host.

phone: +91 9747836576

address: middle cliff, kurakani Rd

Silver Estate offer rooms (clean w/ attached bathroom), restaurant (Indian & Italian food), garden, chill out area, art.

phone: +91 470 2610296

address: Temple Road West

Bijou guesthouse in serene area. The hotel offers four individual rooms, fragrant garden, lily pond & roof terrace. Ayurvedic massage and treatments on offer.
Mid-range
phone: +91 9946069770

address: Off Kurrakkani Rd

Situated a few minutes from the beach and cliff. The house has two floors and is located on a 3,000 square metre plot. It has two double rooms on each floor, each decorated in a different style that reflects the nature of the surrounding area. All rooms have marble floors, ceiling fans, en-suite bathroom and towels. Ayurveda massage room, restaurant and free wifi.

Clafouti Heritage Beach Resort

phone: +914702601414

address: North Cliff

42 room in 2 levels with private bath, facing the sea, well organized, and very pleasant.

phone: +91 9539243784

address: Kurakkanni,Varkala, Kerala, India

New house, clean and 5 min. to the beach. 8 rooms available, with or without AC. Hudge garden. Double rooms

Green Villa Gardenhome & Guesthouse

phone: +917356857959

address: 173 Odayam Beach

Peaceful location with colorful rooms with private bathrooms. The rooftop yoga shala overlooks coconut groves. Classes are offered on request or according to schedule.

phone: +91 470-2607221 (Mr sha)

address: right on the cliff

hot water all the time and good service.

phone: +91 9946388654

address: Wacher Mukku

10 room B&B/Inn in 2 levels with private bath, facing a well arranged garden.

phone: +91 9447971239

address: Odayam beach, Varkala, India

a Green Hotel with natural and endless wilderness, set in simple, peaceful, rustic ambience, secluded and rightly placed in Odayam Beach where the traveler halts and rests. Mektoub is passionately eco-conscious, friendly and helpful, envisioned to bridge tourism and the local community pro-creatively through sustainable developments..

phone: +91 8192031975

address: Odayam Beach

Prathibha ParkLocated at Helipad, with good views and easy access to the beach.

Savasana Homes Vacation Rentals

phone: +9633044836

address: North Cliff

Fully furnished apartments with kitchens, dining rooms, balconies and 2 or 3 bedrooms. Each unit sleeps 4 to 8 people. See their web site at savasanahome.sharepoint.com

phone: +91 470 2662120

Operated by a friendly couple, this small (11 room) guest house is off the beaten trail. The food is all home-cooked, and the coffee is delicious. Just 200 metres away from the sea shore.

Seapearls Chalets

phone: +91 470 2605875

Located at the cliff with views.

phone: +91 90 48 69 47 62

address: thiruvambadi Rd

Offers homestays/yoga vacations which include yoga classes, Vipassana meditation, morning tea and Kerala-style lunch in the room price. Also offers individual yoga classes for people staying somewhere else. Beautiful quiet garden with hammocks. Only 4 rooms available (keeps traffic down).

phone: +91 470-2603982, +91 9946042340 (Ambu Raja)

address: at the middle of North Cliff

very silent place but very close to the restaurant chains at the cliff top.
Splurge
phone: +91 470 3205151

If you want peace and quiet and you have your own transport then this is the place.

The Gateway Hotel, Janardhanapuram Varkala

phone: +91 470 2603000

address: Opp Govt Guest House, Janaradhanapuram

Fancy Taj Hotels' 4 star property.

phone: +91 470 2600566

Has spacious and clean rooms on the cliff.

phone: +91 470-260 4254-55

Beachside resort that offers excellent views.

Hotel Varkala Park International

phone: +91 9846583845

Three star hotel.

phone: +91 470 2610756

Private homes by the beach.

The Royal Mount

phone: +91 470-2660037

Ayurvedic resort.

WoodHouse Beach Resort

phone: +91 470 2156392

Beach Resort in Varkala near Papanasham.
Cope
Hospitals
Government Ayurvedic Hospital
J.R.Hospital
Mangala Medical Mission hospital
Sree Narayana Medical Mission Hospital
Stavyah Lifecare Centre +91 470 6453636, 2607766 ( S U T Medical College Urban Health Centre,Varkala )
Varkala Government Hospital
Yoga and Meditation Centre +91 9745073591 ( Tulasivanam, North Kurakkanni Junction, Punnamoodu Road)
Go next
Alleppey - houseboats, backwaters, snake boat races, and more via a two hour train ride
Edava and Kappil - next villages north of Varkala, scenic walk towards north on a path made by Kerala Tourime along the seashore and cliffs; about an 40 minutes to Edava, and 90 minutes to Kappil.
Kollam - about an hour north by taxi, an easy half-day trip to take a boat ride on the backwaters.