Varzaneh
Varzaneh
is an ancient
Central Iran
desert town in
Isfahan province
still showing evidence of its 5,000-year-old civilization.
Understand
Varzaneh is 105 km southeast of
Isfahan
and 240 km from
Yazd
.
It has a population of 14,000 sprawling over 23,000 km² at an altitude of 1477 m above sea level. Like most parts of central Iran, it has a quite dry desert climate where, in July, temperatures can reach 40°C. The temperature sometimes drops below zero in January and February after midnight.
Varzaneh was the last civilization on the Zayanderud river since 5000 years ago. The Zayanderud river ends at Gavkhouni which is 30 km east of Varzaneh. Within the lands between wetland and Varzaneh, signs of very ancient civilization are unearthed. Further investigations on some pots that have been discovered, confirms the fact that the district of Varzaneh has been inhabited for 5,000 years.
Varzaneh is famous for its spectacular desert, which ranked as one of the most accessible deserts of Iran, in particular for tourists coming to Isfahan. Many travellers like their desert close to civilization - that way they have food and water easy to reach by car, and access to medical centres in the case of any problem.
Unique to Varzaneh, are the local women's costumes. They wear completely
white
chadors, while women in the rest of Iran, mostly wear
black
chadors.
Many local people speak an ancient Pahlavi Sasani dialect, a quite similar dialect to that spoken by the Zoroastrians in Yazd today. According to some of linguists, the word Varzaneh, has a connection to the verb
Varzidan
(ورزیدن), which means
farming
in old Persian.
Folklore attractions
Women's costumes
in Varzaneh have attracted very much attention in media. In contrary to the rest of Iran, women typically wear white chadors, rather than black ones. There are basically three theories so far to describe the whiteness of women's clothes in Varzaneh. Some believe that this harks back to the Zoroastrianism religion, for which white was a holy colour. Others believe that it is because of the abundance of cotton in this region, as people have been cultivating cotton here. While some people simply think white is a comfortable colour due to hot summers.
Handicrafts
: Varzaneh hand-crafted carpet is very famous in the world. Its design belongs to a general category of
Na'in
carpet design. Many women are still using natural threads, including silk and wool which makes the carpet of very high quality. It has been attractive for visitors to buy their carpets in Varzaneh, buying them much cheaper that in the markets of other cities. Weaving tablecloths using very traditional instruments is another item of beauty made by women. In the picture, you can see a picture of woman using such devices. The woman says: if you work hard for a whole day, you can have one table cloth of 1 m² size at sunset.
Get in
From
Isfahan
, travellers can go to the Jey terminal and take the Varzaneh buses or minibuses, paying 40,000 rials (Dec 2016) You do not need to make a reservation for ticket in advance. You may go directly to Jey Terminal and ask the Terminal staff where the bus (or minibus) is. Almost once per hour, 07:00-17:00, there is a bus going to Varzaneh. It takes 1 hr 45 min to reach there. Plenty of taxis are also available usually in front of Terminal to reach Varzaneh, average price is US$10-15 per car.
From
Tehran
, you need to go to Jonub terminal, with buses leaving at 09:00 daily to Harand, a town about 20 km away from Varzaneh. For Harand-Varzaneh, you will be finding very cheap taxis.
From
Yazd
, travellers can take the Yazd-Isfahan buses from Yazd terminal and ask the driver to stop in Na'in which costs 60,000 rials. Then from Na'in, it is 70 km to Varzaneh, for which you may take a taxi.
In Varzaneh, there is a regular bus to Isfahan almost one every hour until 14:00. The last bus to Isfahan from Varzaneh is at 14:00. But it does not mean that you cannot go to Isfahan after 14:00. Experiences of many hitchhikers shows that it is very easy to find a car taking you to Isfahan. Stop in front of the gas station of Varzaneh. There is big yellow shelter with a bench equipped for people doing auto-stop (hitchhiking). You do not save much money by hitchhiking, as Varzaneh-Isfahan bus costs 20,000 rials. Also, since taxi drivers frequently go to Isfahan, as they may have business, they would not charge much less than normal price. For departure, just ask local people where to find the bus terminal (autobus terminal, as the locals call it) from the only bus station in town. Private taxis are available 24 hours a day.
To reach Yazd, you must take a taxi to Na'in. From there it is very easy, as all the buses going to Yazd from Isfahan and Tehran will pass Na'in. So, if you stop at Road Police station around Na'in, you will find a bus to Yazd within 15 min. It takes all in all 3 hours to reach Yazd from Varzaneh. Taxis would also not be expensive to take you to Na'in or even to Yazd directly, as many people would go for other reasons to Yazd and Na'in. As for hitchhiking, it doesn't always work on the Varzaneh-Yazd route. But you can catch many of the buses going to Na'in paying 100,000 rials.
See
The Jame Mosque of VarzanehBuilt in 1100 CE. Three centuries later, in the Timurid era, it was extensively renovated. Its splendid Mihrab and all the tile designs at entrance of mosque and around the Mihrab makes the mosque a very special one in this region. You do not have to pay to visit this 600-year-old mosque. Local people say prayer here three times a day. If you do not wish to say prayer with them, wait for some minutes until people leave the mosque before you visit. The door is open from very early morning, until 1 hour after sunset. Though, if there is an occasion, including celebrations, memorial of a recently passed away local person, then mosque might be a bit occupied a couple of hours per day. If there is such an occasion, you would be listening to quite loud voice from the 20-m-high minaret, from almost all of the town. That is actually a function of Jame mosques in Persian post-Islamic age. In particular, on Friday afternoons, you could listen to the speech Imam speaking about religion and recent social, political issues. Like any other religious center around the world, from churches to temples, to enter such mosque wearing modest clothes is necessary. The dome and the minaret of the mosque are clear from almost everywhere in town, therefore it is easy to reach. It is in the centre of town.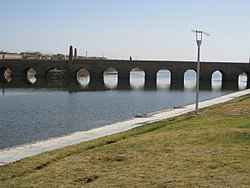 The Old BridgeThe last old bridge over Zayanderud river and has 10 arches; 7 of the arches were built about 9 centuries ago during the Seljuq dynasty. While an extension of the three other arches was done by local people about 140 years ago. You would be able to recognise the extension by a small wall. The bridge is 67 m long and 6.5 m wide. The old bridge connects the old district of town to the new one. Some boat bike and motorboat tours are organized around the bridge for tourists.

Yusefi traditional house and ethnology museumA sample of very beautiful Qajar design traditional big house. In Yusefi house, you would find bedrooms, baking room, guestroom, water reservoir, fountain and gardens, wells and windows in traditional kind. The house is a museum as well, having collection of photo tableaux from local region, a sample of all of agriculture and cuisine appliances and gadgets. The house truly introduce you how people in Varzaneh and villages around were living hundreds of years ago. Yusefi house is located in northern part of old district of town, close to an intersection which is so-called between locals as Darvazeh-Abbas دروازه عباس, meaning (King) Abbas gate.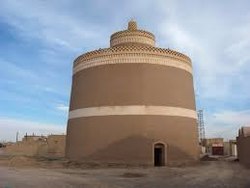 DovecoteIn dry regions, like Varzaneh district, the droppings were prized by farmers and collected for fertilizing their arid fields. From Varzaneh to the west, until Ezhieh (a town 25 km west of Varzaneh), and also from south to Hassanabad (a town 25 km south of Varzaneh) there are plenty of dovecotes or pigeon houses. The dovecote are also called Kabootarkhaneh in Persian literature, which means simply house of pigeons.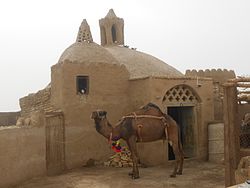 Camel-mill ComplexAn old system of grinding wheat, has been revived for using male camels. Historically, the last time Iranian were using this system was a century ago. Mr. Mohammadi, the owner and founder of the camel-mill, is using it mostly for tourist purposes, though he grinds wheat occasionally. He sings, while pulling rope of camel, a very nice folklore song. The building is designed in completely traditional manner, as you can see in the pictures. The camel-mill is located off road of cemetery of town. Mr Mohammadi will offer you tea if you visit camel-mill.

Ox-well complexHaj-Ibrahim revived the system from 50 years ago, using an specific race of ox which is so-called between locals as Zaboli race (Zabol is a town in southeast of Iran). In the case of Haj-Ibrahim's ox, it took more than 6 months to prepare the ox, being wild in the beginning. The very astonishing part is that now ox would work only by the song of his owner, in the sense that, the ox would start working and taking water from well, when Haj-Ibrahim starts singing. Plenty of such oxen can be found at southern east of Iran, or in Baluchistan region of Pakistan. The complex is mainly a well, an ox, rope, pulley and bucket. Using this system, water will be pumped to the fields, without making air pollution. For six hour working of an ox per day, the water for 1500 m² wheat field will be supplied, which is very efficient system. The system was broadly used from 600 years ago, till the 21st century when farmers beganto use fuel water-pumping machines. Haj-Ibrahim will offer you tea.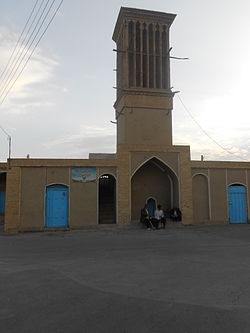 Water reservoirs and wind-towers (wind-catchers)A water reservoir or āb anbār (Persian: ابی انبار) is a traditional reservoir or cistern of drinking water in Persian antiquity. While, a wind-catcher (in Persian, Badgir, بادگیر) is traditional Persian architectural element to create natural ventilation in buildings. In Varzaneh, you can see a water-reservoir employed a windtower to cool down its water. There are seven water reservoirs in Varzaneh in total.

CaravansaryThere is a saying that King Abbas I established 999 caravanserai in the Persian empire to facilitate and promote trade and travelling, one of them is in Varzaneh. You can find this caravansary in eastern exit road of Varzaneh, being about 400 years old.

Other tourist spots: There are many other attractions worth sightseeing, including windmills around river, small waterfalls over Zayanderud river. Varzaneh is also very famous for Gavkhooni Wetland (swamp), Salt Lake, Salt mine and Salt plain of Khara.
Further afield
Varzaneh DesertThe sand dunes are from 5-62 m high. The average height of sandy dunes are highest between deserts of Iran. It makes the landscape spectacular. There is no regular transport from Varzaneh to the desert, which is 15 km away. However, taxis would be quite cheap to take you to desert. The sand dunes usually do not move considerably, so you can camp for several nights there, having an easy access to town. However, except for late spring and summer, the temperature often drops below 10°C and to 10° below freezing in January and February), due to the lack of humidity. Thus, you would need sleeping bags if you want to camp there. The desert is about 45 km across.

Gavkhooni Wetland and Black MountainThe magic point of this region is that, close to Varzaneh dry desert, you can find Gavkhooni wetland. Gavkhooni is a preserved ecosystem, which is host of thousands of bird, migrating from north mostly. The number of the birds varies each year, depending on the rainfall of that year. In fact, the majority of wetland is dry each year. Generally, the wetland has a rich wildlife. From gees, storks, flamingos and Iranian zebras and deers to many other reptiles can be found in this area. To reach Gavkhooni, you need to take the Gavkhooni road on the east of Varzaneh for about 25 km. As a sign of your arrival to wetland, you would see a completely black mountain, simply called Black Mountain (Persian Kooh-Siah, کوه سیاه). The stones are very light, having many holes inside. The mountain is indeed the remaining of black magmas.
Salt LakeAnother interesting spot is the salt lake, which belongs to Gavkhooni ecosystem, being the southwestern part of the wetlands. It is more than 15 km² in area and the salt plain stretches to the wetlands. There is a part of that which locals are mining salt from. It is glorious to see a blue sky with purely vast white ground. There is a short road to the salt lake from Varzaneh, which is not asphalt. Take the Shiraz road from Varzaneh for about 40 km, reaching to Khara village. Then from Khara, you have about 15 km in a specific road for salt lake. Starting from 8 km in latter road, you will see the signs of a big salty area until 10 km afterwards.

Ghoortan CitadelThe 1000-year-old citadel located on the bank of the Zayanderud river and has survived natural disasters and many wars for 1000 years. Having very thick walls made of adobe mud brick) made it a protected complex for people living in the region. The thickness of walls varies from 3-4 m and they are about 9 m high. The citadel has an area of 40,000 m². Nowadays, only four families live inside. The citadel is containing four mosques, a pigeon house, a water reservoir, a mill and many houses. It is protected by fourteen round towers and you would enter by two gateways.

Vartun Hot SpringA hot spring. The pools are located inside a traditional historical buildings, dating back to Safavid era. Due to the fact that its hot water is rich in many minerals, its medical effects for nervous and joint pains has been verified. The complex is equipped with massage room.
Do
Desert entertainments and sports: Varzaneh desert is great place for camel-riding, horse-riding, paragliding, safari, motorcycling, camping, sand-boarding. You may find relevant photos at the bottom of the page. Equipment devices for these sports and entertainments can be found in local clubs and tourist camps, in Varzaneh and around the desert.
Observing sky (without and with telescope): If you pass 3 or 4 hills inside the desert, where you are safe from any light-pollution, from Varzaneh town, you would truly enjoy a glorious sky. It you go in a suitable time there, ie when it is not cloudy and moonshine is at a minimum, then you would not need a telescope to recognize many classic objects in sky. In this situation, you will be finding the Milky Way easily, even without a telescope!
Rent a boat: You may rent a motorboat or pedalo-boat to enjoy it in Zayanderud river. Such boats can be found to rent near the Old Bridge of Varzaneh.
Mountain climbing: Mount Ergesht is located in the northeast of Varzaneh, on the road to Na'in, 15 km away from Varzaneh town. Mount Ergesht is 2000 m high. There is no bus dedicated for going to this mountain. Taking a taxi is probably the best option.
Buy
Varzaneh carpets is famous regionally and worldwide. Having many silk parts, and the mixture of colors make the a typical of Varzaneh carpet light and sometimes shiny. You can order them in hotels, guest houses in Varzaneh. As more than 60% of ladies in Varzaneh are still weaving carpet in their homes, you can ask any random local also to show you his/her carpet. The prices may vary from €100-2,000, depending on the size and quality.
Also, there are several houses still weaving tablecloth. You can get many of them directly from local houses, or in guest houses, costing 10,000-400,000 rials for different sizes.
In addition, buying herbal teas, such as borage, Iranian black tea, Shirazi chamomile, henna and local sweets can be found in herbal tea shops. Local alfalfa honey and also honey from holy plant of manna also can be found, as a few families are involved in beekeeping. As Varzaneh has both farms of alfalfa and many manna in its deserts, honey from these two plants are in good quality. Heidari family have been pioneer for beekeeping, and creating beehives, supporting local agriculture as well.

Eat
Apart from dining in the following restaurant, you can ask local organic food in hotel/hostel dining sections.
Gol-Hossein restaurantThe oldest restaurant in Varzaneh.
Varzaneh district has a high reputation of tradition of organic (bio) food. Here is a short list of tastiest foods you may try in Varzaneh:
Eggplant dish (Kashk Bademjan, کشک بادمجان in Persian) As a must-to-say, it is a national food of Iran, but as a tradition, people in Varzaneh cook it very well. It basically contains walnut, olive oil, garlic, eggplant, mint, turmeric, onion and (liquid or dried) whey. In the village, additionally, they include saffron and pistachio. It is famous as one of the tastiest vegetarian food of Iran. Though, to make it as vegan food, you may ask chef to not add whey, as it is basically obtained from yogurt. You may order homemade eggplant dish in any of the hotels/hostels of Varzaneh.
Ghormeh Sabzi: Again as another national food of Iran, people of Varzaneh have a tradition of cooking this food more special. It mostly contain kidney beans (or red beans), parsley, leeks (or green onions instead), coriander, dried fenugreek leaves, Persian lime, a bit onion and turmeric, and chopped lamb meat.
Fesenjan: Pomegranate paste, chicken or duck breast, walnuts, sugar, cinnamon saffron and onion.
Organic bread: Still, much part of Varzaneh cuisine is free of artificial additives. You would not be surprised if you are walking in a weekend or holiday in Varzaneh, and you smell continuously bread baking smell, as indicated above almost nobody goes to bakery. Just in the bread, you usually find safflower, fennel, (black and white) sesame seeds inside/on the bread. Just ask a local you have a willing to try some. You would be always able to catch some for free, as everybody has some at homes. Almost all of the restaurants and hotels in Varzaneh provide you the food with organic local food. In religious gatherings, and also in Thursday afternoons when people gather in graveyard, you can get some 'malak', which is a kinda oil-bread cooked with turmeric and some other spices.
Drink
Getting herbal teas, and drinking some in outdoor is really suggested. In old supermarkets, as they call it Baqali, you can always get some classic herbal teas, such as borage, valerian root, and saffron. Other routine beverages such as dough also can be found all around easily.

Sleep
Most hostels and hotels are very cheap. Many tourist come to stay for a week or more to enjoy sunlight and silence in desert, as it is in between two other major destinations,
Isfahan
and
Yazd
.
Budget
Go next
Isfahan — former capital with stunning architecture, great bazaar, and tree-lined boulevards. Most popular tourist destination in the country. There's a Persian saying, "Isfahan is half the world."
Yazd — a remote desert city – circumstance influenced special architectural themes where water streams run in underground rooms in houses and wind-towers to keep them cool.